Abstract
Introduction
Artificial deformation of the neonatal cranial vault is one form of permanent alteration of the body that has been performed by the human being from the beginning of history as a way of differentiating from others. These procedures have been observed on all continents, although it became widespread practice among the aborigines who lived in the Andean region of South America. It has been suggested that the expansion of this practice started with the Scythians from their original settlements in central Asia and spread toward the rest of Asia and Europe, and it is believed that Asiatic people carried this cultural custom to America when they arrived on the current coasts of Alaska after crossing the Strait of Behring. The practice of deforming newborn heads was present in the whole of the American continent, from North America to Patagonia, but cranial molding in neonates was most widely practiced in the Andean region, from Venezuela to Guyana, Colombia, Ecuador, Peru, Bolivia, Chile, and Argentina.
Methods
Intentional deformation of the head in neonates was carried out in different ways: by compression of the head with boards and pads; by compression with adjusted bindings; or by restraining the child on specially designed cradle-boards.
Purpose
The purpose of head shaping varied according to culture and region: while in certain regions it was a symbol of nobility or separated the different social groups within society, in others it served to emphasize ethnic differences or was performed for aesthetic, magical or religious reasons.
Conclusion
There is no evidence of any neurological impairment among indigenous groups who practiced cranial deformations in newborns.
This is a preview of subscription content, log in to check access.
Access options
Buy single article
Instant access to the full article PDF.
US$ 39.95
Price includes VAT for USA
Subscribe to journal
Immediate online access to all issues from 2019. Subscription will auto renew annually.
US$ 199
This is the net price. Taxes to be calculated in checkout.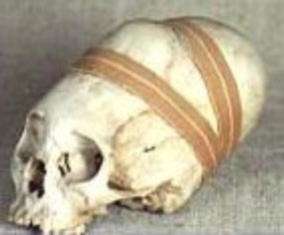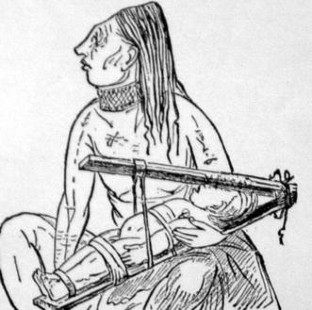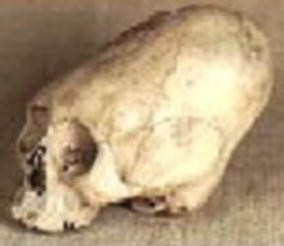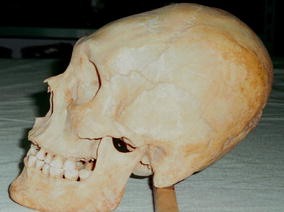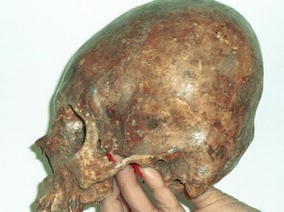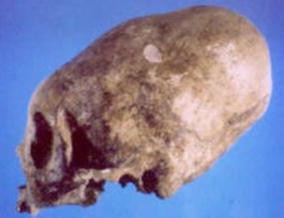 References
1.

Anton S, Weinstein K (1999) Artificial cranial deformation and fossil Australians revisited. J Hum Evol 36:195–209

2.

Boada Rivas AM (1995) La deformación craneana como marcador de diferencia social. Boletín Museo del Oro Ns 38–39, Bogotá, Colombia

3.

Boas F (1890) Second General Report on the Indians of British Columbia. British Association for the Advancement of Science, London, pp 562–715

4.

Brain R (1979) The decorated body. Harper & Row, New York, USA, p 91

5.

Carod Artal FJ, Vázquez Cabrera CB (2004) Neurological paleopathology in the pre-Columbine cultures of the coast and the Andean plateau. I. Artificial cranial deformation. Rev Neurol 38:791

6.

Carrara N (2004) I crani degli "alieni": uno studio antropologico. Museo de Antropología, Universitá di Padova website. http://www.unipd.it/progettobo/curiosita_aprile2004/antropologia.pdf

7.

Catlin G (1876) Illustration of the manners, customs and condition of the North American Indians. London

8.

Delisle F (1880) Contribution á l'etude des deformations artificielles du crane. These pour le doctorat en médicine, Paris

9.

El Inca De la Vega G (1609) Royal commentaries of the Incas, and general history of Peru. University of Texas Press, Austin

10.

Fernández de Piedrahita L (1881) Historia general de la conquista del nuevo reino de Granada. Bogotá

11.

Garret J (1988) Status, the warriors class, and artificial cranial deformation. In: Blakely R (ed) The king site: continuity and contact in sixteenth century Georgia. University of Georgia Press, Athens, GA, pp 35–46

12.

Imbelloni J (1938) In: Dembo A, Imbelloni J (eds) Deformaciones intencionales del cuerpo humano de caracter etnico, vol III. Editorial Nova, Buenos Aires

13.

Lucena Samoral M (1965) Historia extensa de Colombia, vol. III, T I. Nuevo Reino de Granada. Lerner, Bogotá

14.

Martinez Martin AF (2004) Craneoplastia Andina. Museo de Historia de la Medicina y la Salud de Boyacá website. http://museohismedicina.galeon.com/Craneoplastia/Craneoplastia.htm

15.

Moll Aristides A (1944) Aesculapius in Latin América. Philadelphia

16.

Munizaga JR (1987) Deformación craneana intencional en América. In Revista Chilena de Antropología, vol 6. University of Chile, Santiago, pp 113–147

17.

Paredes Borja V (1966) Historia de la medicina en Ecuador, vol I. Casa de la Cultura Ecuatoriana, Quito

18.

Retzius G (1895) Om kranier af. s. k. long-head-indianer. Ymer XV:259–271

19.

Reyes Suárez M, Padilla Cerón N (1987) Un acercamiento a la práctica de la deformación craneal y sus posibles implicaciones culturales. Arqueología, Revista de Estudiantes de Antropología UN, No 4, Bogotá

20.

Rodríguez JV (2001) Los Chibchas: adaptación y diversidad en los Andes Orientales de Colombia Universidad Nacional de Colombia. Santa Fe de Bogotá

21.

Tommaseo M, Drusini AG (1984) Physical anthropology of two tribal groups of Amazonic Peru (with reference to artificial cranial deformation). Z Morphol Anthropol 74:315–333

22.

Torres-Rouff C (2004) Human skeletal remains from the Island of the Sun, Lake Titicaca, Bolivia. Am J Phys Anthropol Suppl 38:196
About this article
Cite this article
Schijman, E. Artificial cranial deformation in newborns in the pre-Columbian Andes. Childs Nerv Syst 21, 945–950 (2005). https://doi.org/10.1007/s00381-004-1127-8
Received:

Published:

Issue Date:
Keywords
Artificial cranial deformation

Mummies

Pre-Columbine cultures