Abstract
Introduction
Attention is drawn to the spontaneous incidence of twinning, both dizygotic and monozygotic in different mammalian species. Conjoined twinning, however, only arises when the twinning event occurs at about the primitive streak stage of development, at about 13–14 days after fertilisation in the human, and is exclusively associated with the monoamniotic monochorionic type of placentation. It is believed that the highest incidence of conjoined twinning is encountered in the human. While monozygotic twinning may be induced experimentally following exposure to a variety of agents, the mechanism of induction of spontaneous twinning in the human remains unknown. All agents that are capable of acting as a twinning stimulus are teratogenic, and probably act by interfering with the spindle apparatus.
Discussion
The incidence of the various types of conjoined twinning is discussed. Information from the largest study to date indicates that the spontaneous incidence is about 10.25 per million births. The most common varieties encountered were thoraco-omphalopagus (28%), thoracopagus (18.5%), omphalopagus (10%), parasitic twins (10%) and craniopagus (6%). Of these, about 40% were stillborn, and 60% liveborn, although only about 25% of those that survived to birth lived long enough to be candidates for surgery. Conjoined twinning occurs by the incomplete splitting of the embryonic axis and, with the exception of parasitic conjoined twins, all are symmetrical and "the same parts are always united to the same parts". Fusion of monozygotic twins is no longer believed to be the basis of conjoined twinning. Accounts are provided of the anatomical features of each of the commonly encountered varieties.
Access options
Buy single article
Instant access to the full article PDF.
USD 39.95
Price includes VAT (USA)
Tax calculation will be finalised during checkout.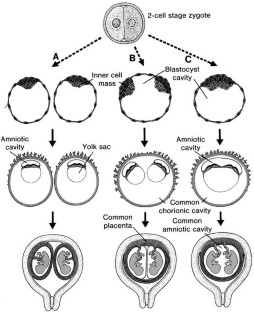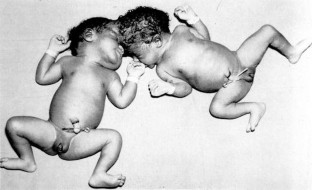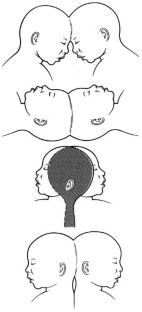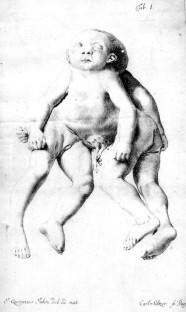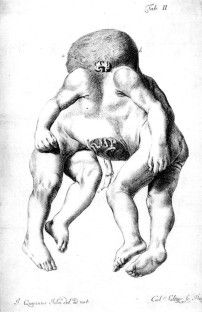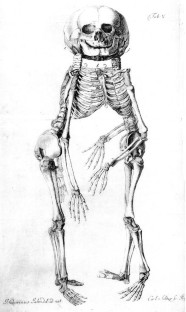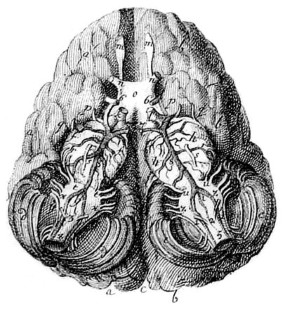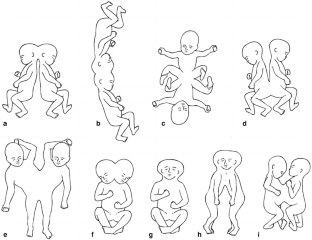 References
1.

Abel EL (1995) An update on incidence of FAS: FAS is not an equal opportunity birth defect. Neurotoxicol Teratol 17:437–443

2.

Alberman ED, Creasy MR (1977) Frequency of chromosomal abnormalities in miscarriages and perinatal deaths. J Med Genet 14:313–315

3.

Anderson NB (1966) The effect of CNS depressants on mitosis. Acta Anaesthesiol Scand Suppl 22:1–36

4.

Annas GJ (2001) Conjoined twins—the limits of law at the limits of life. N Engl J Med 344:1104–1108

5.

Anon (1848) Birth of a double monster. By Dr Lyell—Communicated by Professor Simpson. Abstract of the Proceedings of the Obstetric Society of Edinburgh for 1847–48. Session VII. Sutherland & Knox, Edinburgh. Meeting 5, May 10, pp 15–17

6.

Arabin B, Laurini RN, van Eyck J (1999) Early prenatal diagnosis of cord entanglement in monoamniotic multiple pregnancies. Ultrasound Obstet Gynecol 13:181–186

7.

Arey LB (1965) Developmental anatomy: a textbook and laboratory manual of embryology, 7th edn. Saunders, Philadelphia

8.

Badawy AH, Shehata R (1961) Cephalothoracopagus: clinical and anatomic study of a case. Obstet Gynecol 18:106–112

9.

Baron BW, Shermeta DW, Ismail MA, Ben-Ami T, Yousefzadeh D, Carlson N, Amarose AP, Esterly JR (1990) Unique anomalies in cephalothoracopagus janiceps conjoined twins with implications for multiple mechanisms in the abnormal embryogenesis. Teratology 41:9–22

10.

Barthelmess A (1970) Mutagenic substances in the human environment. In: Vogel F, Röhrborn G (eds) Chemical mutagenesis in mammals and man. Springer, Berlin Heidelberg New York, pp 69–147

11.

Bateman AJ (1960) Dichorial one-egg twins in the mouse. Nature 187:339–340

12.

Bega G, Wapner R, Lev-Toaff A, Kuhlman K (2000) Diagnosis of conjoined twins at 10 weeks using three-dimensional ultrasound: a case report. Ultrasound Obstet Gynecol 16:388–390

13.

Bender C (1967) Studies on symmetrically conjoined twins. J Pediatr 70:1010–1011

14.

Benirschke K (1981) Lessons from multiple pregnancies in mammals. Prog Clin Biol Res 69A:135–139

15.

Bhettay E, Nelson MM, Beighton P (1975) Epidemic of conjoined twins in southern Africa? Lancet 2:741–743

16.

Biswas A, Chia D, Wong YC (2001) Three-dimensional sonographic diagnosis of cephalothoracopagus janiceps twins at 13 weeks. Ultrasound Obstet Gynecol 18:289–290

17.

Bodemann E (1935) A case of uniovular twins in the mouse. Anat Rec 62:291–294

18.

Bond DJ, Chandley AC (1983) Aneuploidy. Oxford University, Oxford

19.

Bondeson J (2001) Dicephalus conjoined twins: a historical review with emphasis on viability. J Pediatr Surg 36:1435–1444

20.

Boué J, Boué A (1976) Chromosomal anomalies in early spontaneous abortion (their consequences on early embryogenesis and in vitro growth of embryonic cells). Curr Top Pathol 62:193–208

21.

Boué J, Deluchat CC, Nicolas H, Boué A (1981) Prenatal losses of trisomy 21. In: Burgio GR, Fracarro M, Tiepolo L, Wolf U (eds) Trisomy 21. An International Symposium. Springer, Berlin Heidelberg New York, pp 183–193

22.

Boyer CC (1947) A case of incomplete twinning in the hamster. Anat Rec 99:1–5

23.

Brueckner M, McGrath J, D'Eustachio P, Horwich AL (1991) Establishment of left–right asymmetry in vertebrates: genetically distinct steps are involved. In: Bock GR, Marsh J (eds) Biological asymmetry and handedness. Ciba Foundation Symposium. Wiley, Chichester, pp 202–218

24.

Bryan EM (1992) Twins and higher multiple births: a guide to their nature and nurture. Edward Arnold, London

25.

Bucholz RD, Yoon K-W, Shively RE (1987) Temporoparietal craniopagus. J Neurosurg 66:72–79

26.

Bulmer MG (1970) The biology of twinning in man. Clarendon, Oxford

27.

Burn J (1991) Disturbance of morphological laterality in humans. In: Bock GR, Marsh J (eds) Biological asymmetry and handedness. Ciba Foundation Symposium. Wiley, Chichester, pp 282–299

28.

Camon J, Sabate D, Verdu J, Rubllant J, Lopez-Bejar MA (1992) Morphology of a dicephalic cat. Anat Embryol 185:45–55

29.

Chen CP, Lee CC, Liu FF, Jan SW, Lin MH, Chen BF (1997) Prenatal diagnosis of cephalothoracopagus janiceps monosymmetros. Prenat Diagn 17:384–388

30.

Clavert J (1962) Symmetrization of the egg of vertebrates. Adv Morphogen 2:27–60

31.

Creasy MR, Crolla JA (1974) Prenatal mortality of trisomy 21 (Down's syndrome). Lancet i:473–474

32.

Cunniff C, Jones KL, Jones MC, Saunders B, Shepard T, Benirschke K (1988) Laterality defects in conjoined twins: implications for normal asymmetry in human embryogenesis. Am J Med Genet 31:669–677

33.

Cuthbertson KSR (1983) Parthenogenetic activation of mouse oocytes in vitro with ethanol and benzyl alcohol. J Exp Zool 226:311–314

34.

Cywes S, Millar AJ, Rode H, Brown RA (1997) Conjoined twins—the Cape Town experience. Pediatr Surg Int 12:234–248

35.

DeMyer W (1964) Vinblastine-induced malformations of face and nervous system in two rat strains. Neurology 14:806–808

36.

Derom C, Vlietinck R, Derom R, Van den Berghe H, Thiery M (1987) Increased monozygotic twinning rate after ovulation induction. Lancet i:1236–1238

37.

Derom C, Derom R, Vlietinck R, Van den Berghe H (1991) Zygosity in a population-based registry of triplets. Presented at the Seventh Workshop on Multiple Pregnancy, Berlin [cited by Bryan, 1992]

38.

Doski JJ, Heiman HS, Solenberger RI, Stefko RM, Kuivila T, Rozanski TA, Flack CA, Thurman RT, Milbourn CT, Cheu HW (1997) Successful separation of ischiopagus tripus conjoined twins with comparative analysis of methods for abdominal wall closure and use of the tripus limb. J Pediatr Surg 32:1761–1766

39.

Dyban AP, Khozhai LI (1980) Parthenogenetic development of ovulated mouse ova under the influence of ethyl alcohol. Bull Exp Biol Med 89:528–530

40.

Edmonds LD, Layde PM (1982) Conjoined twins in the United States 1970–1977. Teratology 25:301–308

41.

Edwards RG (1954) Colchicine-induced heteroploidy in early mouse embryos. Nature 174:276–277

42.

Edwards RG (1961) Induced heteroploidy in mice: effect of deacetylmethyl-colchicine on eggs at fertilization. Exp Cell Res 24:615–617

43.

Ferm VH (1963) Congenital malformations in hamster embryos after treatment with vinblastine and vincristine. Science 141:426

44.

Ferm VH (1969) Conjoined twinning in mammalian teratology. Arch Environ Health 19:353–357

45.

Filler RM (1986) Conjoined twins and their separation. Semin Perinatol 10:82–91

46.

Fishman SJ, Puder M, Geva T, Jenkins J, Ziegler MM, Shamberger RC (2002) Cardiac relocation and chest wall reconstruction after separation of thoracopagus conjoined twins with a single heart. J Pediatr Surg 37:515–517

47.

Fowler CL, Pulito AR, Warf BC, Vandenbrink KD (1999) Separation of complex pygopagus conjoined twins. J Pediatr Surg 34:619–622

48.

Fox H (1978) Pathology of the placenta. Saunders, London

49.

Gardner RL (1985) Discussion on twinning: origin and survival of identical twinning. In: Edwards RG, Purdy JM, Steptoe PC (eds) Implantation of the human embryo. Academic, London, p 408

50.

Gates AH (1965) Rate of ovular development as a factor in embryonic survival. In: Wolstenholme GEW, O'Connor M (eds) Ciba Foundation Symposium: preimplantation stages of pregnancy. Churchill, London, pp 270–288

51.

Groner JI, Teske DW, Teich S (1996) Dicephalus dipus dibrachius: an unusual case of conjoined twins. J Pediatr Surg 31:1698–1700

52.

Grover V, Chawla R, Mishra SL (1990) Management of conjoined twins. Int J Gynaecol Obstet 31:67–69

53.

Hahmann K, Issel EP, Steinbach C (1982) Prenatal diagnosis of anterior duplication anomaly (dicephalus diauchenos) by ultrasonography. J Perinat Med 10:93–98

54.

Hamilton WJ, Mossman HW (1972) Human embryology: prenatal development of form and function, 4th edn. Heffer/Williams & Wilkins, Cambridge/Baltimore

55.

Hammond DI, Okun NB, Carpenter BF, Martin DJ, Krzaniak S (1991) Prenatal ultrasonographic diagnosis of dicephalus conjoined twins. Can Assoc Radiol J 42:357–359

56.

Hanson JW (1975) Incidence of conjoined twinning [letter]. Lancet 2:1257

57.

Harvey MAS, Huntley RMC, Smith DW (1977) Familial monozygotic twinning. J Pediatr 90:246–248

58.

Herring SW, Rowlatt UF (1981) Anatomy and embryology in cephalothoracopagus twins. Teratology 23:159–173

59.

Hoyle RM, Thomas CG (1989) Twenty-three-year follow-up of separated ischiopagus tetrapus conjoined twins. Ann Surg 210:673–679

60.

Hsu Y-C, Gonda MA (1980) Monozygotic twin formation in mouse embryos in vitro. Science 209:605–606

61.

Hsu H-S, Duckett JW, Templeton JM Jr, O'Neill JA Jr (1995) Experience with urogenital reconstruction of ischiopagus conjoined twins. J Urol 154:563–567

62.

Hyatt BA, Lohr JL, Yost HJ (1996) Initiation of vertebrate left–right formation by maternal Vg1. Nature 384:62–65

63.

Ingalls TH, Philbrook FR, Majima A (1969) Conjoined twins in zebra fish. Arch Environ Health 19:344–352

64.

Jansen O, Mehrabi VA, Sartor K (1998) Neuroradiological findings in adult cranially conjoined twins. Case report. J Neurosurg 89:635–639

65.

Joneja M, Ungthavorn S (1969) Teratogenic effects of vincristine in three lines of mice. Teratology 2:235–240

66.

Jones KL, Smith DW (1973) Recognition of the fetal alcohol syndrome in early pregnancy. Lancet ii:999–1001

67.

Jones KL, Smith DW, Ulleland CN, Streissguth AP (1973) Pattern of malformation in offspring of chronic alcoholic mothers. Lancet i:1267–1271

68.

Källén B, Rybo G (1978) Conjoined twinning in Sweden. Acta Obstet Gynecol Scand 57:257 [cited by Phelan, 1993]

69.

Kaufman MH (1977) Effect of anaesthetic agents on eggs and embryos. In: Johnson MH (ed) Development in mammals, vol 1. Elsevier/North Holland Biomedical, Amsterdam, pp 137–163

70.

Kaufman MH (1982) Two examples of monoamniotic monozygotic twinning in diploid parthenogenetic mouse embryos. J Exp Zool 224:277–282

71.

Kaufman MH (1982) The chromosome complement of single-pronuclear haploid mouse embryos following activation by ethanol treatment. J Embryol Exp Morphol 71:139–154

72.

Kaufman MH (1983) Early mammalian development: parthenogenetic studies. Cambridge University Press, Cambridge

73.

Kaufman MH (1983) Ethanol-induced chromosomal abnormalities at conception. Nature 302:258–260

74.

Kaufman MH (1984) The influence of alcohol on female germ cells. Bioessays 1:117–120

75.

Kaufman MH (1985) Experimental aspects of monozygotic twinning. In: Edwards RG, Purdy JM, Steptoe PC (eds) Implantation of the human embryo. Academic, London, pp 371–391

76.

Kaufman MH (1992) The atlas of mouse development. Academic, London

77.

Kaufman MH (1997) The teratogenic effects of alcohol following exposure during pregnancy, and its influence on the chromosome constitution of the pre-ovulatory egg. Alcohol Alcohol 32:113–128

78.

Kaufman MH, O'Shea KS (1978) Induction of monozygotic twinning in the mouse. Nature 276:707–708

79.

Kaufman MH, Steele CE (1976) Deleterious effect of an anaesthetic on cultured mammalian embryos. Nature 260:782–784

80.

Kingston CA, McHugh K, Kumaradevan E, Kiely EM, Spitz L (2001) Imaging in the preoperative assessment of conjoined twins. Radiographics 21:1187–1208

81.

Klinkosch JT (1767) Programma quo Anatomicam Monstri Bicorporei Monocephali Descriptionen Proponit. Clauser, Vetero-Pragae

82.

Koop CE (1961) The successful separation of pygopagous twins. Surgery 49:271–277

83.

Lander A, King T, Brown NA (1998) Left–right development: mammalian phenotypes and conceptual models. Semin Cell Dev Biol 9:35–41

84.

Lemoine P, Harrousseau M, Borteyru JP, Menuet JC (1968) Les enfants de parents alcooliques. Anomalies observées. A propos de 127 cas. Quest Med 21:476–482

85.

Leroy F (1985) Early embryology and placentation of human twins. In: Edwards RG, Purdy JM, Steptoe PC (eds) Implantation of the human embryo. Academic, London, pp 393–405

86.

Levin M (1997) Left–right asymmetry in vertebrate embryogenesis. Bioessays 19:287–296

87.

Levin M, Roberts DJ, Holmes LB, Tabin C (1996) Laterality defects in conjoined twins. Nature 384:321

88.

Logrono R, Garcia-Lithgow C, Harris C, Kent M, Meisner L (1997) Heteropagus conjoined twins due to fusion of two embryos: report and review. Am J Med Genet 73:239–243

89.

Machin GA (1998) Heteropagus conjoined twins due to fusion of two embryos [letter]. Am J Med Genet 78:388–390

90.

Macourt DC, Stewart P, Zaki M (1982) Multiple pregnancy and fetal abnormalities in association with oral contraceptive usage. Aust N Z J Obstet Gynaecol 22:25–28

91.

Magenis RE, Overton KM, Chamberlin J, Brady T, Lovrien E (1977) Parental origins of the extra chromosome in Down's syndrome. Hum Genet 37:7–16

92.

McManus CA, Partlow GD, Fisher KRS (1994) Conjoined twin piglets with duplicated cranial and caudal axes. Anat Rec 239:224–229

93.

Mikkelsen M, Hallberg A, Poulsen H (1976) Maternal and paternal origin of extra chromosome in trisomy 21. Hum Genet 32:17–21

94.

Mikkelsen M, Poulsen H, Grinsted J, Lange A (1980) Non-disjunction in trisomy 21. Study of chromosomal heteromorphisms in 110 families. Ann Hum Genet 44:17–28

95.

Milham S (1966) Symmetrical conjoined twins: an analysis of the birth record of twenty-two sets. J Pediatr 69:643–647

96.

Morrill CV (1919) Symmetry reversal and mirror-imaging in monstrous trout and a comparison with similar conditions in human double monsters. Anat Rec 16:265–291

97.

Mutinelli F, Nani S, Zampiron S (1992) Conjoined twins (thoracopagus) in a Wistar rat (Rattus norvegicus). Lab Anim Sci 42:612–613

98.

Naruse I, Kano S, Shoji R (1983) Experimental induction of two inner cell masses in mouse embryos by vinblastine treatment in vitro. Teratology 28:215–218

99.

Newman HH (1917) The biology of twins. University of Chicago Press, Chicago

100.

Newman HH (1923) The physiology of twinning. University of Chicago Press, Chicago

101.

Newman HH, Patterson JT (1910) The development of the nine-banded armadillo from the primitive streak stage to birth; with especial reference to the question of specific polyembryony. J Morphol 21:359–424

102.

Newman HH, Patterson JT (1911) The limits of hereditary control in armadillo quadruplets: a study of blastogenic variation. J Morphol 22:855–926

103.

O'Neill GT, McDougall RD, Kaufman MH (1989) Ultrastructural analysis of abnormalities in the morphology of the second meiotic spindle in ethanol-induced parthenogenones. Gamete Res 22:285–299

104.

Ornoy A, Navot D, Menashi M, Laufer N, Chemke J (1980) Asymmetry and discordance for congenital anomalies in conjoined twins: a report of six cases. Teratology 22:145–154

105.

O'Shea KS, Kaufman MH (1979) The teratogenic effect of acetaldehyde: implications for the study of the fetal alcohol syndrome. J Anat 128:65–76

106.

O'Shea KS, Kaufman MH (1980) Neural tube closure defects following in vitro exposure of mouse embryos to xylocaine. J Exp Zool 214:235–238

107.

O'Shea KS, Kaufman MH (1981) Effect of acetaldehyde on the neuroepithelium of early mouse embryos. J Anat 132:107–118

108.

O'Toole VEJ (1976) Anencephalic conjoined twins. Br J Obstet Gynaecol 83:908–909

109.

Phelan MC (1993) Twins. In: Stevenson RE, Hall JG, Goodman RM (eds) Human malformations and related anomalies, vol 2. Oxford University, New York, pp 1047–1079

110.

Porter R, O'Connor M, Whelan J (eds) (1984) Mechanisms of alcohol damage in utero. Ciba Foundation Symposium 105. Pitman, London

111.

Quigley JK (1935) Monoamniotic twin pregnancy. A case record with review of the literature. Am J Obstet Gynecol 29:354–362

112.

Race RR, Sanger R (1969) Xg and sex chromosome abnormalities. Br Med Bull 25:99–103

113.

Rosa FW, Hernandez C, Carlo WA (1987) Griseofulvin teratology, including two thoracopagus conjoined twins [letter]. Lancet i:171

114.

Roux C (1959) Action teratogene de la prochlorpemazine. Arch Fr Pediatr 16:968–971

115.

Runner MN (1984) New evidence for monozygotic twins in the mouse: twinning initiated in the late blastocyst can account for mirror image asymmetries. Anat Rec 209:399–406

116.

Sadler TW (1985) Langman's medical embryology, 5th edn. Williams & Wilkins, Baltimore

117.

Sanger R, Tippett P, Gavin J (1971) Xg groups and sex abnormalities in people of northern European ancestry. J Med Genet 8:417–426

118.

Sebire NJ, Souka A, Skentou H, Geerts L, Nicolaides KH (2000) First trimester diagnosis of monoamniotic twin pregnancies. Ultrasound Obstet Gynecol 16:223–225

119.

Shapiro E, Fair WR, Ternberg JL, Siegel MJ, Bell MJ, Manley CB (1991) Ischiopagus tetrapus twins: urological aspects of separation and 10-year followup. J Urol 145:120–125

120.

Shapiro LR, Zemek L, Shulman MJ (1978) Genetic etiology for monozygotic twinning. Birth Defects 14:219–222

121.

Shepard TH (1992) Catalog of teratogenic agents, 7th edn. Johns Hopkins University, Baltimore

122.

Simpson JY (1869) A lecture on the Siamese and other viable united twins. Br Med J 1:139–141; 229–233

123.

Sinykin MB (1958) Monoamniotic triplet pregnancy with triple survival. Obstet Gynecol 12:78–82

124.

Smith AM (2000) The separating of conjoined twins—a human life has the greatest value, but its loss may be justified [editorial]. Br Med J 321:782

125.

Smith DW, Jones KL (1982) Recognizable patterns of human malformation: genetic, embryologic and clinical aspects. Saunders, Philadelphia

126.

Spencer R (1992) Conjoined twins—theoretical embryologic basis. Teratology 45:591–602

127.

Spencer R (1996) Anatomic description of conjoined twins: a plea for standardized terminology. J Pediatr Surg 31:941–944

128.

Spencer R (1996) Minimally united ischiopagus twins: infraumbilical union with cloacal anomalies. J Pediatr Surg 31:1538–1545

129.

Spencer R (2000) Theoretical and analytical embryology of conjoined twins. I. Embryogenesis. Clin Anat 13:36–53

130.

Spencer R (2000) Theoretical and analytical embryology of conjoined twins. II. Adjustments to union. Clin Anat 13:97–120

131.

Stockard CR (1921) Developmental rate and structural expression: an experimental study of twins, 'double monsters' and single deformities, and the interaction among embryonic organs during their origin and development. Am J Anat 28:115–277

132.

Torgersen J (1949) Genic factors in visceral asymmetry and in the development and pathologic changes of lungs, heart and abdominal organs. Arch Pathol 47:566–593

133.

Tuma DJ, Sorrell MF (1987) Functional consequences of acetaldehyde binding to proteins. Alcohol Alcohol 22 [Suppl 1]:61–66

134.

Tuma DJ, Smith SL, Sorrell MF (1991) Acetaldehydes and microtubules. Ann NY Acad Sci 625:786–792

135.

Ulshafer RJ, Clavert A (1979) The use of avian double monsters in studies on induction of the nervous system. J Embryol Exp Morphol 53:237–243

136.

Vanderzon DM, Partlow GD, Fisher KRS, Halina WG (1998) Parapagus conjoined twin Holstein calf. Anat Rec 251:60–65

137.

Wan Y-J, Wu T-C, Damjanov I (1982) Twinning and conjoined placentation in mice. J Exp Zool 221:81–86

138.

Wensinger JA, Daly RF (1962) Monoamniotic twins. Am J Obstet Gynecol 83:1254–1256

139.

Wharton B, Edwards JH, Cameron AH (1968) Mono-amniotic twins. J Obstet Gynaecol Br Commonwealth 75:158–163

140.

Willis RA (1962) The borderland of embryology and pathology, 2nd edn. Butterworth, London

141.

Wilson H, Storer EH (1957) Surgery in "Siamese" twins: a report of three sets of conjoined twins treated surgically. Ann Surg 145:718–724

142.

Winston KR, Rockoff MA, Mulliken JB, Strand RD, Murray JE (1987) Surgical division of craniopagi. Neurosurgery 21:782–791
Acknowledgement
The author is grateful to Dr William Kelly for drawing his attention to the Klinkosch monograph on conjoined twins [81].
About this article
Cite this article
Kaufman, M.H. The embryology of conjoined twins. Childs Nerv Syst 20, 508–525 (2004). https://doi.org/10.1007/s00381-004-0985-4
Received:

Published:

Issue Date:
Keywords
Monozygotic twins

Monoamniotic twins

Conjoined twins

Embryology

Surgical separation