Abstract
The 4-Fr catheter system is not recommended for invasive functional assessment of coronary artery stenosis, because it tends to distort the aortic waveform. This study aimed to identify the incidence of aortic waveform distortion and a feasible method for correct diagnosis of coronary artery stenosis with a 4-Fr catheter. We retrospectively investigated 178 lesions with intermediate coronary artery stenosis. Non-hyperemic distal coronary artery pressure (Pd) and aortic pressure (Pa) were measured with a 4-Fr diagnostic or 6-Fr guiding catheter before and after saline flush. The mean Pd/mean Pa (Pd/Pa) and instantaneous wave-free ratio (iFR) were calculated before and after flushing. We compared the effect of flushing on the changes in Pd/Pa and iFR between the 4-Fr diagnostic and 6-Fr guiding catheters. Using the 4-Fr diagnostic catheter, there was a significant decrease in incidence of aortic waveform distortion from 42.0% (47 lesions) before flushing to 1.8% (2 lesions) after flushing (p < 0.001); the incidence was only 3.0% before saline flush and decreased to 0% after saline flush when using the 6-Fr guiding catheter. The presence of aortic waveform distortion influenced the iFR when the 4-Fr system was used. Functional measurements with the 4-Fr diagnostic catheter require adequate saline flush to remove the influence of aortic waveform distortion.
Access options
Buy single article
Instant access to the full article PDF.
USD 39.95
Price includes VAT (USA)
Tax calculation will be finalised during checkout.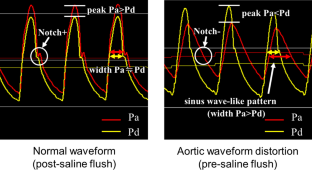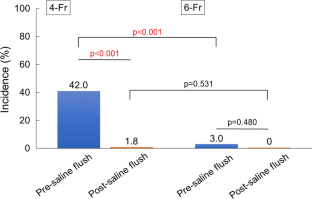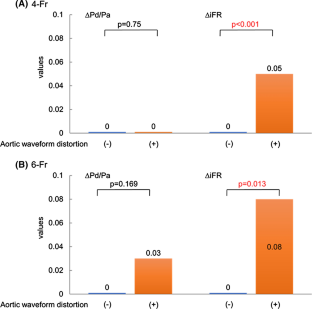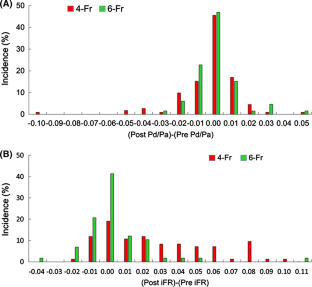 References
1.

Pijls NH, van Schaardenburgh P, Manoharan G, Boersma E, Bech JW, Veer M, Bär F, Hoorntje J, Koolen J, Wijns W, de Bruyne B (2007) Percutaneous coronary intervention of functionally nonsignificant stenosis: 5-year follow-up of the DEFER study. J Am Coll Cardiol 49:2105–2211

2.

Tonino PA, De Bruyne B, Pijls NH, Siebert U, Ikeno F, Veer M, Klauss V, Manoharan G, Engstrøm T, Oldroyd KG, Ver Lee PN, MacCarthy PA, Fearon WF, FAME Study Investigators (2009) Fractional flow reserve versus angiography for guiding percutaneous coronary intervention. N Engl J Med 360:213–224

3.

De Bruyne B, Pijls NH, Kalesan B, Barbato E, Tonino PA, Piroth Z, Jagic N, Möbius-Winkler S, Rioufol G, Witt N, Kala P, MacCarthy P, Engström T, Oldroyd KG, Mavromatis K, Manoharan G, Verlee P, Frobert O, Curzen N, Johnson JB, Jüni P, Fearon WF, FAME 2 Trial Investigators (2012) Fractional flow reserve-guided PCI versus medical therapy in stable coronary disease. N Engl J Med 367:991–1001

4.

Patel MR, Calhoon JH, Dehmer GJ, Grantham JA, Maddox TM, Maron DJ, Smith PK (2017) ACC/AATS/AHA/ASE/ASNC/SCAI/SCCT/STS 2017 appropriate use criteria for coronary revascularization in patients with stable ischemic heart disease: a report of the American College of Cardiology Appropriate Use Criteria Task Force, American Association for Thoracic Surgery, American Heart Association, American Society of Echocardiography, American Society of Nuclear Cardiology, Society for Cardiovascular Angiography and Interventions, Society of Cardiovascular Computed Tomography, and Society of Thoracic Surgeons. J Am Coll Cardiol 69:2212–2241

5.

Windecker S, Kolh P, Alfonso F, Collet JP, Cremer J, Falk V, Filippatos G, Hamm C, Head SJ, Jüni P, Kappetein AP, Kastrati A, Knuuti J, Landmesser U, Laufer G, Neumann FJ, Richter DJ, Schauerte P, Sousa Uva M, Stefanini GG, Taggart DP, Torracca L, Valgimigli M, Wijns W, Witkowski A (2014) 2014 ESC/EACTS guidelines on myocardial revascularization: The Task Force on myocardial revascularization of the European Society of Cardiology (ESC) and the European Association for Cardio-Thoracic Surgery (EACTS) developed with the special contribution of the European Association of Percutaneous Cardiovascular Interventions (EAPCI). Eur Heart J 35:2541–2619

6.

Hamaya R, Yonetsu T, Kanaji Y, Usui E, Hoshino M, Hada M, Kanno Y, Murai T, Lee T, Kakuta T (2019) Interrelationship in the prognostic efficacy of regional coronary flow reserve, fractional flow reserve, high-sensitivity cardiac troponin-I and NT-proBNP in patients with stable coronary artery disease. Heart Vessels 34(3):410–418

7.

Ferrante G, Rao SV, Jüni P, Da Costa BR, Reimers B, Condorelli G, Anzuini A, Jolly SS, Bertrand OF, Krucoff MW, Windecker S, Valgimigli M (2016) Radial versus femoral access for coronary interventions across the entire spectrum of patients with coronary artery disease: a meta-analysis of randomized trials. JACC Cardiovasc Interv 9:1419–1434

8.

Valgimigli M, Gagnor A, Calabró P, Frigoli E, Leonardi S, Zaro T, Rubartelli P, Briguori C, Andò G, Repetto A, Limbruno U, Cortese B, Sganzerla P, Lupi A, Galli M, Colangelo S, Ierna S, Ausiello A, Presbitero P, Sardella G, Varbella F, Esposito G, Santarelli A, Tresoldi S, Nazzaro M, Zingarelli A, de Cesare N, Rigattieri S, Tosi P, Palmieri C, Brugaletta S, Rao SV, Heg D, Rothenbühler M, Vranckx P, Jüni P, MATRIX Investigators (2015) Radial versus femoral access in patients with acute coronary syndromes undergoing invasive management: a randomised multicentre trial. Lancet 385:2465–2476

9.

Neumann FJ, Sousa-Uva M, Ahlsson A, Alfonso F, Banning AP, Benedetto U, Byrne RA, Collet JP, Falk V, Head SJ, Jüni P, Kastrati A, Koller A, Kristensen SD, Niebauer J, Richter DJ, Seferovic PM, Sibbing D, Stefanini GG, Windecker S, Yadav R, Zembala MO, ESC Scientific Document Group (2019) 2018 ESC/EACTS guidelines on myocardial revascularization. Eur Heart J 40:87–165

10.

Kuno T, Hirano K, Abe T, Imaeda S, Hashimoto K, Ryuzaki T, Yokokura S, Saito T, Yamazaki H, Tabei R, Kodaira M, Numasawa Y (2019) Trans-radial percutaneous coronary intervention for patients with severe chronic renal insufficiency and/or on dialysis. Heart Vessels 34:1412–1419

11.

Kawase Y, Matsuo H, Akasaka T, Shiono Y, Tanaka N, Amano T, Kozuma K, Nakamura M, Yokoi H, Kobayashi Y, Ikari Y (2019) Clinical use of physiological lesion assessment using pressure guidewires: an expert consensus document of the Japanese Association of Cardiovascular Intervention and Therapeutics. Cardiovasc Interv Ther 34:85–96

12.

Pijls NH, Kern MJ, Yock PG, De Bruyne B (2000) Practice and potential pitfalls of coronary pressure measurement. Catheter Cardiovasc Interv 49:1–16

13.

Puymirat É, Muller O, Sharif F, Dupouy P, Cuisset T, de Bruyne B, Gilard M (2010) Fractional flow reserve: concepts, applications and use in France in 2010. Arch Cardiovasc Dis 103:615–622

14.

Matsumura M, Johnson NP, Fearon WF, Mintz GS, Stone GW, Oldroyd KG, De Bruyne B, Pijls NHJ, Maehara A, Jeremias A (2017) Accuracy of fractional flow reserve measurements in clinical practice: observations from a core laboratory analysis. JACC Cardiovasc Interv 10:1392–1401

15.

Moriyama N, Yamanaka F, Shishido K, Tobita K, Yokota S, Hayashi T, Koike T, Miyashita H, Yokoyama H, Nishimoto T, Takada T, Ochiai T, Mizuno S, Tanaka Y, Murakami M, Takahashi S, Saito S (2018) The COFFEE Trial (COmparison of Fractional Flow Reserve Measurements through 4 French versus 6 French Diagnostic Catheter). JACC Cardiovasc Interv 11:414–416

16.

Legalery P, Seronde MF, Meneveau N, Schiele F, Bassand JP (2003) Measuring pressure-derived fractional flow reserve through four French diagnostic catheters. Am J Cardiol 91:1075–1078

17.

Kato D, Takashima H, Waseda K, Kurita A, Kuroda Y, Kosaka T, Kuhara Y, Ando H, Maeda K, Kumagai S, Sakurai S, Suzuki A, Toda Y, Watanabe A, Sato S, Fujimoto M, Mizuno T, Amano T (2015) Feasibility and safety of intracoronary nicorandil infusion as a novel hyperemic agent for fractional flow reserve measurements. Heart Vessels 30:477–548

18.

Jeremias A, Kirtane AJ, Stone GW (2017) A test in context: fractional flow reserve: accuracy, prognostic implications, and limitations. J Am Coll Cardiol 69:2748–2758

19.

McGhee BH, Bridges EJ (2002) Monitoring arterial blood pressure: what you may not know. Crit Care Nurse 22:60–64
Acknowledgements
We would like to express our heartfelt gratitude to the Japan Society of Clinical Research.
Ethics declarations
Conflicts of interest
The authors declare that they have no conflict of interest.
Additional information
Publisher's Note
Springer Nature remains neutral with regard to jurisdictional claims in published maps and institutional affiliations.
About this article
Cite this article
Nogi, K., Soeda, T., Hara, M. et al. Functional assessment of intermediate coronary artery stenosis with 4-Fr catheters. Heart Vessels 36, 638–645 (2021). https://doi.org/10.1007/s00380-020-01746-2
Received:

Accepted:

Published:

Issue Date:
Keywords
Coronary artery disease

Functional coronary assessment

Pd/pa

Instantaneous wave-free ratio

Fractional flow reserve