Abstract
There is a lack of data on how to treat hypertensive patients with diabetes when treatment with medium doses of calcium channel blocker and angiotensin II type 1 receptor blocker (ARB) is insufficient to achieve the target blood pressure (BP). A total of 121 participants with type 2 diabetes and uncontrolled essential hypertension, who were receiving medium doses of amlodipine (5 mg/day) and ARB, were enrolled. Participants were randomized to receive either a high dose of amlodipine (10 mg/day) plus a medium dose of ARB (high-AML) or a medium dose of amlodipine (5 mg/day) plus a high dose of ARB (high-ARB). The depressor effects of these two regimens were monitored using a telemonitoring home BP-measuring system. Fifty-four patients were excluded after an observation period, and the remaining 67 eligible participants were randomized into the two groups; 42 which had a record of their home BP for analysis. The change in morning home systolic and diastolic BP was greater in the high-AML than in the high-ARB (systolic BP; − 7.9 mmHg vs. + 2.7 mmHg; p = 0.0002, diastolic BP; − 3.9 mmHg vs. + 0.6 mmHg; p = 0.0007). In addition, the home systolic and diastolic BP before going to bed and office systolic BP were significantly reduced from week 0 only in the high-AML. An increased dose of amlodipine, but not ARB, reduced home morning BP in hypertensive patients with type 2 diabetes who were already receiving combination therapy with medium doses of amlodipine and ARB.
This is a preview of subscription content, log in to check access.
Access options
Buy single article
Instant access to the full article PDF.
US$ 39.95
Price includes VAT for USA
Subscribe to journal
Immediate online access to all issues from 2019. Subscription will auto renew annually.
US$ 99
This is the net price. Taxes to be calculated in checkout.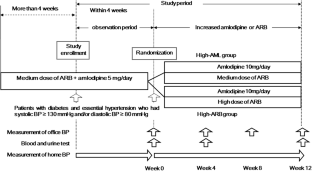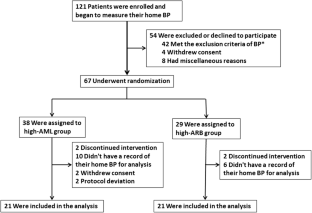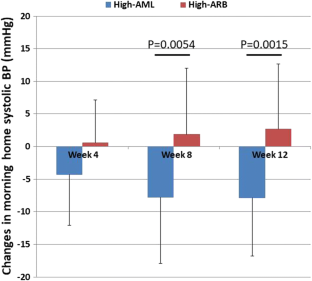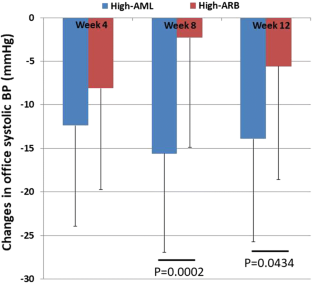 References
1.

Adler AI, Stratton IM, Neil HA, Yudkin JS, Matthews DR, Cull CA, Wright AD, Turner RC, Holman RR (2000) Association of systolic blood pressure with macrovascular and microvascular complications of type 2 diabetes (UKPDS 36): prospective observational study. BMJ 321:412–419

2.

Stamler J, Vaccaro O, Neaton JD, Wentworth D (1993) Diabetes, other risk factors, and 12-yr cardiovascular mortality for men screened in the Multiple Risk Factor Intervention Trial. Diabetes Care 16:434–444

3.

Chen G, McAlister FA, Walker RL, Hemmelgarn BR, Campbell NR (2011) Cardiovascular outcomes in framingham participants with diabetes: the importance of blood pressure. Hypertension 57:891–897

4.

Kannel WB, Wilson PW, Zhang TJ (1991) The epidemiology of impaired glucose tolerance and hypertension. Am Heart J 121:1268–1273

5.

Tarnow L, Rossing P, Gall MA, Nielsen FS, Parving HH (1994) Prevalence of arterial hypertension in diabetic patients before and after the JNC-V. Diabetes Care 17:1247–1251

6.

Whelton PK, Carey RM, Aronow WS, Casey DE Jr, Collins KJ, Dennison Himmelfarb C, DePalma SM, Gidding S, Jamerson KA, Jones DW, MacLaughlin EJ, Muntner P, Ovbiagele B, Smith SC Jr, Spencer CC, Stafford RS, Taler SJ, Thomas RJ, Williams KA Sr, Williamson JD, Wright JT Jr (2017) 2017 ACC/AHA/AAPA/ABC/ACPM/AGS/APhA/ASH/ASPC/NMA/PCNA Guideline for the prevention, detection, evaluation, and management of high blood pressure in adults: a Report of the American College of Cardiology/American Heart Association Task Force on Clinical Practice Guidelines. Hypertension. https://doi.org/10.1161/hyp.0000000000000065

7.

Mancia G, Fagard R, Narkiewicz K, Redon J, Zanchetti A, Bohm M, Christiaens T, Cifkova R, De Backer G, Dominiczak A, Galderisi M, Grobbee DE, Jaarsma T, Kirchhof P, Kjeldsen SE, Laurent S, Manolis AJ, Nilsson PM, Ruilope LM, Schmieder RE, Sirnes PA, Sleight P, Viigimaa M, Waeber B, Zannad F (2014) 2013 ESH/ESC Practice Guidelines for the Management of Arterial Hypertension. Blood Press 23:3–16

8.

James PA, Oparil S, Carter BL, Cushman WC, Dennison-Himmelfarb C, Handler J, Lackland DT, LeFevre ML, MacKenzie TD, Ogedegbe O, Smith SC Jr, Svetkey LP, Taler SJ, Townsend RR, Wright JT Jr, Narva AS, Ortiz E (2014) 2014 evidence-based guideline for the management of high blood pressure in adults: report from the panel members appointed to the Eighth Joint National Committee (JNC 8). JAMA 311:507–520

9.

Palmer SC, Mavridis D, Navarese E, Craig JC, Tonelli M, Salanti G, Wiebe N, Ruospo M, Wheeler DC, Strippoli GF (2015) Comparative efficacy and safety of blood pressure-lowering agents in adults with diabetes and kidney disease: a network meta-analysis. Lancet 385:2047–2056

10.

Schmieder RE, Hilgers KF, Schlaich MP, Schmidt BM (2007) Renin-angiotensin system and cardiovascular risk. Lancet 369:1208–1219

11.

Krause T, Lovibond K, Caulfield M, McCormack T, Williams B (2011) Management of hypertension: summary of NICE guidance. BMJ 343:d4891

12.

Ostergren J, Poulter NR, Sever PS, Dahlof B, Wedel H, Beevers G, Caulfield M, Collins R, Kjeldsen SE, Kristinsson A, McInnes GT, Mehlsen J, Nieminen M, O'Brien E (2008) The Anglo-Scandinavian Cardiac Outcomes Trial: blood pressure-lowering limb: effects in patients with type II diabetes. J Hypertens 26:2103–2111

13.

Mori H, Ukai H, Yamamoto H, Saitou S, Hirao K, Yamauchi M, Umemura S (2006) Current status of antihypertensive prescription and associated blood pressure control in Japan. Hypertens Res 29:143–151

14.

Grossman Y, Shlomai G, Grossman E (2014) Treating hypertension in type 2 diabetes. Expert Opin Pharmacother 15:2131–2140

15.

Miyauchi K, Yamazaki T, Watada H, Tanaka Y, Kawamori R, Imai Y, Ikeda S, Kitagawa A, Ono Y, Murayama F, Choi JB, Suwa S, Hayashi D, Kishimoto J, Daida H (2012) Management of home blood pressure by amlodipine combined with angiotensin II receptor blocker in type 2 diabetes. Circ J 76:2159–2166

16.

Okada T, Tanaka H, Kaisei E, Inoue T, Miyoshi H, Ono H, Kuwahara M, Miyake R (2013) Amlodipine10mg/ARB heiyouryouhou to, amlodipine5mg/ARB heiyouryouhou no kouatsukouka no hikakukentou. J Blood Press 20(11):1131–1137 (in Japanese)

17.

Wright JT Jr, Williamson JD, Whelton PK, Snyder JK, Sink KM, Rocco MV, Reboussin DM, Rahman M, Oparil S, Lewis CE, Kimmel PL, Johnson KC, Goff DC Jr, Fine LJ, Cutler JA, Cushman WC, Cheung AK, Ambrosius WT (2015) A randomized trial of intensive versus standard blood-pressure control. N Engl J Med 373:2103–2116

18.

Cushman WC, Evans GW, Byington RP, Goff DC Jr, Grimm RH Jr, Cutler JA, Simons-Morton DG, Basile JN, Corson MA, Probstfield JL, Katz L, Peterson KA, Friedewald WT, Buse JB, Bigger JT, Gerstein HC, Ismail-Beigi F (2010) Effects of intensive blood-pressure control in type 2 diabetes mellitus. N Engl J Med 362:1575–1585

19.

Xie X, Atkins E, Lv J, Bennett A, Neal B, Ninomiya T, Woodward M, MacMahon S, Turnbull F, Hillis GS, Chalmers J, Mant J, Salam A, Rahimi K, Perkovic V, Rodgers A (2016) Effects of intensive blood pressure lowering on cardiovascular and renal outcomes: updated systematic review and meta-analysis. Lancet 387:435–443

20.

Turnbull F (2003) Effects of different blood-pressure-lowering regimens on major cardiovascular events: results of prospectively-designed overviews of randomised trials. Lancet 362:1527–1535

21.

Julius S, Kjeldsen SE, Weber M, Brunner HR, Ekman S, Hansson L, Hua T, Laragh J, McInnes GT, Mitchell L, Plat F, Schork A, Smith B, Zanchetti A (2004) Outcomes in hypertensive patients at high cardiovascular risk treated with regimens based on valsartan or amlodipine: the VALUE randomised trial. Lancet 363:2022–2031

22.

Morii J, Miura S, Ike A, Shiga Y, Sugihara M, Iwata A, Kawamura A, Nishikawa H, Saku K (2013) Comparison of the efficacies of irbesartan and olmesartan after successful coronary stent implantation. Intern Med 52:713–719

23.

Sugihara M, Miura S, Takamiya Y, Kiya Y, Arimura T, Iwata A, Kawamura A, Nishikawa H, Uehara Y, Saku K (2009) Safety and efficacy of antihypertensive therapy with add-on angiotensin II type 1 receptor blocker after successful coronary stent implantation. Hypertens Res 32:625–630

24.

Haller H, Ito S, Izzo JL Jr, Januszewicz A, Katayama S, Menne J, Mimran A, Rabelink TJ, Ritz E, Ruilope LM, Rump LC, Viberti G (2011) Olmesartan for the delay or prevention of microalbuminuria in type 2 diabetes. N Engl J Med 364:907–917

25.

Xu R, Sun S, Huo Y, Yun L, Huang S, Li G, Yan S (2015) Effects of ACEIs versus ARBs on proteinuria or albuminuria in primary hypertension: a meta-analysis of randomized trials. Medicine (Baltimore) 94:e1560

26.

Parving HH, Lehnert H, Brochner-Mortensen J, Gomis R, Andersen S, Arner P (2001) The effect of irbesartan on the development of diabetic nephropathy in patients with type 2 diabetes. N Engl J Med 345:870–878

27.

Karthikeyan VJ, Lip GY (2007) Antihypertensive treatment, adiponectin and cardiovascular risk. J Hum Hypertens 21:8–11

28.

Furuhashi M, Ura N, Higashiura K, Murakami H, Tanaka M, Moniwa N, Yoshida D, Shimamoto K (2003) Blockade of the renin-angiotensin system increases adiponectin concentrations in patients with essential hypertension. Hypertension 42:76–81

29.

Nomura S, Shouzu A, Omoto S, Nishikawa M, Fukuhara S, Iwasaka T (2006) Effect of valsartan on monocyte/endothelial cell activation markers and adiponectin in hypertensive patients with type 2 diabetes mellitus. Thromb Res 117:385–392

30.

Nicholson T, Church C, Baker DJ, Jones SW (2018) The role of adipokines in skeletal muscle inflammation and insulin sensitivity. J Inflamm (Lond) 15:9

31.

Andraws R, Brown DL (2007) Effect of inhibition of the renin-angiotensin system on development of type 2 diabetes mellitus (meta-analysis of randomized trials). Am J Cardiol 99:1006–1012

32.

Arslan Z, Ay SA, Karaman M, Cakar M, Celik T, Balta S, Akhan M, Sarlak H, Arslan E, Demirbas S, Demirkol S, Bulucu F, Saglam K (2013) An additional LDL-lowering effect of amlodipine; not only an antihypertensive? Clin Exp Hypertens 35:449–453

33.

Lender D, Arauz-Pacheco C, Breen L, Mora-Mora P, Ramirez LC, Raskin P (1999) A double blind comparison of the effects of amlodipine and enalapril on insulin sensitivity in hypertensive patients. Am J Hypertens 12:298–303

34.

Park SJ, Park JB, Choi DJ, Youn HJ, Park CG, Ahn YK, Shin JH, Kim DW, Rim SJ, Bae JH, Park HY (2011) Detection of masked hypertension and the 'mask effect' in patients with well-controlled office blood pressure. Circ J 75:357–365

35.

Siu AL (2015) Screening for high blood pressure in adults: U.S. Preventive Services Task Force recommendation statement. Ann Intern Med 163:778–786

36.

Niiranen TJ, Hanninen MR, Johansson J, Reunanen A, Jula AM (2010) Home-measured blood pressure is a stronger predictor of cardiovascular risk than office blood pressure: the Finn-Home study. Hypertension 55:1346–1351

37.

McCarney R, Warner J, Iliffe S, van Haselen R, Griffin M, Fisher P (2007) The Hawthorne effect: a randomised, controlled trial. BMC Med Res Methodol 7:30

38.

Fox NS, Brennan JS, Chasen ST (2008) Clinical estimation of fetal weight and the Hawthorne effect. Eur J Obstet Gynecol Reprod Biol 141:111–114

39.

Uhlig K, Balk EM, Patel K, Ip S, Kitsios GD, Obadan NO, Haynes SM, Stefan M, Rao M Kong Win Chang L, Gaylor J Iovin RC (2012) Self-Measured Blood Pressure Monitoring: Comparative Effectiveness. Agency for Healthcare Research and Quality (US) Report No.: 12-EHC002-EF.
Acknowledgements
ACADEMIE Investigators (Munehito Ideishi, Atsushi Iwata, Keita Noda, Kanta Fujimi, Akira Kawamura, Sen Adachi, Hiroaki Nishikawa, Takao Fukushima, Nobuhide Tanaka, Kazuhiro Fujisawa, Yosuke Takamiya, Hiroaki Arishima, Toshihiro Shimokawa, Hiroshi Seto, Asao Inoue, Takemasa Midorikawa, Hiroshi Shijo)
Ethics declarations
Conflict of interest
The ACADEMIE trial was sponsored by Sumitomo Dainippon Pharma Co., Ltd. K.S. is a Chief Director and S.M. is a Director of NPO Clinical and Applied Science, Fukuoka, Japan. K.S. has an Endowed "Department of Molecular Cardiovascular Therapeutics" supported by MSD, Co. LTD. S.M. belongs to the Department of Molecular Cardiovascular Therapeutics, which is supported by MSD, Co. LTD. K.S. and S.M. have received grants and lecture honoraria from Daiichi-Sankyo Co, Takeda Pharm. Co. Ltd., Bayer Yakuhin Pharm., and Astellas Pharma Inc.
About this article
Cite this article
Imaizumi, S., Shiga, Y., Ogawa, M. et al. Randomized trial of an increased dose of calcium channel blocker or angiotensin II type 1 receptor blocker as an add-on intensive depressor therapy in type 2 diabetes mellitus patients with uncontrolled essential hypertension: the ACADEMIE Study. Heart Vessels 34, 698–710 (2019). https://doi.org/10.1007/s00380-018-1286-2
Received:

Accepted:

Published:

Issue Date:
Keywords
Angiotensin II type 1 receptor blocker

Calcium channel blocker

Essential Hypertension

Home blood pressure

Type 2 diabetes mellitus