Abstract
This study investigated the safety and efficacy of a sustained release of basic fibroblast growth factor (bFGF) with biodegradable gelatin hydrogel sheets as therapeutic angiogenesis in canine chronic myocardial infarction (MI) models. Canine chronic MI model was induced by ligating the left anterior descending coronary artery and its diagonal branches. At 4 week post-induction, we applied either saline (Control group, n = 5) or 200 μg of bFGF (Treatment group, n = 6) soaked gelatin hydrogel sheets on the ischemic area of the left ventricular (LV) wall. At 6 weeks after the procedure, we evaluated the efficacy by echocardiography and immunohistochemical study. There were no procedure-related adverse events or deaths. The serum bFGF level was under detectable levels in all animals at any sampling points. In terms of efficacy, echocardiographic evaluation demonstrated that fractional shortening was significantly improved in the treatment group. In addition, immunohistochemical study showed that the capillary density in the border zone of the MI area, as well as the MI area, significantly increased in the treatment group. Therapeutic angiogenesis by bFGF using biodegradable gelatin hydrogel sheets was safe, increased the capillary density, and improved LV function in canine chronic MI models.
Access options
Buy single article
Instant access to the full article PDF.
USD 39.95
Price includes VAT (USA)
Tax calculation will be finalised during checkout.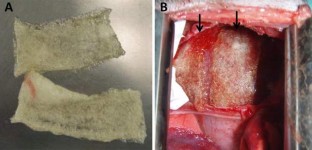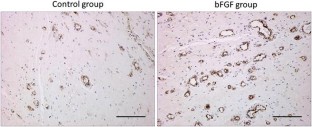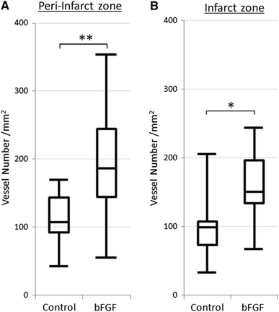 References
1.

World Health Organization (WHO) Global Health Estimates (GHE): cause of death, 2000–2012. Secondary World Health Organization (WHO) Global Health Estimates (GHE): cause of death, 2000–2012. http://www.who.int/healthinfo/global_burden_disease/estimates/en/index1.html. Accessed 3 Apr 2018

2.

Benjamin EJ, Blaha MJ, Chiuve SE, Cushman M, Das SR, Deo R, de Ferranti SD, Floyd J, Fornage M, Gillespie C, Isasi CR, Jimenez MC, Jordan LC, Judd SE, Lackland D, Lichtman JH, Lisabeth L, Liu S, Longenecker CT, Mackey RH, Matsushita K, Mozaffarian D, Mussolino ME, Nasir K, Neumar RW, Palaniappan L, Pandey DK, Thiagarajan RR, Reeves MJ, Ritchey M, Rodriguez CJ, Roth GA, Rosamond WD, Sasson C, Towfighi A, Tsao CW, Turner MB, Virani SS, Voeks JH, Willey JZ, Wilkins JT, Wu JH, Alger HM, Wong SS, Muntner P, American Heart Association Statistics C, Stroke Statistics S (2017) Heart disease and stroke statistics-2017 update: A Report From the American Heart Association. Circulation 135:e146–e603

3.

Madonna R, Van Laake LW, Davidson SM, Engel FB, Hausenloy DJ, Lecour S, Leor J, Perrino C, Schulz R, Ytrehus K, Landmesser U, Mummery CL, Janssens S, Willerson J, Eschenhagen T, Ferdinandy P, Sluijter JP (2016) Position Paper of the European Society of Cardiology Working Group Cellular Biology of the Heart: cell-based therapies for myocardial repair and regeneration in ischemic heart disease and heart failure. Eur Heart J 37:1789–1798

4.

Masumoto H, Sakata R (2012) Cardiovascular surgery for realization of regenerative medicine. Gen Thorac Cardiovasc Surg 60:744–755

5.

Gospodarowicz D (1974) Localisation of a fibroblast growth factor and its effect alone and with hydrocortisone on 3T3 cell growth. Nature 249:123–127

6.

Akita S, Akino K, Imaizumi T, Hirano A (2005) A basic fibroblast growth factor improved the quality of skin grafting in burn patients. Burns 31:855–858

7.

Tabata Y, Nagano A, Ikada Y (1999) Biodegradation of hydrogel carrier incorporating fibroblast growth factor. Tissue Eng 5:127–138

8.

Ikada Y, Tabata Y (1998) Protein release from gelatin matrices. Adv Drug Deliv Rev 31:287–301

9.

Kushibiki T, Tomoshige R, Fukunaka Y, Kakemi M, Tabata Y (2003) In vivo release and gene expression of plasmid DNA by hydrogels of gelatin with different cationization extents. J Control Release 90:207–216

10.

Doi K, Ikeda T, Marui A, Kushibiki T, Arai Y, Hirose K, Soga Y, Iwakura A, Ueyama K, Yamahara K, Itoh H, Nishimura K, Tabata Y, Komeda M (2007) Enhanced angiogenesis by gelatin hydrogels incorporating basic fibroblast growth factor in rabbit model of hind limb ischemia. Heart Vessels 22:104–108

11.

Marui A, Tabata Y, Kojima S, Yamamoto M, Tambara K, Nishina T, Saji Y, Inui K, Hashida T, Yokoyama S, Onodera R, Ikeda T, Fukushima M, Komeda M (2007) A novel approach to therapeutic angiogenesis for patients with critical limb ischemia by sustained release of basic fibroblast growth factor using biodegradable gelatin hydrogel: an initial report of the phase I–IIa study. Circ J 71:1181–1186

12.

Kumagai M, Marui A, Tabata Y, Takeda T, Yamamoto M, Yonezawa A, Tanaka S, Yanagi S, Ito-Ihara T, Ikeda T, Murayama T, Teramukai S, Katsura T, Matsubara K, Kawakami K, Yokode M, Shimizu A, Sakata R (2016) Safety and efficacy of sustained release of basic fibroblast growth factor using gelatin hydrogel in patients with critical limb ischemia. Heart Vessels 31:713–721

13.

Iwakura A, Tabata Y, Koyama T, Doi K, Nishimura K, Kataoka K, Fujita M, Komeda M (2003) Gelatin sheet incorporating basic fibroblast growth factor enhances sternal healing after harvesting bilateral internal thoracic arteries. J Thorac Cardiovasc Surg 126:1113–1120

14.

Tabata Y, Hijikata S, Muniruzzaman M, Ikada Y (1999) Neovascularization effect of biodegradable gelatin microspheres incorporating basic fibroblast growth factor. J Biomater Sci Polym Ed 10:79–94

15.

Tabata Y, Nagano A, Muniruzzaman M, Ikada Y (1998) In vitro sorption and desorption of basic fibroblast growth factor from biodegradable hydrogels. Biomaterials 19:1781–1789

16.

Tabata Y, Ikada Y (1999) Vascularization effect of basic fibroblast growth factor released from gelatin hydrogels with different biodegradabilities. Biomaterials 20:2169–2175

17.

Uchida Y, Yanagisawa-Miwa A, Nakamura F, Yamada K, Tomaru T, Kimura K, Morita T (1995) Angiogenic therapy of acute myocardial infarction by intrapericardial injection of basic fibroblast growth factor and heparin sulfate: an experimental study. Am Heart J 130:1182–1188

18.

Cornel JH, Bax JJ, Elhendy A, Maat AP, Kimman GJ, Geleijnse ML, Rambaldi R, Boersma E, Fioretti PM (1998) Biphasic response to dobutamine predicts improvement of global left ventricular function after surgical revascularization in patients with stable coronary artery disease: implications of time course of recovery on diagnostic accuracy. J Am Coll Cardiol 31:1002–1010

19.

Trachiotis GD, Weintraub WS, Johnston TS, Jones EL, Guyton RA, Craver JM (1998) Coronary artery bypass grafting in patients with advanced left ventricular dysfunction. Ann Thorac Surg 66:1632–1639

20.

Lazarous DF, Shou M, Stiber JA, Hodge E, Thirumurti V, Goncalves L, Unger EF (1999) Adenoviral-mediated gene transfer induces sustained pericardial VEGF expression in dogs: effect on myocardial angiogenesis. Cardiovasc Res 44:294–302

21.

Nie SP, Wang X, Qiao SB, Zeng QT, Jiang JQ, Liu XQ, Zhu XM, Cao GX, Ma CS (2010) Improved myocardial perfusion and cardiac function by controlled-release basic fibroblast growth factor using fibrin glue in a canine infarct model. J Zhejiang Univ Sci B 11:895–904

22.

Fathi E, Nassiri SM, Atyabi N, Ahmadi SH, Imani M, Farahzadi R, Rabbani S, Akhlaghpour S, Sahebjam M, Taheri M (2013) Induction of angiogenesis via topical delivery of basic-fibroblast growth factor from polyvinyl alcohol-dextran blend hydrogel in an ovine model of acute myocardial infarction. J Tissue Eng Regen Med 7:697–707

23.

Unger EF, Sheffield CD, Epstein SE (1990) Creation of Anastomoses between an extracardiac artery and the coronary circulation—proof that myocardial angiogenesis occurs and can provide nutritional blood-flow to the myocardium. Circulation 82:1449–1466

24.

Braunwald E, Rutherford JD (1986) Reversible ischemic left ventricular dysfunction: evidence for the "hibernating myocardium". J Am Coll Cardiol 8:1467–1470

25.

Heusch G, Schulz R, Rahimtoola SH (2005) Myocardial hibernation: a delicate balance. Am J Physiol Heart Circ Physiol 288:H984–H999

26.

Shudo Y, Miyagawa S, Fukushima S, Saito A, Shimizu T, Okano T, Sawa Y (2011) Novel regenerative therapy using cell-sheet covered with omentum flap delivers a huge number of cells in a porcine myocardial infarction model. J Thorac Cardiovasc Surg 142:1188–1196

27.

Maes A, Flameng W, Nuyts J, Borgers M, Shivalkar B, Ausma J, Bormans G, Schiepers C, De Roo M, Mortelmans L (1994) Histological alterations in chronically hypoperfused myocardium. Correlation with PET findings. Circulation 90:735–745
Acknowledgements
This work was supported by research grants from the Ministry of Health, Labor and Welfare, Japan [Grant no. 201409024A] (to R.S.) and Invited Research Project of Translational Research Center, Kyoto University Hospital (to R.S.). We thank Dr. Hemant Poudyal (Kyoto University) for the critical reading of the manuscript.
Ethics declarations
Conflict of interest
None declared.
About this article
Cite this article
Kumagai, M., Minakata, K., Masumoto, H. et al. A therapeutic angiogenesis of sustained release of basic fibroblast growth factor using biodegradable gelatin hydrogel sheets in a canine chronic myocardial infarction model. Heart Vessels 33, 1251–1257 (2018). https://doi.org/10.1007/s00380-018-1185-6
Received:

Accepted:

Published:

Issue Date:
Keywords
Basic fibroblast growth factor

Angiogenesis

Myocardial infarction

Drug delivery system