Abstract
Atrial fibrillation (AF) ablation requires transseptal puncture to access the left atrium. Recently, a radiofrequency (RF) needle was developed. The purpose of this study was to compare the incidence of MRI-confirmed acute cerebral embolism (ACE) during AF ablation procedures performed with RF needle versus mechanical needle transseptal puncture. This study consisted of 383 consecutive patients who underwent catheter ablation for AF that required transseptal puncture with mechanical or radiofrequency transseptal needles. Of those, 232 propensity score-matched patients (116 with each needle type) were included in the analysis. All patients had cerebral MRI performed 1 or 2 days after the procedure. Baseline characteristics were similar between the two groups. Total procedure time was significantly shorter in Group RF than Group non-RF (167 ± 50 vs. 181 ± 52 min, P = 0.01). ACE was detected by MRI in 59 (25%) patients. All patients with ACE were asymptomatic. Incidence of ACE was lower in Group RF than Group non-RF (19 vs. 32%, P = 0.02). B-type natriuretic peptide level was higher in the patients with ACE as compared to those without ACE (65.2 ± 68.7 vs. 44.7 ± 55.1 pg/ml, P = 0.02). In multivariable analysis, the use of RF needle and BNP level was related to the incidence of ACE (OR = 0.499, 95% CI 0.270–0.922, P = 0.03 and OR = 1.005, 95% CI 1.000–1.010, P = 0.03). Use of RF needle for transseptal puncture was associated with lower total procedure time and risk of ACE during catheter ablation of AF.
This is a preview of subscription content, log in to check access.
Access options
Buy single article
Instant access to the full article PDF.
US$ 39.95
Price includes VAT for USA
Subscribe to journal
Immediate online access to all issues from 2019. Subscription will auto renew annually.
US$ 99
This is the net price. Taxes to be calculated in checkout.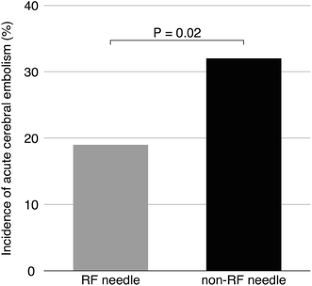 References
1.

Hussein AA, Martin DO, Saliba W, Patel D, Karim S, Batal O, Banna M, Williams-Andrews M, Sherman M, Kanj M, Bhargava M, Dresing T, Callahan T, Tchou P, Di Biase L, Beheiry S, Lindsay B, Natale A, Wazni O (2009) Radiofrequency ablation of atrial fibrillation under therapeutic international normalized ratio: a safe and efficacious periprocedural anticoagulation strategy. Heart Rhythm 6:1425–1429

2.

Deneke T, Shin DI, Balta O, Bünz K, Fassbender F, Mügge A, Anders H, Horlitz M, Päsler M, Karthikapallil S, Arentz T, Beyer D, Bansmann M (2011) Postablation asymptomatic cerebral lesions: long-term follow-up using magnetic resonance imaging. Heart Rhythm 8:1705–1711

3.

Herrera Siklódy C, Deneke T, Hocini M, Lehrmann H, Shin DI, Miyazaki S, Henschke S, Fluegel P, Schiebeling-Römer J, Bansmann PM, Bourdias T, Dousset V, Haïssaguerre M, Arentz T (2011) Incidence of asymptomatic intracranial embolic events after pulmonary vein isolation: comparison of different atrial fibrillation ablation technologies in a multicenter study. J Am Coll Cardiol 58:681–688

4.

Schwarz N, Kuniss M, Nedelmann M, Kaps M, Bachmann G, Neumann T, Pitschner HF, Gerriets T (2010) Neuropsychological decline after catheter ablation of atrial fibrillation. Heart Rhythm 7:1761–1767

5.

Iwasawa J, Miyazaki S, Takagi T, Taniguchi H, Nakamura H, Hachiya H, Iesaka Y (2018) Transcranial measurement of cerebral microembolic signals during left-sided catheter ablation with the use of different approaches—the potential microembolic risk of a transseptal approach. Europace 20:347–352

6.

Hsu JC, Badhwar N, Gerstenfeld EP, Lee RJ, Mandyam MC, Dewland TA, Imburgia KE, Hoffmayer KS, Vedantham V, Lee BK, Tseng ZH, Scheinman MM, Olgin JE, Marcus GM (2013) Randomized trial of conventional transseptal needle versus radiofrequency energy needle puncture for left atrial access (the TRAVERSE-LA study). J Am Heart Assoc 2:e000428

7.

Tokuda M, Matsuo S, Isogai R, Uno G, Tokutake K, Yokoyama K, Kato M, Narui R, Tanigawa S, Yamashita S, Inada K, Yoshimura M, Yamane T (2016) Adenosine testing during cryoballoon ablation and radiofrequency ablation of atrial fibrillation: a propensity score-matched analysis. Heart Rhythm 13:2128–2134

8.

Yamane T, Date T, Kanzaki Y, Inada K, Matsuo S, Shibayama K, Miyanaga S, Miyazaki H, Sugimoto K, Mochizuki S (2007) Segmental pulmonary vein antrum isolation using the "large-size" lasso catheter in patients with atrial fibrillation. Circ J 71:753–760

9.

Matsuo S, Yamane T, Date T, Inada K, Kanzaki Y, Tokuda M, Shibayama K, Miyanaga S, Miyazaki H, Sugimoto K, Mochizuki S (2007) Reduction of AF recurrence after pulmonary vein isolation by eliminating ATP-induced transient venous re-conduction. J Cardiovasc Electrophysiol 18:704–708

10.

Yamane T, Matsuo S, Date T, Lellouche N, Hioki M, Narui R, Ito K, Tanigawa S, Yamashita S, Tokuda M, Yoshida H, Inada K, Shibayama K, Miyanaga S, Miyazaki H, Abe K, Sugimoto K, Yoshimura M (2011) Repeated provocation of time- and ATP-induced early pulmonary vein reconnections after pulmonary vein isolation: eliminating paroxysmal atrial fibrillation in a single procedure. Circ Arrhythm Electrophysiol 4:601–608

11.

Deneke T, Jais P, Scaglione M, Schmitt R, Di Biase L, Christopoulos G, Schade A, Mügge A, Bansmann M, Nentwich K, Müller P, Krug J, Roos M, Halbfass P, Natale A, Gaita F, Haines D (2015) Silent cerebral events/lesions related to atrial fibrillation ablation: a clinical review. J Cardiovasc Electrophysiol 26:455–463

12.

Gaita F, Leclercq JF, Schumacher B, Scaglione M, Toso E, Halimi F, Schade A, Froehner S, Ziegler V, Sergi D, Cesarani F, Blandino A (2011) Incidence of silent cerebral thromboembolic lesions after atrial fibrillation ablation may change according to technology used: comparison of irrigated radiofrequency, multipolar nonirrigated catheter and cryoballoon. J Cardiovasc Electrophysiol 22:961–968

13.

Verma A, Debruyne P, Nardi S, Deneke T, DeGreef Y, Spitzer S, Balzer JO, Boersma L, Investigators ERACE (2013) Evaluation and reduction of asymptomatic cerebral embolism in ablation of atrial fibrillation, but high prevalence of chronic silent infarction: results of the evaluation of reduction of asymptomatic cerebral embolism trial. Circ Arrhythm Electrophysiol 6:835–842

14.

Feld GK, Tiongson J, Oshodi G (2011) Particle formation and risk of embolization during transseptal catheterization: comparison of standard transseptal needles and a new radiofrequency transseptal needle. J Interv Card Electrophysiol 30:31–36

15.

Fromentin S, Sarrazin JF, Champagne J, Nault I, Philippon F, Molin F, Blier L, O'Hara G (2011) Prospective comparison between conventional transseptal puncture and transseptal needle puncture with radiofrequency energy. J Interv Card Electrophysiol 31:237–242

16.

Veldtman GR, Wilson GJ, Peirone A, Hartley A, Estrada M, Norgard G, Leung RK, Visram N, Benson LN (2005) Radiofrequency perforation and conventional needle percutaneous transseptal left heart access: pathological features. Catheter Cardiovasc Interv 65:556–563

17.

Medi C, Evered L, Silbert B, Teh A, Halloran K, Morton J, Kistler P, Kalman J (2013) Subtle post-procedural cognitive dysfunction after atrial fibrillation ablation. J Am Coll Cardiol 62:531–539

18.

Calkins H, Kuck KH, Cappato R, Brugada J, Camm AJ, Chen SA, Crijns HJ, Damiano RJ Jr, Davies DW, DiMarco J, Edgerton J, Ellenbogen K, Ezekowitz MD, Haines DE, Haissaguerre M, Hindricks G, Iesaka Y, Jackman W, Jalife J, Jais P, Kalman J, Keane D, Kim YH, Kirchhof P, Klein G, Kottkamp H, Kumagai K, Lindsay BD, Mansour M, Marchlinski FE, McCarthy PM, Mont JL, Morady F, Nademanee K, Nakagawa H, Natale A, Nattel S, Packer DL, Pappone C, Prystowsky E, Raviele A, Reddy V, Ruskin JN, Shemin RJ, Tsao HM, Wilber D (2012) 2012 HRS/EHRA/ECAS Expert Consensus Statement on Catheter and Surgical Ablation of Atrial Fibrillation: recommendations for patient selection, procedural techniques, patient management and follow-up, definitions, endpoints, and research trial design. Europace 14:528–606

19.

Martinek M, Sigmund E, Lemes C, Derndorfer M, Aichinger J, Winter S, Jauker W, Gschwendtner M, Nesser HJ, Pürerfellner H (2013) Asymptomatic cerebral lesions during pulmonary vein isolation under uninterrupted oral anticoagulation. Europace 15:325–331

20.

Kowalski M, DeVille JB, Svinarich JT, Dan D, Wickliffe A, Kantipudi C, Foell JD, Filardo G, Holbrook R, Baker J, Baydoun H, Jenkins M, Chang-Sing P (2016) Using discrete event simulation to model the economic value of shorter procedure times on EP lab efficiency in the VALUE PVI study. J Invasive Cardiol 28:176–182
Ethics declarations
Conflict of interest
None.
About this article
Cite this article
Tokuda, M., Yamashita, S., Matsuo, S. et al. Radiofrequency needle for transseptal puncture is associated with lower incidence of thromboembolism during catheter ablation of atrial fibrillation: propensity score-matched analysis. Heart Vessels 33, 1238–1244 (2018). https://doi.org/10.1007/s00380-018-1159-8
Received:

Accepted:

Published:

Issue Date:
Keywords
Atrial fibrillation

Catheter ablation

Transseptal

Radiofrequency needle

Embolism