Abstract
There are very few epidemiological studies on Japanese patients with deep vein thrombosis (DVT). In particular, mortality rate differences in Japanese DVT patients with and without malignancy have rarely been evaluated. To elucidate these differences, we enrolled 211 patients who had been diagnosed with de-novo acute DVT of the pelvis or lower extremities between January 2012 and December 2015. The clinical characteristics, treatment information, and follow-up data were retrospectively assessed. We compared these variables in patients with (n = 120) and without (n = 91) concomitant malignancies. The median age of patients was 67 years, 33.7% were male, and 82.9% patients were treated with oral anticoagulants including direct oral anticoagulants. The clinical characteristics and treatment provided were almost identical in the two groups with some exceptions. Three-year survival rates of the total population, patients with malignancy, and patients without malignancy were 80.6, 67.6, and 97.6%, respectively (log-rank p < 0.001). Multivariable Cox regression analysis demonstrated that malignancy was independently associated with high risk of 3-year all-cause mortality with an adjusted hazard ratio of 9.1 (95% confidence interval; 2.1–39.0, p = 0.003). Bootstrap validation demonstrated an acceptable index corrected slope of 0.766 without significant overfitting in a multivariable model. In conclusion, we analyzed epidemiological data on Japanese patients with DVT. Malignancy was independently associated with increased 3-year all-cause mortality.
Access options
Buy single article
Instant access to the full article PDF.
USD 39.95
Price includes VAT (USA)
Tax calculation will be finalised during checkout.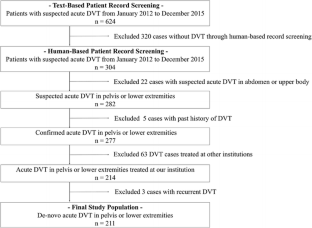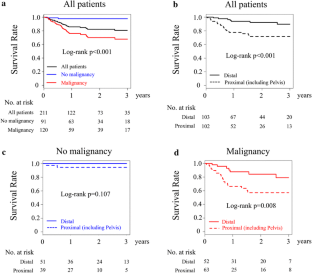 References
1.

Garcia DA, Baglin TP, Weitz JI, Samama MM, American College of Chest Physicians (2012) Parenteral anticoagulants: antithrombotic therapy and prevention of thrombosis, 9th ed: American College of Chest Physicians evidence-based clinical practice guidelines. Chest 141(2 Suppl):e24S–e43S

2.

Konstantinides SV, Torbicki A, Agnelli G, Danchin N, Fitzmaurice D, Galiè N, Gibbs JS, Huisman MV, Humbert M, Kucher N, Lang I, Lankeit M, Lekakis J, Maack C, Mayer E, Meneveau N, Perrier A, Pruszczyk P, Rasmussen LH, Schindler TH, Svitil P, Vonk Noordegraaf A, Zamorano JL, Zompatori M, Task Force for the Diagnosis and Management of Acute Pulmonary Embolism of the European Society of Cardiology (ESC) (2014) 2014 ESC guidelines on the diagnosis and management of acute pulmonary embolism. Eur Heart J 35:3033–3069

3.

Piazza G, Goldhaber SZ (2006) Acute pulmonary embolism: part I: epidemiology and diagnosis. Circulation 114:e28–e32

4.

May R, Thurner J (1957) The cause of the predominantly sinistral occurrence of thrombosis of the pelvic veins. Angiology 8:419–427

5.

Kumasaka N, Sakuma M, Shirato K (1999) Incidence of pulmonary thromboembolism in Japan. Jpn Circ J 63:439–441

6.

JCS Joint Working Group (2011) Guidelines for the diagnosis, treatment and prevention of pulmonary thromboembolism and deep vein thrombosis (JCS 2009). Circ J 75:1258–1281

7.

Keller K, Beule J, Coldewey M, Dippold W, Balzer JO (2015) Impact of advanced age on the severity of normotensive pulmonary embolism. Heart Vessels 30:647–656

8.

Itani R, Minami Y, Haruki S, Watanabe E, Hagiwara N (2017) Prognostic impact of disseminated intravascular coagulation score in acute heart failure patients referred to a cardiac intensive care unit: a retrospective cohort study. Heart Vessels. doi:10.1007/s00380-017-0946-y

9.

Sakuma M, Nakamura M, Yamada N, Ota S, Shirato K, Nakano T, Ito M, Kobayashi T (2009) Venous thromboembolism: deep vein thrombosis with pulmonary embolism, deep vein thrombosis alone, and pulmonary embolism alone. Circ J 73:305–309

10.

Yamada N, Hanzawa K, Ota S, Nakamura M, Sato K, Ikura M, Suzuki T, Kaise T, Nakajima H, Ito M (2015) Occurrence of deep vein thrombosis among hospitalized non-surgical Japanese patients. Ann Vasc Dis 8:203–209

11.

Nakamura M, Miyata T, Ozeki Y, Takayama M, Komori K, Yamada N, Origasa H, Satokawa H, Maeda H, Tanabe N, Unno N, Shibuya T, Tanemoto K, Kondo K, Kojima T (2014) Current venous thromboembolism management and outcomes in Japan. Circ J 78:708–717

12.

Yamashita Y, Unoki T, Takagi D, Hamatani Y, Ishii M, Iguchi M, Ogawa H, Masunaga N, Wada H, Hasegawa K, Abe M, Akao M (2016) Indications, applications, and outcomes of inferior vena cava filters for venous thromboembolism in Japanese patients. Heart Vessels 31:1084–1090

13.

Kucher N (2011) Clinical practice. Deep-vein thrombosis of the upper extremities. N Engl J Med 364:861–869

14.

Anderson FA, Wheeler HB, Goldberg RJ, Hosmer DW, Patwardhan NA, Jovanovic B, Forcier A, Dalen JE (1991) A population-based perspective of the hospital incidence and case-fatality rates of deep vein thrombosis and pulmonary embolism. The Worcester DVT Study. Arch Intern Med 151:933–938

15.

Beyth RJ, Cohen AM, Landefeld CS (1995) Long-term outcomes of deep-vein thrombosis. Arch Intern Med 155:1031–1037

16.

Brandjes DP, Büller HR, Heijboer H, Huisman MV, de Rijk M, Jagt H, ten Cate JW (1997) Randomised trial of effect of compression stockings in patients with symptomatic proximal-vein thrombosis. Lancet 349:759–762

17.

Naess IA, Christiansen SC, Romundstad P, Cannegieter SC, Rosendaal FR, Hammerstrøm J (2007) Incidence and mortality of venous thrombosis: a population-based study. J Thromb Haemost 5:692–699

18.

Timp JF, Braekkan SK, Versteeg HH, Cannegieter SC (2013) Epidemiology of cancer-associated venous thrombosis. Blood 122:1712–1723

19.

Elyamany G, Alzahrani AM, Bukhary E (2014) Cancer-associated thrombosis: an overview. Clin Med Insights Oncol 8:129–137

20.

Heit JA, O'Fallon WM, Petterson TM, Lohse CM, Silverstein MD, Mohr DN, Melton LJ 3rd (2002) Relative impact of risk factors for deep vein thrombosis and pulmonary embolism: a population-based study. Arch Intern Med 162:1245–1248

21.

Lee AYY (2005) Management of thrombosis in cancer: primary prevention and secondary prophylaxis. Br J Haematol 128:291–302

22.

Sørensen HT, Mellemkjaer L, Olsen JH, Baron JA (2000) Prognosis of cancers associated with venous thromboembolism. N Engl J Med 343:1846–1850

23.

Spencer FA, Emery C, Lessard D, Anderson F, Emani S, Aragam J, Becker RC, Goldberg RJ (2006) The Worcester Venous Thromboembolism study: a population-based study of the clinical epidemiology of venous thromboembolism. J Gen Intern Med 21:722–727

24.

Carrier M, Lazo-Langner A, Shivakumar S, Tagalakis V, Zarychanski R, Solymoss S, Routhier N, Douketis J, Danovitch K, Lee AY, Le Gal G, Wells PS, Corsi DJ, Ramsay T, Coyle D, Chagnon I, Kassam Z, Tao H, Rodger MA, Investigators SOME (2015) Screening for occult cancer in unprovoked venous thromboembolism. N Engl J Med 373:697–704

25.

Prandoni P, Bernardi E, Valle FD, Visonà A, Tropeano PF, Bova C, Bucherini E, Islam MS, Piccioli A (2016) Extensive computed tomography versus limited screening for detection of occult cancer in unprovoked venous thromboembolism: A. multicenter, controlled, randomized clinical trial. Semin Thromb Hemost 42:884–890

26.

Van Doormaal FF, Terpstra W, Van Der Griend R, Prins MH, Nijziel MR, Van De Ree MA, Büller HR, Dutilh JC, ten Cate-Hoek A, Van Den Heiligenberg SM, Van Der Meer J, Otten JM (2011) Is extensive screening for cancer in idiopathic venous thromboembolism warranted? J Thromb Haemost 9:79–84

27.

Galanaud J-P, Sevestre-Pietri MA, Bosson JL, Laroche JP, Righini M, Brisot D, Boge G, van Kien AK, Gattolliat O, Bettarel-Binon C, Gris JC, Genty C, Quere I; OPTIMEeV-SFMV Investigators (2009) Comparative study on risk factors and early outcome of symptomatic distal versus proximal deep vein thrombosis: results from the OPTIMEV study. Thromb Haemost 102:493–500

28.

Gillet J-L, Perrin MR, Allaert FA (2007) Short-term and mid-term outcome of isolated symptomatic muscular calf vein thrombosis. J Vasc Surg 46:513–519

29.

Macdonald PS, Kahn SR, Miller N, Obrand D (2003) Short-term natural history of isolated gastrocnemius and soleal vein thrombosis. J Vasc Surg 37:523–527

30.

Tagaya M, Yoshikawa D, Sugishita Y, Yamauchi F, Ito T, Kamada T, Yoshinaga M, Mukaide D, Fujiwara W, Yokoi H, Hayashi M, Watanabe E, Ishii J, Ozaki Y, Izawa H (2016) Prescription patterns of oral anticoagulants for patients with non-valvular atrial fibrillation: experience at a Japanese single institution. Heart Vessels 31:957–962
Acknowledgements
We would like to express our heartfelt gratitude to the Japan Society of Clinical Research (http://www.japanscr.org/) for their dedicated support.
Ethics declarations
All procedures performed in the study involving human participants were in accordance with the ethical standards of each institutional research committee and with the 1964 Helsinki declaration and its later amendments or comparable ethical standards.
Conflict of interest
The authors declare that they have no conflict of interest.
About this article
Cite this article
Yokoi, K., Hara, M., Ueda, Y. et al. Epidemiological and outcome data in Japanese patients with deep vein thrombosis with and without malignancy. Heart Vessels 32, 1469–1477 (2017). https://doi.org/10.1007/s00380-017-1025-0
Received:

Accepted:

Published:

Issue Date:
Keywords
Deep venous thrombosis

Epidemiological data

Malignancy

Mortality