Abstract
Balneotherapy has been shown to reduce systemic blood pressure in healthy volunteers. Hyperthermia might ameliorate the inflammatory status in heart failure through improving cardiac function. The purpose of this study was to examine the beneficial effects of balneotherapy in patients with chronic heart failure (CHF). Thirty-two patients with systolic CHF classified as New York Heart Association functional status II or III were randomized to divide either a balneotherapy group or a control group. The patients in the balneotherapy group were immersed in a hot spring at 40°C for 10 min daily for 2 weeks; the control group patients took a shower daily. The left ventricular ejection fraction (EF) and cardiothoracic ratio (CTR) were evaluated and plasma brain natriuretic peptide (BNP), high-sensitivity C-reactive protein (hsCRP), tumor necrosis factor (TNF)-α, interleukin (IL)-1β, and IL-6 levels were measured. The clinical symptoms improved after 2 weeks of hot spring therapy. Although the heart rate did not change, clinical symptoms, CTR, EF, and BNP were significantly improved. Moreover, the inflammatory responses, including hsCRP, TNF-α and IL-6 decreased significantly after balneotherapy. The improvement of BNP correlates with the changes in inflammatory biomarkers. Repeated hyperthermia by bathing in a hot spring is therefore considered to improve the cardiac and inflammatory status in patients with CHF.
This is a preview of subscription content, log in to check access.
Access options
Buy single article
Instant access to the full article PDF.
US$ 39.95
Price includes VAT for USA
Subscribe to journal
Immediate online access to all issues from 2019. Subscription will auto renew annually.
US$ 99
This is the net price. Taxes to be calculated in checkout.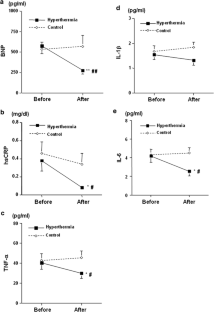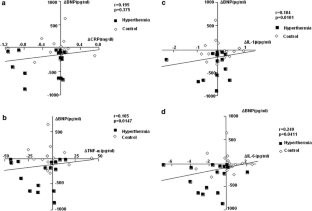 References
1.

Jessup M, Brozena S (2003) Heart failure. N Engl J Med 348:2007–2018

2.

Tei C, Horikiri Y, Park JC, Jeong JW, Chang KS, Toyama Y, Tanaka N (1995) Acute hemodynamic improvement by thermal vasodilation in congestive heart failure. Circulation 91:2582–2590

3.

Gabrielsen A, Sørensen VB, Pump B, Galatius S, Videbaek R, Bie P, Warberg J, Christensen NJ, Wroblewski H, Kastrup J, Norsk P (2000) Cardiovascular and neuroendocrine responses to water immersion in compensated heart failure. Am J Physiol Heart Circ Physiol 279:H1931–H1940

4.

Miyamoto H, Kai H, Nakaura H, Osada K, Mizuta Y, Matsumoto A, Imaizumi T (2005) Safety and efficacy of repeated sauna bathing in patients with chronic systolic heart failure: a preliminary report. J Card Fail 6:432–436

5.

Tei C (2001) Thermal therapy for congestive heart failure: estimation by TEI index. J Cardiol 37(Suppl 1):155–159

6.

Kihara T, Biro S, Imamura M, Yoshifuku S, Takasaki K, Ikeda Y, Otuji Y, Minagoe S, Toyama Y, Tei C (2002) Repeated sauna treatment improves vascular endothelial and cardiac function in patients with chronic heart failure. J Am Coll Cardiol 39:754–759

7.

Palazzuoli A, Antonelli G, Quatrini I, Nuti R (2011) Natriuretic peptides in heart failure: where we are where we are going. Intern Emerg Med 6:63–68

8.

Kurt IH, Yavuzer K, Batur MK (2010) Short-term effect of levosimendan on free light chain kappa and lambda levels in patients with decompensated chronic heart failure. Heart Vessels 25:392–399

9.

Ikeda N, Nakamura M, Yazaki Y, Ono T, Yamamoto M, Ito S, Yokouchi I, Yajima S, Iijima R, Hara H, Takagi T, Hara H, Asahara T, Sakai H, Sugi K (2011) A slightly elevated level of N-terminal pro-brain natriuretic peptide can predict coronary artery disease in a population with normal left ventricular function. Heart Vessels 26:473–479

10.

Levine B, Kalman J, Mayer L, Fillit HM, Packer M (1990) Elevated circulating levels of tumor necrosis factor in severe chronic heart failure. N Engl J Med 323:236–241

11.

Matsumori A, Yamada T, Suzuki H, Matoba Y, Sasayama S (1994) Increased circulating cytokines in patients with myocarditis and cardiomyopathy. Br Heart J 72:561–566

12.

Kubota T, McTiernan CF, Frye CS, Slawson SE, Lemster BH, Koretsky AP, Demetris AJ, Feldman AM (1997) Dilated cardiomyopathy in transgenic mice with cardiac-specific overexpression of tumor necrosis factor-α. Circ Res 81:627–635

13.

Oyama J, Shimokawa H, Momii H, Cheng X, Fukuyama N, Arai Y, Egashira K, Nakazawa H, Takeshita A (1998) Role of nitric oxide and peroxynitrite in the cytokine-induced sustained myocardial dysfunction in dogs in vivo. J Clin Invest 101:2207–2214

14.

Jug B, Salobir BG, Vene N, Sebestjen M, Sabovic M, Keber I (2009) Interleukin-6 is a stronger prognostic predictor than high-sensitive C-reactive protein in patients with chronic stable heart failure. Heart Vessels 24:271–276

15.

Chrysohoou C, Pitsavos C, Barbetseas J, Kotroyiannis I, Brili S, Vasiliadou K, Papadimitriou L, Stefanadis C (2009) Chronic systemic inflammation accompanies impaired ventricular diastolic function, detected by Doppler imaging, in patients with newly diagnosed systolic heart failure (Hellenic Heart Failure Study). Heart Vessels 24:22–26

16.

Yin WH, Chen JW, Jen HL, Chiang MC, Huang WP, Feng AN, Young MS, Lin SJ (2004) Independent prognostic value of elevated high-sensitivity C-reactive protein in chronic heart failure. Am Heart J 147:931–938

17.

Araújo JP, Lourenço P, Azevedo A, Friões F, Rocha-Gonçalves F, Ferreira A, Bettencourt P (2009) Prognostic value of high-sensitivity C-reactive protein in heart failure: a systematic review. J Card Fail 15:256–266

18.

Celik T, Iyisoy A, Celik M, Yuksel UC, Kardesoglu E (2009) C-reactive protein in chronic heart failure: a new predictor of survival. Int J Cardiol 135:396–397
About this article
Cite this article
Oyama, J., Kudo, Y., Maeda, T. et al. Hyperthermia by bathing in a hot spring improves cardiovascular functions and reduces the production of inflammatory cytokines in patients with chronic heart failure. Heart Vessels 28, 173–178 (2013). https://doi.org/10.1007/s00380-011-0220-7
Received:

Accepted:

Published:

Issue Date:
Keywords
Balneotherapy

Congestive heart failure

Inflammation

Cytokine