Abstract
The purpose of this study was to assess the feasibility of multidetector-row computed tomography (MDCT) for the evaluation of modified Blalock–Taussig (B–T) shunt in children with congenital heart disease associated with reduced pulmonary blood flow. A total of 25 consecutive patients (mean age, 2.6 ± 3.6 years; range, 2 months–16 years) underwent MDCT angiography of the thorax with a 16-detector row scanner prior to cardiac catheterization. A total of 39 shunts (right, 22; left, 17) were included in the study. Conventional angiographic findings were used as the gold standard for the detection of B–T shunts. Shunt diameter was measured quantitatively and independently at four sites (the subclavian artery site, the pulmonary artery site, the widest site, and the stenotic site) on MDCT and on conventional invasive angiography. All B–T shunts were depicted on multiplanar reconstruction (MPR), maximum intensity projection (MIP), curved planar reconstruction (CPR), and three-dimensional volume-rendered (VR) images, enabling evaluation in all patients except for one with occluded shunt. There were excellent correlations between MDCT- and conventional angiography-based measurements of shunt diameter at the subclavian artery site, pulmonary artery site, and the widest site (R 2 = 0.46, 0.74 and 0.64, respectively; p < 0.0001 for each), although systematic overestimation was observed for MDCT (mean percentage of overestimation, 23.1 ± 32.4%). Stenotic site diameter and degree of stenosis showed a mild correlation (R 2 = 010 and 0.25, respectively; p < 0.01 for each). This study demonstrates that MDCT is a promising tool for the detection of lesions in B–T shunts.
Access options
Buy single article
Instant access to the full article PDF.
USD 39.95
Price excludes VAT (USA)
Tax calculation will be finalised during checkout.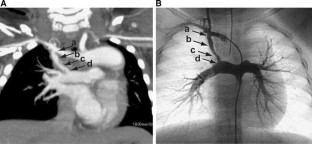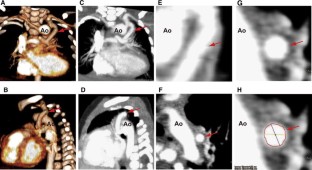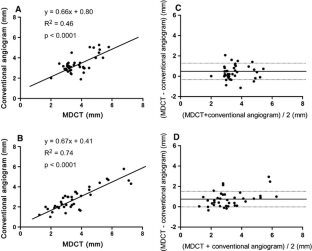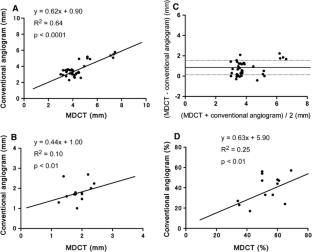 References
Ilbawi MN, Grieco J, DeLeon SY, Idriss FS, Muster AJ, Berry TE, Klich J (1984) Modified Blalock–Taussig shunt in newborn infants. J Thorac Cardiovasc Surg 88:770–775

Motz R, Wessel A, Ruschewski W, Bürsch J (1999) Reduced frequency of occlusion of aorto-pulmonary shunts in infants receiving aspirin. Cardiol Young 9:474–477

Smith VC, Caggiano AV, Knauf DG, Alexander JA (1991) The Blalock–Taussig shunt in the newborn infant. J Thorac Cardiovasc Surg 102:602–605

Fenton KN, Siewers RD, Rebovich B, Pigula FA (2003) Interim mortality in infants with systemic-to-pulmonary artery shunts. Ann Thorac Surg 76:152–156

Gillespie MJ, Rome JJ (2008) Transcatherter treatment for systemic-to-pulmonary shunt obstruction in infants and children. Catheter Cardiovasc Interv 71:928–935

Sreeram N, Emmel M, Ben-Mime L, Brockmeier K, Bennink G (2008) Transcatheter recanalization of acutely occluded modified systemic to pulmonary artery shunts in infancy. Clin Res Cardiol 97:181–186

Noda M, Takagi A, Kuwatsuru R, Mitsuhashi N, Kasanuki H (2008) Prognostic significance of multiple-detector computed tomography in conjunction with TIMI risk score for patients with non-ST elevation acute coronary syndrome. Heart Vessels 23:161–166

Pan NH, Yang HY, Hsieh MH, Chen YJ (2008) Coronary calcium score from multislice computed tomography correlates with QT dispersion and left ventricular wall thickness. Heart Vessels 23:155–160

Komatsu S, Sato Y, Ichikawa M, Kunimasa T, Ito S, Takagi T, Lee T, Matsumoto N, Takayama T, Ichikawa M, Hirayama A, Mishima M, Saito S, Kodama K (2008) Anomalous coronary arteries in adults detected by multislice computed tomography: presentation of cases from multicenter registry and review of the literature. Heart Vessels 23:26–34

Hayabuchi Y, Mori K, Kitagawa T, Inoue M, Kagami S (2007) Accurate quantification of pulmonary artery diameter in patients with cyanotic congenital heart disease using multidetector-row computed tomography. Am Heart J 154:783–788

Goo HW, Park IS, Ko JK, Kim YH, Seo DM, Park JJ (2005) Computed tomography for the diagnosis of congenital heart disease in pediatric and adult patients. Int J Cardiovasc Imaging 21:347–365

Okada M, Matsunaga N, Ito K, Takano K, Fujiwara M, Ueda K (2002) Modified Blalock–Taussig shunt patency for pulmonary atresia: assessment with electron beam CT. J Comput Assist Tomogr 26:368–372

Choi BW, Park YH, Lee JK, Kim MJ, Kim DJ, Ryu SJ, Cho BK, Choe KO (2003) Evaluation of the post-shunt status with electron beam computed tomography in cyanotic congenital heart disease. Yonsei Med J 44:249–258

Duerinckx AJ, Wexler L, Banerjee A, Higgins SS, Hardy CE, Helton G, Rhee J, Mahboubi S, Higgins CB (1994) Postoperative evaluation of pulmonary arteries in congenital heart surgery by magnetic resonance imaging: comparison with echocardiography. Am Heart J 128:1139–1146

Ichikawa T, Endo J, Koizumi J, Ro A, Kobayashi M, Saito M, Kawada S, Hashimoto T, Imai Y (2008) Visualization of the azygos arch valves on multidetector-row computed tomography. Heart Vessels 23:118–123

Hayashi H, Hidaka F, Kiriyama T, Sato H, Takagi R, Kumita S (2008) A left ventricular lipoma diagnosed on three-dimensional electrocardiogram-gated cardiac computed tomography. Heart Vessels 23:366–369

Nabuchi A, Kurata A, Okuyama H, Kondo T, Muto Y, Endo Y (2008) Three-dimensional images of extra-routine grafts in CABG by multidetector computed tomography. Ann Thorac Cardiovasc Surg 14:333–335

Mueller J, Jeudy J, Poston R, White CS (2007) Cardiac CT angiography after coronary bypass surgery: prevalence of incidental findings. Am J Roentgenol 189:414–419

Godart F, Qureshi SA, Simha A, Deverall PB, Anderson DR, Baker EJ, Tynan M (1998) Effects of modified and classic Blalock–Taussig shunts on the pulmonary arterial tree. Ann Thorac Surg 66:512–517

Ishizaka T, Yagihara T, Yamamoto F, Nishigaki K, Matsuki O, Uemura H, Yamashita K, Kamiya T, Kawashima Y (1996) Results of unifocalization for pulmonary atresia, ventricular septal defect and major aortopulmonary collateral arteries: patency of pulmonary vascular segments. Eur J Cardiothorac Surg 10:331–337

Ley S, Zaporozhan J, Arnold R, Eichhorn J, Schenk JP, Ulmer H, Kreitner KF, Kauczor HU (2007) Preoperative assessment and follow-up of congenital abnormalities of the pulmonary arteries using CT and MRI. Eur Radiol 17:151–162

Hayabuchi Y, Mori K, Kitagawa T, Sakata M, Kagami S (2007) Polytetrafluoroethylene graft calcification in patients with surgically repaired congenital heart disease: evaluation using multidetector-row computed tomography. Am Heart J 153:806.e1–806.e8

Donofrio MT, Clark BJ, Ramaciotti C, Jacob ML, Fellows KE, Weinberg PM, Fogel MA (1999) Regional wall motion and strain of transplanted hearts in pediatric patients using magnetic resonance tagging. Am J Physiol 277:R1481–R1487

Be'eri E, Maier SE, Landzberg MJ, Chung T, Geva T (1998) In vivo evaluation of Fontan pathway flow dynamics by multidimensional phase-velocity magnetic resonance imaging. Circulation 98:2873–2882

Roos JE, Willmann JK, Weishaupt D, Lachat M, Marincek B, Hilfiker PR (2002) Thoracic aorta: motion artifact reduction with retrospective and prospective electrocardiography-assisted multi-detector row CT. Radiology 222:271–277

Hein PA, Romano VC, Lembcke A, May J, Rogalla P (2009) Initial experience with a chest pain protocol using 320-slice volume MDCT. Eur Radiol 19:1148–1155

Morin RL, Gerber TC, McCollough CH (2003) Radiation dose in computed tomography of the heart. Circulation 107:917–922

Kuon E, Dahm JB, Robinson DM, Empen K, Günther M, Wucherer W (2005) Radiation-reducing planning of cardiac catheterisation. Z Kardiol 94:663–673

Bacher K, Bogaert E, Lapere R, De Wolf D, Thierens H (2005) Patient-specific dose and radiation risk estimation in pediatric cardiac catheterization. Circulation 111:83–89
About this article
Cite this article
Nabo, M.M.H., Hayabuchi, Y., Inoue, M. et al. Assessment of modified Blalock–Taussig shunt in children with congenital heart disease using multidetector-row computed tomography. Heart Vessels 25, 529–535 (2010). https://doi.org/10.1007/s00380-010-0007-2
Received:

Accepted:

Published:

Issue Date:

DOI: https://doi.org/10.1007/s00380-010-0007-2
Keywords
Multidetector-row computed tomography

Blalock–Taussig shunt

Children

Cyanotic congenital heart disease