Abstract
Microcosm experiments were performed to investigate the effect of organic material composition on soil bacterial and archaeal communities under paddy soil conditions. Rice straw and farmyard manure were used as the original organic materials, and three types of residues were prepared by sequential extraction from the original materials as follows: Residue 1 was obtained by lipid extraction with an ethanol–benzene mixture from the original material, Residue 2 was obtained by hot water extraction from Residue 1, and Residue 3 was obtained by hemicellulose extraction with 2% HCl from Residue 2. The organic material application did not affect soil pH and redox potential (Eh). The alpha diversities of bacterial and archaeal communities were significantly affected by the incubation period, chemical component differences, and organic material type. The relative abundance of Clostridiaceae and Bacillaceae increased in the microcosms treated with rice straw and farmyard manure, respectively, suggesting that they are important bacterial groups that may facilitate degradation of easily degradable organic fractions under waterlogged and anaerobic soil conditions. In the archaeal communities, the relative abundance of acetoclastic methanogens (Methanosarcinaceae) was increased by rice straw application. Principal coordinate analysis based on the weighted UniFrac distances showed that the application of rice straw caused greater changes in the soil bacterial and archaeal communities than farmyard manure. The bacterial and archaeal communities in the microcosms treated with organic materials differed even after lipid and water-soluble sugar extraction (Residue 1 and 2) depending on the type of the original organic materials used; however, when hemicellulose-free materials (Residue 3) were applied, the bacterial and archaeal community composition changed similarly during incubation. These results suggest that the difference in the proportions of hemicelluloses in rice straw and farmyard manure was the most significant factor in changing the bacterial and archaeal community compositions differently.
Access options
Buy single article
Instant access to the full article PDF.
USD 39.95
Price excludes VAT (USA)
Tax calculation will be finalised during checkout.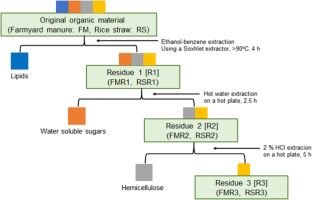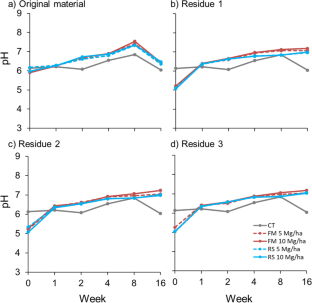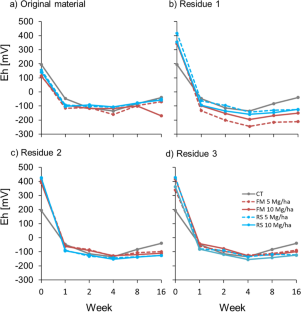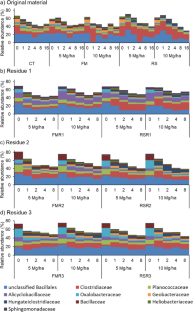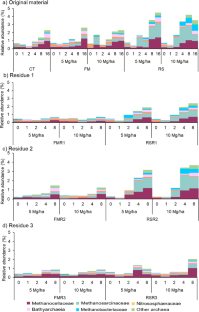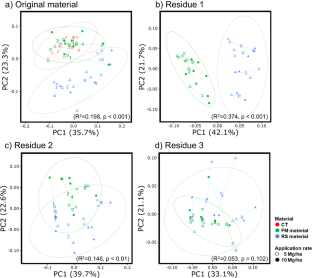 Data availability
The 16S rRNA gene amplicon sequences for this study were deposited in the DDBJ under the following accession number: DRR331204-DRR331380.
References
Bates ST, Cropsey GW, Caporaso JG, Knight R, Fierer N (2011) Bacterial communities are associated with lichen symbiosis. Appl Environ Microbiol 77:1309–1314. https://doi.org/10.1128/AEM.02257-10

Bolyen E, Rideout JR, Dillon MR, Bokulich NA, Abnet CC, al-Ghalith GA, Alexander H, Alm EJ, Arumugam M, Asnicar F, Bai Y, Bisanz JE, Bittinger K, Brejnrod A, Brislawn CJ, Brown CT, Callahan BJ, Caraballo-Rodríguez AM, Chase J, Cope EK, da Silva R, Diener C, Dorrestein PC, Douglas GM, Durall DM, Duvallet C, Edwardson CF, Ernst M, Estaki M, Fouquier J, Gauglitz JM, Gibbons SM, Gibson DL, Gonzalez A, Gorlick K, Guo J, Hillmann B, Holmes S, Holste H, Huttenhower C, Huttley GA, Janssen S, Jarmusch AK, Jiang L, Kaehler BD, Kang KB, Keefe CR, Keim P, Kelley ST, Knights D, Koester I, Kosciolek T, Kreps J, Langille MGI, Lee J, Ley R, Liu YX, Loftfield E, Lozupone C, Maher M, Marotz C, Martin BD, McDonald D, McIver L, Melnik AV, Metcalf JL, Morgan SC, Morton JT, Naimey AT, Navas-Molina JA, Nothias LF, Orchanian SB, Pearson T, Peoples SL, Petras D, Preuss ML, Pruesse E, Rasmussen LB, Rivers A, Robeson MS 2nd, Rosenthal P, Segata N, Shaffer M, Shiffer A, Sinha R, Song SJ, Spear JR, Swafford AD, Thompson LR, Torres PJ, Trinh P, Tripathi A, Turnbaugh PJ, Ul-Hasan S, van der Hooft J, Vargas F, VázquezBaeza Y, Vogtmann E, von Hippel M, Walters W, Wan Y, Wang M, Warren J, Weber KC, Williamson CHD, Willis AD, Xu ZZ, Zaneveld JR, Zhang Y, Zhu Q, Knight R, Caporaso JG (2019) Reproducible, interactive, scalable and extensible microbiome data science using QIIME 2. Nat Biotechnol 37:852–857. https://doi.org/10.1038/s41587-019-0209-9

Callahan BJ, McMurdie PJ, Rosen MJ, Han AW, Johnson AJ, Holmes SP (2016) DADA2: high resolution sample inference from Illumina amplicon data. Nat Methods 13:581–583. https://doi.org/10.1038/nmeth.3869

Chen S, Wen Z, Liao W (2005) Studies into using manure in a biorefinery concept. Appl Biochem Biotechnol 124:999–1015. https://doi.org/10.1385/ABAB:124:1-3:0999

Chen C, Yu C, Shen C, Tang X, Qin Z, Yang K, Hashmi MZ, Huang R, Shi H (2014) Paddy field–a natural sequential anaerobic-aerobic bioreactor for polychlorinated biphenyls transformation. Environ Pollut 190:43–50. https://doi.org/10.1016/j.envpol.2014.03.018

Chipasa KB, Medrzycka K (2006) Behavior of lipids in biological wastewater treatment processes. J Ind Microbiol Biotechnol 33:635–645. https://doi.org/10.1007/s10295-006-0099-y

Conrad R, Klose M (2006) Dynamics of the methanogenic archaeal community in anoxic rice soil upon addition of straw. Eur J Soil Sci 57:476–484. https://doi.org/10.1111/j.1365-2389.2006.00791.x

Costa KC, Leigh JA (2014) Metabolic versatility in methanogens. Curr Opin Biotechnol 29:70–75. https://doi.org/10.1016/j.copbio.2014.02.012

Cui X, Zhang Y, Gao J, Peng F, Gao P (2018) Long-term combined application of manure and chemical fertilizer sustained higher nutrient status and rhizospheric bacterial diversity in reddish paddy soil of Central South China. Sci Rep 8:16554. https://doi.org/10.1038/s41598-018-34685-0

Das S, Jeong ST, Das S, Kim PJ (2017) Composted cattle manure increases microbial activity and soil fertility more than composted swine manure in a submerged rice paddy. Front Microbiol 8:1702. https://doi.org/10.3389/fmicb.2017.01702

Doi RH, Kosugi A, Murashima K, Tamaru Y, Han SO (2003) Cellulosomes from mesophilic bacteria. J Bacteriol 185:5907–5914. https://doi.org/10.1128/JB.185.20.5907-5914.2003

Dlugokencky E, Houweling S (2003) METHANE. Encycl Atmos Chem 1286-1294. https://doi.org/10.1016/B0-12-227090-8/00223-2

Ge Y, Zhang J, Zhang L (2008) Long-term fertilization regimes affect bacterial community structure and diversity of an agricultural soil in northern China. J Soils Sed 8:43–50. https://doi.org/10.1065/jss2008.01.270

Glissmann K, Conrad R (2000) Fermentation pattern of methanogenic degradation of rice straw in anoxic paddy soil. FEMS Microbiol Ecol 31:117–126. https://doi.org/10.1111/j.1574-6941.2000.tb00677.x

Himmel ME, Xu Q, Luo Y, Ding S-Y, Lamed R, Bayer EA (2010) Microbial enzyme systems for biomass conversion: emerging paradigms. Biofuels 1:23–41. https://doi.org/10.4155/bfs.09.25

Hattori H, Mukai S (2012) Decomposition of sewage sludges in soil as affected by their organic matter composition. Soil Sci Plant Nutr 32:421–432. https://doi.org/10.1080/00380768.1986.10557522

Husson O (2013) Redox potential (Eh) and pH as drivers of soil/plant/microorganism systems: a transdisciplinary overview pointing to integrative opportunities for agronomy. Plant Soil 362:389–417. https://doi.org/10.1007/s11104-012-1429-7

Huang L, Dong H, Wang S, Huang Q, Jiang H (2013) Diversity and abundance of ammonia-oxidizing archaea and bacteria in diverse Chinese paddy soils. Geomicrobiol J 31:12–22. https://doi.org/10.1080/01490451.2013.797523

Islam MS, Rahman F, Saleque MA (2010) Organic manuring: its effect on rice yield and soil properties in tidal flooded ecosystem of Bangladesh. Bull Inst Trop Agric, Kyushu Univ 33:13–17

Japan Institute of Energy (2002) Asian biomass handbook: a guide for biomass production and utilization. http://www.build-a-biogas-plant.com/PDF/AsianBiomassHandbook2008

Jetten MSM, Stams AJM, Zehnder AJB (1992) Methanogenesis from acetate: a comparison of the acetate metabolism in Methanothrix soehngenii and Methanosarcina spp. FEMS Microbiol Lett 88:181–198. https://doi.org/10.1111/j.1574-6968.1992.tb04987.x

Ji Y, Liu P, Conrad R (2018) Response of fermenting bacterial and methanogenic archaeal communities in paddy soil to progressing rice straw degradation. Soil Biol Biochem 124:70–80. https://doi.org/10.1016/j.soilbio.2018.05.029

Jones DL, Murphy DV (2007) Microbial response time to sugar and amino acid additions to grassland soil. Soil Biol Biochem 39:2178–2182. https://doi.org/10.1016/j.soilbio.2007.03.017

Kimura M, Tun CC (1999) Microscopic observation of the decomposition process of leaf sheath of rice straw and colonizing microorganisms during the cultivation period of paddy rice. Soil Sci Plant Nutrn 45:427–437. https://doi.org/10.1080/00380768.1999.10409357

Kogel-Knabner I (2002) The macromolecular organic composition of plant and microbial residues as inputs to soil organic matter. Soil Biol Biochem 34:139–162. https://doi.org/10.1016/S0038-0717(01)00158-4

Li F, Chen L, Zhang J, Yin J, Huang S (2017) Bacterial community structure after long-term organic and inorganic fertilization reveals important associations between soil nutrients and specific taxa involved in nutrient transformations. Front Microbiol 8:b187. https://doi.org/10.3389/fmicb.2017.00187

Li C, Shi L, Tang H, Cheng K, Li W, Li W, Xiao X, Ke W (2021) Organic manure management increases soil microbial community structure and diversity in the double-cropping rice paddy field of southern China. Commun Soil Sci Plant Anal 52:1224–1235. https://doi.org/10.1080/00103624.2021.1879120

Li D, Li Z, Zhao B (2020) Relationship between the chemical structure of straw and composition of main microbial groups during the decomposition of wheat and maize straws as affected by soil texture. Biol Fertil Soils 56:11–24. https://doi.org/10.1007/s00374-019-01397-0

Liu J, Shu A, Song W, Shi W, Li M, Zhang W, Li Z, Liu G, Yuan F, Zhang S, Liu Z, Gao Z (2021) Long-term organic fertilizer substitution increases rice yield by improving soil properties and regulating soil bacteria. Geoderma 404:115287. https://doi.org/10.1016/j.geoderma.2021.115287

Oksanen J, Blanchet FG, Friendly M, Kindt R, Legendre P, McGlinn D, Minchin PR (2019) Vegan: Commun Ecol Pack. R Package Version 2.5–4.

Parsons TR, Stephens K, Strickland JDH (1961) On the chemical composition of eleven species of marine phytoplankters. J Fish Res Board Can 18:1001–1016. https://doi.org/10.1139/f61-063

Ponnamperuma FN (1972) The chemistry of submerged soils. Adv in Agron 24:29–96. https://doi.org/10.1016/S0065-2113(08)60633-1

Richards LA (1954) Diagnosis and improvement of saline and alkali soils. USDA Handbook 60. Washington, D.C. US Government Printing Office.

Saha BC (2003) Hemicellulose bioconversion. J Ind Microbiol Biotechnol 30:279–291. https://doi.org/10.1007/s10295-003-0049-x

Scheller HV, Ulvskov P (2010) Hemicelluloses. Annu Rev Plant Biol 61:263–289. https://doi.org/10.1146/annurev-arplant-042809-112315

Segata N, Izard J, Walron L, Gevers D, Miropolsky L, Garrett W, Huttenhower C (2011) Metagenomic biomarker discovery and explanation. Genome Biol 12:R60. https://doi.org/10.1186/gb-2011-12-6-r60

Shawky BT, Mahmoud MG, Ghazy EA, Asker MS, Ibrahim GS (2011) Enzymatic hydrolysis of rice straw and corn stalks for monosugars production. J Genet Eng Biotechnol 9:59–63. https://doi.org/10.1016/j.jgeb.2011.05.001

Sousa DZ, Smidt H, Alves MM, Stams AJM (2009) Ecophysiology of syntrophic communities that degrade saturated and unsaturated long-chain fatty acids. FEMS Microbiol Ecol 68:257–272. https://doi.org/10.1111/j.1574-6941.2009.00680.x

Steenwerth KL, Jackson LE, Calderón FJ, Stromberg MR, Scow KM (2002) Soil community composition and land-use history in cultivated and grassland ecosystems of coastal California. Soil Biol Biochem 34:1599–1611. https://doi.org/10.1016/S0038-0717(02)00144-X

Tanahashi T, Murase J, Matsuya K, Hayashi M, Kimura M, Asakawa S (2005) Bacterial communities responsible for the decomposition of rice straw compost in a Japanese rice paddy field estimated by DGGE analysis of amplified 16S rDNA and 16S rRNA fragments. Soil Sci Plant Nutr 51:351–360. https://doi.org/10.1111/j.1747-0765.2005.tb00040.x

Vaksmaa A, van Alen TA, Ettwig KF, Lupotto E, Valè G, Jetten MSM, Lüke C (2017) Stratification of diversity and activity of methanogenic and methanotrophic microorganisms in a nitrogen-fertilized Italian paddy soil. Front Microbiol 8:2127. https://doi.org/10.3389/fmicb.2017.02127

Watanabe T, Wang G, Taki K, Ohashi Y, Kimura M, Asakawa S (2010) Vertical changes in bacterial and archaeal communities with soil depth in Japanese paddy fields. Soil Sci Plant Nutr 56:705–715. https://doi.org/10.1111/j.1747-0765.2010.00511.x

Weber S, Lueders T, Friedrich MW, Conrad R (2001a) Methanogenic populations involved in the degradation of rice straw in anoxic paddy soil. FEMS Microbiol Ecol 38:11–20. https://doi.org/10.1111/j.1574-6941.2001.tb00877.x

Weber S, Stubner S, Conrad R (2001b) Bacterial populations colonizing and degrading rice straw in anoxic paddy soil. Appl Environ Microbiol 67:1318–1327. https://doi.org/10.1128/AEM.67.3.1318-1327.2001

Wegner CE, Liesack W (2016) Microbial community dynamics during the early stages of plant polymer breakdown in paddy soil. Environ Microbiol 18:2825–2842. https://doi.org/10.1111/1462-2920.12815

Welte C, Deppenmeier U (2014) Bioenergetics and anaerobic respiratory chains of aceticlastic methanogens. Biochim Biophys Acta 1837:1130–1147. https://doi.org/10.1016/j.bbabio.2013.12.002

Wu M, Qin H, Chen Z, Wu J, Wei W (2011) Effect of long-term fertilization on bacterial composition in rice paddy soil. Biol Fertil Soils 47:397–405. https://doi.org/10.1007/s00374-010-0535-z

Yagi K, Minami K (1990) Effect of organic matter application on methane emission from some Japanese paddy fields. Soil Sci Plant Nutrn 36:599–610. https://doi.org/10.1080/00380768.1990.10416797

Yan S, Song J, Fan J, Yan C, Dong S, Ma C, Gong Z (2020) Changes in soil organic carbon fractions and microbial community under rice straw return in Northeast China. Global Ecol Conserv 22:00962. https://doi.org/10.1016/j.gecco.2020.e00962

Zhang QC, Shamsia IH, Xua DT, Wanga GH, Lina XY, Jilani G, Hussain N, Chaudhry AN (2012) Chemical fertilizer and organic manure inputs in soil exhibit a vice versa pattern of microbial community structure. Appl Soil Ecol 57:1–8. https://doi.org/10.1016/j.apsoil.2012.02.012

Zhang Q, Zhou W, Liang G, Wang X, Sun J, He P, Li L (2015) Effects of different organic manures on the biochemical and microbial characteristics of albic paddy soil in a short-term experiment. PLoS ONE 10:e0124096. https://doi.org/10.1371/journal.pone.0124096
Acknowledgements
This work was the result of using research equipment shared in the MEXT Project for promoting public utilization of advanced research infrastructure (Program for supporting introduction of the new sharing system) at Niigata University, Grant Number JPMXS0421100320.
Ethics declarations
Ethics approval
This study does not involve animals.
Conflict of interest
The authors declare no competing interests.
Informed consent
This study does not involve human participants.
Additional information
Publisher's note
Springer Nature remains neutral with regard to jurisdictional claims in published maps and institutional affiliations.
Supplementary Information
Below is the link to the electronic supplementary material.
About this article
Cite this article
Chowdhury, S.A., Kaneko, A., Baki, M.Z.I. et al. Impact of the chemical composition of applied organic materials on bacterial and archaeal community compositions in paddy soil. Biol Fertil Soils 58, 135–148 (2022). https://doi.org/10.1007/s00374-022-01619-y
Received:

Revised:

Accepted:

Published:

Issue Date:

DOI: https://doi.org/10.1007/s00374-022-01619-y
Keywords
Organic materials

Sequential extraction

Bacterial and archaeal community

Paddy soil

Hemicellulose

High-throughput sequencing