Abstract
Buffers are widely used when performing soil enzyme assays, either to measure specific soil enzyme activities based on a standard protocol or to determine the pH optima of a soil enzyme. However, few studies have tested whether the existent buffer-making protocol they followed actually obtains the target pH during their enzyme assays. To test the pH stabilization capacity of modified universal buffer (MUB) commonly used in soil enzyme assays, four different soils with varying buffering capacity (proxied by contrasting soil pH and clay content) were used for phosphomonoesterase assays using a 1:5 (m/v) soil:buffer ratio, as per common practice for chromogenic enzyme assays. The original MUB working solution deviated from the target pH by as much as 1.6 units. Deviations were greatest when the soil and buffer had contrasting pH. Increasing MUB concentration by fourfold did not mitigate this pH discrepancy to a satisfactory level (± 0.1 unit). For the standardly used MUB concentration (1 ×), the deviation between the target pH and the assay pH was greatest when the difference between the target pH and the soil pH was > 1 unit. Therefore, forcing pH to a specific value in soil enzyme activity assays (1:5 soil:MUB) appears to be difficult for many soils, and increasing MUB concentration risks reducing enzyme activities due to higher ionic strength. Thus, the use of MUB to assay enzyme activity presents a tension between maintaining the target pH and maximizing the sensitivity of the assay.
Access options
Buy single article
Instant access to the full article PDF.
USD 39.95
Price excludes VAT (USA)
Tax calculation will be finalised during checkout.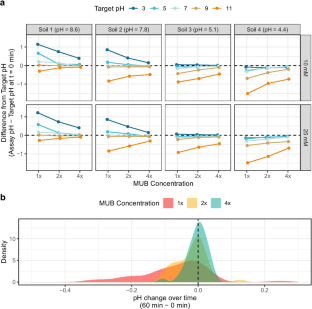 References
Acosta-Martinez V, Cano A, Johnson J (2018) Simultaneous determination of multiple soil enzyme activities for soil health-biogeochemical indices. Appl Soil Ecol 126:121–128. https://doi.org/10.1016/j.apsoil.2017.11.024

Britton HTS, Robinson RA (1931) CXCVIII.—universal buffer solutions and the dissociation constant of veronal. J Chem Soc 1456–1462. https://doi.org/10.1039/JR9310001456

Dendooven L, Alcántara-Hernández RJ, Valenzuela-Encinas C et al (2010) Dynamics of carbon and nitrogen in an extreme alkaline saline soil: a review. Soil Biol Biochem 42:865–877. https://doi.org/10.1016/j.soilbio.2010.02.014

Malcolm RE (1983) Assessment of phosphatase activity in soils. Soil Biol Biochem 15:403–408. https://doi.org/10.1016/0038-0717(83)90003-2

Margenot AJ, Nakayama Y, Parikh SJ (2018) Methodological recommendations for optimizing assays of enzyme activities in soil samples. Soil Biol Biochem 125:350–360. https://doi.org/10.1016/j.soilbio.2017.11.006

Ross DJ (1987) Assays of invertase activity in acidic soils: influence of buffers. Plant Soil 97:285–289. https://doi.org/10.1007/bf02374952

Skujins JJ, Braal L, McLaren AD (1962) Characterization of phosphatase in a terrestrial soil sterilized with an electron beam. Enzymol Acta Biocatalytica 25(2):125–133

Stott DE (2019) Recommended soil health indicators and associated laboratory procedures. US Department of Agriculture, Natural Resource Conservation Service. Technical Note 450–03. Washington, DC, 19–21

Tabatabai MA (1994) Chapter 37: soil enzymes. In: Weaver RW, Angle S, Bottomley P, Bezdicek D, Smith S, Tabatabai A, Wollum A (eds) Methods of soil analysis part 2–microbiological and biochemical properties. SSSA Book Series. Madison, 775–833. https://doi.org/10.2136/sssabookser5.2.c37

Tabatabai MA, Bremner JM (1969) Use of p-nitrophenyl phosphate for assay of soil phosphatase activity. Soil Biol Biochem 1:301–307. https://doi.org/10.1016/0038-0717(69)90012-1

Turner BL (2010) Variation in pH optima of hydrolytic enzyme activities in tropical rain forest soils. Appl Environ Microbiol 76:6485–6493. https://doi.org/10.1128/AEM.00560-10

Xu R, Zhao A, Yuan J, Jiang J (2012) pH buffering capacity of acid soils from tropical and subtropical regions of China as influenced by incorporation of crop straw biochars. J Soils Sedim 12:494–502. https://doi.org/10.1007/s11368-012-0483-3

Yang Y, Wang Y, Peng Y et al (2020) Acid-base buffering characteristics of non-calcareous soils: correlation with physicochemical properties and surface complexation constants. Geoderma 360:114005. https://doi.org/10.1016/j.geoderma.2019.114005
Additional information
Publisher's note
Springer Nature remains neutral with regard to jurisdictional claims in published maps and institutional affiliations.
Supplementary Information
Below is the link to the electronic supplementary material.
About this article
Cite this article
Li, C., Wade, J. & Margenot, A.J. Modified universal buffer does not necessarily maintain soil enzyme assay pH. Biol Fertil Soils 57, 869–872 (2021). https://doi.org/10.1007/s00374-021-01570-4
Received:

Revised:

Accepted:

Published:

Issue Date:

DOI: https://doi.org/10.1007/s00374-021-01570-4
Keywords
Buffer

Phosphomonoesterase

Acid phosphatase

Soil pH