Abstract
The effect of biochar and nitrapyrin (a nitrification inhibitor) applications on nitrous oxide (N2O) emissions from a cropland soil was studied in a 35-day incubation experiment. The biochars were produced using canola (Brassica napus L.) straw under two pyrolysis temperatures: 300 (BC300) and 700 °C (BC700). Biochars (20 g kg−1 soil) and nitrapyrin (80 mg kg−1 soil) were applied alone or in combination. The cumulative N2O emissions were affected by both biochar and nitrapyrin applications (p < 0.05, same below) but not by their interaction. Cumulative N2O emissions were not affected by BC700, but were increased by BC300, as compared with the CK treatment (no biochar addition). Nitrapyrin significantly decreased cumulative N2O emissions by inhibiting nitrification, whether biochar was applied or not. There were positive relationships (p < 0.05) between cumulative N2O emissions and soil microbial biomass carbon to nitrogen ratio, nitrate and dissolved organic nitrogen concentrations, and net nitrification rates. Our results show that biochars need to be appropriately selected (such as the use of BC700) that do not increase N2O emissions, while the effectiveness of nitrapyrin in reducing N2O emissions was not affected by the co-application of biochars. We conclude that the co-application of biochar and nitrapyrin may be able to both increase soil C sequestration by the addition of stable C contained in the biochar and reduce N2O emissions from agricultural production systems.
Access options
Buy single article
Instant access to the full article PDF.
US$ 39.95
Tax calculation will be finalised during checkout.
Subscribe to journal
Immediate online access to all issues from 2019. Subscription will auto renew annually.
US$ 119
Tax calculation will be finalised during checkout.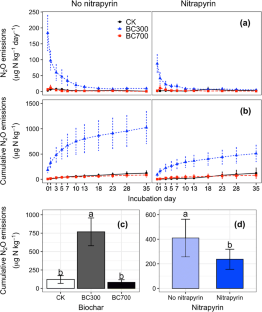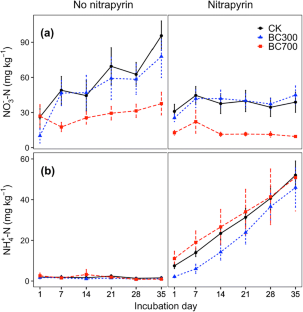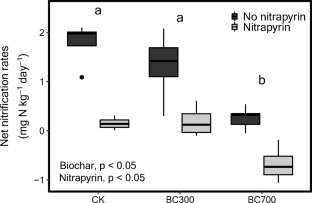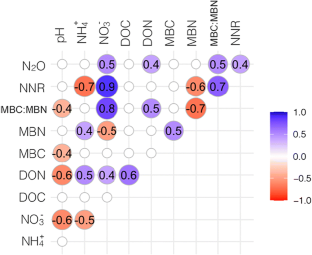 References
Ameloot N, De Neve S, Jegajeevagan K, Yildiz G, Buchan D, Funkuin YN, Prins W, Bouckaert L, Sleutel S (2013) Short-term CO2 and N2O emissions and microbial properties of biochar amended sandy loam soils. Soil Biol Biochem 57:401–410. https://doi.org/10.1016/j.soilbio.2012.10.025

Baah-Acheamfour M, Carlyle CN, Lim SS, Bork EW, Chang SX (2016) Forest and grassland cover types reduce net greenhouse gas emissions from agricultural soils. Sci Total Environ 571:1115–1127. https://doi.org/10.1016/j.scitotenv.2016.07.106

Borchard N, Schirrmann M, Cayuela ML, Kammann C, Wrage-Mönnig N, Estavillo JM, Fuertes-Mendizábal T, Sigua G, Spokas K, Ippolito JA, Novak J (2019) Biochar soil and land-use interactions that reduce nitrate leaching and N2O emissions: a meta-analysis. Sci Total Environ 651:2354–2364. https://doi.org/10.1016/j.scitotenv.2018.10.060

Braker G, Conrad R (2011) Chapter 2 - diversity structure and size of N2O-producing microbial communities in soils—what matters for their functioning? In: Laskin AI, Sariaslani S, Gadd GM (eds) Advances in Applied Microbiology. Academic Press, London, pp 33–70. https://doi.org/10.1016/B978-0-12-387046-9.00002-5

Brookes PC, Landman A, Pruden G, Jenkinson DS (1985) Chloroform fumigation and the release of soil nitrogen: a rapid direct extraction method to measure microbial biomass nitrogen in soil. Soil Biol Biochem 17:837–842. https://doi.org/10.1016/0038-0717(85)90144-0

Cayuela ML, van Zwieten L, Singh BP, Jeffery S, Roig A, Sánchez-Monedero MA (2014) Biochar's role in mitigating soil nitrous oxide emissions: a review and meta-analysis. Agric Ecosyst Environ 191:5–16. https://doi.org/10.1016/j.agee.2013.10.009

Cayuela ML, Jeffery S, van Zwieten L (2015) The molar H:Corg ratio of biochar is a key factor in mitigating N2O emissions from soil. Agric Ecosyst Environ 202:135–138. https://doi.org/10.1016/j.agee.2014.12.015

Chen H, Yin C, Fan X, Ye M, Peng H, Li T, Zhao Y, Wakelin SA, Chu G, Liang Y (2019) Reduction of N2O emission by biochar and/or 34-dimethylpyrazole phosphate (DMPP) is closely linked to soil ammonia oxidizing bacteria and nosZI-N2O reducer populations. Sci Total Environ 694:133658. https://doi.org/10.1016/j.scitotenv.2019.133658

Clough TJ, Condron LM, Kammann C, Müller C (2013) A review of biochar and soil nitrogen dynamics. Agronomy 3:275–293. https://doi.org/10.3390/agronomy3020275

Deenik JL, McClellan T, Uehara G, Antal MJ, Campbell S (2010) Charcoal volatile matter content influences plant growth and soil nitrogen transformations. Soil Sci Soc Am J 74:1259–1270. https://doi.org/10.2136/sssaj2009.0115

Dittmar H, Drach M, Vosskamp R, Trenkel M.E, Gutser R, Steffens G (2009) Fertilizers 2. Types in: Ullmann's Encyclopedia of Industrial Chemistry. American Cancer Society. doi:https://doi.org/10.1002/14356007.n10_n01

Duan M, Wu FP, Jia ZK, Wang SG, Cai YJ, Chang SX (2020) Wheat straw and its biochar differently affect soil properties and field-based greenhouse gas emission in a Chernozemic soil. Biol Fertil Soils 56:1023–1036. https://doi.org/10.1007/s00374-020-01479-4

Fiorentino N, Sánchez-Monedero MA, Lehmann J, Enders A, Fagnano M, Cayuela ML (2019) Interactive priming of soil N transformations from combining biochar and urea inputs: a 15N isotope tracer study. Soil Biol Biochem 131:166–175. https://doi.org/10.1016/j.soilbio.2019.01.005

Han WY, Xu JM, Yi XY, Lin YD (2012) Net and gross nitrification in tea soils of varying productivity and their adjacent forest and vegetable soils. Soil Sci Plant Nutr 58:173–182. https://doi.org/10.1080/00380768.2012.664783

Inubushi K, Naganuma H, Kitahara S (1996) Contribution of denitrification and autotrophic and heterotrophic nitrification to nitrous oxide production in andosols. Biol Fertil Soils 23:292–298. https://doi.org/10.1007/BF00335957

Islam A, Chen D, White RE (2007) Developing a technique to quantify heterotrophic and autotrophic nitrification in acidic pasture soils. Commun Soil Sci Plan 38:2309–2321. https://doi.org/10.1080/00103620701588437

Jenkinson DS, Brookes PC, Powlson DS (2004) Measuring soil microbial biomass. Soil Biol Biochem 36:5–7. https://doi.org/10.1016/j.soilbio.2003.10.002

Ji C, Li SQ, Geng YJ, Miao YC, Ding Y, Liu SW, Zou JW (2020) Differential responses of soil N2O to biochar depend on the predominant microbial pathway. Appl Soil Ecol 145:103348. https://doi.org/10.1016/j.apsoil.2019.08.010

Jia G, Shevliakova E, Artaxo P, De Noblet-Ducoudré N, Houghton R, House J, Kitajima K, Lennard C, Popp A, Sirin A, Sukumar R, Verchot L (2019) Land–climate interactions. In: Shukla PR, Skea J, Calvo Buendia E, Masson-Delmotte V, Pörtner H-O, Roberts DC, Zhai P, Slade R, Connors S, van Diemen R, Ferrat M, Haughey E, Luz S, Neogi S, Pathak M, Petzold J, Portugal Pereira J, Vyas P, Huntley E, Kissick K, Belkacemi M, Malley J (eds) Climate Change and Land: an IPCC special report on climate change desertification land degradation sustainable land management food security and greenhouse gas fluxes in terrestrial ecosystems. IPCC, Geneva, pp 131–247 https://www.ipcc.ch/srccl/cite-report/

Kammann C, Ippolito J, Hagemann N, Borchard N, Cayuela ML, Estavillo JM, Fuertes-Mendizabal T, Jeffery S, Kern J, Novak J, Rasse D, Saarnio S, Schmidt HP, Spokas K, Wrage-Mönnig N (2017) Biochar as a tool to reduce the agricultural greenhouse-gas burden – knowns unknowns and future research needs. J Environ Eng Landsc 25:114–139. https://doi.org/10.3846/16486897.2017.1319375

Keeney DR, Nelson DW (1982) Nitrogen—inorganic forms. In: Page AL (ed) Methods of Soil Analysis. Agronomy Monograph 9 Part 2, 2nd edn. American Society of Agronomy, Madison, pp 643–698. https://doi.org/10.2134/agronmonogr9.2.2ed.c33.

Klüpfel L, Keiluweit M, Kleber M, Sander M (2014) Redox properties of plant biomass-derived black carbon (biochar). Environ Sci Technol 48:5601–5611. https://doi.org/10.1021/es500906d

Kwak JH, Islam MS, Wang S, Messele SA, Naeth MA, El-Din MG, Chang SX (2019) Biochar properties and lead (II) adsorption capacity depend on feedstock type pyrolysis temperature and steam activation. Chemosphere 231:393–404. https://doi.org/10.1016/j.chemosphere.2019.05.128

Lehmann J, Joseph S (2015) Biochar for environmental management: science technology and implementation. Routledge, London

Lehmann J, Rillig MC, Thies J, Masiello CA, Hockaday WC, Crowley D (2011) Biochar effects on soil biota – a review. Soil Biol Biochem 43:1812–1836. https://doi.org/10.1016/j.soilbio.2011.04.022

Levesque V, Rochette P, Hogue R, Jeanne T, Ziadi N, Chantigny MH, Dorais M, Antoun H (2020) Greenhouse gas emissions and soil bacterial community as affected by biochar amendments after periodic mineral fertilizer applications. Biol Fertil Soils 56:907–925

Li B, Fan CH, Xiong ZQ, Li QL, Zhang M (2015) The combined effects of nitrification inhibitor and biochar incorporation on yield-scaled N2O emissions from an intensively managed vegetable field in southeastern China. Biogeosciences 12:2003–2017. https://doi.org/10.5194/bg-12-2003-2015

Li S, Chen DW, Wang C, Chen D, Wang Q (2020) Reduced nitrification by biochar and/or nitrification inhibitor is closely linked with the abundance of comammox Nitrospira in a highly acidic sugarcane soil. Biol Fertil Soils 56:1219–1228

Liu Q, Zhang Y, Liu B, Amonette JE, Lin Z, Liu G, Ambus P, Xie Z (2018) How does biochar influence soil N cycle? A meta-analysis. Plant Soil 426:211–225. https://doi.org/10.1007/s11104-018-3619-4

Miranda KM, Espey MG, Wink DA (2001) A rapid simple spectrophotometric method for simultaneous detection of nitrate and nitrite. Nitric Oxide 5:62–71. https://doi.org/10.1006/niox.2000.0319

Mukherjee A, Zimmerman AR (2013) Organic carbon and nutrient release from a range of laboratory-produced biochars and biochar–soil mixtures. Geoderma 193–194:122–130. https://doi.org/10.1016/j.geoderma.2012.10.002

Nelissen V, Rütting T, Huygens D, Staelens J, Ruysschaert G, Boeckx P (2012) Maize biochars accelerate short-term soil nitrogen dynamics in a loamy sand soil. Soil Biol Biochem 55:20–27. https://doi.org/10.1016/j.soilbio.2012.05.019

Niu Y, Luo J, Liu D, Müller C, Zaman M, Lindsey S, Ding W (2018) Effect of biochar and nitrapyrin on nitrous oxide and nitric oxide emissions from a sandy loam soil cropped to maize. Biol Fertil Soils 54:645–658. https://doi.org/10.1007/s00374-018-1289-2

Omonode RA, Halvorson AD, Gagnon B, Vyn TJ (2017) Achieving lower nitrogen balance and higher nitrogen recovery efficiency reduces nitrous oxide emissions in north America's maize cropping systems. Front Plant Sci 8:1–16. https://doi.org/10.3389/fpls.2017.01080

Pakheral P, Ma ZL, Chang SX (2020) Biochar increases soil microbial biomass with changes in extraand intracellular enzyme activities: a global meta-analysis. Biochar 2:65–79

Pokharel P, Kwak JH, Ok YS, Chang SX (2018) Pine sawdust biochar reduces GHG emission by decreasing microbial and enzyme activities in forest and grassland soils in a laboratory experiment. Sci Total Environ 625:1247–1256. https://doi.org/10.1016/j.scitotenv.2017.12.343

Qiu M, Sun K, Jin J, Gao B, Yan Y, Han L, Wu F, Xing B (2014) Properties of the plant- and manure-derived biochars and their sorption of dibutyl phthalate and phenanthrene. Sci Rep 4:5295. https://doi.org/10.1038/srep05295

R Core Team (2018) A language and environment for statistical computing. R Foundation for Statistical Computing. Vienna, Austria. Available online at https://www.R-project.org/

Ravishankara AR, Daniel JS, Portmann RW (2009) Nitrous oxide (N2O): the dominant ozone-depleting substance emitted in the 21st century. Science 326:123–125. https://doi.org/10.1126/science.1176985

Saarnio S, Heimonen K, Kettunen R (2013) Biochar addition indirectly affects N2O emissions via soil moisture and plant N uptake. Soil Biol Biochem 58:99–106. https://doi.org/10.1016/j.soilbio.2012.10.035

Sánchez-García M, Roig A, Sánchez-Monedero MA, Cayuela ML (2014) Biochar increases soil N2O emissions produced by nitrification-mediated pathways. Front Environ Sci 2:1–10. https://doi.org/10.3389/fenvs.2014.00025

Sherlock RR, Goh KM (1983) Initial emission of nitrous oxide from sheep urine applied to pasture soil. Soil Biol Biochem 15:615–617. https://doi.org/10.1016/0038-0717(83)90061-5

Singh BP, Hatton BJ, Singh B, Cowie AL, Kathuria A (2010) Influence of biochars on nitrous oxide emission and nitrogen leaching from two contrasting soils. J Environ Qual 39:1224. https://doi.org/10.2134/jeq2009.0138

Smith KA (2017) Changing views of nitrous oxide emissions from agricultural soil: key controlling processes and assessment at different spatial scales. Eur J Soil Sci 68:137–155. https://doi.org/10.1111/ejss.12409

Soil Classification Working Group (1998) The Canadian System of Soil Classification Publication/Canada. In: Agriculture and Agri-Food Canada. NRC Research Press, Ottawa

Stocker TF, Qin D, Plattner GK, Tignor M, Allen SK, Boschuang J, Nauels A, Xia Y, Bex V, Midgley PM (2013) Climate change 2013: the physical science basis. Contribution of Working Group I to the Fifth Assessment Report of the Intergovernmental Panel on Climate Change. Cambridge University Press, United Kingdom, p 1535

Tan X, Chang SX (2007) Soil compaction and forest litter amendment affect carbon and net nitrogen mineralization in a boreal forest soil. Soil Tillage Res 93:77–86. https://doi.org/10.1016/j.still.2006.03.017

Tian HQ, Xu RT, Canadell JG et al (2020) A comprehensive quantification of global nitrous oxide sources and sinks. Nature 586:248–256

Van Zwieten L, Kimber S, Morris S, Downie A, Berger E, Rust J, Scheer C (2010) Influence of biochars on flux of N2O and CO2 from Ferrosol. Aust J Soil Res 48:555–568

Wu FP, Jia ZK, Wang SG, Chang SX, Startsev A (2013) Contrasting effects of wheat straw and its biochar on greenhouse gas emissions and enzyme activities in a Chernozemic soil. Biol Fertil Soils 49:555–565. https://doi.org/10.1007/s00374-012-0745-7

Yu Y, Zhao C, Zheng N, Jia H, Yao H (2019) Interactive effects of soil texture and salinity on nitrous oxide emissions following crop residue amendment. Geoderma 337:1146–1154. https://doi.org/10.1016/j.geoderma.2018.11.012

Zumft WG (1997) Cell biology and molecular basis of denitrification. Microbiol Mol Biol Rev 61:533–616
Acknowledgments
We thank Cole Gross, Christopher Nzediegwu, Dauren Kaliaskar, Na Chen, Prem Pokharel, Qian Wu, Yanchen Zhang, and Zilong Ma for their assistance in the laboratory. We also thank the Editor in Chief, the Regional Editor, and two anonymous reviewers for their constructive comments that improved earlier versions of this manuscript.
Funding
We thank the China Scholarship Council (CSC) and the Natural Science and Engineering Research Council of Canada (NSERC) for funding. The first author was also supported by a Project Funded by the Priority Academic Program Development of Jiangsu Higher Education Institutions (PAPD).
Additional information
Publisher's note
Springer Nature remains neutral with regard to jurisdictional claims in published maps and institutional affiliations.
Supplementary Information
About this article
Cite this article
Li, J., Kwak, JH., Chen, J. et al. Canola straw biochars produced under different pyrolysis temperatures and nitrapyrin independently affected cropland soil nitrous oxide emissions. Biol Fertil Soils 57, 319–328 (2021). https://doi.org/10.1007/s00374-020-01535-z
Received:

Revised:

Accepted:

Published:

Issue Date:
Keywords
Greenhouse gas

Biochar

Microbial biomass

N2O emission

Nitrification inhibitor