Abstract
Biochar-induced changes in microbial communities are exclusively derived from the studies on the soil bacterial and fungal communities, and we lack an understanding of how biochar can affect taxonomic and functional communities of protists. Here, the short-term effects of two biochars originating from rice husk and poultry litter (hereinafter referred to as RH and PL, respectively) on taxonomic and functional community compositions of protists in a rice rhizosphere were studied using high-throughput sequencing. Soil physicochemical properties were differentially affected by the RH and PL amendments. The relative abundance of Stramenopiles, mainly oomycetes (Peronosporomycetes), was increased in the RH-amended soil, which was correlated with the increased total pore volume and C/N ratio. In the PL amended soil, the relative abundances of Amoebozoa, Alveolata, and Excavata were increased, and those increases were correlated with the enhanced pH and nutrient conditions. Among functional groups, the relative abundance of phagotrophic protists increased by the PL amendment, while the relative abundance of plant pathogens was decreased by both the RH and PL amendments. Network analysis indicated that phagotrophs were the keystone group and were sensitive to the biochar amendments. The keystone taxa in each biochar treatment were different: Cercozoa (Rhizaria) in control, Conosa (Amoebozoa) in RH, and Discoba (Excavata) in PL. The impact of biochar on protist communities correlated with its physicochemical properties, which depends on the source material.
Access options
Buy single article
Instant access to the full article PDF.
USD 39.95
Price excludes VAT (USA)
Tax calculation will be finalised during checkout.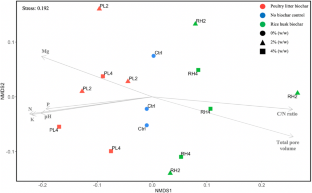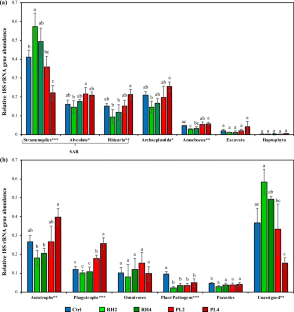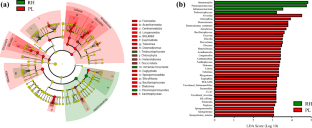 References
Adl SM, Bass D, Lane CE, Lukeš J, Schoch CL, Smirnov A, Agatha S, Berney C, Brown MW, Burki F, Cárdenas P, Čepička I, Chistyakova L, del Campo J, Dunthorn M, Edvardsen B, Eglit Y, Guillou L, Hampl V et al (2018) Revisions to the classification, nomenclature, and diversity of eukaryotes. J Eukaryot Microbiol. https://doi.org/10.1111/jeu.12691

Allesina S, Tang S (2012) Stability criteria for complex ecosystems. Nature 483:205–208. https://doi.org/10.1038/nature10832

Amaral-Zettler LA, McCliment EA, Ducklow HW, Huse SM (2009) A method for studying protistan diversity using massively parallel sequencing of V9 hypervariable regions of small-subunit ribosomal RNA genes. PLoS One 4:e6372. https://doi.org/10.1371/journal.pone.0006372

Asiloglu R, Shiroishi K, Suzuki K, Turgay OC, Murase J, Harada N (2020) Protist-enhanced survival of a plant growth promoting rhizobacteria, Azospirillum sp. B510, and the growth of rice (Oryza sativa L.) plants. Appl Soil Ecol 154:103599. https://doi.org/10.1016/j.apsoil.2020.103599

Bastida F, Selevsek N, Torres IF, Hernández T, García C (2015) Soil restoration with organic amendments: linking cellular functionality and ecosystem processes. Sci Rep 5:15550. https://doi.org/10.1038/srep15550

Bell T, Bonsall MB, Buckling A, Whiteley AS, Goodall T, Griffiths RI (2010) Protists have divergent effects on bacterial diversity along a productivity gradient. Biol Lett 6:639–642. https://doi.org/10.1098/rsbl.2010.0027

Bolyen E, Rideout JR, Dillon MR, Bokulich NA, Abnet CC, Al-Ghalith GA, Alexander H, Alm EJ, Arumugam M, Asnicar F, Bai Y, Bisanz JE, Bittinger K, Brejnrod A, Brislawn CJ, Brown CT, Callahan BJ, Caraballo-Rodríguez AM, Chase J et al (2019) Reproducible, interactive, scalable and extensible microbiome data science using QIIME 2. Nat Biotechnol 37:852–857. https://doi.org/10.1038/s41587-019-0209-9

Bonkowski M (2004) Protozoa and plant growth: the microbial loop in soil revisited. New Phytol 162:617–631. https://doi.org/10.1111/j.1469-8137.2004.01066.x

Bonkowski M, Griffiths B, Scrimgeour C (2000) Substrate heterogeneity and microfauna in soil organic 'hotspots' as determinants of nitrogen capture and growth of ryegrass. Appl Soil Ecol 14:37–53. https://doi.org/10.1016/S0929-1393(99)00047-5

Brunauer S, Emmett PH, Teller E (1938) Adsorption of gases in multimolecular layers. J Am Chem Soc 60:309–319. https://doi.org/10.1021/ja01269a023

Callahan BJ, McMurdie PJ, Rosen MJ, Han AW, Johnson AJA, Holmes SP (2016) DADA2: high-resolution sample inference from Illumina amplicon data. Nat Methods 13:581–583. https://doi.org/10.1038/nmeth.3869

Caporaso JG, Lauber CL, Walters WA, Berg-Lyons D, Huntley J, Fierer N, Owens SM, Betley J, Fraser L, Bauer M, Gormley N, Gilbert JA, Smith G, Knight R (2012) Ultra-high-throughput microbial community analysis on the Illumina HiSeq and MiSeq platforms. ISME J 6:1621–1624. https://doi.org/10.1038/ismej.2012.8

Chen J, Sun X, Zheng J, Zhang X, Liu X, Bian R, Li L, Cheng K, Zheng J, Pan G (2018) Biochar amendment changes temperature sensitivity of soil respiration and composition of microbial communities 3 years after incorporation in an organic carbon-poor dry cropland soil. Biol Fertil Soils 54:175–188. https://doi.org/10.1007/s00374-017-1253-6

Chen L, Jiang Y, Liang C, Luo Y, Xu Q, Han C, Zhao Q, Sun B (2019) Competitive interaction with keystone taxa induced negative priming under biochar amendments. Microbiome 7:77. https://doi.org/10.1186/s40168-019-0693-7

Cheng J, Li Y, Gao W, Chen Y, Pan W, Lee X, Tang Y (2018) Effects of biochar on Cd and Pb mobility and microbial community composition in a calcareous soil planted with tobacco. Biol Fertil Soils 54:373–383. https://doi.org/10.1007/s00374-018-1267-8

Clarholm M (1985) Interactions of bacteria, protozoa and plants leading to mineralization of soil nitrogen. Soil Biol Biochem 17:181–187. https://doi.org/10.1016/0038-0717(85)90113-0

Dai Z, Enders A, Rodrigues JLM, Hanley KL, Brookes PC, Xu J, Lehmann J (2018) Soil fungal taxonomic and functional community composition as affected by biochar properties. Soil Biol Biochem 126:159–167. https://doi.org/10.1016/j.soilbio.2018.09.001

de Araujo ASF, Mendes LW, Lemos LN, Antunes JEL, Beserra JEA, de Lyra M d CCP, Figueiredo M d VB, Lopes ÂC d A, Gomes RLF, Bezerra WM, Melo VMM, de Araujo FF, Geisen S (2018) Protist species richness and soil microbiome complexity increase towards climax vegetation in the Brazilian Cerrado. Commun Biol 1:135. https://doi.org/10.1038/s42003-018-0129-0

Dumack K, Fiore-Donno AM, Bass D, Bonkowski M (2019) Making sense of environmental sequencing data: ecologically important functional traits of the protistan groups Cercozoa and Endomyxa (Rhizaria). Mol Ecol Resour 20:398–403. https://doi.org/10.1111/1755-0998.13112

Fiore-Donno AM, Richter-Heitmann T, Degrune F, Dumack K, Regan KM, Marhan S, Boeddinghaus RS, Rillig MC, Friedrich MW, Kandeler E, Bonkowski M (2019) Functional traits and spatio-temporal structure of a major group of soil protists (Rhizaria: Cercozoa) in a temperate grassland. Front Microbiol 10. https://doi.org/10.3389/fmicb.2019.01332

Flues S, Bass D, Bonkowski M (2017) Grazing of leaf-associated Cercomonads (Protists: Rhizaria: Cercozoa) structures bacterial community composition and function. Environ Microbiol 19:3297–3309. https://doi.org/10.1111/1462-2920.13824

Gao Z, Karlsson I, Geisen S, Kowalchuk G, Jousset A (2019) Protists: puppet masters of the Rhizosphere microbiome. Trends Plant Sci 24:165–176. https://doi.org/10.1016/j.tplants.2018.10.011

García-Delgado C, Barba-Vicente V, Marín-Benito JM, Mariano Igual J, Sánchez-Martín MJ, Sonia Rodríguez-Cruz M (2019) Influence of different agricultural management practices on soil microbial community over dissipation time of two herbicides. Sci Total Environ 646:1478–1488. https://doi.org/10.1016/j.scitotenv.2018.07.395

Geisen S (2016) The bacterial-fungal energy channel concept challenged by enormous functional versatility of soil protists. Soil Biol Biochem 102:22–25. https://doi.org/10.1016/j.soilbio.2016.06.013

Geisen S, Tveit AT, Clark IM, Richter A, Svenning MM, Bonkowski M, Urich T (2015) Metatranscriptomic census of active protists in soils. ISME J 9:2178–2190. https://doi.org/10.1038/ismej.2015.30

Geisen S, Mitchell EAD, Adl S, Bonkowski M, Dunthorn M, Ekelund F, Fernández LD, Jousset A, Krashevska V, Singer D, Spiegel FW, Walochnik J, Lara E (2018) Soil protists: a fertile frontier in soil biology research. FEMS Microbiol Rev 42:293–323. https://doi.org/10.1093/femsre/fuy006

Geisen S, Vaulot D, Mahé F, Lara E, de Vargas C (2019) A user guide to environmental protistology: primers, metabarcoding, sequencing, and analyses. bioRxiv:850610. https://doi.org/10.1101/850610

Glücksman E, Bell T, Griffiths RI, Bass D (2010) Closely related protist strains have different grazing impacts on natural bacterial communities. Environ Microbiol 12:3105–3113. https://doi.org/10.1111/j.1462-2920.2010.02283.x

Graber ER, Frenkel O, Jaiswal AK, Elad Y (2014) How may biochar influence severity of diseases caused by soilborne pathogens? Carbon Manag 5:169–183. https://doi.org/10.1080/17583004.2014.913360

Griffiths BS (1994) Microbial-feeding nematodes and protozoa in soil: their effects on microbial activity and nitrogen mineralization in decomposition hotspots and the rhizosphere. Plant Soil 164:25–33. https://doi.org/10.1007/BF00010107

Gul S, Whalen JK, Thomas BW, Sachdeva V, Deng H (2015) Physico-chemical properties and microbial responses in biochar-amended soils: mechanisms and future directions. Agric Ecosyst Environ 206:46–59. https://doi.org/10.1016/j.agee.2015.03.015

Guo S, Xiong W, Xu H, Hang X, Liu H, Xun W, Li R, Shen Q (2018) Continuous application of different fertilizers induces distinct bulk and rhizosphere soil protist communities. Eur J Soil Biol 88:8–14. https://doi.org/10.1016/j.ejsobi.2018.05.007

Hale L, Luth M, Crowley D (2015) Biochar characteristics relate to its utility as an alternative soil inoculum carrier to peat and vermiculite. Soil Biol Biochem 81:228–235. https://doi.org/10.1016/j.soilbio.2014.11.023

Jaiswal AK, Elad Y, Graber ER, Frenkel O (2014) Rhizoctonia solani suppression and plant growth promotion in cucumber as affected by biochar pyrolysis temperature, feedstock and concentration. Soil Biol Biochem 69:110–118. https://doi.org/10.1016/j.soilbio.2013.10.051

Jassey VEJ, Signarbieux C, Hättenschwiler S, Bragazza L, Buttler A, Delarue F, Fournier B, Gilbert D, Laggoun-Défarge F, Lara E, Mills TER, Mitchell EAD, Payne RJ, Robroek BJM (2015) An unexpected role for mixotrophs in the response of peatland carbon cycling to climate warming. Sci Rep 5:16931. https://doi.org/10.1038/srep16931

Jeon S, Bunge J, Leslin C, Stoeck T, Hong S, Epstein SS (2008) Environmental rRNA inventories miss over half of protistan diversity. BMC Microbiol 8:222. https://doi.org/10.1186/1471-2180-8-222

Jilani G, Akram A, Ali RM, Hafeez FY, Shamsi IH, Chaudhry AN, Chaudhry AG (2007) Enhancing crop growth, nutrients availability, economics and beneficial rhizosphere microflora through organic and biofertilizers. Ann Microbiol 57:177–184. https://doi.org/10.1007/BF03175204

Jousset A, Scheu S, Bonkowski M (2008) Secondary metabolite production facilitates establishment of rhizobacteria by reducing both protozoan predation and the competitive effects of indigenous bacteria. Funct Ecol 22:714–719. https://doi.org/10.1111/j.1365-2435.2008.01411.x

Kamaa M, Mburu H, Blanchart E, Chibole L, Chotte J-L, Kibunja C, Lesueur D (2011) Effects of organic and inorganic fertilization on soil bacterial and fungal microbial diversity in the Kabete long-term trial, Kenya. Biol Fertil Soils 47:315–321. https://doi.org/10.1007/s00374-011-0539-3

Kamau S, Karanja NK, Ayuke FO, Lehmann J (2019) Short-term influence of biochar and fertilizer-biochar blends on soil nutrients, fauna and maize growth. Biol Fertil Soils 55:661–673. https://doi.org/10.1007/s00374-019-01381-8

Kolton M, Meller Harel Y, Pasternak Z, Graber ER, Elad Y, Cytryn E (2011) Impact of biochar application to soil on the root-associated bacterial community structure of fully developed greenhouse pepper plants. Appl Environ Microbiol 77:4924–4930. https://doi.org/10.1128/AEM.00148-11

Kramer S, Dibbern D, Moll J, Huenninghaus M, Koller R, Krueger D, Marhan S, Urich T, Wubet T, Bonkowski M, Buscot F, Lueders T, Kandeler E (2016) Resource partitioning between Bacteria, Fungi, and Protists in the detritusphere of an agricultural soil. Front Microbiol 7:1524. https://doi.org/10.3389/fmicb.2016.01524

Krause HM, Hüppi R, Leifeld J, El-Hadidi M, Harter J, Kappler A, Hartmann M, Behrens S, Mäder P, Gattinger A (2018) Biochar affects community composition of nitrous oxide reducers in a field experiment. Soil Biol Biochem 119:143–151. https://doi.org/10.1016/j.soilbio.2018.01.018

Kuikman PJ, Van Veen JA (1989) The impact of protozoa on the availability of bacterial nitrogen to plants. Biol Fertil Soils 8:13–18. https://doi.org/10.1007/BF00260510

Langille MGI, Zaneveld J, Caporaso JG, McDonald D, Knights D, Reyes JA, Clemente JC, Burkepile DE, Vega Thurber RL, Knight R, Beiko RG, Huttenhower C (2013) Predictive functional profiling of microbial communities using 16S rRNA marker gene sequences. Nat Biotechnol 31:814–821. https://doi.org/10.1038/nbt.2676

Latijnhouwers M, de Wit PJGM, Govers F (2003) Oomycetes and fungi: similar weaponry to attack plants. Trends Microbiol 11:462–469. https://doi.org/10.1016/j.tim.2003.08.002

Lehmann J, Rillig MC, Thies J, Masiello CA, Hockaday WC, Crowley D (2011) Biochar effects on soil biota – a review. Soil Biol Biochem 43:1812–1836. https://doi.org/10.1016/j.soilbio.2011.04.022

Lentendu G, Wubet T, Chatzinotas A, Wilhelm C, Buscot F, Schlegel M (2014) Effects of long-term differential fertilization on eukaryotic microbial communities in an arable soil: a multiple barcoding approach. Mol Ecol 23:3341–3355. https://doi.org/10.1111/mec.12819

Lin Y, Ye G, Kuzyakov Y, Liu D, Fan J, Ding W (2019) Long-term manure application increases soil organic matter and aggregation, and alters microbial community structure and keystone taxa. Soil Biol Biochem 134:187–196. https://doi.org/10.1016/j.soilbio.2019.03.030

Mahé F, de Vargas C, Bass D, Czech L, Stamatakis A, Lara E, Singer D, Mayor J, Bunge J, Sernaker S, Siemensmeyer T, Trautmann I, Romac S, Berney C, Kozlov A, Mitchell EAD, Seppey CVW, Egge E, Lentendu G, Wirth R, Trueba G, Dunthorn M (2017) Parasites dominate hyperdiverse soil protist communities in neotropical rainforests. Nat Ecol Evol 1:0091. https://doi.org/10.1038/s41559-017-0091

Mierzwa-Hersztek M, Klimkowicz-Pawlas A, Gondek K (2018) Influence of poultry litter and poultry litter biochar on soil microbial respiration and nitrifying bacteria activity. Waste and Biomass Valorization 9:379–389. https://doi.org/10.1007/s12649-017-0013-z

Mitra A, Flynn KJ, Tillmann U, Raven JA, Caron D, Stoecker DK, Not F, Hansen PJ, Hallegraeff G, Sanders R, Wilken S, McManus G, Johnson M, Pitta P, Våge S, Berge T, Calbet A, Thingstad F, Jeong HJ, Burkholder JA, Glibert PM, Granéli E, Lundgren V (2016) Defining planktonic protist functional groups on mechanisms for energy and nutrient acquisition: incorporation of diverse mixotrophic strategies. Protist 167:106–120. https://doi.org/10.1016/j.protis.2016.01.003

Murase J, Takenouchi Y, Iwasaki K, Kimura M (2014) Microeukaryotic community and oxygen response in rice field soil revealed using a combined rRNA-gene and rRNA-based approach. Microbes Environ 29:74–81. https://doi.org/10.1264/jsme2.ME13128

Orihashi K, Kojima Y, Terazawa M (2001) Deterrent effect of rosin and wood tar against barking by the gray-sided vole (Clethrionomys rufocanus bedfordiae). J For Res 6:191–196. https://doi.org/10.1007/BF02767092

Otte JM, Blackwell N, Soos V, Rughöft S, Maisch M, Kappler A, Kleindienst S, Schmidt C (2018) Sterilization impacts on marine sediment---Are we able to inactivate microorganisms in environmental samples? FEMS Microbiol Ecol 94:fiy189. https://doi.org/10.1093/femsec/fiy189

Pansu M, Gautheyrou J (2006) Exchangeable cations. In: Handbook of soil analysis. Springer, Berlin. https://doi.org/10.1007/978-3-540-31211-6

Parry JD (2004) Protozoan grazing of freshwater biofilms. Adv Appl Microbiol 54:167–196. https://doi.org/10.1016/S0065-2164(04)54007-8

Paustian K, Lehmann J, Ogle S, Reay D, Robertson GP, Smith P (2016) Climate-smart soils. Nature 532:49–57

Payne RJ (2013) Seven reasons why protists make useful bioindicators. Acta Protozool 52:105–113. https://doi.org/10.4467/16890027AP.13.0011.1108

Prommer J, Wanek W, Hofhansl F, Trojan D, Offre P, Urich T, Schleper C, Sassmann S, Kitzler B, Soja G, Hood-Nowotny RC (2014) Biochar decelerates soil organic nitrogen cycling but stimulates soil nitrification in a temperate arable field trial. PLoS One 9:e86388. https://doi.org/10.1371/journal.pone.0086388

Quast C, Pruesse E, Yilmaz P, Gerken J, Schweer T, Yarza P, Peplies J, Glöckner FO (2012) The SILVA ribosomal RNA gene database project: improved data processing and web-based tools. Nucleic Acids Res 41:D590–D596. https://doi.org/10.1093/nar/gks1219

Rajkovich S, Enders A, Hanley K, Hyland C, Zimmerman AR, Lehmann J (2012) Corn growth and nitrogen nutrition after additions of biochars with varying properties to a temperate soil. Biol Fertil Soils 48:271–284. https://doi.org/10.1007/s00374-011-0624-7

Reddy KR, Yargicoglu EN, Yue D, Yaghoubi P (2014) Enhanced microbial methane oxidation in landfill cover soil amended with biochar. J Geotech Geoenvironmental Eng 140:04014047. https://doi.org/10.1061/(ASCE)GT.1943-5606.0001148

Rojas JA, Jacobs JL, Napieralski S, Karaj B, Bradley CA, Chase T, Esker PD, Giesler LJ, Jardine DJ, Malvick DK, Markell SG, Nelson BD, Robertson AE, Rupe JC, Smith DL, Sweets LE, Tenuta AU, Wise KA, Chilvers MI (2017) Oomycete species associated with soybean seedlings in North America—part II: diversity and ecology in relation to environmental and edaphic factors. Phytopathology 107:293–304. https://doi.org/10.1094/PHYTO-04-16-0176-R

Rønn R, McCaig AE, Griffiths BS, Prosser JI (2002) Impact of protozoan grazing on bacterial community structure in soil microcosms. Appl Environ Microbiol 68:6094–6105. https://doi.org/10.1128/AEM.68.12.6094-6105.2002

Rosenberg K, Bertaux J, Krome K, Hartmann A, Scheu S, Bonkowski M (2009) Soil amoebae rapidly change bacterial community composition in the rhizosphere of Arabidopsis thaliana. ISME J 3:675–684. https://doi.org/10.1038/ismej.2009.11

Saleem M, Fetzer I, Dormann CF, Harms H, Chatzinotas A (2012) Predator richness increases the effect of prey diversity on prey yield. Nat Commun 3:1305. https://doi.org/10.1038/ncomms2287

Schmidt JE, Kent AD, Brisson VL, Gaudin ACM (2019) Agricultural management and plant selection interactively affect rhizosphere microbial community structure and nitrogen cycling. Microbiome 7:146. https://doi.org/10.1186/s40168-019-0756-9

Segata N, Izard J, Waldron L, Gevers D, Miropolsky L, Garrett WS, Huttenhower C (2011) Metagenomic biomarker discovery and explanation. Genome Biol 12:R60. https://doi.org/10.1186/gb-2011-12-6-r60

Shannon P (2003) Cytoscape: a software environment for integrated models of biomolecular interaction networks. Genome Res 13:2498–2504. https://doi.org/10.1101/gr.1239303

Sheng Y, Zhu L (2018) Biochar alters microbial community and carbon sequestration potential across different soil pH. Sci Total Environ 622–623:1391–1399. https://doi.org/10.1016/j.scitotenv.2017.11.337

Sohi SP, Krull E, Lopez-Capel E, Bol R (2010) Chapter 2: a review of biochar and its use and function in soil. Adv Agron 105:47–82. https://doi.org/10.1016/S0065-2113(10)05002-9

Song Y, Zhang X, Ma B, Chang SX, Gong J (2014) Biochar addition affected the dynamics of ammonia oxidizers and nitrification in microcosms of a coastal alkaline soil. Biol Fertil Soils 50:321–332. https://doi.org/10.1007/s00374-013-0857-8

Truog E (1930) The determination of the readily available phosphorus of soils. Agron J 22:874. https://doi.org/10.2134/agronj1930.00021962002200100008x

Wang W, Niu J, Zhou X, Wang Y (2011) Long-term change in land management from subtropical wetland to paddy field shifts soil microbial community structure as determined by PLFA and T-RFLP. Polish J Ecol 59:37–44

Warnock DD, Lehmann J, Kuyper TW, Rillig MC (2007) Mycorrhizal responses to biochar in soil – concepts and mechanisms. Plant Soil 300:9–20. https://doi.org/10.1007/s11104-007-9391-5

Williams RJ, Howe A, Hofmockel KS (2014) Demonstrating microbial co-occurrence pattern analyses within and between ecosystems. Front Microbiol 5:1–10. https://doi.org/10.3389/fmicb.2014.00358

Wu H, Zeng G, Liang J, Chen J, Xu J, Dai J, Li X, Chen M, Xu P, Zhou Y, Li F, Hu L, Wan J (2016) Responses of bacterial community and functional marker genes of nitrogen cycling to biochar, compost and combined amendments in soil. Appl Microbiol Biotechnol 100:8583–8591. https://doi.org/10.1007/s00253-016-7614-5

Xiong W, Jousset A, Guo S, Karlsson I, Zhao Q, Wu H, Kowalchuk GA, Shen Q, Li R, Geisen S (2018) Soil protist communities form a dynamic hub in the soil microbiome. ISME J 12:634–638. https://doi.org/10.1038/ismej.2017.171

Yang Y, Wang P, Zeng Z (2019) Dynamics of bacterial communities in a 30-year fertilized paddy field under different organic–inorganic fertilization strategies. Agronomy 9:14. https://doi.org/10.3390/agronomy9010014

Yatagai M, Nishimoto M, Hori K, Ohira T, Shibata A (2002) Termiticidal activity of wood vinegar, its components and their homologues. J Wood Sci 48:338–342. https://doi.org/10.1007/BF00831357

Yu J, Deem LM, Crow SE, Deenik JL, Penton CR (2018) Biochar application influences microbial assemblage complexity and composition due to soil and bioenergy crop type interactions. Soil Biol Biochem 117:97–107. https://doi.org/10.1016/j.soilbio.2017.11.017

Zhang A, Cui L, Pan G, Li L, Hussain Q, Zhang X, Zheng J, Crowley D (2010) Effect of biochar amendment on yield and methane and nitrous oxide emissions from a rice paddy from Tai Lake plain, China. Agric Ecosyst Environ 139:469–475. https://doi.org/10.1016/j.agee.2010.09.003

Zhang Q-C, Shamsi IH, Xu D-T, Wang G-H, Lin X-Y, Jilani G, Hussain N, Chaudhry AN (2012) Chemical fertilizer and organic manure inputs in soil exhibit a vice versa pattern of microbial community structure. Appl Soil Ecol 57:1–8. https://doi.org/10.1016/j.apsoil.2012.02.012

Zhao Z-B, He J-Z, Geisen S, Han L-L, Wang J-T, Shen J-P, Wei W-X, Fang Y-T, Li P-P, Zhang L-M (2019) Protist communities are more sensitive to nitrogen fertilization than other microorganisms in diverse agricultural soils. Microbiome 7:33. https://doi.org/10.1186/s40168-019-0647-0

Zheng N, Yu Y, Shi W, Yao H (2019) Biochar suppresses N2O emissions and alters microbial communities in an acidic tea soil. Environ Sci Pollut Res 26:35978–35987. https://doi.org/10.1007/s11356-019-06704-8

Zhu X, Chen B, Zhu L, Xing B (2017) Effects and mechanisms of biochar-microbe interactions in soil improvement and pollution remediation: a review. Environ Pollut 227:98–115. https://doi.org/10.1016/j.envpol.2017.04.032
Availability of data
The raw sequence data obtained in this study have been deposited in the NCBI database under the BioProject ID PRJNA615322.
Funding
This research was partly supported by The Yanmar Environmental Sustainability Support Association (K30059) and by a Kakenhi grant (19H00305H) from the Japan Society for the Promotion of Science to R.A.
Ethics declarations
Ethics approval
Not applicable
Conflict of interest
The authors declare they have no conflict of interest.
Additional information
Publisher's note
Springer Nature remains neutral with regard to jurisdictional claims in published maps and institutional affiliations.
Electronic supplementary material
About this article
Cite this article
Asiloglu, R., Samuel, S.O., Sevilir, B. et al. Biochar affects taxonomic and functional community composition of protists. Biol Fertil Soils 57, 15–29 (2021). https://doi.org/10.1007/s00374-020-01502-8
Received:

Revised:

Accepted:

Published:

Issue Date:

DOI: https://doi.org/10.1007/s00374-020-01502-8
Keywords
Protozoa

Biochar

Protists

High-throughput sequencing

Phagotrophs

Rhizosphere