Abstract
Two seasonal pot experiments were conducted to investigate the effect of biofertilizer application after mixture of lime and ammonium bicarbonate (LA) fumigation, on banana Fusarium wilt disease suppression and soil microbial community composition. Biofertilizer application after LA fumigation decreased 80% of disease incidence compared to control of biofertilizer application to non-fumigated soil. Biofertilizer application after fumigation clearly manipulated soil microbial community composition as revealed by non-metric multidimensional scaling and Venn diagram. LA fumigation significantly reduced the abundance of F. oxysporum while biofertilizer application after fumigation could further decrease it. Furthermore, indigenous microbes, e.g., Bacillus, Pseudomonas, and Mortierella, were associated with disease suppression. Biofertilizer application after fumigation significantly (p < 0.05) increased the soil pH and content of soil total C and available P and K, and this probably reshaped soil microbial community as revealed by redundancy analysis and variance partitioning analysis. The observed disease suppression due to biofertilizer application after soil fumigation can be attributed to the reduced abundance of F. oxysporum by general suppression resulting from manipulated soil properties and recovered soil microbiome.
Access options
Buy single article
Instant access to the full article PDF.
USD 39.95
Price excludes VAT (USA)
Tax calculation will be finalised during checkout.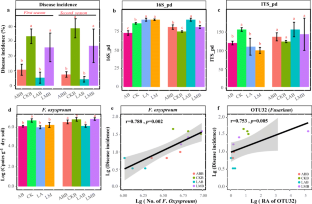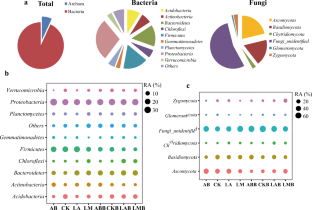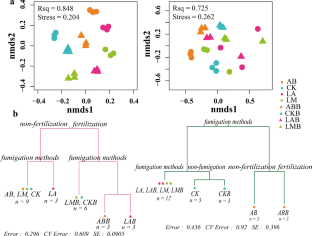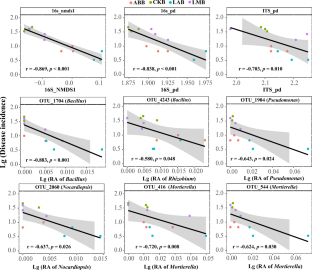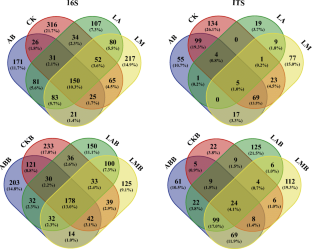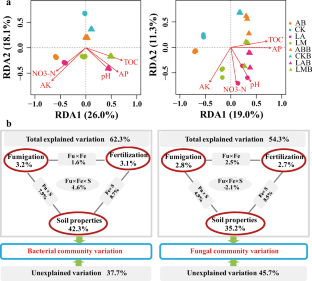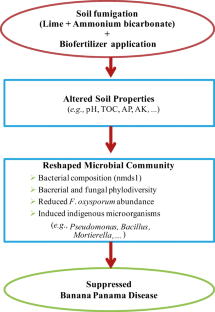 References
Acosta-Martinez V, Dowd S, Sun Y, Allen V (2008) Tag-encoded pyrosequencing analysis of bacterial diversity in a single soil type as affected by management and land use. Soil Biol Biochem 40:2762–2770

Akila R, Rajendran L, Harish S, Saveetha K, Raguchander T, Samiyappan R (2011) Combined application of botanical formulations and biocontrol agents for the management of Fusarium oxysporum f. sp. cubense (Foc) causing Fusarium wilt in banana. Biol Control 57:175–183

Alabouvette C (1999) Fusarium wilt suppressive soils: an example of disease-suppressive soils. Australas Plant Path 28:57–64

Bais HP, Fall R, Vivanco JM (2004) Biocontrol of Bacillus subtilis against infection of Arabidopsis roots by Pseudomonas syringae is facilitated by biofilm formation and surfactin production. Plant Physiol 134:307–319

Butler D (2013) Fungus threatens top banana. Nature 504:195–196

Caporaso JG, Kuczynski J, Stombaugh J, Bittinger K, Bushman FD, Costello EK, Fierer N, Pena AG, Goodrich JK, Gordon JI (2010) QIIME allows analysis of high-throughput community sequencing data. Nat Methods 7:335–336

Caporaso JG, Lauber CL, Walters WA, Berg-Lyons D, Lozupone CA, Turnbaugh PJ, Fierer N, Knight R (2011) Global patterns of 16S rRNA diversity at a depth of millions of sequences per sample. P Natl Acad Sci USA 108:4516–4522

Chaparro JM, Badri DV, Bakker MG, Sugiyama A, Manter DK, Vivanco JM (2013) Root exudation of phytochemicals in Arabidopsis follows specific patterns that are developmentally programmed and correlate with soil microbial functions. PLoS One 8:e55731

Deltour P, França SC, Pereira OL, Cardoso I, De Neve S, Debode J, Höfte M (2017) Disease suppressiveness to Fusarium wilt of banana in an agroforestry system: influence of soil characteristics and plant community. Agric Ecosyst Environ 239:173–181

Deng S, Parham J, Hattey J, Babu D (2006) Animal manure and anhydrous ammonia amendment alter microbial carbon use efficiency, microbial biomass, and activities of dehydrogenase and amidohydrolases in semiarid agroecosystems. Appl Soil Ecol 33:258–268

du Plessis MCF, Kroontje W (1964) The relationship between pH and ammonia equilibria in soil. Soil Sci Soc Am J 28:751–754

Duniway J (2002) Status of chemical alternatives to methyl bromide for pre-plant fumigation of soil. Phytopathology 92:1337–1343

Edgar RC (2013) UPARSE: highly accurate OTU sequences from microbial amplicon reads. Nat Methods 10:996–998

El-Tarabily KA, Sivasithamparam K (2006) Non-streptomycete actinomycetes as biocontrol agents of soil-borne fungal plant pathogens and as plant growth promoters. Soil Biol Biochem 38:1505–1520

Food and Agriculture Organization of the United Nations (FAOSTAT). Data of crop production. 2017. http://www.fao.org/faostat/en/#data/QC

Fierer N, Jackson JA, Vilgalys R, Jackson RB (2005) Assessment of soil microbial community structure by use of taxon-specific quantitative PCR assays. Appl Environ Microb 71:4117–4120

Fujiwara K, Iida Y, Iwai T, Aoyama C, Inukai R, Ando A, Ogawa J, Ohnishi J, Terami F, Takano M, Shinohara M (2013) The rhizosphere microbial community in a multiple parallel mineralization system suppresses the pathogenic fungus Fusarium oxysporum. Microbiologyopen 2:997–1009

Garbeva P, Veen JV, Elsas JV (2004) Microbial diversity in soil: selection of microbial populations by plant and soil type and implications for disease suppressiveness. Annu Rev Phytopathol 42:243–270

Griffiths B, Ritz K, Bardgett RD, Cook R, Christensen S, Ekelund F, Sørensen S, Bååth E, Bloem J, De Ruiter P (2000) Ecosystem response of pasture soil communities to fumigation-induced microbial diversity reductions: an examination of the biodiversity-ecosystem function relationship. Oikos 90:279–294

Guo J-H, Qi HY, Guo Y-H, Ge H-L, Gong L-Y, Zhang LX, Sun P-H (2004) Biocontrol of tomato wilt by plant growth-promoting rhizobacteria. Biol Control 29:66–72

Höper H, Alabouvette C (1996) Importance of physical and chemical soil properties in the suppressiveness of soils to plant diseases. Eur J Soil Biol 32:41–58

Hollister EB, Hu P, Wang AS, Hons FM, Gentry TJ (2013) Differential impacts of brassicaceous and nonbrassicaceous oilseed meals on soil bacterial and fungal communities. FEMS Microbiol Ecol 83:632–641

Huang XQ, Wen T, Zhang JB, Meng L, Zhu TB, Liu LL (2015) Control of soil-borne pathogen Fusarium oxysporum by biological soil disinfestation with incorporation of various organic matters. Eur J Plant Pathol 143:223–235

Jeger M, Eden-Green S, Thresh J, Johanson A, Waller J, AE B (1995) Banana diseases. In: Gowen S (ed) Bananas and Plantains. Chapman and Hall, London, pp 317–381

Kavino M, Harish S, Kumar N, Saravanakumar D, Samiyappan R (2010) Effect of chitinolytic PGPR on growth, yield and physiological attributes of banana (Musa spp.) under field conditions. Appl Soil Ecol 45:71–77

Kloepper JW, Leong J, Teintze M, Schroth MN (1980) Pseudomonas siderophores: a mechanism explaining disease-suppressive soils. Curr Microbiol 4:317–320

Kozich JJ, Westcott SL, Baxter NT, Baxter NT, Highlander SK, Schloss PD (2013) Development of a dual-index sequencing strategy and curation pipeline for analyzing amplicon sequence data on the MiSeq Illumina sequencing platform. Appl Environ Microb 79:5112–5120

Lemanceau P, Alabouvette C (1993) Suppression of Fusarium wilts by fluorescent pseudomonas: mechanisms and applications. Biocontrol Sci Techn 3:219–223

Leon MCC, Stone A, Dick RP (2006) Organic soil amendments: impacts on snap bean common root rot (Aphanomyes euteiches) and soil quality. Appl Soil Ecol 31:199–210

Li C, Li X, Kong W, Wang J (2010) Effect of monoculture soybean on soil microbial community in the Northeast China. Plant Soil 330:423–433

Li R, Shen Z, Sun L, Zhang R, Fu L, Deng X, Shen Q (2016) Novel soil fumigation method for suppressing cucumber Fusarium wilt disease associated with soil microflora alterations. Appl Soil Ecol 101:28–36

Liu L, Kong J, Cui H, Zhang J, Wang F, Cai Z, Huang X (2016a) Relationships of decomposability and C/N ratio in different types of organic matter with suppression of Fusarium oxysporum and microbial communities during reductive soil disinfestation. Biol Control 101:103–113

Liu L, Sun C, Liu X, He X, Liu M, Wu H, Tang C, Jin C, Zhang Y (2016b) Effect of calcium cyanamide, ammonium bicarbonate and lime mixture, and ammonia water on survival of Ralstonia solanacearum and microbial community. Sci Rep 6:19037

Mendes R, Kruijt M, de Bruijn I, Dekkers E, van der Voort M, Schneider JH, Piceno YM, DeSantis TZ, Andersen GL, Bakker PA (2011) Deciphering the rhizosphere microbiome for disease-suppressive bacteria. Science 332:1097–1100

Michel VV, Mew TW (1998) Effect of a soil amendment on the survival of Ralstonia solanacearum in different soils. Phytopathology 88:300–305

Misk A, Franco C (2011) Biocontrol of chickpea root rot using endophytic actinobacteria. BioControl 56:811–822

Ordonez N, Seidl MF, Waalwijk C, Drenth A, Kilian A, Thomma BP, Ploetz RC, Kema GH (2015) Worse comes to worst: bananas and Panama disease-when plant and pathogen clones meet. PLoS Pathog 11:e1005197

Ploetz RC (2006) Fusarium wilt of banana is caused by several pathogens referred to as Fusarium oxysporum f. sp. cubense. Phytopathology 96:653–656

Ploetz RC (2015a) Fusarium wilt of banana. Phytopathology 105:1512–1521

Ploetz RC (2015b) Management of Fusarium wilt of banana: a review with special reference to tropical race 4. Crop Prot 73:7–15

Raaijmakers JM, Mazzola M (2016) Soil immune responses. Science 352:1392–1393

Riegel C, Noe JP (2000) Chicken litter soil amendment effects on soilborne microbes and Meloidogyne incognita on cotton. Plant Dis 84:1275–1281

Rush CM, Lyda SD (1982) Effects of anhydrous ammonia on mycelium and sclerotia of Phymatotrichum omnivorum. Phytopathology 72:1085–1089

Saravanan T, Muthusamy M, Marimuthu T (2004) Effect of Pseudomonas fluorescens on Fusarium wilt pathogen in banana rhizosphere. Int J Biol Sci 4:192–198

Schippers B, Palm LC (1973) Ammonia, a fungistatic volatile in chitin-amended soil. Eur J Plant Pathol 79:279–281

Schöler A, Jacquiod S, Vestergaard G, Schulz S, Schloter M (2017) Analysis of soil microbial communities based on amplicon sequencing of marker genes. Biol Fertil Soils 53:485–489

Shen Z, Ruan Y, Chao X, Zhang J, Li R, Shen Q (2015) Rhizosphere microbial community manipulated by 2 years of consecutive biofertilizer application associated with banana Fusarium wilt disease suppression. Biol Fert Soils 51:553–562

Shen Z, Zhong S, Wang Y, Mei X, Li R, Ruan Y, Shen Q (2013) Induced soil microbial suppression of banana fusarium wilt disease using compost and biofertilizers to improve yield and quality. Eur J Soil Biol 57:1–8

Sivamani E, Gnanamanickam S (1988) Biological control of Fusarium oxysporum f. sp. cubense in banana by inoculation with Pseudomonas fluorescens. Plant Soil 107:3–9

Spadaro D, Gullino ML (2005) Improving the efficacy of biocontrol agents against soilborne pathogens. Crop Prot 24:601–613

Sun L, Song S, Fu L, Deng X, Wang D, Liang X, Li R, Shen Q (2015) Exploring a soil fumigation strategy based on ammonium bicarbonate to control Fusarium wilts of cucurbits. Crop Prot 70:53–60

Tagawa M, Tamaki H, Manome A, Koyama O, Kamagata Y, Notes A (2010) Isolation and characterization of antagonistic fungi against potato scab pathogens from potato field soils. FEMS Microbiol Lett 305:136e142

Tenuta M, Lazarovits G (2002) Ammonia and nitrous acid from nitrogenous amendments kill the microsclerotia of Verticillium dahliae. Phytopathology 92:255–264

Trivedi P, Delgado-Baquerizo M, Trivedi C, Hamonts K, Anderson IC, Singh BK (2017) Keystone microbial taxa regulate the invasion of a fungal pathogen in agro-ecosystems. Soil Biol Biochem 111:10–14

van Elsas JD, Chiurazzi M, Mallon CA, Elhottovā D, Krištůfek V, Salles JF (2012) Microbial diversity determines the invasion of soil by a bacterial pathogen. P Natl Acad Sci USA 109:1159–1164

Vestergaard G, Schulz S, Schöler A, Schloter M (2017) Making big data smart-how to use metagenomics to understand soil quality. Biol Fertil Soils 53:479–484

Wang Q, Garrity GM, Tiedje JM, Cole JR (2007) Naive Bayesian classifier for rapid assignment of rRNA sequences into the new bacterial taxonomy. Appl Environ Microb 73:5261–5267

Wang Q, Ma Y, Yang H, Chang Z (2014) Effect of biofumigation and chemical fumigation on soil microbial community structure and control of pepper Phytophthora blight. World J Microb Biot 30:507–518

Weller DM (1988) Biological control of soilborne plant pathogens in the rhizosphere with bacteria. Annu Rev Phytopathol 26:379–407

Xiong W, Li R, Ren Y, Liu C, Zhao Q, Wu H, Jousset A, Shen Q (2017) Distinct roles for soil fungal and bacterial communities associated with the suppression of vanilla Fusarium wilt disease. Soil Biol Biochem 107:198–207

Yuan J, Li B, Zhang N, Raza W, Shen Q, Huang Q (2012) Production of bacillomycin-and macrolactin-type antibiotics by Bacillus amyloliquefaciens NJN-6 for suppressing soilborne plant pathogens. J Agr Food Chem 60:2976–2981

Zhang N, Xin HE, Zhang J, Raza W, Yang X-M, Ruan Y-Z, Shen Q-R, Huang Q-W (2014) Suppression of Fusarium wilt of banana with application of bio-organic fertilizers. Pedosphere 24:613–624
Acknowledgements
We thank the banana orchard owner Mr. Yusheng Li for providing access to the experimental field for soil collecting and greenhouse facilities.
Funding
This work was supported by the National Key Research and Development Program (2016YFE0101100 and 2017YFD0202101); the National Key Basic Research Program of China (2015CB150500); the National Natural Science Foundation of China (31601836, 31572212 and 31672239); the China Postdoctoral Science Foundation (2016M590469); the China Postdoctoral Science Foundation (2016M590469 and 2018T110509); the Science and Technology Planning Project of Guangdong Province, China (2016B020202006); the Natural Science Foundation of Jiangsu Province, China (BK20150059); the Hainan Provincial Natural Science Foundation of China (317040); the Priority Academic Program Development of the Jiangsu Higher Education Institutions (PAPD); the 111 project (B12009); and the China Scholarship Council (award to Rong Li for 1-year abroad study).
Electronic supplementary material
Three supplementary figures and five supplementary tables associated with this manuscript are in supplemental material.
About this article
Cite this article
Shen, Z., Xue, C., Taylor, P.W.J. et al. Soil pre-fumigation could effectively improve the disease suppressiveness of biofertilizer to banana Fusarium wilt disease by reshaping the soil microbiome. Biol Fertil Soils 54, 793–806 (2018). https://doi.org/10.1007/s00374-018-1303-8
Received:

Revised:

Accepted:

Published:

Issue Date:

DOI: https://doi.org/10.1007/s00374-018-1303-8
Keywords
Banana Panama disease

Disease suppression

Microbial diversity

Soil fumigation

Biofertilizer