Abstract
Klebsiella variicola bacteria are found in association with plants. Little is known about their colonization patterns, roles, and mechanisms during association with the plant hosts. Here, we identified a nitrogen-fixing bacterium, DX120E, which was isolated from surface-sterilized roots of the ROC22 sugarcane cultivar, as K. variicola by phylogenetic analyses of its 16S rRNA gene, RNA polymerase β-subunit gene, and DNA gyrase subunit A gene sequences. gfp-tagged DX120E was found to colonize at the roots and aerial parts of micropropagated sugarcane plantlets by fluorescence microscopy and confocal microscopy. DX120E was able to survive in soils and colonize in root epidermal cells, intercellular spaces in root cortices, and leaf mesophyll and vascular tissues. DX120E preferentially colonized at root maturation and elongation zones and entered roots via cracks at the emergence site of lateral roots and at disrupted epidermis. DX120E may penetrate root epidermal cells with the aid of their cellulose-degrading enzymes. 15N isotope dilution assay demonstrated that DX120E was able to fix N2 in association with ROC22 sugarcane plants under gnotobiotic condition. DX120E was also able to promote GT21 cultivar growth and plant uptake of N, P, and K under greenhouse condition. Together, this study for the first time shows that a K. variicola strain is able to colonize in its sugarcane plant hosts, to fix N2 in association with plants, and to promote plant growth.
Access options
Buy single article
Instant access to the full article PDF.
US$ 39.95
Tax calculation will be finalised during checkout.
Subscribe to journal
Immediate online access to all issues from 2019. Subscription will auto renew annually.
US$ 119
Tax calculation will be finalised during checkout.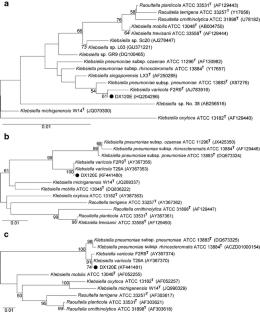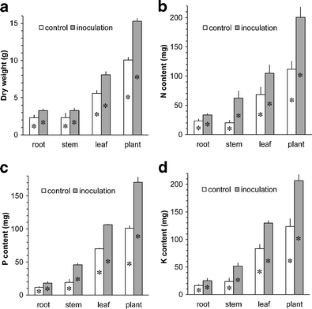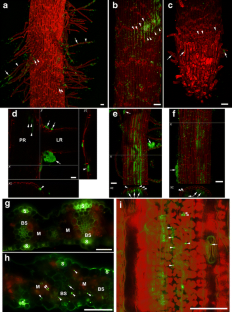 References
An Q, Kuang B, Mu X, Li JD (1999) Colonization and nitrogenase production by Klebsiella oxytoca SA2 in rice roots. Prog Nat Sci 9:1262–1268

An Q, Dong Y, Wang W, Li Y, Li J (2007) Constitutive expression of the nifA gene activates associative nitrogen fixation of Enterobacter gergoviae 57–7, an opportunistic endophytic diazotroph. J Appl Microbiol 103:613–620

An Q, Yang X, Feng L, Mao B, Kuang B, Li J (2010) Using orthogonal sectioning with a laser scanning confocal microscopic system to determine endophytic colonization of plant roots by GFP-tagged bacteria. J Chin Electr Microsc Soc 29:354–360

Baldani JI, Baldani VLD (2005) History on the biological nitrogen fixation research in graminaceous plants: special emphasis on the Brazilian experience. Ann Brazil Acad Sci 77:549–579

Bao S-D (2000) Soil and agricultural chemistry analysis, 3rd edn. China Agriculture Press, Beijing, pp 263–271

Barret M, Morrissey JP, O'Gara F (2011) Functional genomics analysis of plant growth-promoting rhizobacterial traits involved in rhizosphere competence. Biol Fertil Soils 47:729–743

Bashan Y, Kamnev AA, de-Bashan LE (2013) Tricalcium phosphate is inappropriate as a universal selection factor for isolating and testing phosphate-solubilizing bacteria that enhance plant growth: a proposal for an alternative procedure. Biol Fetil Soils 49:465–479

Compant S, Clément C, Sessitsch A (2010) Plant growth-promoting bacteria in the rhizo- and endosphere of plants: their role, colonization, mechanisms involved and prospects for utilization. Soil Biol Biochem 42:669–678

de Santi Ferrara FI, Oliveira ZM, Gonzales HHS, Floh EIS, Barbosa HR (2012) Endophytic and rhizospheric enterobacteria isolated from sugar cane have different potentials for producing plant growth-promoting substances. Plant Soil 353:409–417

Döbereiner J (1992) History and new perspectives of diazotrophs in association with non-leguminous plants. Symbiosis 13:1–13

Fouts DE, Tyler HL, DeBoy RT, Daugherty S, Ren Q, Badger JH, Durkin AS, Huot H, Shrivastava S, Kothari S, Dodson RJ, Mohamoud Y, Khouri H, Roesch LFW, Krogfelt KA, Struve C, Triplett EW, Methé BA (2008) Complete genome sequence of the N2-fixing broad host range endophyte Klebsiella pneumoniae 342 and virulence predictions verified in mice. PLoS Genet 4(7):e1000141

Govindarajan M, Kwon S-W, Weon H-Y (2007) Isolation, molecular characterization and growth-promoting activities of endophytic sugarcane diazotroph Klebsiella sp. GR9. World J Microbiol Biotechnol 23:997–1006

Haahtela K, Laakso T, Korhonen TK (1986) Associative nitrogen fixation by Klebsiella spp.: adhesion sites and inoculation effects on grass roots. Appl Environ Microbiol 52:1074–1079

Iniguez AL, Dong Y, Triplett EW (2004) Nitrogen fixation in wheat provided by Klebsiella pneumonia 342. Mol Plant Microbe Interact 17:1078–1085

James EK (2000) Nitrogen fixation in endophytic and associative symbiosis. Field Crops Res 65:197–209

James EK, Reis VM, Olivares FL, Boiardi JI, Döbereiner J (1994) Infection of sugarcane by the nitrogen-fixing bacterium Acetobacter diazotrophicus. J Exp Bot 45:757–766

James EK, Gyaneshwar P, Mathan N, Barraquio WL, Reddy PM, Iannetta PPM, Olivares FL, Ladha JK (2002) Infection and colonization of rice seedlings by the plant growth-promoting bacterium Herbaspirillum seropedicae Z67. Mol Microbe Plant Interact 15:894–906

Kovtunovych G, Lar O, Kamalova S, Kordyum V, Kleiner D, Kozyrovska N (1999) Correlation between pectate lyase activity and ability of diazotrophic Klebsiella oxytoca VN13 to penetrate into plant tissues. Plant Soil 215:1–6

Li Y-R (2010) Current knowledge of sugarcane. Chinese Agriculture Publishing, Beijing

Lima E, Boddey RM, Döbereiner J (1987) Quantification of biological nitrogen fixation associated with sugar cane using a 15N-aided nitrogen balance. Soil Biol Biochem 19:165–170

Lin L, Guo W, Xing Y, Zhang X, Li Z, Hu C, Li S, Li Y, An Q (2012a) The actinobacterium Microbacterium sp.16SH accepts pBBR1-based pPROBE vectors, forms biofilms, invades roots, and fixes N2 associated with micropropagated sugarcane plants. Appl Microbiol Biotechnol 93:1185–1195

Lin L, Li Z, Hu C, Zhang X, Chang S, Yang L, Li Y, An Q (2012b) Plant growth-promoting nitrogen-fixing enterobacteria are in association with sugarcane plants growing in Guangxi, China. Microbes Environ 27:391–398

Lindow SE, Brandl MT (2003) Microbiology of the phyllosphere. Appl Environ Microbiol 69:1875–1883

Luo T, Ouyang X, Yang L, Li Y (2010) Effect of nitrogen-fixing bacteria inoculation on biological nitrogen fixation in sugarcane by 15N isotope dilution technique. J Nucl Agric Sci 24:1026–1031

Magnani GS, Didonet CM, Cruz LM, Picheth CF, Pedrosa FO, Souza EM (2010) Diversity of endophytic bacteria in Brazilian sugarcane. Genet Mol Res 9:250–258

Mehnaz S, Baig DN, Lazarovits G (2010) Genetic and phenotypic diversity of plant growth promoting rhizobacteria isolated from sugarcane plants growing in Pakistan. J Microbiol Biotechnol 20:1614–1623

Mirza MS, Ahmad W, Latif F, Haurat J, Bally R, Normand P, Malik KA (2001) Isolation, partial characterization, and the effect of plant growth-promoting bacteria (PGPB) on micropropagated sugarcane in vitro. Plant Soil 237:47–54

Oliveira ALM, Stoffels M, Schmid M, Reis VM, Baldani JI, Hartmann A (2009) Colonization of sugarcane plantlets by mixed inoculations with diazotrophic bacteria. Eur J Soil Biol 45:106–113

Pinto-Tomás AA, Anderson MA, Suen G, Stevenson DM, Chu FS, Cleland WW, Weimer PJ, Currie CR (2009) Symbiotic nitrogen fixation in the fungus gardens of leaf-cutter ants. Science 326:1120–1123

Podschun R, Ullmann U (1998) Klebsiella spp. as nosocomial pathogens: epidemiology, taxonomy, typing methods, and pathogenicity factors. Clin Microbiol Rev 11:589–603

Quecine MC, Araújo WL, Rossetto PB, Ferreira A, Tsui S, Lacava PT, Mondin M, Azevedo JL, Pizzirani-Kleiner AA (2012) Sugarcane growth promotion by the endophytic bacterium Pantoea agglomerans 33.1. Appl Environ Microbiol 78:7511–7518

Reis VM, Olivares FL, Oliveira ALM, dos Reis FB, Baldani JI Jr, Döbereiner J (1999) Technical approaches to inoculate micropropagated sugarcane plants with Acetobacter diazotrophicus. Plant Soil 206:205–211

Rosenblueth M, Martínez-Romero E (2006) Bacterial endophytes and their interactions with hosts. Mol Plant Microbe Interact 19:827–837

Rosenblueth M, Martínez L, Silva J, Martínez-Romero E (2004) Klebsiella variicola, a novel species with clinical and plant-associated isolates. System Appl Microbiol 27:27–35

Santi C, Bogusz D, Franche C (2013) Biological nitrogen fixation in non-legume plants. Ann Bot 111:743–767

Stoltzfus JR, So R, Malarvithi PP, Ladha JK, de Bruijn FJ (1997) Isolation of endophytic bacteria from rice and assessment of their potential for supplying rice with biologically fixed nitrogen. Plant Soil 194:25–36

Tamura K, Peterson D, Peterson N, Stecher G, Nei M, Kumar S (2011) MEGA5: molecular evolutionary genetics analysis using maximum likelihood, evolutionary distance, and maximum parsimony methods. Mol Biol Evol 28:2731–2739

Tanaka K, Shimizu T, Zakria M, Njoloma J, Saeki Y, Sakai M, Yamakawa T, Minamisawa K, Akao S (2006) Incorporation of a DNA sequence encoding green fluorescent protein (GFP) into endophytic diazotroph from sugarcane and sweet potato and the colonizing ability of these bacteria in Brassica oleracea. Microbes Environ 21:122–128

Taulé C, Mareque C, Barlocco C, Hackembruch F, Reis VM, Sicardi M, Battistoni F (2012) The contribution of nitrogen fixation to sugarcane (Saccharum officinarum L.), and the identification and characterization of part of the associated diazotrophic bacterial community. Plant Soil 356:35–49

Urquiaga S, Cruz KHS, Boddey RM (1992) Contribution of nitrogen fixation to sugar cane: nitrogen-15 and nitrogen-balance estimates. Soil Sci Soc Am J 56:105–114

Urquiaga S, Xavier RP, de Morais RF et al (2012) Evidence from field nitrogen balance and 15N natural abundance data for the contribution of biological N2 fixation to Brazilian sugarcane varieties. Plant Soil 356:5–21

Wang LW, Li YR, He WZ, Xian W, Liang J, Tan YM (2007) The detection of activity for endophytic nitrogen fixing bacteria in sugarcane (Saccharum officinarum L.) by stem apical culture seedlings. Plant Physiol Commun 43:65–68

Webster G, Gough C, Vasse J, Batchelor CA, O'Callaghan KJ, Kothari SL, Davey MR, Dénarié J, Cocking EC (1997) Interactions of rhizobia with rice and wheat. Plant Soil 194:115–122

Zakria M, Udonishi K, Ogawa T, Yamamoto A, Saeki Y, Akao S (2008a) Influence of inoculation technique on the endophytic colonization of rice by Pantoea sp. isolated from sweet potato and by Enterobacter sp. isolated from sugarcane. Soil Sci Plant Nutr 54:224–236

Zakria M, Udonishi K, Saeki Y, Yamamoto A, Akao S (2008b) Infection, multiplication and evaluation of the nitrogen-fixing ability of Herbaspirillum sp. strain B501gfp1 in sugarcane stems inoculated by the vacuum infiltration method. Microbes Environ 23:128–133
Acknowledgments
We thank Dr. Duli Zhao for reviewing the manuscript. This study was supported by the National Natural Science Foundation of China (31171504 and 31101122), Natural Science Foundation of Guangxi Provence (2011GXNSFF018002 and 2011GXNSFA018076), Guangxi Key Laboratory of Sugarcane Genetic Improvement (13-A-03-07), Guangxi Key Laboratory Construction Program (13-051-29), and Science and Technology Development Foundation of Guangxi Academy of Agricultural Sciences (2011YT01 and 2012YZ09).
Additional information
C.-Y. Wei and L. Lin contributed equally to this work.
Electronic supplementary material
Below is the link to the electronic supplementary material.
About this article
Cite this article
Wei, CY., Lin, L., Luo, LJ. et al. Endophytic nitrogen-fixing Klebsiella variicola strain DX120E promotes sugarcane growth. Biol Fertil Soils 50, 657–666 (2014). https://doi.org/10.1007/s00374-013-0878-3
Received:

Revised:

Accepted:

Published:

Issue Date:
Keywords
Colonization

Endophytic bacteria

Klebsiella variicola

Nitrogen fixation

Plant growth-promoting bacteria

Sugarcane