Abstract
Biochar amendments have frequently been reported to alter microbial communities and biogeochemical processes in soils. However, the impact of biochar application on bacterial (AOB) and archaeal ammonia oxidizers (AOA) remains poorly understood. In this study, we investigated the responses of AOB and AOA to the application of biochar derived from cotton stalk at rates of 5, 10, and 20 % by weight to a coastal alkaline soil during a 12-week incubation. The results showed that the amoA gene of AOB consistently outnumbered that of AOA, whereas only the AOA amoA gene copy number was significantly correlated with the potential ammonia oxidation (PAO) rate (P < 0.01). The significant decrease of PAO rates in biochar treatments occurred after incubation for 4–6 weeks, which were distinctly longer than that in the control (2 weeks). The PAO rates were significantly different among treatments during the first 4 weeks of incubation (P < 0.05), with the highest usually in the 10 % treatment. Biochar application significantly increased the abundance of both nitrifiers in the 4 weeks of incubation (P < 0.05). Biochar amendment also decreased AOA diversity, but increased AOB diversity, which resulted in different community structures of both nitrifiers (P < 0.01), as shown by the differences between the 5 % biochar and the control treatments. We conclude that biochar application generally enhanced the abundance and altered the composition of ammonia oxidizers; the rate of biochar application also affected the rate and dynamics of nitrification, and the risk for increasing the alkalinity and N leaching of the studied soil was lower with a lower application rate.
Access options
Buy single article
Instant access to the full article PDF.
USD 39.95
Price includes VAT (USA)
Tax calculation will be finalised during checkout.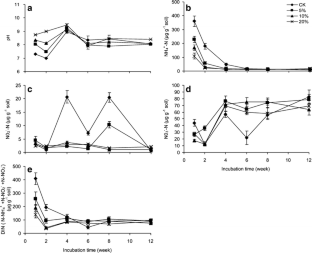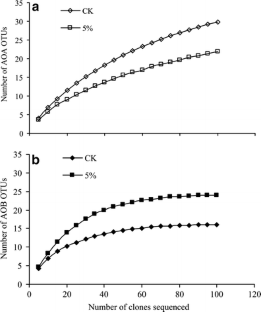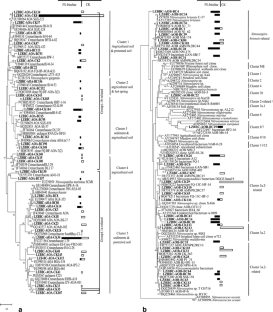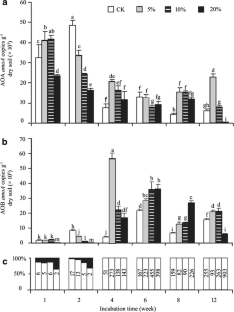 References
Adair KL, Schwartz E (2008) Evidence that ammonia-oxidizing archaea are more abundant than ammonia-oxidizing bacteria in semiarid soils of Northern Arizona, USA. Microb Ecol 56:420–426

Anderson CR, Condron LM, Clough TJ, Fiers M, Stewart A, Hill RA, Sherlock RR (2011) Biochar induced soil microbial community change: implications for biogeochemical cycling of carbon, nitrogen and phosphorus. Pedobiologia 54:309–320

Asada T, Ohkuho T, Kawata K, Oikawa K (2006) Ammonia adsorption on bamboo charcoal with acid treatment. J Health Sci 52:585–589

Ball PN, MacKenzie MD, DeLuca TH, Holben WE (2010) Wildfire and charcoal enhance nitrification and ammonium-oxidizing bacteria abundance in dry montane forest soils. J Environ Qual 39:1243–1253

Berglund LM, DeLuca TH, Zackrisson O (2004) Activated carbon amendments of soil alters nitrification rates in Scots pine forests. Soil Biol Biochem 36:2067–2073

Birk JJ, Steiner C, Teixeira WC, Zech W, Glaser B (2009) Microbial response to charcoal amendments and fertilization of a highly weathered tropical soil. In: Woods WI, Teixeira WG, Lehmann J, Steiner C, WinklerPrins AMGA, Rebellato L (eds) Amazonian dark Earths: Wim Sombroek's vision. Springer, Berlin, pp 309–324

Bru D, Ramette A, Saby NPA, Dequiedt S, Ranjard L, Jolivet C, Arrouays D, Philippot L (2011) Determinants of the distribution of nitrogen-cycling microbial communities at the landscape scale. ISME J 5:532–542

Chan KY, Xu Z (2009) Biochar: nutrient properties and their enhancement. In: Lehmann J, Joseph S (eds) Biochar for environmental management: science and technology. Earthscan, London, pp 67–84

Chan KY, Zwieten LV, Meszaros I, Downie A, Joseph S (2007) Agronomic values of greenwaste biochar as a soil amendment. Aust Soil Res 45:629–634

Chen XP, Zhu YG, Xia Y, Shen JP, He JZ (2008) Ammonia oxidizing archaea: important players in paddy rhizosphere soil. Environ Microbiol 10:1978–1987

Cheng Y, Cai ZC, Chang SX, Wang J, Zhang JB (2012) Wheat straw and its biochar have contrasting effects on inorganic N retention and N2O production in a cultivated Black Chernozem. Biol Fertil Soils 48:941–946

Clough TJ, Condron LM (2010) Biochar and the nitrogen cycle: introduction. J Environ Qual 39:1218–1223

DeLuca TH, Aplet GH (2008) Charcoal and carbon storage in forest soils of the Rocky Mountain West. Front Ecol Environ 6:18–24

DeLuca TH, MacKenzie MD, Gundale MJ (2009) Biochar effects on soil nutrient transformations. In: Lehmann J, Joseph S (eds) Biochar for environmental management: science and technology. Earthscan, London, pp 251–270

Di HJ, Cameron KC, Shen JP, Winefield CS, O'Callaghan M, Bowatte S, He JZ (2009) Nitrification driven by bacteria and not archaea in nitrogen-rich grassland soils. Nat Geosci 2:621–624

Eldridge S, Chen C, Xu Z, Meszaros I, Chan KY (2010) Greenwaste biochar potentially reduces nitrogen fertilizer losses. 19th World Congress of Soil Science, Brisbane Australia, pp 100–103

Erguder TH, Boon N, Wittebolle L, Marzorati M, Verstraete W (2009) Environmental factors shaping the ecological niches of ammonia-oxidizing archaea. FEMS Microbiol Rev 33:855–869

Ezawa T, Yamamoto K, Yoshida S (2002) Enhancement of the effectiveness of indigenous arbuscular mycorrhizal fungi by inorganic soil amendments. Soil Sci Plant Nutr 48:897–900

Francis CA, Roberts KJ, Beman JM, Santoro AE, Oakley BB (2005) Ubiquity and diversity of ammonia-oxidizing archaea in water columns and sediments of the ocean. Proc Natl Acad Sci U S A 102:14683–14688

Francis CA, Beman JM, Kuypers MMM (2007) New processes and players in the nitrogen cycle: the microbial ecology of anaerobic and archaeal ammonia oxidation. ISME J 1:19–27

Grossman JM, O'Neill BE, Tsai SM, Liang B, Neves E, Lehmann J, Thies JE (2010) Amazonian anthrosols support similar microbial communities that differ distinctly from those extant in adjacent, unmodified soils of the same mineralogy. Micro Ecol 60:192–205

Hall TA (1999) BioEdit: a user-friendly biological sequence alignment editor and analysis program for Windows 95/98/NT. Nucleic Acids Symp Ser 41:95–98

He J, Shen J, Zhang L, Zhu Y, Zheng Y, Xu M, Di HJ (2007) Quantitative analyses of the abundance and composition of ammonia-oxidizing bacteria and ammonia-oxidizing archaea of a Chinese upland red soil under long-term fertilization practices. Environ Microbiol 9:2364–2374

He JZ, Hu HW, Zhang LM (2012) Current insights into the autotrophic thaumarchaeal ammonia oxidation in acidic soils. Soil Biol Biochem 55:146–154

Jeffery S, Verheijen FGA, van der Velde M, Bastos AC (2011) A quantitative review of the effects of biochar application to soils on crop productivity using meta-analysis. Agric Ecosyst Environ 144:175–187

Jia Z, Conrad R (2009) Bacteria rather than Archaea dominate microbial ammonia oxidation in an agricultural soil. Environ Microbiol 11:1658–1671

Jin H (2010) Characterization of microbial life colonizing biochar and biochar-amended soils. PhD Dissertation, Cornell University, Ithaca, NY

Khodadad CLM, Zimmerman AR, Green SJ, Uthandi S, Foster JS (2011) Taxa-specific changes in soil microbial community composition induced by pyrogenic carbon amendments. Soil Biol Biochem 43:385–392

Killham H (1987) A new perfusion system for the measurement and characterization of potential rates of soil nitrification. Plant Soil 97:267–272

Kim JS, Sparovek S, Longo RM, De Melo WJ, Crowley D (2007) Bacterial diversity of terra preta and pristine forest soil from the Western Amazon. Soil Biol Biochem 39:648–690

Kolton M, Harel YM, Pasternak Z, Graber ER, Elad Y, Cytryn E (2011) Impact of biochar application to soil on the root-associated bacterial community structure of fully developed greenhouse pepper plants. Appl Environ Microbiol 77:4924–4930

Kowalchuk GA, Stephen JR (2001) Ammonia-oxidizing bacteria: a model for molecular microbial ecology. Annu Rev Microbiol 55:485–529

Lehmann J (2007) Bio-energy in the black. Front Ecol Environ 5:381–387

Lehmann J, Rillig MC, Thies J, Masiello CA, Hockaday WC, Crowley D (2011) Biochar effects on soil biota—a review. Soil Biol Biochem 43:1812–1836

Lehtovirta LE, Prosser JI, Nicol GW (2009) Soil pH regulates the abundance and diversity of Group1.1c Crenarchaeota. FEMS Microbiol Ecol 70:367–376

Leininger S, Urich T, Schloter M, Schwark L, Qi J, Nicol GW, Prosser JI, Schuster SC, Schleper C (2006) Archaea predominate among ammonia-oxidizing prokaryotes in soils. Nature 442:806–809

Major J, Rondon M, Molina D, Riha SJ, Lehmann J (2010) Maize yield and nutrition during 4 years after biochar application to a Colombian savanna oxisol. Plant Soil 333:117–128

Martens-Habbena W, Berube PM, Urakawa H, De LaTorre JR, Stahl DA (2009) Ammonia oxidation kinetics determine niche separation of nitrifying Archaea and Bacteria. Nature 461:976–979

Matsubara YI, Hasegawa N, Fukui H (2002) Incidence of Fusarium root rot in asparagus seedlings infected with arbuscular mycorrhizal fungus as affected by several soil amendments. J Jpn Soc Hortic Sci 71:370–374

Mendum TA, Sockett RE, Hirsch PR (1999) Use of molecular and isotopic techniques to monitor the response of autotrophic ammonia-oxidizing populations of the β subdivision of the class Proteobacteria in arable soils to nitrogen fertilizer. Appl Environ Microbiol 65:4155–4162

Mulvaney RL (1996) Nitrogen: inorganic forms. In: Sparks DL (ed) Methods of soil analysis. Part 3. SSSA Book Ser. 5. SSSA, Madison, pp 1123–1184

Nicol GW, Leininger S, Schleper C, Prosser JI (2008) The influence of soil pH on the diversity, abundance and transcriptional activity of ammonia oxidizing archaea and bacteria. Environ Microbiol 10:2966–2978

Novak JM, Busscher WJ, Laird DL, Ahmedna M, Watts DW, Niandou MAS (2009) Impact of biochar amendment on fertility of a southeastern coastal plain soil. Soil Sci 174:105–112

O'Neill B, Grossman J, Tsai MT, Gomes JE, Lehmann J, Peterson J, Neves E, Thies JE (2009) Bacterial community composition in Brazilian anthrosols and adjacent soils characterized using culturing and molecular identification. Microb Ecol 58:23–35

Ogawa M (1994) Symbiosis of people and nature in the tropics. III. Tropical agriculture using charcoal. Farming Jpn 28:21–35

Pratscher J, Dumont MG, Conrad R (2011) Ammonia oxidation coupled to CO2 fixation by archaea and bacteria in an agricultural soil. Proc Natl Acad Sci U S A 108:4170–4175

Prosser JI, Nicol GW (2008) Relative contributions of archaea and bacteria to aerobic ammonia oxidation in the environment. Environ Microbiol 10: 2931–2941

Rider BF, Mallon MG (1946) Colorimetric determination of nitrites. Ind Eng Chem Anal Ed 18:96–99

Rotthauwe JH, Witzel KP, Liesack W (1997) The ammonia monooxygenase structural gene amoA as a functional marker: molecular fine-scale analysis of natural ammonia-oxidizing populations. Appl Environ Microbiol 63:4704–4712

Saito M, Marumoto T (2002) Inoculation with arbuscular mycorrhizal fungi: the status quo in Japan and the future prospects. Plant Soil 244:273–279

Saleh ME, Mahmoud AH, Rashad M (2012) Peanut biochar as a stable adsorbent for removing NH4-N from wastewater: a preliminary study. Adv Environ Biol 6:2170–2176

Schimel J, Balser TC, Wallenstein M (2007) Microbial stress-response physiology and its implications for ecosystem function. Ecology 88:1386–1394

Schloss PD, Handelsman J (2005) Introducing DOTUR, a computer program for defining operational taxonomic units and estimating species richness. Appl Environ Microbiol 71:1501–1506

Schloss PD, Westcott SL, Ryabin T, Hall JR, Hartmann M, Hollister EB, Lesniewski RA, Oakley BB, Parks DH, Robinson CJ, Sahl JW, Stres B, Thallinger GG, Van Horn DJ, Weber CF (2009) Introducing mothur: open-source, platform-independent, community-supported software for describing and comparing microbial communities. Appl Environ Microbiol 75:7537–7541

Shen JP, Zhang LM, Zhu YG, Zhang JB, He JZ (2008) Abundance and composition of ammonia-oxidizing bacteria and ammonia oxidizing archaea communities of an alkaline sandy loam. Environ Microbiol 10:1601–1611

Shen JP, Zhang LM, Di HJ, He JZ (2012) A review of ammonia-oxidizing bacteria and archaea in Chinese soils. Front Microbiol 3:296

Skjemstad JO, Reicosky DC, Wilts AR, McGowan JA (2002) Charcoal carbon in U.S. agricultural soils. Soil Sci Soc Am J 66:1249–1255

Spokas KA, Novak JM, Venterea RT (2012) Biochar's role as an alternative N-fertilizer: ammonia capture. Plant Soil 350:35–42

Taghizadeh-Toosi A, Clough TJ, Sherlock RR, Condron LM (2012) Biochar adsorbed ammonia is bioavailable. Plant Soil 350:57–69

Taketani RG, Tsai SM (2010) The influence of different land uses on the structure of archaeal communities in Amazonian anthrosols based on 16S rRNA and amoA genes. Microb Ecol 59:734–743

Tamura K, Dudley J, Nei M, Kumar S (2007) MEGA4: Molecular Evolutionary Genetics Analysis (MEGA) software version 4.0. Mol Biol Evol 24:1596–1599

Thies JE, Rillig M (2009) Characteristics of biochar: biological properties. In: Lehmann J, Joseph S (eds) Biochar for environmental management: science and technology. Earthscan, London, pp 85–105

Tourna M, Freitag TE, Nicol GW, Prosser JI (2008) Growth, activity and temperature responses of ammonia-oxidizing archaea and bacteria in soil microcosms. Environ Microbiol 10:1357–1364

Verhamme DT, Prosser JI, Nicol GW (2011) Ammonia concentration determines differential growth of ammonia-oxidising archaea and bacteria in soil microcosms. ISME J 5:1067–1071

Warnock DD, Mummey DL, McBride B, Major J, Lehmann J, Rillig MC (2010) Influences of non-herbaceous biochar on arbuscular mychorrhizal fungal abundances in roots and soils: results from growth-chamber and field experiments. Appl Soil Ecol 46:450–456

Wu YC, Lu L, Wang BZ, Lin XG, Zhu JG, Cai ZC, Yan XY, Jia ZJ (2011) Long-term field fertilization significantly alters community structure of ammonia-oxidizing bacteria rather than archaea in a paddy soil. Soil Sci Soc Am J 75:1431–1439

Wu FP, Jia ZK, Wang SG, Chang SX, Startsev A (2013) Contrasting effects of wheat straw and its biochar on greenhouse gas emissions and enzyme activities in a Chernozemic soil. Biol Fertil Soils 49:555–565

Xia WW, Zhang CX, Zeng XW, Feng YZ, Weng JH, Lin XG, Zhu JG, Xiong ZQ, Xu J, Cai ZC, Jia ZJ (2011) Autotrophic growth of nitrifying community in an agricultural soil. ISME J 5:1226–1236

Yao H, Gao Y, Nicol GW, Campbell CD, Prosser JI, Zhang L, Han W, Singh BK (2011) Links between ammonia oxidizer community structure, abundance, and nitrification potential in acidic soils. Appl Environ Microbiol 77:4618–4625

Yu LQ, Tang J, Zhang RD, Wu QH, Gong MM (2013) Effects of biochar application on soil methane emission at different soil moisture levels. Biol Fertil Soils 49:119–128

Zhang LM, Hu HW, Shen JP, He JZ (2012) Ammonia-oxidizing archaea have more important role than ammonia-oxidizing bacteria in ammonia oxidation of strongly acidic soils. ISME J 6:1032–1045
Acknowledgments
This work was supported by the One Hundred Talent Program of CAS, the CAS/SAFEA International Partnership Program for Creative Research Teams, the Main Direction Program of Knowledge Innovation of CAS (grant nos. KZCX2-YW-JC203 and KSCX2-EW-G-12B), NSFC (41301333), and the Yantai Double Hundred Talent Plan.
Electronic supplementary material
Below is the link to the electronic supplementary material.
About this article
Cite this article
Song, Y., Zhang, X., Ma, B. et al. Biochar addition affected the dynamics of ammonia oxidizers and nitrification in microcosms of a coastal alkaline soil. Biol Fertil Soils 50, 321–332 (2014). https://doi.org/10.1007/s00374-013-0857-8
Received:

Revised:

Accepted:

Published:

Issue Date:
Keywords
Ammonia oxidation

amoA gene

Microbial community

Nitrogen cycle

Coastal alkaline soil