Abstract
This study focuses on the chemotaxis, colonization and rice growth promoting ability of indole acetic acid (IAA) and 1-aminocyclopropane-1-carboxylic acid (ACC) deaminase-producing rhizobacteria Rhizobium leguminosarum bv. trifolii SN10, previously isolated from root nodules of Trifolium alexandrium L. We show here that R. leguminosarum bv. trifolii SN10 promote the growth of four different rice varieties grown in India in terms of biomass, root branching and N content. In addition, using scanning electron microscopy and viable cell counts, we provide evidence that the bacteria successfully colonize the root surface of the rice variety which showed maximum growth promotion upon inoculation. Not only this, R. leguminosarum bv. trifolii SN10 exhibit a strong chemotaxis response towards the rice seed and root exudates despite the presence of a bacteriostatic phenolic compound, 7-hydroxycoumarin (umbelliferone). Further, R. leguminosarum bv. trifolii SN10 secretion of phytohormones such as IAA and ACC deaminase suggest the potential of the plant growth promoting rhizobacteria to be used as biofertilizer to enhance rice crop production in the subcontinent.
Access options
Buy single article
Instant access to the full article PDF.
US$ 39.95
Tax calculation will be finalised during checkout.
Subscribe to journal
Immediate online access to all issues from 2019. Subscription will auto renew annually.
US$ 119
Tax calculation will be finalised during checkout.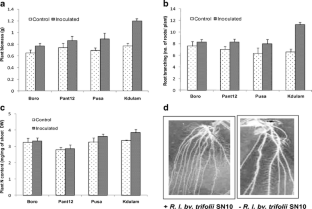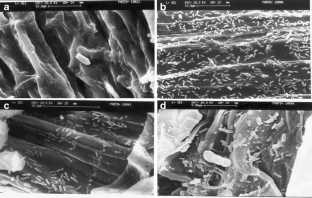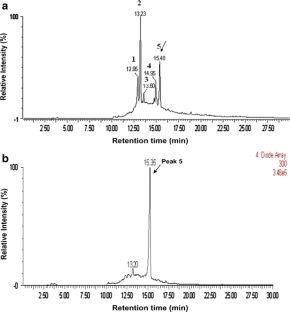 References
Adler J (1973) A method for measuring chemotaxis ad use of the method to determine optimum conditions forchemotaxis by Escherichia coli. J Gen Microbiol 74:77–91

Adler J, Gerald L, Hazelbauer DMM (1973) Chemotaxis towards sugars in Escherichia coli. J Bacteriol 115:824–847

AOAC (1990) Official method of analysis of the association of official analytical chemist, 15 Ed, Arlington, VA, pp. 552–553

Bacilio-Jimenez M, Aguilar-Flores S, Ventura-Zapata E, Perez-Campos E, Bouquelet S, Zenteno E (2003) Chemical characterization of root exudates from rice (Oryza sativa) and their effects on the chemotactic response of endophytic bacteria. Plant Soil 249:271–277

Bais HP, Weir TL, Perry LG, Gilroy S, Vivanco JM (2006) The role of root exudates in rhizosphere interactions with plants and other organisms. Annu Rev Plant Biol 57:233–266

Bashan Y, Holguin G, de-Bashan LE (2004) Azospirillum-plant relationships: physiological, molecular, and environmental advances (1997–2003). Can J Microbiol 50:521–577

Bates LS, Waldron RP, Teare TD (1973) Rapid determination of free proline for water-stress studies. Plant Soil 39:205–207

Belimov AA, Safronova VI, Sergeyeva TA, Egorova TN, Matveyeva VA, Tsyganov VE, Borisov AY, Tikhonovich IA, Kluge C, Preisfeld A, Dietz KJ, Stepanok VV (2001) Characterization of plant growth promoting rhizobacteria isolated from polluted soils and containing 1-aminocyclopropane-1-carboxylate deaminase. Can J Microbiol 47:642–652

Bhattacharjee RB, Singh A, Mukhopadhyay SN (2008) Use of nitrogen-fixing bacteria as biofertilizer for non-legumes: prospects and challenges. Appl Microbiol Biotechnol 80:199–209

Biswas JC, Ladha JK, Dazzo FB, Yanni YG, Rolfe BG (2000a) Rhizobial inoculation influences seedling vigor and yield of rice. Agron J 92:880–886

Biswas JC, Ladha JK, Dazzo FB (2000b) Rhizobia inoculation improves nutrient uptake and growth of lowland rice. Soil Sci Soc Am J 64:1644–1650

Chaintreuil C, Giraud E, Prin Y, Lorquin J, Ba A, Monique G, De Lajudie P, Dreyfus B (2000) Photosynthetic bradyrhizobia are natural endophytes of the African wild rice Oryza breviligulata. Appl Environ Microbiol 66:5437–5447

Duncan SH, Flint HJ, Stewart CS (1998) Inhibitory activity of gut bacteria against Escherichia coli O157 mediated by dietary plant metabolites. FEMS Microbiol Lett 164:283–288

Gaur YD, Rewari RB, Bhatnagar RS, Narayan KP, Sen AN (2002) Sinorhizobium meliloti and Rhizobium leguminosarum bv. trifolii in Indian soils and their inoculation response. Indian J Microbiol 42:23–28

Glick BR (1995) The enhancement of plant growth by free-living bacteria. Can J Microbiol 4:109–117

Hilali A, Prévost D, Broughton WJ, Antoun H (2001) Effets de l'inoculation avec des souches de Rhizobium leguminosarum biovar trifolii sur la croissance du blé dans deux sols du Maroc. Can J Microbiol 47:590–593

Kato K, Yasuhiro A (2006) Potential of seed and root exudates of the common bean Phaseolus vulgaris L. for immediate induction of rhizobial chemotaxis and nod genes. J Soil Sci Plant Nutr 52:432–437

Khalid A, Arshad M, Zahir Z (2005) Screening plant growth-promoting rhizobacteria for improving growth and yield of wheat. J Appl Microbiol 96:473–480

Kishinevsky D, Leshem Y, Friedman Y, Krivatz G (1992) Yield and nitrogen fixation of berseem clover as a potential winter forage crop under semiarid conditions. Arid Soil Res Rehab 6:261–270

Larcher M, Muller B, Mantelin S, Rapior S, Cleyet-Marel JC (2003) Early modifications of Brassica napus root system architecture induced by a plant growth-promoting Phyllobacterium strain. New Phytol 160:119–125

Matern U, Luer P, Kreusch D (1999) Biosynthesis of coumarins. In: Barton D, Nakanishi K, Meth-Cohn O, Sankawa U (eds) Comprehensive natural products chemistry, vol 1, polyketides and other secondary metabolites including fatty acids and their derivatives. Elsevier, Oxford, pp 623–637

Mathesius U, Bayliss C, Weinman JJ, Schlman HRM, Spaink HP, Rolfe BJ, McCully ME, Djordjevic MA (1998) Flavonoids synthesized in cortical cells during nodule initiation are early developmental markers in white clover. Mol Plant Microbe Interact 1:1223–1232

Nelson LM (2004) Plant growth-promoting rhizobacteria (PGPR): prospects for new inoculants. Crop Manag. doi:101094/Cm-2004-0301-05-RV

Nilsson M, Rasmussen U, Bergman B (2006) Cyanobacterial chemotaxis to extracts of host and nonhost plants. FEMS Microbiol Ecol 55:382–390

O'gara F, Shanmugam KT (1978) Mutant strains of clover rhizobium (Rhizobium trifolii) that form nodules on soybean (Glycine max). Proc Natl Acad Sci USA 75:2343–2347

Patten CL, Glick B (2002) Role of Pseudomonas putida indoleacetic acid in development of the host plant root system. Appl Environ Microb 68:3795–3801

Pedraza RO, Motok J, Salazar SM, Ragout A, Mentel MI, Tortora ML, Guerrero Molina MF, Winik BC, DíazRicci JC (2010) Growth-promotion of strawberry plants inoculated with Azospirillum brasilense. World J Microbiol Biotechnol 26:265–272

Shaharoona B, Arshad M, Zahir ZA (2006) Effect of plant growth promoting rhizobacteria containing ACC-deaminase on maize (Zea mays L.) growth under axenic conditions and on nodulation in mung bean (Vigna radiata L.). Lett Appl Microbiol 42:155–159

Siqueira JO, Nair MG, Hammerschmidt R, Safir GR, Putnam AR (1991) Significance of phenolic compounds in plant-soil-microbial systems. Crit Rev Plant Sci 10:63–121

Vande Broek A, Lambrecht M, Vanderleyden J (1998) Bacterial chemotactic motility is important for the initiation of wheat root colonization by Azospirillum brasilense. Microbiology 144:2599–2606

Vílchez S, Molina L, Ramos C, Ramos JL (2000) Proline catabolism by Pseudomonas putida: cloning, characterization, and expression of the put genes in the presence of root exudates. J Bacteriol 182:91–99

Vincent JM (1970) A manual for practical study of root nodule bacteria. IBP Handbook no. 15. Blackwell, Oxford

Weinmann I (1997) History of the development and applications of coumarin and coumarin-related compounds. In: O'Kennedy R, Thornes RD (eds) Coumarins: biology, applications and mode of action. Wiley, New York, pp 1–22

Yanni YG, Rizk RY, Corich V, Squartini A, Ninke K, Philip-Hollingsworth S, Orgambide G, de Bruijn FJ, Stoltzfus J, Buckley D, Schmidt TM, Mateos PF, Ladha JK, Dazzo FB (1997) Natural endophytic association between R. legumionosarum bv. trifolli and rice root and assessment of its potential to promote rice growth. Plant Soil 194:99–114

Yanni YG, Rizk RY, Abd El-Fattah FK, Squartini A, Corich V, Giacomini A, deBruijn FJ, Rademaker J, Maya-Flores J, Ostrom P, Vega-Hernandez M, Hollingsworth RI, Martinez-Molina E, Ninke K, Philip-Hollingsworth S, Mateos PF, Velasquez E, Triplett E, Umali-Garcia M, Anarna JA, Rolfe BG, Ladha JK, Hill J, Mujoo R, Ng PK, Dazzo FB (2001) The beneficial plant growth-promoting association of Rhizobium leguminosarum bv. trifolii with rice roots. Aust J Plant Physiol 28:845–870

Zahir ZA, Zafar-ul-Hye M, Sajjad S, Naveed M (2011) Comparative effectiveness of Pseudomonas and Serratia sp. containing ACC deaminase for coinoculation with Rhizobium leguminosarum to improve growth, nodulation and yield of lentil. Biol Fertil Soils 47:457–466
Acknowledgements
We are thankful to Dr. V. Sikka of CCS Haryana Agricultural University, Hisar, India for providing the Rhizobium leguminosarum bv. trifolii SN10 strain for this work. We are also thankful to Sujay Bhattacharjee for his editorial help. One of the authors, RBB, is thankful to the Council of Scientific and Industrial Research, India for the Ph.D. fellowship and "The Embassy of France" in India for the "Sandwich Program" Fellowship.
About this article
Cite this article
Bhattacharjee, R.B., Jourand, P., Chaintreuil, C. et al. Indole acetic acid and ACC deaminase-producing Rhizobium leguminosarum bv. trifolii SN10 promote rice growth, and in the process undergo colonization and chemotaxis. Biol Fertil Soils 48, 173–182 (2012). https://doi.org/10.1007/s00374-011-0614-9
Received:

Revised:

Accepted:

Published:

Issue Date:
Keywords
Chemotaxis

Flavonoids

Plant growth promoting rhizobacteria (PGPR)

Rhizobium

Rice