Abstract
Degradation of litter strongly depends on its chemical composition, which in turn affects the associated microorganisms. In the alpine region, the abandonment of pastures leads to a rigorous change in the composition of the litter layer, shifting from grass to highly recalcitrant dwarf shrub litter, thus affecting the food web and decomposition processes. Three species belonging to different functional groups (grasses, herbs, dwarf shrubs) and indigenous on managed and/or abandoned alpine pastureland were selected for this study, the annual grass Dactylis glomerata, characteristic for managed sites, Trollius europaeus as representative of a herb common on both managed and abandoned areas, and Vaccinium vitis-idea as typical dwarf shrub arising on abandoned alpine pastures. Litter bags containing litter material from either one of the three plant types were incubated on the soil surface for 9 weeks. DNA was extracted from the substrate, amplified and analysed using PCR–DGGE. Fingerprinting analyses of bacterial and fungal communities showed that the microbiota attached to the litter differed considerably depending on the plant type. Nonetheless, specific bacterial bands were present in the fingerprinting patterns of all three litter types. Identifying these organisms applying the 16S rRNA clone libraries revealed the dominance of bacteria from the class Bacteroidetes, representing two thirds of all identified band positions.
Access options
Buy single article
Instant access to the full article PDF.
US$ 39.95
Tax calculation will be finalised during checkout.
Subscribe to journal
Immediate online access to all issues from 2019. Subscription will auto renew annually.
US$ 119
Tax calculation will be finalised during checkout.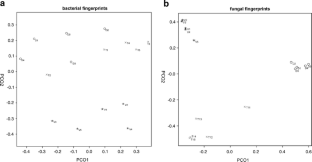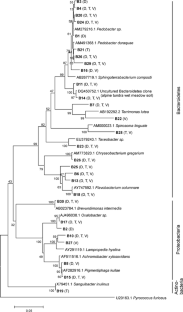 References
Bardgett RD (2005) The biology of soils: a community and ecosystem approach. Oxford University Press, Oxford, p 242

Bardgett RD, Wardle DA, Yea GW (1998) Linking above-ground and below-ground interactions: how plant responses to foliar herbivory influences soil organisms. Soil Biol Biochem 30:1867–1878

Cole JR, Chai B, Farris RJ, Wang Q, Kulam SA, McGarrell DM, Garrity GM, Tiedje JM (2005) The Ribosomal Database Project (RDP-II): sequences and tools for high-throughput rRNA analysis. Nucleic Acids Res 33:D294–D296

Das M, Royer TV, Leff LG (2008) Fungal communities on decaying leaves in streams: a comparison of two leaf species. Mycol Prog 7:267–275

DeSantis TZ, Hugenholtz P, Keller K, Brodie E, Larsen N, Piceno YM, Phan R, Andersen GL (2006) NAST: a multiple sequence alignment server for comparative analysis of 16S rRNA genes. Nucleic Acids Res 34:W394–W399

Eskelinen A, Stark S, Männistö M (2009) Links between plant community composition, soil organic matter quality and microbial communities in contrasting tundra habitats. Oecologia 161:113–123

Grayston SJ, Campbell CD, Bardgett RD, Mwadsley JL, Clegg CD, Ritz K, Griffiths BS, Rodwell JS, Edwards SJ, Davies WJ, Elston DJ, Millard P (2004) Assessing shifts in microbial community structure across a range of grasslands of differing management intensity using CLPP, PFLA and community DNA techniques. Appl Soil Ecol 25:63–84

Hättenschwiler S, Vitousek PM (2000) The role of polyphenols in terrestrial ecosystem nutrient cycling. Trends Ecol Evol 15:238–243

Hättenschwiler S, Hagerman AE, Vitousek PM (2003) Polyphenols in litter from tropical montane forests across a wide range in soil fertility. Biogeochemistry 64:129–148

Hättenschwiler S, Tiunov AV, Scheu S (2005) Biodiversity and litter decomposition in terrestrial ecosystems. Annu Rev Ecol Evol Syst 36:191–218

Heuer H, Krsek M, Baker P, Smalla K, Wellington EMH (1997) Analysis of actinomycete communities by specific amplification of genes encoding 16S rRNA and gel-electrophoretic separation in denaturing gradients. Appl Environ Microbiol 63:3233–3241

Hongoh Y, Ekpornprasit L, Inoue T, Moriya S, Trakulnaleamsai S, Ohkuma M, Noparatnaraporn N, Kudo T (2006) Intracolony variation of bacterial gut microbiota among castes and ages in the fungus-growing termite Macrotermes gilvus. Mol Ecol 15:505–516

Hugenholtz P (2002) Exploring prokaryotic diversity in the genomic era. Genome Biol 3(2):reviews0003.1–reviews0003.8

Illmer P (1996) Total, organic, inorganic and plant available phosphorus. In: Schinner F, Öhlinger R, Kandeler E, Margesin R (eds) Methods in soil biology. Springer, Berlin, pp 412–416

Juen A, Traugott M (2005) Detecting predation and scavenging by DNA gut-content analysis: a case study using a soil insect predator-prey system. Oecologia 142:344–352

Kumar S, Tamura T, Nei M (2004) MEGA3: integrated software for molecular evolutionary genetic analysis and sequence alignment. Brief Bioinform 5:150–163

Loy A, Lehner A, Lee N, Adamczyk J, Meier H, Ernst J, Schleifer K, Wagner M (2002) Oligonucleotide microarray for 16S rRNA gene-based detection of all recognized lineages of sulfate-reducing prokaryotes in the environment. Appl Environ Microbiol 68:5064–5081

MacDonald D, Crabtree JR, Wiesinger G, Dax T, Stamou N, Fleury P, Gutierrez Lazpita J, Gibon A (2000) Agricultural abandonment in mountain areas of Europe: environmental consequences and policy response. J Environ Manage 59:47–69

Marchesi JR, Sato T, Weightman AJ, Martin TA, Fry JC, Hiom SJ, Wade WG (1998) Design and evaluation of useful bacterium-specific PCR primers that amplify genes coding for bacterial 16S rRNA. Appl Environ Microbiol 64:795–799

Muyzer G, de Waal EC, Uitterlinden AG (1993) Profiling of complex microbial populations by denaturing gradient gel electrophoresis analyses of polymerase chain reaction-amplified genes for 16S rRNA. Appl Environ Microbiol 59:695–700

Newesely C, Tasser E, Spadinger P, Cernusca A (2000) Effects of land-use changes on snow gliding processes in alpine ecosystems. Basic Appl Ecol 1:61–67

Olsen SR, Sommers LE (1992) Phosphorus. In: Page AL, Miller RH, Keeney DR (eds) Methods of soil analysis, part 2: chemical and microbiological properties, American Society of Agronomy. Soil Science of America, Madison, pp 403–430

Padmanabhan P, Padmanabhan S, DeRito C, Gray A, Gannon D, Snape JR, Tsai CS, Park W, Jeon C, Madsen EL (2003) Respiration of 13C-labeled substrates added to soil in the field and subsequent 16S rRNA gene analysis of 13 C-labeled soil DNA. Appl Environ Microbiol 69:1614–1622

Sandhu A, Halverson LJ, Beattie GA (2009) Identification and genetic characterization of phenol-degrading bacteria from leaf microbial communities. Microb Ecol 57:276–285

Schabereiter-Gurtner C, Pinar G, Lubitz W, Rolleke S (2001) An advanced molecular strategy to identify bacterial communities on art objects. J Microbiol Methods 45:77–87

Seeber J, Seeber GUH (2005) Effects of land-use changes on humus forms on alpine pastureland (Central Alps, Tyrol). Geoderma 124:215–222

Su M, Kleineidam K, Schloter M (2010) Influence of different litter quality on the abundance of genes involved in nitrification and denitrification after freezing and thawing of an arable soil. Biol Fertil Soils 46:537–541

Tasser E, Mader M, Tappeiner U (2003) Effects of land use in alpine grasslands on the probability of landslides. Basic Appl Ecol 4:271–280

Theuerl S, Buscot F (2010) Laccases: toward disentangling their diversity and functions in relation to soil organic matter cycling. Biol Fertil Soils 46:215–225

Torres AM, Mau-Lastovicka T, Rezaaiyan R (1987) Total phenolics and high-performance liquid chromatography of phenolic acids of avocado. J Agric Food Chem 35:921–925

Vainio EJ, Hantula J (2000) Direct analysis of wood-inhabiting fungi using denaturing gradient gel electrophoresis of amplified ribosomal DNA. Mycol Res 104:927–936

van der Heijden MGA, Bardgett RD, van Straalen NM (2008) The unseen majority: soil microbes as drivers of plant diversity and productivity in terrestrial ecosystems. Ecol Lett 11:296–310

Wang Q, Garrity GM, Tiedje JM, Cole RJ (2007) Naïve Bayesian classifier for rapid assignment of rRNA sequences into the new bacterial taxonomy. Appl Environ Microbiol 73:5261–5267

Wardle DA, Lavelle P (1997) Linkages between soil biota, plant litter quality and decomposition. In: Cadisch G, Giller KE (eds) Driven by nature: plant litter quality and decomposition. CAB International, Wallingford, pp 107–124

Williamson N, Brian P, Wellington EMH (2000) Molecular detection of bacterial and streptomycete chitinases in the environment. Antonie van Leeuwenhoek 78:315–321

Zabed Hossain M, Okubo A, Sugiyama S (2010) Effects of grassland species on decomposition of litter and soil microbial communities. Ecol Res 25:255–261

Zhang P, Tian X, He X, Song F, Ren L, Jiang P (2008) Effect of litter quality on its decomposition in broadleaf and coniferous forest. Eur J Soil Biol 44:392–399
Acknowledgements
This study was supported by the University of Innsbruck, Forschungsschwerpunkt Berglandwirtschaft.
About this article
Cite this article
Knapp, B.A., Rief, A. & Seeber, J. Microbial communities on litter of managed and abandoned alpine pastureland. Biol Fertil Soils 47, 845–851 (2011). https://doi.org/10.1007/s00374-011-0561-5
Received:

Revised:

Accepted:

Published:

Issue Date:
Keywords
Polymerase chain reaction–denaturing gradient gel electrophoresis (PCR–DGGE) analysis

Microbial community composition

Litter decomposition

Alpine pastureland