Abstract
Surface (0–15 cm) soil samples were collected from a semi-arid, sandy grassland in Keerqin Sandy Lands, Northeast China to study changes in soil microbial and chemical properties after five consecutive years of nitrogen (N) and phosphorus (P) additions. Nitrogen and P additions and their interactions negligibly affected soil organic carbon and total N contents, while P addition significantly increased soil total P content. Soil pH was significantly decreased by N addition, which significantly increased net nitrification rate, whereas it did not affect net N mineralization rate. No significant effects of N and P additions and their interactions on basal respiration were detected. In addition, N addition significantly decreased microbial biomass C (MBC) and N, and thus microbial quotient, but increased dissolved organic C and microbial metabolic quotient due to the significant decrease of MBC. Our results suggest that in the mid-term the addition of N, but not P, can change soil microbial properties, with a possible decline in soil quality of semi-arid, sandy grasslands.
This is a preview of subscription content,
to check access.
Access this article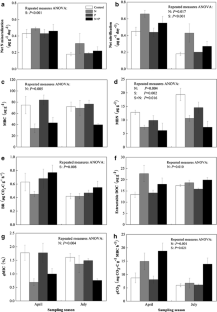 References
Aber JD, Nadelhoffer KJ, Steudler P, Melillo JM (1989) Nitrogen saturation in northern forest ecosystems. Bioscience 39:378–386

Aciego Pietri JC, Brookes PC (2009) Substrate inputs and pH as factors controlling microbial biomass, activity and community structure in an arable soil. Soil Biol Biochem 41:1396–1405

Bennett LT, Adams MA (2001) Response of a perennial grassland to nitrogen and phosphorus additions in sub-tropical, semi-arid Australia. J Arid Environ 48:289–308

Cabrera ML, Beare MH (1993) Alkaline persulfate oxidation for determining total nitrogen in microbial biomass extracts. Soil Sci Soc Am J 57:1007–1012

Elser JJ, Bracken MES, Cleland EE, Gruner DS, Harpole WS, Hillebrand H, Ngai JT, Seabloom EW, Shurin JB, Smith JE (2007) Global analysis of nitrogen and phosphorus limitation of primary producers in freshwater, marine and terrestrial ecosystems. Ecol Lett 10:1135–1142

Filip Z (2002) International approach to assessing soil quality by ecologically-related biological parameters. Agric Ecosyst Environ 88:169–174

Hu YL, Wang SL, Zeng DH (2006) Effects of single Chinese fir and mixed leaf litters on soil chemical, microbial properties and soil enzyme activities. Plant Soil 282:379–386

Insam H, Parkinson D, Domsch KH (1989) Influence of macroclimate on soil microbial biomass. Soil Biol Biochem 21:211–221

Jenkinson DS (1988) Determination of microbial biomass carbon and nitrogen in soil. In: Wilson JR (ed) Advances in nitrogen cycling in agricultural ecosystems. CAB International, Wallingford, pp 368–386

Kaschuk G, Alberton O, Hungria M (2010) Three decades of soil microbial biomass studies in Brazilian ecosystems: lessons learned about soil quality and indications for improving sustainability. Soil Biol Biochem 42:1–13

Li FR, Zhao LY, Zhang H, Zhang TH, Shirato Y (2004) Wind erosion and airborne dust deposition in farmland during spring in the Horqin Sandy Land of eastern Inner Mongolia, China. Soil Tillage Res 75:121–130

Lü C, Tian H (2007) Spatial and temporal patterns of nitrogen deposition in China: synthesis of observational data. J Geophys Res 112:D22S05. doi:10.1029/2006JD007990

Mahowald N, Jickells TD, Baker AR, Artaxo P, Benitez-Nelson CR, Bergametti G, Bond TC, Chen Y, Cohen DD, Herut B, Kubilay N, Losno R, Luo C, Maenhaut W, McGee KA, Okin GS, Siefert RL, Tsukuda S (2008) Global distribution of atmospheric phosphorus sources, concentrations and deposition rates, and anthropogenic impacts. Global Biogeochem Cycles 22:GB4026. doi:10.1029/2008GB003240

Malý S, Královec J, Hampel D (2009) Effects of long-term mineral fertilization on microbial biomass, microbial activity, and the presence of r- and K-strategists in soil. Biol Fertil Soils 45:753–760

Masto RE, Chhonkar PK, Singh D, Patra AK (2008) Alternative soil quality indices for evaluating the effect of intensive cropping, fertilisation and manuring for 31 years in the semi-arid soils of India. Environ Monit Assess 136:419–435

Matson P, Lohse KA, Hall SJ (2002) The globalization of nitrogen deposition: consequences for terrestrial ecosystems. Ambio 31:113–119

Menyailo OV, Lehmann J, Cravo MD, Zech W (2003) Soil microbial activities in tree-based cropping systems and natural forests of the Central Amazon, Brazil. Biol Fertil Soils 38:1–9

Nannipieri P, Ascher J, Ceccherini MT, Landi L, Pietramellara G, Renella G (2003) Microbial diversity and soil functions. Eur J Soil Sci 54:655–670

Nelson DW, Sommers LE (1996) Total carbon, organic carbon, and organic matter. In: Sparks DL, Page AL, Helmke PA, Loeppert RH, Soltanpour PN, Tabatabai MA, Johnston CT, Sumner ME (eds) Methods of soil analysis. Part 3. Chemical methods. Soil Science Society of America Book Series, Wisconsin, pp 961–1010

Robertson GP, Wedin D, Groffman PM, Blair JM, Holland EA, Nadelhoffer KJ, Harris D (1999) Soil carbon and nitrogen availability: nitrogen mineralization, nitrification and carbon turnover. In: Robertson GP, Bledsoe CS, Coleman DC, Sollins P (eds) Standard soil methods for long term ecological research. Oxford University Press, New York, pp 258–271

Rousk J, Brookes PC, Bååth E (2009) Contrasting soil pH effects on fungal and bacterial growth suggest functional redundancy in carbon mineralization. Appl Environ Microbiol 75:1589–1596

Sarathchandra SU, Ghani A, Yeates GW, Burch G, Cox NR (2001) Effect of nitrogen and phosphorus fertilizers on microbial and nematode diversity in pasture soils. Soil Biol Biochem 33:953–964

Schoumans OF, Groenendijk P (2000) Modeling soil phosphorus levels and phosphorus leaching from agricultural land in the Netherlands. J Environ Qual 29:111–116

Stöcklin J, Schweizer K, Körner C (1998) Effects of elevated CO2 and phosphorus addition on productivity and community composition of intact monoliths from calcareous grassland. Oecologia 116:50–56

Treseder KK (2008) Nitrogen additions and microbial biomass: a meta-analysis of ecosystem studies. Ecol Lett 11:1111–1120

Vance ED, Brookes PC, Jenkinson DS (1987) An extraction method for measuring soil microbial biomass C. Soil Biol Biochem 19:703–707

Vitousek PM, Aber J, Howarth RW, Likens G, Matson P, Schindler D, Schlesinger W, Tilman D (1997) Human alteration of the global nitrogen cycle: sources and consequences. Ecol Appl 7:737–750

Wardle DA (1992) A comparative assessment of factors which influence microbial biomass carbon and nitrogen levels in soils. Biol Rev 67:321–358

Wardle DA, Ghani A (1995) A critique of the microbial metabolic quotient (qCO2) as a bioindicator of disturbance and ecosystem development. Soil Biol Biochem 27:1601–1610

Zeglin LH, Stursova M, Sinsabaugh RL, Collins SL (2007) Microbial responses to nitrogen addition in three contrasting grassland ecosystems. Oecologia 154:349–359

Zeng DH, Li LJ, Fahey TJ, Yu ZY, Fan ZP, Chen FS (2010) Effects of nitrogen addition on vegetation and ecosystem carbon in a semi-arid grassland. Biogeochemistry 98:185–193
Acknowledgments
This work was funded by the National Key Basic Research Program of China (no. 2007CB106803) and the National Key Technologies R&D Program of China (nos. 2006BAD26B0201-1 and 2006BAC01A12). We thank Dr. Paolo Nannipieri and two anonymous reviewers for their valuable comments and suggestions, which greatly helped improve the manuscript. We are also grateful to Gui-Yan Ai, He-Ming Lin, Jing-Shi Li, and Yun-Xia Liu for laboratory analyses.
About this article
Cite this article
Li, LJ., Zeng, DH., Yu, ZY. et al. Soil microbial properties under N and P additions in a semi-arid, sandy grassland. Biol Fertil Soils 46, 653–658 (2010). https://doi.org/10.1007/s00374-010-0463-y
Received:

Revised:

Accepted:

Published:

Issue Date:

DOI: https://doi.org/10.1007/s00374-010-0463-y
Keywords