Abstract
Poultry litter (PL) is an important nutrient source; however, no information is available regarding its value in supplying N and P in rice–wheat (RW) production. A three-year field study was conducted at Ludhiana, Punjab, India on a loamy sand soil to identify optimum combination of PL and N and P fertilizers for a sustainable RW production. The litter was applied to rice at 5 Mg ha−1 as a single application and supplemented with different rates of N. The residual effect of PL and the direct effects of the different combinations of N and P were studied in the following wheat. Nitrogen and P mineralization from PL was studied under controlled conditions in the laboratory, and macronutrient input–output balances were estimated from field results. About 46% of the N from PL was released after 60 days of incubation. The release of P from the PL occurred mainly during the initial 20 days after incubation, accounting for 15–17% of the total P. Combining PL with fertilizer N (40 kg ha−1) increased rice yield and nutrient uptake similar to what was obtained with the application of recommended fertilizer N (120 kg ha−1). In the following wheat, the residual effect of PL was equal to 30 kg N ha−1 and 13 kg P ha−1. After three annual cropping cycles and PL application, mean soil organic C increased by 17%, Olsen-P by 73%, and NH4OAc-extractable-K by 24%. Most treatments had positive P but negative K balances. About 11% of the net P balance was recovered from the soil as Olsen-P. The study showed that optimum N and P fertilizer doses for an RW system receiving 5 Mg ha−1 of PL are 40 kg N ha−1 for rice and 90 kg N + 13 kg P ha−1 for the following wheat. Safe and effective management of PL should be based on P balance, particularly when regular applications of PL are to be made in the RW system.
Access options
Buy single article
Instant access to the full article PDF.
US$ 39.95
Tax calculation will be finalised during checkout.
Subscribe to journal
Immediate online access to all issues from 2019. Subscription will auto renew annually.
US$ 119
Tax calculation will be finalised during checkout.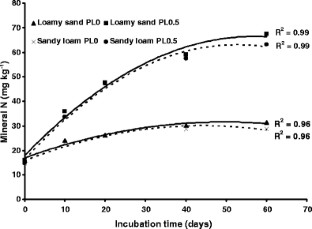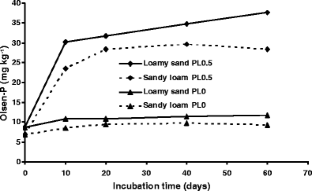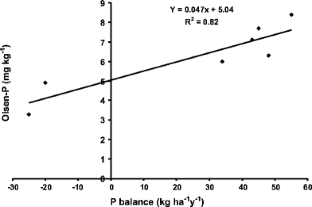 References
Adeli A, Rowe DE, Read JJ (2006) Effects of soil type on bermudagrass response to broiler litter application. Agron J 98:148–155. doi:10.2134/agronj2005.0205

Ball DM, Hoveland CS, Lacefield GD (1996) Southern forages. Potash and Phosphate Inst, Norcross, GA

Beri V, Sidhu BS, Gupta AP, Tiwari RC, Pareek RP, Rupela OP, Khera R, Ahluwalia JS (2003) Organic resources of a part of Indo-Gangetic plain and their utilization. Department of Soils, Punjab Agricultural University, Ludhiana, India, p 93

Bijay-Singh, Prakasa Rao EVS, Yadvinder-Singh, Puttanna K (2007) Nitrate pollution of ground water vis-à-vis nitrogen fertilizer use in India. In: Abrol YP, Raghuram N, Sachdev MS (eds) Agricultural nitrogen use and its environmental implications. IK International, New Delhi, pp 437–458

Bijay-Singh, Yadvinder-Singh, Maskina MS, Meelu OP (1997) The value of poultry manure for wetland rice grown in rotation with wheat. Nutr Cycl Agroecosyst 47:243–250

Bijay-Singh, Yadvinder-Singh, Imas P, Jian-Chang X (2004) Potassium nutrition of the rice–wheat cropping system. Adv Agron 81:203–258

Bitzer CC, Sims JT (1988) Estimating the availability of nitrogen in broiler litter through laboratory and field studies. J Environ Qual 17:47–54

Brink GE, Rowe DE, Sistani KR (2002) Broiler litter application effects on yield and nutrient uptake of 'Alicia' bermudagrass. Agron J 94:911–916

Castellanos JZ, Pratt PF (1981) Mineralization of manure nitrogen-correlation with laboratory indexes. Soil Sci Soc Am J 45:354–357

Dhaliwal AK, Gupta RK, Yadvinder-Singh, Bijay-Singh (2006) Potassium fixation and release characteristics of some bench mark soil series under rice–wheat cropping system in the Indo-Gangetic plains of northwestern India. Commun Soil Sci Plant Anal 37:827–845. doi:10.1080/00103620600564174

Gordillo RM, Cabrera ML (1997) II. Effect of selected soil characteristics. Mineralizable nitrogen in broiler litter. J Environ Qual 26:1679–1686

Hoa NM, Janssen BH, Oenema O, Dobermann A (2006) Comparison of partial and complete soil K budgets under intensive rice cropping in the Mekong Delta, Vietnam. Agric Ecosyst Environ 116:121–131. doi:10.1016/j.agee.2006.03.020

Janssen BH, de Willigen P (2006) Ideal and saturated soil fertility as bench marks in nutrient management. II. Interpretation of chemical soil tests in relation to ideal and saturated soil fertility. Agric Ecosyst Environ 116:147–155. doi:10.1016/j.agee.2006.03.015

Keeney DR, Nelson DW (1982) Nitrogen—inorganic forms. In: Page AL, Miller RH, Keeney DR (eds) Methods of soil analysis. Part 2, 2nd edn. Agron. Monogr. 9. ASA and SSSA, Madison, WI, pp 643–698

Knudsen D, Peterson GA, Pratt PF (1982) Lithium, sodium and potassium. In: Page AL, Miller RH, Keeney DR (eds) Methods of soil analysis. Part 2, 2nd edn. Agron. Monogr. 9, ASA and SSSA, Madison, WI, pp 225–246

Ladha JK, Dawe D, Pathak H, Padre AT, Yadav RL, Bijay-Singh, Yadvinder-Singh, Singh P, Kundu AL, Sakal R, Ram N, Regmi AP, Gami SK, Bhandari AL, Amin K, Yadav CR, Bhattarai EM, Gupta RK, Hobbs PR (2003) How extensive are yield declines in long-term rice-wheat experiments in Asia? Field Crops Res 81:159–180

Mays DA, Wilkinson SR, Cole CV (1980) Phosphorus nutrition of forages. In: Khasawneh FE et al (eds) The role of phosphorus in agriculture. ASA, Madison, WI, pp 805–846

Mehta R (2002) WTO and Indian poultry sector: lessons from state support measures in select countries, RIS-DP # 31/2002. Research and Information System for the Non-Aligned and Other Developing Countries, New Delhi, India

Mitchell CC, Tu S (2005) Long-term evaluation of poultry litter as a source of nitrogen for cotton and corn. Agron J 97:399–407

Nelson D, Sommers LE (1996) Total carbon, organic carbon, and organic matter, SSSA Book Ser. 5. In: Sparks DL et al (eds) Methods of soil analysis. Part 3. SSSA, Madison, WI, pp 961–1010

Oborn I, Edwards AC, Witter E, Oenema O, Ivarsson K, Withers PJA, Nilsson SI, Stinzing AR (2003) Element balances as a tool for sustainable nutrient management: a critical appraisal of their merits and limitations within an agronomic and environmental context. Eur J Agron 20:211–225. doi:10.1016/S1161-0301(03)00080-7

Olsen SR, Cole CV, Watanabe FS, Dean LA (1954) Estimation of available phosphorous by extraction with sodium bicarbonate. USDA Circ. 939

Preusch PL, Adler PR, Sikora LJ, Tworkoski TJ (2002) Nitrogen and phosphorus availability in composted and uncomposted poultry litter. J Environ Qual 31:2051–2057

Richards IR, Clayton CJ, Reeve AJK (1999) Effects of long term fertilizer phosphorus application on soil and crop phosphorus and cadmium contents. J Agric Sci Camb 131:187–195. doi:10.1017/S0021859698005723

Qafoku OS, Cabrera ML, Windham WR, Hill NS (2001) Rapid methods to determine potentially mineralizeable nitrogen in broiler litter. J Environ Qual 30:217–221

SAS Institute (1996) SAS JMP Version 3.1.6. SAS Inst., Cary, NC

Sharpley AN, Chapra SC, Wedepohl R, Sims JT, Daniel TC, Reddy KR (1994) Managing agricultural phosphorus for protection of surface waters: issues and options. J Environ Qual 23:437–451

Sidhu, Manpreet-Singh, Humphreys E, Yadvinder-Singh, Balwinder-Singh, Dhillon KR SS, Blackwell J, Bector V, Malkeet-Singh, Sarbjeet-Singh (2007) The Happy Seeder enables direct drilling of wheat into rice stubble. Aust J Exp Agric 47:844–854. doi:10.1071/EA06225

Sims JT (1986) Nitrogen transformations in a poultry manure amended soil: Temperature and moisture effects. J Environ Qual 15:59–63

Wang X, Hoogmoed WB, Cai D, Perdok UD, Oenema O (2007) Crop residue, manure and fertilizer in dryland maize under reduced tillage in northern China. II. Nutrient balances and soil fertility. Nutr Cycl Agroecosyst 79:17–34. doi:10.1007/s10705-006-9070-6

Westerman RL (ed) (1990) Soil testing and plant analysis, 3rd edn. SSSA Book Ser. 3, SSSA, Madison, WI

Yadvinder-Singh, Bijay-Singh (2001) Efficient management of primary nutrients in the rice–wheat system. J Crop Prod 4:23–86. doi:10.1300/J144v04n01_02

Yadvinder-Singh, Bijay-Singh, Maskina MS, Meelu OP (1988) Effect of organic manures, crop residues and green manure (Sesbania aculeata) on nitrogen and phosphorus transformations in a sandy loam at field capacity and waterlogged conditions. Biol Fertil Soils 6:183–187

Yadvinder-Singh, Bijay-Singh, Ladha JK, Khind CS, Gupta RK, Meelu OP, Pasuquin E (2004) Long-term effects of organic inputs on yield and soil fertility in the rice–wheat rotation. Soil Sci Soc Am J 68:845–853

Yadvinder-Singh, Dobermann A, Bijay-Singh Bronson KF, Khind CS (2000) Optimal phosphorus management strategies for wheat–rice cropping on a loamy sand. Soil Sci Soc Am J 64:1413–1422

Yadvinder-Singh, Bijay-Singh, Gupta RK, Ladha JK, Bains JS, Jagmohan-Singh (2008) Evaluation of press mud cake as a source of nitrogen and phosphorus for rice–wheat cropping system in the Indo-Gangetic plains of India. Biol Fertil Soils 44:755–762
About this article
Cite this article
Yadvinder-Singh, Gupta, R.K., Thind, H.S. et al. Poultry litter as a nitrogen and phosphorous source for the rice–wheat cropping system. Biol Fertil Soils 45, 701–710 (2009). https://doi.org/10.1007/s00374-009-0373-z
Received:

Revised:

Accepted:

Published:

Issue Date:
Keywords
Nitrogen

Nutrient balances

Nutrient management

N mineralization

Phosphorus

Poultry litter

Rice–wheat system

Soil fertility