Abstract
Changes in grassland management intended to increase productivity can lead to sequestration of substantial amounts of atmospheric C in soils. Management-intensive grazing (MiG) can increase forage production in mesic pastures, but potential impacts on soil C have not been evaluated. We sampled four pastures (to 50 cm depth) in Virginia, USA, under MiG and neighboring pastures that were extensively grazed or hayed to evaluate impacts of grazing management on total soil organic C and N pools, and soil C fractions. Total organic soil C averaged 8.4 Mg C ha–1 (22%) greater under MiG; differences were significant at three of the four sites examined while total soil N was greater for two sites. Surface (0–10 cm) particulate organic matter (POM) C increased at two sites; POM C for the entire depth increment (0–50 cm) did not differ significantly between grazing treatments at any of the sites. Mineral-associated C was related to silt plus clay content and tended to be greater under MiG. Neither soil C:N ratios, POM C, or POM C:total C ratios were accurate indicators of differences in total soil C between grazing treatments, though differences in total soil C between treatments attributable to changes in POM C (43%) were larger than expected based on POM C as a percentage of total C (24.5%). Soil C sequestration rates, estimated by calculating total organic soil C differences between treatments (assuming they arose from changing grazing management and can be achieved elsewhere) and dividing by duration of treatment, averaged 0.41 Mg C ha–1 year–1 across the four sites.
Access options
Buy single article
Instant access to the full article PDF.
US$ 39.95
Tax calculation will be finalised during checkout.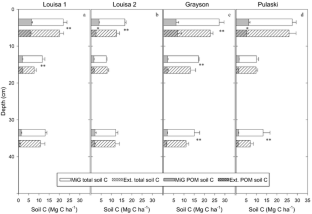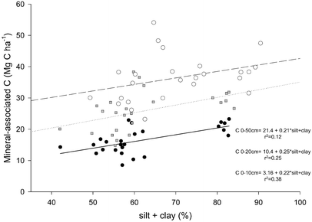 References
Bardgett RD, McAlister E (1999) The measurement of soil fungal:bacterial biomass ratios as an indicator of ecosystem self-regulation in temperate meadow grasslands. Biol Fertil Soils 29:282–290

Burke IC, Lauenroth WK, Riggle R, Brannen P, Madigan B, Beard S (1999) Spatial variability of soil properties in a shortgrass steppe: the relative importance of topography, grazing, microsite, and plant species in controlling spatial patterns. Ecosystems 2:422–438

Cambardella CA, Elliott ET (1992) Particulate soil organic-matter changes across a grassland cultivation sequence. Soil Sci Soc Am J 56:777–783

Census of Agriculture (1992) Ag Census data and software. Department of Commerce, Washington, D.C.

Chan KY (1997) Consequences of changes in particulate organic carbon in vertisols under pasture and cropping. Soil Sci Soc Am J 61:1376–1382

Conant RT, Paustian K (2002) Potential soil carbon sequestration in overgrazed grassland ecosystems. Global Biogeochem Cycles 16:art. no. 1143

Conant RT, Paustian K, Elliott ET (2001) Grassland management and conversion into grassland: effects on soil carbon. Ecol Applic 11:343–355

Conant RT, Paustian K, Elliott ET (2002) Pasture land use in the southeastern US: Implications for C sequestration. In: Lal R, Follet RF, Kimble JM (eds) Agricultural practices and policies for carbon sequestration in soil. CRC Press, Boca Raton, Fla., pp 423–432

Dormaar JF, Adams BW, Willms WD (1997) Impacts of rotational grazing on mixed prairie soils and vegetation. J Range Manage 50:647–651

Drew WB (1947) Floristic composition of grazed and ungrazed prairie vegetation in North-Central Missouri. Ecology 28:26–41

Ellert BH, Janzen HH, McConkey BG (2001) Measuring and comparing soil carbon storage. In: Lal R, Kimble JM, Follett RF, Stewart BA (eds) Measuring and comparing soil carbon storage. CRC Press, Boca Raton, Fla., pp 131–146

Follett RF, Kimble JM, Lal R (2001) The potential of US grazing lands to sequester soil carbon. In: Follett RF, Kimble JM, Lal R (eds) The potential of US grazing lands to sequester soil carbon. CRC Press, Chelsea, Mich., pp 401–430

Franzluebbers AJ, Stuedmann JA, Schomberg HH, Wilkinson SR (2000) Soil organic C and N pools under long-term pasture management in the Southern Piedmont USA. Soil Biol Biochem 32:469–478

Gale WJ, Cambardella CA (2000) Root-derived carbon and the formation and stabilization of aggregates. Soil Sci Soc Am J 64:201–207

Gammon DM (1978) A review of experiments comparing systems of grazing management on natural pastures. Grass Soc S Afr Proc 13:75–82

Gifford RM, Cheney NP, Noble JC, Russell JS, Wellington AB, Zammit C, Barson MM (1992) Australian land use, primary production of vegetation and carbon pools in relation to atmospheric carbon dioxide concentration. In: Gifford RM, Barson MM (eds) Australia's renewable resources: sustainability and global change. IGBP Australia, Canberra, pp 151–187

Gregorich EG, Carter MR, Angers DA, Monreal CM, Ellert BH (1994) Towards a minimum data set to assess soil organic matter quality in agricultural soils. Can J Soil Sci 74:367–385

Hassink J (1997) The capacity of soils to preserve organic C and N by their association with clay and silt particles. Plant Soil 191:77–87

Hassink J, Whitmore AP (1997) A model of physical protection of organic matter in soils. Soil Sci Soc Am J 61:131–139

Haynes JL, Neal OR (1943) The effect of certain pasture practices on runoff and production of protective cover. J Am Soc Agron 35:205–211

Haynes RJ (2000) Labile organic matter as an indicator of organic matter quality in arable and pastoral soils in New Zealand. Soil Biol Biochem 32:211–219

Holecheck JL, Gomez H, Molinar F, Galt D (1999) Grazing studies: what we've learned. Rangelands 21:12–16

Holecheck JL, Gomes H, Molinar F, Galt D, Valdez R (2000) Short-duration grazing: the facts in 1999. Rangelands 22:18–22

Houghton RA, Hackler JL, Lawrence KT (1999) The U.S. carbon budget: contributions from land-use change. Science 285:574–578

Hoveland CS (2000) Achievements in management and utilization of southern grasslands. J Range Manage 53:17–22

Hudson AW (1929) Intensive rotational grazing of pastures: various aspects of the system in New Zealand. NZ J Agric Res 39:400–408

Manley JT, Schuman GE, Reeder JD, Hart RH (1995) Rangeland soil carbon and nitrogen responses to grazing. J Soil Water Conserv 50:294–298

Sampson RN, Scholes RJ, Cerri C, Erda L, Hall DO, Handa M, Hill P, Howden M, Janzen H, Kimble J, Lal R, Marland G, Minami K, Paustian K, Read P, Sanchez PA, Scoppa C, Solberg B, Trossero MA, Trumbore S, Van Cleemput O, Whitmore A, Xu D, Burrows B, Conant R, Liping G, Hall W, Kaegi W, Reyenga P, Roulet N, Skog KE, Smith GR, Wang Y (2000) Additional human-induced activities—article 3.4. In: Watson RT, Noble IR, Bolin B, Ravindranath NH, Verardo DJ, Dokken DJ (eds) Land use, land-use change, and forestry. Cambridge University Press, Cambridge, pp 180–281

SAS (1985) SAS user's guide: statistics vers 5 edn. SAS Institute, Cary, N.C.

Schimel DS (1995) Terrestrial ecosystems and the carbon cycle. Global Change Biol 1:77–91

Six J, Elliott ET, Paustian K (1999) Aggregate and soil organic matter dynamics under conventional and no-tillage systems. Soil Sci Soc Am J 63:1350–1358

Six J, Conant RT, Paul EA, Paustian K (2002) Stabilization mechanisms of soil organic matter: Implications for C-saturation of soils. Plant Soil 241:155–176

Sparling GP (1992) Ratio of microbial biomass carbon to soil organic carbon as a sensitive indicator of changes in soil organic matter. Aust J Soil Res 30:195–207

USDA (2002) National resources inventory digital data. Natural Resource Conservation Service, Washington, D.C.

Wander MM, Bollero GA (1999) Soil quality assessment of tillage impacts in Illinois. Soil Sci Soc Am J 63:961–971

Wander MM, Yang Z (2000) Influence of tillage on the dynamics of loose- and occluded-particulate and humified organic matter fractions. Soil Biol Biochem 32:1551–1560

Wander MM, Bidart MG, Aref S (1998) Tillage impacts on depth distribution of total and particulate organic matter in three Illinois soils. Soil Sci Soc Am J 62:1704–1711

Watson R, Noble I, Bolin B, Ravindranath NH, Verardo D, Andrasko K, APps M, Brown S, Farqhar G, Goldberg D, Hamburg S, Houghton R, Jarvis P, Karjalainen T, Kheshgi H, Krug T, Kurz W, Lashof D, Lim B, Makundi W, Manning M, Marland G, Masera O, Murdiyarso D, Murray B, Persson R, Sampson N, Sathaye J, Scholes R, Schlamadinger B, Sombroek W, Prisley S, Stone J, Sukumar R, Valentini R (2000) Summary for policymakers. In: Watson RT, Noble IR, Bolin B, Ravindranath NH, Verardo DJ, Dokken DJ (eds) Land use, land-use change, and forestry. Cambridge University Press, Cambridge, pp 1–19

Wood KM, Blackburn WH (1984) Vegetation and soil responses to cattle grazing systems in the Texas rolling plains. J Range Manage 37:303–308
Acknowledgements
We wish to thank Nasheed Smith, Jen Carter, and Sarah Moculeski for assistance in processing and analyzing soil samples. Thanks also to Rick Feete, Alan Graybeal, Gerry Rider, Billy Wayson, and Irvin White for graciously allowing us to collect soil samples in their pastures. Glenn Johnson was instrumental in identifying willing producer participants. Thanks to Jim Hammons, Mark Alley, and the Department of Crop and Soil Environmental Sciences at Virginia Polytechnic Institute and State University for field assistance and use of their Giddings rig. Jeannine Freyman, Louis W. Heidel, and Jim Sawyer assisted with collection of soil samples. This research was funded by grant 826499-01-0 from the Environmental Protection Agency and grant DE-FG03-00ER62997 from the Department of Energy. The comments of three anonymous reviewers are appreciated.
About this article
Cite this article
Conant, R.T., Six, J. & Paustian, K. Land use effects on soil carbon fractions in the southeastern United States. I. Management-intensive versus extensive grazing. Biol Fertil Soils 38, 386–392 (2003). https://doi.org/10.1007/s00374-003-0652-z
Received:

Accepted:

Published:

Issue Date:
Keywords
Carbon sequestration

Pasture

Grazing management