Abstract
Widespread use of GPS and similar technologies makes it possible to collect extensive amounts of trajectory data. These data sets are essential for reasonable decision making in various application domains. Additional information, such as events taking place along a trajectory, makes data analysis challenging, due to data size and complexity. We present an integrated solution for interactive visual analysis and exploration of events along trajectories data. Our approach supports analysis of event sequences at three different levels of abstraction, namely spatial, temporal, and events themselves. Customized views as well as standard views are combined to form a coordinated multiple views system. In addition to trajectories and events, we include on-the-fly derived data in the analysis. We evaluate our integrated solution using the IEEE VAST 2015 Challenge data set. A successful detection and characterization of malicious activity indicate the usefulness and efficiency of the presented approach.
Access options
Buy single article
Instant access to the full article PDF.
US$ 39.95
Tax calculation will be finalised during checkout.
Subscribe to journal
Immediate online access to all issues from 2019. Subscription will auto renew annually.
US$ 119
Tax calculation will be finalised during checkout.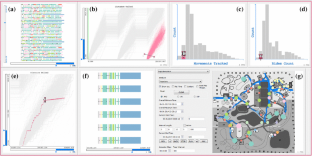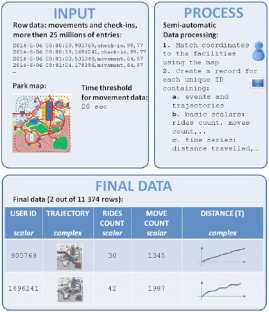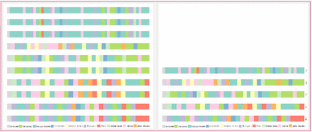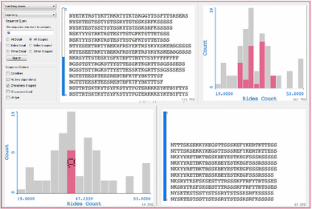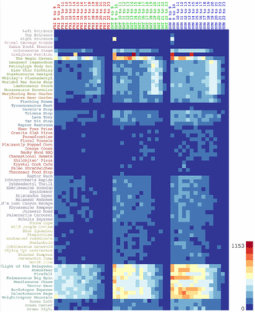 References
1.

Albers, D., Dewey, C., Gleicher, M.: Sequence surveyor: leveraging overview for scalable genomic alignment visualization. IEEE TVCG 17(12), 2392–2401 (2011)

2.

Andrews, C., Billingsy, J.: Middguard at DinoFun World. VAST Challenge 2015 Entry (2015)

3.

Andrienko, G., Andrienko, N., Bak, P., Keim, D., Wrobel, S.: Visual analytics of movement. Springer (2013)

4.

Buchmuller, J., Fischer, F., Streeb, D., Keim, D.A.: Using visual analytics to provide situation awareness for movement and communication data. In: Proceedings of the 2015 IEEE VAST, pp. 121–122 (2015)

5.

Ferreira, N., Poco, J., Vo, H.T., Freire, J., Silva, C.T.: Visual exploration of big spatio-temporal urban data: a study of New York City taxi trips. IEEE TVCG 19(12), 2149–2158 (2013)

6.

Giannotti, F., Nanni, M., Pedreschi, D., Pinelli, F., Renso, C., Rinzivillo, S., Trasarti, R.: Unveiling the complexity of human mobility by querying and mining massive trajectory data. VLDB J 20(5), (2011)

7.

Gotz, D., Stavropoulos, H.: DecisionFlow: visual analytics for high-dimensional temporal event sequence data. IEEE TVCG 20(12), 1783–1792 (2014)

8.

Guo, H., Wang, Z., Yu, B., Zhao, H., Yuan, X.: TripVista: triple perspective visual trajectory analytics and its application on microscopic traffic data at a road intersection. In: 2011 IEEE PacificVis, pp. 163–170 (2011)

9.

Konyha, Z., Matković, K., Gračanin, D., Jelović, M., Hauser, H.: Interactive visual analysis of families of function graphs. IEEE TVCG 12(6), 1373–1385 (2006)

10.

Liu, S., Cui, W., Wu, Y., Liu, M.: A survey on information visualization: recent advances and challenges. Vis. Comput. 30(12), 1373–1393 (2014)

11.

Malik, S., Du, F., Monroe, M., Onukwugha, E., Plaisant, C., Shneiderman, B.: Cohort comparison of event sequences with balanced integration of visual analytics and statistics. In: Proceedings of the 20th international conference on intelligent user interfaces, IUI '15, pp. 38–49. ACM, New York (2015)

12.

Mannila, H., Toivonen, H., Inkeri Verkamo, A.: Discovery of frequent episodes in event sequences. Data Min. Knowl. Discov. 1(3), 259–289 (1997)

13.

Matkovic, K., Gracanin, D., Konyha, Z., Hauser, H.: ColorLines view: an approach to visualization of families of function graphs. In: 11th International Conference on Information Visualisation, IV 2007, pp. 59–64 (2007)

14.

Monroe, M., Lan, R., Lee, H., Plaisant, C., Shneiderman, B.: Temporal event sequence simplification. IEEE TVCG 19(12), 2227–2236 (2013)

15.

Orellana, D., Bregt, A.K., Ligtenberg, A., Wachowicz, M.: Exploring visitor movement patterns in natural recreational areas. Tour. Manag. 33(3), 672–682 (2012)

16.

Patnaik, D., Butler, P., Ramakrishnan, N., Parida, L., Keller, B.J., Hanauer, D.A.: Experiences with mining temporal event sequences from electronic medical records: initial successes and some challenges. In: Proceedings of the 17th ACM SIGKDD. KDD '11, pp. 360–368. ACM, New York (2011)

17.

Steptoe, M., Krueger, R., Zhang, Y., Liang, X., Garcia, R., Kadambi, S., Luo, W., Ertl, T., Maciejewski, R.: VAST challenge 2015: grand challenge–team VADER/VIS award for outstanding comprehensive submission. In: Proceedings of the 2015 IEEE VAST, pp. 119–120 (2015)

18.

Whiting, M., Cook, K., Grinstein, G., Fallon, J., Liggett, K., Staheli, D., Crouser, J.: VAST challenge 2015: Mayhem at Dinofun World. In: Proceedings of the 2015 IEEE VAST, pp. 113–118 (2015)

19.

Wongsuphasawat, K.: Guerra Gómez, J.A., Plaisant, C., Wang, T.D., Taieb-Maimon, M., Shneiderman, B.: LifeFlow: visualizing an overview of event sequences. In: Proceedings of the SIGCHI conference on human factors in computing systems. CHI '11, pp. 1747–1756. ACM, New York (2011)

20.

Xu, J., Ren, S., Tao, Y., Lin, H.: A collaborative visual analysis system for communication pattern discovery. In: Proceedings of the 2015 IEEE VAST, pp. 139–140 (2015)
Acknowledgments
Part of this work was done in the scope of the K1 program at the VRVis Research Center.
About this article
Cite this article
Cibulski, L., Gračanin, D., Diehl, A. et al. ITEA—interactive trajectories and events analysis: exploring sequences of spatio-temporal events in movement data. Vis Comput 32, 847–857 (2016). https://doi.org/10.1007/s00371-016-1255-7
Keywords
Interactive visual analysis

Movement data

Spatio-temporal data

Coordinated multiple views