Abstract
We describe a method to compute the internal parameters (focal and principal point) of a camera with known position and orientation, based on the observation of two or more conics on a known plane. The conics can even be degenerate (e.g., pairs of lines). The proposed method can be used to re-estimate the internal parameters of a fully calibrated camera after zooming to a new, unknown, focal length. It also allows estimating the internal parameters when a second, fully calibrated camera observes the same conics. The parameters estimated through the proposed method are coherent with the output of more traditional procedures that require a higher number of calibration images. A deep analysis of the geometrical configurations that influence the proposed method is also reported.
Access options
Buy single article
Instant access to the full article PDF.
US$ 39.95
Tax calculation will be finalised during checkout.
Subscribe to journal
Immediate online access to all issues from 2019. Subscription will auto renew annually.
US$ 119
Tax calculation will be finalised during checkout.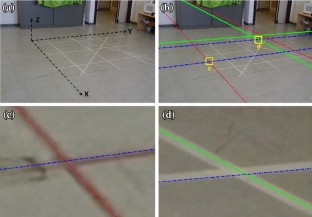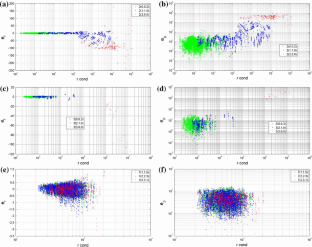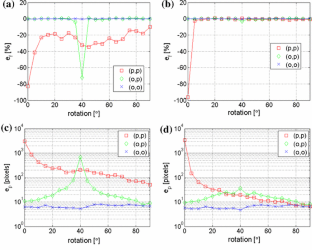 References
1.

Lu, X., Wang, Y., Xu, H., Zhou, X., Zhao, K.: A new method for camera stratified self-calibration under circular motion. Visual Comput. 29(11), 1107–1119 (2012)

2.

Zhang, Z.: Camera calibration. In: Medioni, G., Kang, S.B. (eds.) Emergin Topics in Computer Vision, vol. 2, pp. 4–43. Prentice Hall Professional Technical Reference, Upper Saddle River (2004)

3.

Zhang, Z.: Flexible Camera Calibration by Viewing a Plane from Unknown Orientations. In: Proceedings of ICCV99 (1999)

4.

Bouguet, J.-Y.: Camera Calibration Toolbox for Matlab, http://www.vision.caltech.edu/bouguetj

5.

Abad, F., Camahort, E., Viv, Roberto: Camera Calibration Using Two Concentric Circles. In: International Conference on Image Analysis and Recognition, pp. 688–696 (2004)

6.

Ying, X., Zha, A.H.: Camera calibration using principal-axes aligned conics, In: Proceedings of the 8th Asian Conference on Computer Vision, vol. part I, pp. 138–148 (2007)

7.

Yang, C., Sun, F., Hu, Z.: Planar conic based camera calibration. In: Proceedings of the 15th International Conference on Pattern Recognition, vol. 1, pp. 555–558 (2000)

8.

Agapito, L., Hayman, E., Reid, I.: Self-calibration of rotating and zooming camera. IJCV 45(2), 107–127 (2001)

9.

Frosio, I., Alzati, A., Bertolini, M., Turrini, C., Borghese, N.A.: Linear pose estimate from corresponding conics. Pattern Recog. 45, 4169–4181 (2012)

10.

Kahl, F., Heyden, A.: Using conic correspondences in two images to estimate the epipolar geometry. In: Proceedings of the International Conference on Computer Vision, 761–766 (1998)

11.

Borghese, N.A., Colombo, F.M., Alzati, A.: Computing camera focal length by zooming a single point. Pattern Recognit. 39, 1522–1529 (2006)

12.

Li, C., Lu, P., Ma, L.: A camera on-line recalibration framework using SIFT. Visual Comput. 26(3), 227–240 (2010)

13.

Faugeras, O.: Three-Dimensional Computer Vision: A Geometric Viewpoint. MIT Press, Cambridge (1993)

14.

Nikon website, http://www.nikon.com/

15.

Canon website, http://www.canon.com/

16.

Fraser, C.S., Ajlouni, A.S.S.: Zoom-dependent camera calibration in digital close-range photogrammetry. Photogramm. Eng. Remote Sens. 72(9), 1017–1026 (2006)

17.

Sun, X., Sun, J., Zhang, J., Li, M.: Simple zoom-lens digital camera calibration method based on exif, in Three-Dimensional Image Capture and Applications VI 79 (2004)

18.

Fitzgibbon, A.W., Fisher, R.B.: A buyer's guide to conic fitting. Proceedings of British Machine Vision Conference Birmingham (1995)

19.

Madsen, K., Nielsen, H.B., Tingleff, O.: Methods for Non-Linear Least Squares Problems, 2nd edn. Informatics and Mathematical Modelling, Technical University of Denmark, Kongens Lyngby (2004)

20.

Triggs, B., McLauchlan, P.F., Hartley, R.I., Fitzgibbon, A.W.: Bundle adjustment—a modern synthesis. In: Proceedings of the International Workshop on Visual Algorithm: Theory and Practice, ICCV (1999)

21.

Ahmed, M.T., Farag, A.A.: Zoom-lens camera calibration from noisy data with outliers, Proceedings of the British Machine Vision Conference 2000, BMVC 2000, Bristol, UK, 11–14 Sept 2000

22.

Wan, D., Zhou, J.: Stereo vision using two PTZ cameras. Comput. Vision Image Underst. 112, 184–194 (2008)

23.

Calore, E., Pedersini, F., Frosio, I.: Accelerometer based horizon and keystone perspective correction. In: Instrumentation and Measurement Technology Conference (I2MTC), 2012 IEEE International, 205–209 (2012)

24.

Yu, C., Sharma, G.: Plane-based calibration of cameras with zoom variation. In: Proceedings of SPIE Visual Communication and Image Processing '06

25.

Valera, M., Velastin, S.A.: Intelligent distributed surveillance systems: a review. In: Proceedings of Visual Image Signal Processing, 152(2), (2005)

26.

Buch, N., Velastin, S.A., Orwell, J.: A review of computer vision techniques for the analysis of urban traffic. IEEE Trans. Int. Transp. Sys. 12(3), 920–939 (2011)

27.

Calore, E., Frosio, I.: Accelerometer-based correction of skewed horizon and keystone distortion in digital photography. Image Vision Comput. 32(9), 606–615 (2014)

28.

Troccoli, A., Pajak, D., Pulli, K.: FCam for Multiple Cameras. SPIE Electronic Imaging: Multimedia on Mobile Images 2012, (January 2012)
About this article
Cite this article
Frosio, I., Turrini, C. & Alzati, A. Camera re-calibration after zooming based on sets of conics. Vis Comput 32, 663–674 (2016). https://doi.org/10.1007/s00371-015-1089-8
Keywords
Camera calibration

Conics

Degenerate conics

Ellipses

Zoom lens

Line detection