Abstract
The vertical density gradients of salinity and suspended sediment concentration (SSC) cause stratification in estuaries, which play a vital role in the turbulence structure, water mixing, and sediment transport. To investigate the effect of stratification, especially SSC-induced stratification, on maintaining the estuarine turbidity maximum (ETM), we conducted in situ measurements on sediment dynamics at the upper and central ETM sites in the South Passage of Changjiang Estuary in July 2018. The gradient Richardson number was estimated as a proxy for the stratification that is attributable to salinity or/and SSC. We found that salinity-induced stratification was observed mainly on the surface and in the middle layers, whereas SSC-induced stratification occurred mainly in the near-bottom layers. Furthermore, at the central ETM, the baroclinic effect was enhanced during the neap tide when the salinity-induced stratification was stronger than that during the spring tide. In the early phase of floods with minimum velocity during the neap tide, salinity-induced stratification suppressed the turbulence and vertical diffusion of sediments. Moreover, the flocculation enhanced the settling process within the water column. Consequently, high concentrations of fine-grained sediments formed near the bottom and promoted SSC-induced stratification, thereby leading to the continuous accumulation and trapping of sediments. In conclusion, the interactions among the "salinity- and SSC-induced stratification" processes served as crucial constraints of the temporal and spatial variations of the ETM in the Changjiang Estuary.
This is a preview of subscription content, log in to check access.
Access options
Buy single article
Instant access to the full article PDF.
US$ 39.95
Price includes VAT for USA
Subscribe to journal
Immediate online access to all issues from 2019. Subscription will auto renew annually.
US$ 99
This is the net price. Taxes to be calculated in checkout.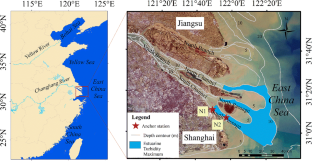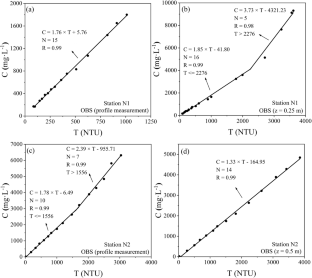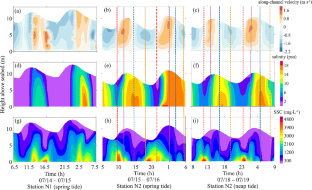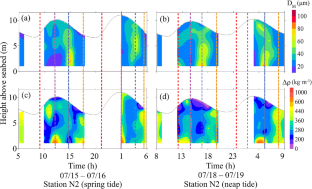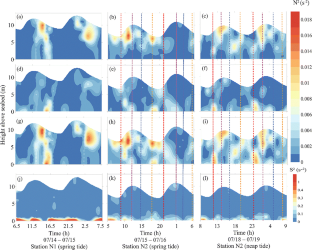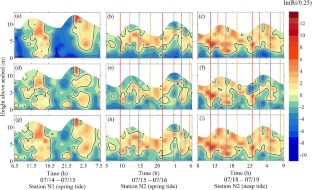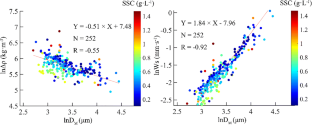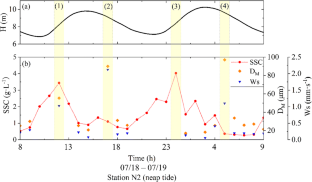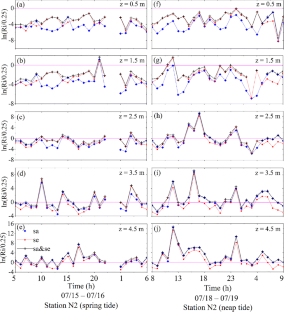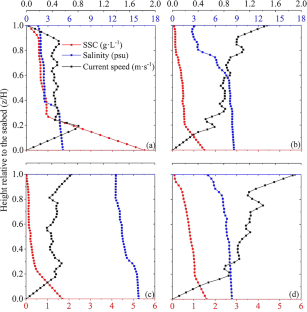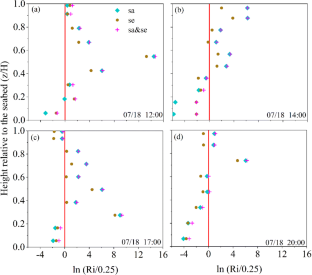 References
Adams CE, Weatherly GL (1981) Suspended-sediment transport and benthic boundary-layer dynamics, Sedimentary Dynamics of Continental Shelves, pp 1–18

Burchard H, Schuttelaars HM, Ralston DK (2018) Sediment trapping in estuaries. Annu Rev Mar Sci 10:371–395

de Nijs MAJ, Pietrzak JD (2012) Saltwater intrusion and ETM dynamics in a tidally-energetic stratified estuary. Ocean Model 49-50:60–85

Dyer K (1986) Coastal and estuarine sediment dynamics. Wiley, Chichester, p 358

Egan G, Manning AJ, Chang G, Fringer O, Monismith S (2020) Sediment-induced stratification in an estuarine bottom boundary layer. J Geophys Res Oceans 125:1–15

Eisma D (1986) Flocculation and de-flocculation of suspended matter in estuaries. Neth J Sea Res 20:183–199

Gao S (1997) A solution to the third type of linear relationships between two variables in earth sciences. J Ocean Univ Qingdao 27:373–381

Gao S, Wang YP (2008) Changes in material fluxes from the Changjiang River and their implications on the adjoining continental shelf ecosystem. Cont Shelf Res 28:1490–1500

Gao M, Li JF, Li ZH, Yao HY, Wang F (2015) Characteristics of temporal change of temporal change of suspended sediment and bed load resuspension during flood season in the South Branch of Changjiang Estuary. Resour Environ Yangtze Basin 24:30–38 (in Chinese with an English abstract)

Geyer WR (1993) The importance of suppression of turbulence by stratification on the estuarine turbidity maximum. Estuaries 16:113–125

Geyer WR, Cannon GA (1982) Sill processes related to deep water renewal in a fjord. J Geophys Res 87:7985–7996

Grabemann I, Uncles R, Krause G, Stephens J (1997) Behaviour of turbidity maxima in the Tamar (UK) and Weser (FRG) estuaries. Estuar Coast Shelf Sci 45:235–246

Guo L, He Q (2011) Freshwater flocculation of suspended sediments in the Yangtze River, China. Ocean Dyn 61:371–386

Hill PS, Syvitski JP, Cowan EA, Powell RD (1998) In situ observations of floc settling velocities in Glacier Bay, Alaska. Mar Geol 145:85–94

Kineke G, Sternberg R (1989) The effect of particle settling velocity on computed suspended sediment concentration profiles. Mar Geol 90:159–174

Kranenburg C (1994) The fractal structure of cohesive sediment aggregates. Estuar Coast Shelf Sci 39:451–460

Li J, Zhang C (1998) Sediment resuspension and implications for turbidity maximum in the Changjiang Estuary. Mar Geol 148:117–124

Li JF, Shi WR, Shen HT (1994) Sediment properties and transportation in the turbidity maximum in Changjiang Estuary. Geogr Res 13:51–59 (in Chinese with an English abstract)

Li JF, Dai ZJ, Liu QZ, Li WH, Wu RR, Zhao JC (2008) In-situ observation of floccule size and fluid mud in the Changjiang Estuary. J Sediment Res:26–32 (in Chinese with an English abstract)

Li Y, Jia J, Zhu Q, Cheng P, Gao S, Wang YP (2018) Differentiating the effects of advection and resuspension on suspended sediment concentrations in a turbid estuary. Mar Geol 403:179–190

Li Z, Jia J, Wu Y, Zong H, Zhang G, Wang YP, Yang Y, Zhou L, Gao S (2019) Vertical distributions of suspended sediment concentrations in the turbidity maximum zone of the periodically and partially stratified Changjiang Estuary. Estuar Coasts 42:1475–1490

Lucas LV, Cloern JE, Koseff JR, Monismith SG, Thompson JK (1998) Does the Sverdrup critical depth model explain bloom dynamics in estuaries? J Mar Res 56:375–415

MacCready P, Geyer WR (2010) Advances in estuarine physics. Annu Rev Mar Sci 2:35–58

Manning AJ, Langston WJ, Jonas PJ (2010) A review of sediment dynamics in the Severn Estuary: influence of flocculation. Mar Pollut Bull 61:37–51

Mao ZC (1995) A study on salt fronts in the Changjiang River Estuary. Oceanologia ET Limnol Sin 26:643–649 (in Chinese with an English abstract)

Mietta F, Chassagne C, Manning AJ, Winterwerp JC (2009) Influence of shear rate, organic matter content, pH and salinity on mud flocculation. Ocean Dyn 59:751–763

Mikkelsen O, Pejrup M (2001) The use of a LISST-100 laser particle sizer for in-situ estimates of floc size, density and settling velocity. Geo Mar Lett 20:187–195

Millero FJ, Poisson A (1981) International one-atmosphere equation of state of seawater. Deep Sea Res Part A Oceanogr Res Papers 28:625–629

Officer CB, Biggs RB, Taft JL, Cronin LE, Tyler MA, Boynton WR (1984) Chesapeake Bay anoxia: origin, development, and significance. Science 223:22–27

Orton PM, Kineke GC (2001) Comparing calculated and observed vertical suspended-sediment distributions from a Hudson River Estuary turbidity maximum. Estuar Coast Shelf Sci 52:401–410

Perlin A (2005) A modified law-of-the-wall applied to oceanic bottom boundary layers. J Geophys Res 110:1–9

Pritchard DW (1955) Estuarine circulation patterns. In: Proceedings of the American Society of Civil Engineers, vol 81, pp 1–11

Sanford LP, Suttles SE, Halka JP (2001) Reconsidering the physics of the Chesapeake Bay estuarine turbidity maximum. Estuaries 24:655–669

Schulz K, Umlauf L (2016) Residual transport of suspended material by tidal straining near sloping topography. J Phys Oceanogr 46:2083–2102

Scully ME, Friedrichs CT (2003) The influence of asymmetries in overlying stratification on near-bed turbulence and sediment suspension in a partially mixed estuary. Ocean Dyn 53:208–219

Scully ME, Geyer WR (2012) The role of advection, straining, and mixing on the tidal variability of estuarine stratification. J Phys Oceanogr 42:855–868

Shi Z, Chen WM (2000) Fine sediment transport in turbidity maximum at the north passage of the Changjiang Estuary. J Sediment Res 1:28–39 (in Chinese with an English abstract)

Simpson JH, Brown J, Matthews J, Allen G (1990) Tidal straining, density currents, and stirring in the control of estuarine stratification. Estuaries 13:125–132

Song D, Wang XH (2013) Suspended sediment transport in the Deepwater Navigation Channel, Yangtze River Estuary, China, in the dry season 2009: 2. Numer Simul J Geophys Res Oceans 118:5568–5590

Spicer PT, Pratsinis SE, Raper J, Amal R, Bushell G, Meesters G (1998) Effect of shear schedule on particle size, density, and structure during flocculation in stirred tanks. Powder Technol 97:26–34

Stacey MT, Burau JR, Monismith SG (2001) Creation of residual flows in a partially stratified estuary. J Geophys Res Oceans 106:17013–17037

Sun JT, Zhang QH, Yan B, Zhao ZY, Yang H (2015) Effects of salinity stratification on hydrodynamics in the Yangtze River estuary. J Waterw Harbor 36:93–104 (in Chinese with an English abstract)

Tang J, Wang YP, Zhu Q, Jia J, Xiong J, Cheng P, Wu H, Chen D, Wu H (2019) Winter storms induced high suspended sediment concentration along the north offshore seabed of the Changjiang estuary. Estuar Coast Shelf Sci 228:106351

Trowbridge JH, Lentz SJ (1998) Dynamics of the bottom boundary layer on the northern California shelf. J Phys Oceanogr 28:2075–2093

Trowbridge JH, Lentz SJ (2018) The bottom boundary layer. Annu Rev Mar Sci 10:397–420

Tu J, Fan D, Zhang Y, Voulgaris G (2019) Turbulence, sediment-induced stratification, and mixing under macrotidal estuarine conditions (Qiantang Estuary, China). J Geophys Res Oceans 124:4058–4077

Uncles RJ, Stephens JA, Law DJ (2006) Turbidity maximum in the macrotidal, highly turbid Humber Estuary, UK: Flocs, fluid mud, stationary suspensions and tidal bores. Estuar Coast Shelf Sci 67:30–52

Unesco (1983) Algorithms for computation of fundamental properties of seawater. Unesco

Van Leussen W (1988) Aggregation of particles, settling velocity of mud flocs a review, physical processes in estuaries, pp 347–403

Vaz RAN, Lennon GW, de Silva Samarasinghe JR (1989) The negative role of turbulence in estuarine mass transport. Estuar Coast Shelf Sci 28:361–377

Wan Y, Wang L (2017) Numerical investigation of the factors influencing the vertical profiles of current, salinity, and SSC within a turbidity maximum zone. Int J Sediment Res 32:20–33

Wan Y, Wu H, Roelvink D, Gu F (2015) Experimental study on fall velocity of fine sediment in the Yangtze Estuary, China. Ocean Eng 103:180–187

Wang XH (2002) Tide-induced sediment resuspension and the bottom boundary layer in an idealized estuary with a muddy bed. J Phys Oceanogr 32:3113–3131

Wang YP, Gao JH, Pan SM (2006) Measurement of bottom boundary layer parameters of the Yangtze River Estuary. Mar Geol Lett 22:16–20 (in Chinese with an English abstract)

Wang YP, Voulgaris G, Li Y, Yang Y, Gao J, Chen J, Gao S (2013) Sediment resuspension, flocculation, and settling in a macrotidal estuary. J Geophys Res Oceans 118:5591–5608

Winterwerp JC (1998) A simple model for turbulence induced flocculation of cohesive sediment. J Hydraul Res 36:309–326

Winterwerp JC (2002) On the flocculation and settling velocity of estuarine mud. Cont Shelf Res 22:1339–1360

Wu J, Liu JT, Wang X (2012) Sediment trapping of turbidity maxima in the Changjiang Estuary. Mar Geol 303-306:14–25

Xiong J, Wang XH, Wang YP, Chen J, Shi B, Gao J, Yang Y, Yu Q, Li M, Yang L (2017) Mechanisms of maintaining high suspended sediment concentration over tide-dominated offshore shoals in the southern Yellow Sea. Estuar Coast Shelf Ence 191:221–233

Yang SL, Ding PX, Chen SL (2001) Changes in progradation rate of the tidal flats at the mouth of the Changjiang (Yangtze) River, China. Geomorphology 38:167–180

Yang SL, Milliman JD, Li P, Xu K (2011) 50,000 dams later: Erosion of the Yangtze River and its delta. Glob Planet Chang 75:14–20

Yang HF, Yang SL, Xu KH, Milliman JD, Wang H, Yang Z, Chen Z, Zhang CY (2018) Human impacts on sediment in the Yangtze River: a review and new perspectives. Glob Planet Chang 162:8–17
Acknowledgments
We thank Jieping Tang, Lifen Zhang, Sheng Xu, Yaqing Zhao, Hui Sheng, Dezhi Chen, and Tingfei Lan for their assistance in the field measurements and laboratory works. We sincerely thank the two reviewers and the editor for their valuable comments and suggestions, which are very useful and helpful to make great improvements for the manuscript.
Funding
Financial support for the study was provided by the National Natural Science Foundation of China (41625021 and 41876092) and the Innovation Program of Shanghai Municipal Education Commission (2019-01-07-00-05-E00027).
Additional information
Publisher's note
Springer Nature remains neutral with regard to jurisdictional claims in published maps and institutional affiliations.
About this article
Cite this article
Lu, T., Wu, H., Zhang, F. et al. Constraints of salinity- and sediment-induced stratification on the turbidity maximum in a tidal estuary. Geo-Mar Lett 40, 765–779 (2020). https://doi.org/10.1007/s00367-020-00670-8
Received:

Accepted:

Published:

Issue Date:
Keywords
Suspended sediment concentration

Salinity

Stratification

Flocculation

Changjiang

Estuarine turbidity maximum (ETM)