Abstract
Several studies have highlighted the difficulties inherent to the use of bimodal fluvial sediments in beach nourishment and the resulting unpredictable behaviour of the beach profile. In this paper, we monitored the temporal evolution of a nourishment project carried out on a northwestern Mediterranean beach and using fluvial mixed sand and gravel nourishment material. The main aim of the study was to examine the morpho-sedimentary evolution of the beach from the injection of the nourishment material to the attainment of a targeted equilibrium profile. The monitoring activity was conducted coupling multiple topo-bathymetric surveys and sediment sampling. The data show that the targeted equilibrium profile was attained less than 2 years after the nourishment, and, since that period, the shoreline has shown minimal mobility. Our results show that the positioning of the nourishment material is as important as the correct choice of grain size to attain rapid and successful nourishment of a beach. Further applications of this methodology in other coastal settings and/or with different nourishment sediments (e.g. medium or fine sands) are presently being considered. If confirmed at a broader scale, this nourishment design, employing bimodal fluvial sediments, should significantly contribute to the mitigation of beach erosion.
This is a preview of subscription content, log in to check access.
Access options
Buy single article
Instant access to the full article PDF.
US$ 39.95
Price includes VAT for USA
Subscribe to journal
Immediate online access to all issues from 2019. Subscription will auto renew annually.
US$ 99
This is the net price. Taxes to be calculated in checkout.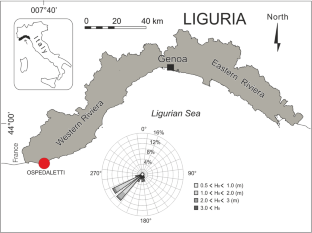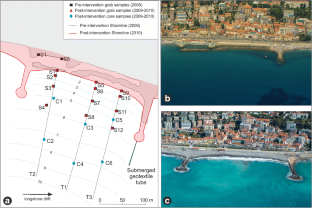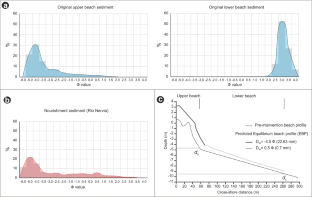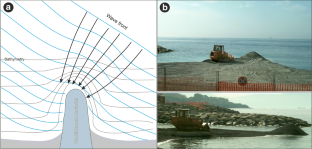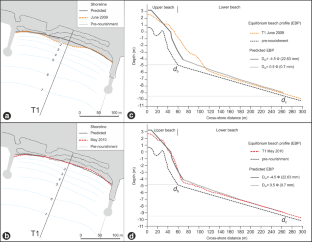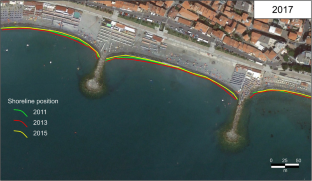 References
Anfuso G, Benavente J, Gracia FJ (2001) Morphodynamic responses of nourished beaches in SW Spain. J Coast Conserv 7(1):71–80

Anfuso G, Pranzini E, Vitale G (2011) An integrated approach to coastal erosion problems in northern Tuscany (Italy): littoral morphological evolution and cell distribution. Geomorphology 129(3):204–214

Anthony EJ (1997) The status of beaches and shoreline development options on the French Riviera: a perspective and a prognosis. J Coast Conserv 3(1):169–178

Anthony EJ (2019) Beach erosion. In: Finkl C, Makowski C (eds) Encyclopaedia of coastal science. Springer. https://doi.org/10.1007/978-3-319-48657-4_33-2

Anthony EJ, Cohen O, Sabatier F (2011) Chronic offshore loss of nourishment on Nice beach, French Riviera: a case of over-nourishment of a steep beach? Coast Eng 58(4):374–383

Armaroli C, Grottoli E, Harley MD, Ciavola P (2013) Beach morphodynamics and types of foredune erosion generated by storms along the Emilia-Romagna coastline, Italy. Geomorphology 199:22–35

Armstrong SB, Lazarus ED, Limber PW, Goldstein EB, Thorpe C, Ballinger RC (2016) Indications of a positive feedback between coastal development and beach nourishment. Earth's Future 4:626–635

Austin MJ, Masselink G (2006) Observation of morphological change and sediment transport on a steep gravel beach. Mar Geol 229:59–77

Basterretxea G, Orfila A, Jordi A, Fornós JJ, Tintoré T (2007) Evaluation of small volume renourishment strategy on a narrow Mediterranean beach. Geomorphology 88:139–151

Bergillos RJ, Otega-Sanchez M, Masselink G, Losada MA (2016) Morpho-sedimentary dynamics of a micro-tidal mixed sand and gravel beach, Playa Granada, southern Spain. Mar Geol 379:28–38

Berriolo G, Sirito G (1972) Spiagge e porti turistici. Milano, Hoeply, p 428

Bertoni D, Sarti G, Grottoli E, Ciavola P, Pozzebon A, Domokos G, Novák-Szabó T (2016) Impressive abrasion rates of marked pebbles on a coarse-clastic beach within a 13-month timespan. Mar Geol 381:175–180

Bird ECF, Lewis N (2015) Beach Renourishment. Springer, p 137

Bradbury AP, McCabe M (2003) Morphodynamic response of shingle and mixed sand/shingle beaches in large scale tests —preliminary observations. Proceedings of Hydrolab II Conference, Budapest, pp 9/1–9/11

Broekema Y, Giardino A, van der Werf J, van Rooijen A, Voudsoukas MI, van Prooijen B (2016) Observations and modelling of nearshore sediment sorting processes along a barred beach profile. Coast Eng J 118:50–62

Browder AE, Dean RG (2000) Monitoring and comparison to predictive models of the Perdido Key beach nourishment project Florida USA. Coast Eng 39:173–191

Brown JM, Phelps JJC, Barkwith A, Plater AD (2016) The effectiveness of beach mega-nourishment, assessed over three management epochs. J Environ Manag 184:400–408

Capobianco M, Hanson H, Larson M, Steetzel H, Stive MJF, Chatelus Y, Karambas T (2002) Nourishment design and evaluation: applicability of model concepts. Coast Eng 47(2):113–135

Carter RWG, Orford JD (1984) Coarse clastic barrier beaches: a discussion of the distinctive dynamic and morphosedimentary characteristics. Mar Geol 60:377–389

Castelle B, Turner IL, Bertin X, Tomlinson R (2009) Beach nourishments at Coolangatta bay over the period 1987-2005: impacts and lessons. Coast Eng 56:940–950

Cavallo C, Cevasco A, Ferrari M, Piazza M (2008) Valutazione dell'idoneità di materiali flyschoidi derivanti da scavo in sotterraneo per interventi di ripascimento di spiagge ghiaiose. Studi Costieri 15:25–37

Charlier RH, De Meyer CP (1998) Coastal Zone Management. In: Verlag S (ed) Coastal Erosion. Response and Management, vol 70. Series Lecture Notes in Earth Sciences, Berlin and Heidelberg, pp 6–18

Ciavola P, Castiglione E (2009) Sediment dynamics of mixed sand and gravel beaches at short time-scales. J Coast Res Spec Issue 56:1751–1755

Corsini S, Inghilesi R, Franco L, Piscopia R (2006) Italian Waves Atlas. APAT Università degli Studi di Roma 3, Roma

Dean RG (1977) Equilibrium beach profiles: U.S. Atlantic and Gulf coasts. Department of Civil Engineering, Ocean Engineering Report 12, University of Delaware, Newark

Dean RG (1991) Equilibrium beach profiles: characteristics and applications. J Coast Res 7:53–84

Dean RG, Dalrymple RA (2004) Coastal processes with engineering applications. Cambridge University Press, p 475

Di Risio M, Lisi I, Beltrami GM, De Girolamo P (2010) Physical modeling of the cross-shore short-term evolution of protected and unprotected beach nourishments. Ocean Eng 37:777–789

Ferrari M, Cabella R, Berriolo G, Montefalcone M (2013) Gravel sediment bypass between contiguous littoral cells in the NW Mediterranean Sea. J Coast Res 30(1):183–191

Folk RL, Ward WC (1957) Brazos River Bar: a study in the significance of grain size parameters. J Sediment Petrol 27:3–26

González M, Medina R (2001) On the application of static equilibrium bay formulations to natural and man-made beaches. Coast Eng 43:209–225

Grottoli E, Bertoni D, Ciavola P, Pozzebon A (2015) Short term displacements of marked pebbles in the swash zone: focus on particle shape and size. Mar Geol 367:143–158

Grottoli E, Bertoni D, Pozzebon A, Ciavola P (2019) Influence of particle shape on pebble transport in a mixed sand and gravel beach during low energy conditions: implications for nourishment projects. Ocean Coast Manag 169:171–181

Guillén J, Hoekstra P (1996) The "equilibrium" distribtuion of grain size fractions and its implications for cross-shore sediment transport: a conceptual model. Mar Geol 135:15–33

Hanson H, Brampton A, Capobianco M, Dette HH, Hamm L, Laustrup C, Lechuga A, Spanhoff R (2002) Beach nourishment projects practices and objectives - a European overview. Coast Eng 47:81–111

Horn DP, Walton SM (2007) Spatial and temporal variations of sediment size on a mixed sand and gravel beach. Sediment Geol 202:509–529

Huisman BJA, de Schipper MA, Ruessink BG (2016) Sediment sorting at the sand motor at storm and annual timescales. Mar Geol 381:209–226

Inman DL, Elwany LH, Jenkins SA (1993) Shorerise and bar - berm on ocean beaches. J Geophys Res 98(C10):18181–18199

Ivamy MC, Kench PS (2006) Hydrodynamics and morphological adjustment of a mixed sand and gravel beach, Torere, Bay of Plenty, New Zealand. Mar Geol 228:137–152

Johannessen JW (2001) Soft shore protection as an alternative to bulkheads —projects and monitoring. Puget Sound Research Station, Washington DC, p 13 (unpubl. report)

Kirk RM (1992) Artificial beach growth for breakwater protection at the port of Timaru, east coast, South Island, New Zealand. Coast Eng 17:227–251

Larroudé P (2008) Methodology of seasonal morphological modelisation for nourishment strategies on a Mediterranean beach. Mar Pollut Bull 57(1):47–52

Lopez de San Román-Blanco B, Holmes P (2002) Further insight on behaviour of mixed sand and gravel beaches —large scale experiments on profile development. Proceedings of the 28th international conference on coastal engineering. World scientific, New York, pp 2651–2663

López I, Aragonés L, Villacampa Y (2016) Analysis and modelling of cross-shore profile of gravel beaches in the province of Alicante. Ocean Eng 118:173–186

Mase H (1989) Random wave run up height on gentle slope. J Waterw Port Coast Ocean Eng 115(5):649–661

Mason T, Coates T (2001) Sediment transport processes on mixed beaches: a review for shoreline management. J Coast Res 17:645–657

Montefalcone M, Vacchi M, Carbone C, Cabella R, Schiaffino CF, Elter FM, Ferrari M (2016) Seagrass on the rocks: Posidonia oceanica settled on shallow-water hard substrata withstands wave stress beyond predictions. Estuar Coast Shelf Sci 180:114–122

Orford J, Anthony E (2013) Coastal gravel systems. In: Shroder JF (ed) Treatise on geomorphology, vol 10. Academic Press, San Diego, pp 245–266

Orford JD, Forbes DL, Jennings SC (2002) Organisational controls, typologies and time scales of paraglacial gravel-dominated coastal systems. Geomorphology 48:51–85

Pedrozo-Acuña A, Simmonds DJ, Otta AK, Chadwick AJ (2006) On the cross shore profile change of gravel beaches. Coast Eng 53:335–347

Pikelj K, Ružić I, Ilić S, James MR, Kordić B (2018) Implementing an efficient beach erosion monitoring system for coastal management in Croatia. Ocean Coast Manag 156:223–238

Pilkey OH, Cooper JAG (2014) The last beach. Duke University Press, Durham, 256 pp

Pranzini E (2018) Shore protection in Italy: From hard to soft engineering… and back. Ocean Coast Manag 156:43–57

Pranzini E, Williams AT (2013) Coastal erosion and protection in Europe. Routledge

Pranzini E, Wetzel L, Williams AT (2015) Aspects of coastal erosion and protection in Europe. J Coast Conserv 19(4):445–459

Pranzini E, Anfuso G, Botero CM (2018) Nourishing tourist beaches. In beach management tools-concepts, Methodologies and Case Studies. Springer, Cham, pp 293–317

Quick MC (1991) Onshore–offshore sediment transport on beaches. Coast Eng 15:313–332

Quick MC, Dyksterhuis P (1994) Cross-shore transport for beach of mixed sand and gravel. Proceedings of the international symposium on waves —physical and numerical modelling. IAHR, Vancouver, pp. 1443–1452

Ranasinghe R, Turner IL (2006) Shoreline response to submerged structures: A review. Coast Eng 53:65–79

Roberts TM, Wang P (2012) Four-year performance and associated controlling factors of several beach nourishment projects along three adjacent barrier islands, west-central Florida, USA. Coast Eng 70:21–39

Rovere A, Casella E, Vacchi M, Parravicini V, Firpo M, Ferrari M, Morri C, Bianchi CN (2015) Coastal and marine geomorphology between Albenga and Savona (NW Mediterranean Sea, Italy). J Maps 11(2):278–286

Shipman H (2001) Beach nourishment on Puget Sound: a review of existing projects and potential applications. Puget Sound Research Station, Washington DC, p 9

Smith MJ (2003) Surf zone hydrodynamics. In: Demirbilek Z (ed) Coastal engineering manual, part II, coastal hydrodynamics, engineer manual 1110–2-1100. US Army corps of engineers, Washington, DC (chapter II-4)

Sorensen RM (2006) Basic coastal engineering. Springer, New York

Spodar A, Héquette A, Ruz MH, Cartier A, Grégoire P, Sipka V, Forain N (2017) Evolution of a beach nourishment project using dredged sand from navigation channel, Dunkirk, northern France. J Coast Conserv 22:457–474. https://doi.org/10.1007/s11852-017-0514-8

Vacchi M, Rovere A, Schiaffino CF, Ferrari M (2012) Monitoring the effectiveness of re-establishing beaches artificially: methodological and practical insights into the use of video transects and SCUBA-operated coring devices. Underw Technol 4:201–206

Vacchi M, Montefalcone M, Schiaffino CF, Parravicini V, Bianchi CN, Morri C, Ferrari M (2014) Towards a predictive model to assess the natural position of the Posidonia oceanica seagrass meadows upper limit. Mar Pollut Bull 83(2):458–466

Vacchi M, Marriner N, Morhange C, Spada G, Fontana A, Rovere A (2016) Multiproxy assessment of Holocene relative sea-level changes in the western Mediterranean: sea-level variability and improvements in the definition of the isostatic signal. Earth Sci Rev 155:172–197

Van Leeuwen S, Dodd N, Calvete D, Falquéa A (2007) Linear evolution of a shoreface nourishment. Coast Eng 54(5):417–431

van Noortwijk JM, Peerbolte EB (2000) Optimal sand nourishment decisions. J Waterw Port Coast Ocean Eng 126:30–38

Whitcombe LJ (1996) Behaviour of an artificially replenished shingle beach at Hayling Island, UK. Q J Eng Geol 29(4):265–271

Wilcock PR (1993) Critical shear stress of natural sediments. J Hydraul Eng 119(4):491–505
Acknowledgements
This paper is dedicated to the memory of Professor Engineer Giorgio Berriolo, who passed away in March 2020. In his long and successful professional life, Professor Berriolo developed very innovative approaches to protect and preserve the coastal environment. He was among the fathers of coastal engineering in Italy. Thanks to Alberto Demergasso (University of Genova) for help in the grain-size analyses and Carlo Cavallo (Regione Liguria) for providing the aerial photos. We finally thank Shari Gallop (University of Waikato), the second anonymous reviewer and the Editor Andrew Green, whose suggestions significantly contributed to improvement of the earlier version of the manuscript.
MV is supported by the R. Levi Montalcini fellowship of the Italian Ministry of University and Research (MIUR). AR research on this topic was supported by the Institutional Strategy of the University of Bremen, funded by the German Excellence Initiative (ABPZuK-03/2014) and by ZMT, the Leibniz Center for Tropical Marine Ecology.
Additional information
Giorgio Berriolo is deceased. This paper is dedicated to his memory.
Publisher's note
Springer Nature remains neutral with regard to jurisdictional claims in published maps and institutional affiliations.
About this article
Cite this article
Vacchi, M., Berriolo, G., Schiaffino, C.F. et al. Assessing the efficacy of nourishment of a Mediterranean beach using bimodal fluvial sediments and a specific placement design. Geo-Mar Lett 40, 687–698 (2020). https://doi.org/10.1007/s00367-020-00664-6
Received:

Accepted:

Published:

Issue Date:
Keywords
Beach nourishment

Coastal dynamics

Bimodal fluvial sediment

Mixed sand-gravel beach

Mediterranean Sea