Abstract
The deep water in the ridge segment between 10°18'S and 10°57'S of northern Central Indian Ridge was surveyed with CTD and AUV for seafloor hydrothermal activities. During the survey, 25 CTD hydrocasts were made, and seawater samples were collected for analyses of chemical tracers like dissolved manganese (DMn). In the rift valley between 10°40'S and 10°57'S, consistent backscatter anomalies (up to 0.013 ΔNTU) were found in deep water, indicating excess of suspended particulate at the depth between 3050 and 3500 m. The seawater samples from this turbid layer was characterized with high concentration of dissolved manganese (maximum DMn = 39 nmol/L) and excess helium-3 (maximum δ3He = 17.1%) and thus confirmed the possible hydrothermal activities in that area. The distribution of turbidity and DMn in deep water apparently suggests that there could be active vent(s) located close to the eastern wall (10°47.5'S; 66°38.6'E) of the valley, near southern end of the ridge segment. The physiochemical characters of the plume suggest the source fluid might have originated from reactions involving both mafic and ultramafic rocks, and its nature is comparable to other plumes in the Indian Ocean.
This is a preview of subscription content, log in to check access.
Access options
Buy single article
Instant access to the full article PDF.
US$ 39.95
Price includes VAT for USA
Subscribe to journal
Immediate online access to all issues from 2019. Subscription will auto renew annually.
US$ 99
This is the net price. Taxes to be calculated in checkout.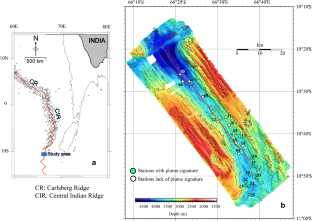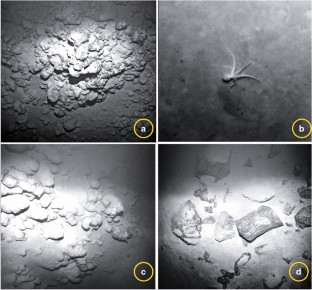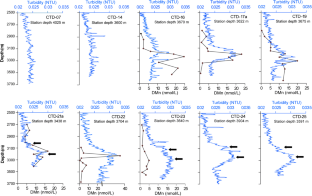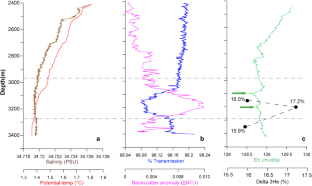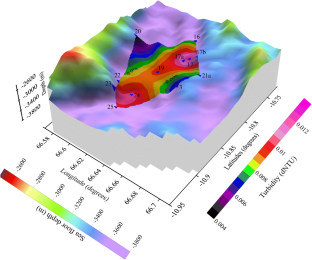 References
Bach W, Garrido CJ, Paulick H, Harvey J, Rosner M (2004) Seawater-peridotite interactions: first insights from ODP Leg 209, MAR 15°N. Geochemistry, Geophysics, Geosystems 5: doi: https://doi.org/10.1029/2004GC000744

Baker ET, Lupton JE (1990) Changes in sub-marine hydrothermal 3He/heat ratios as an indicator of magmatic/tectonic activity. Nature 346:556–558

Beaulieu SE, Baker ET, German CR (2015) Where are the undiscovered hydrothermal vents on oceanic spreading ridges? Deep-Sea Res II 121:202–212

Boulart C, Briais A, Chavagnac V, Révillon S, Ceuleneer G, Donval JP, Guyader V, Barrere F, Ferreira N, Hanan B, Hémond C, Macleod S, Maia M, Maillard A, Merkuryev S, Park SH, Ruellan E, Schohn A, Watson S, Yang YS (2017) Contrasted hydrothermal activity along the South-East Indian ridge (130°E–140°E): from crustal to ultramafic circulation. Geochem Geophys Geosyst 18:2446–2458

Charlou JL, Baugoult H, Appriou P, Nelsen T, Rona P (1991) Different TDM/CH4 hydrothermal plume signatures: TAG site at 26°N and serpentinized ultrabasic diapir at 15°05'N on the Mid-Atlantic ridge. Geochim Cosmochim Acta 55:3209–3222

Danielsson LG, Magnusson B, Westerlund S (1978) An improved metal extraction procedure for the determination of trace metals in sea water by atomic absorption spectrometry with electrothermal atomization. Anal Chim Acta 98:47–57

DeMets C, Gordon RG, Argus F et al (1990) Current plate motions. Int J Geophys 101:425–478

Engel CG, Fisher RL (1975) Granitic to ultramafic rock complexes of the Indian Ocean ridge system, western Indian Ocean. Bull Geol Soc Am 86:1553–1578

Gamo T, Nakayama E, Shitashima K, Isshiki K, Obata H, Okamura K, Kanayama S, Oomori T, Koizumi T, Matsumoto S, Hasumoto H (1996) Hydrothermal plumes at the Rodriguez Triple Junction, Indian Ridge. Earth Planet Sci Lett 142:261–270

Gamo T, Chiba H, Yamanaka T, Okudaira T, Hashimoto J, Tsuchida S, Ishibashi JI, Kataoka S, Tsunogai U, Okamura K, Sano Y, Shinjo R (2001) Chemical characteristics of newly discovered black smoker fluids and associated hydrothermal plumes at the Rodriguez Triple Junction, Central Indian Ridge. Earth Planet Sci Lett 193:371–379

Jean-Baptiste P, Mantisi F, Pauwells H, Grimaud D, Patriat P (1992) Hydrothermal helium and manganese plumes at 19°29'S on the Central Indian Ridge. Geophys Res Lett 19:1787–1790

KameshRaju KA, Samudrala K, Drolia RK, Amarnath D, Ramachandran R, Mudholkar A (2012) Segmentation and morphology of the Central Indian Ridge between 3°S and 11°S, Indian Ocean. Tectonophys 554-557:114–126

KameshRaju KA, Mudholkar A, Samudrala K (2015) Slow spreading ridges of the Indian Ocean: an overview of marine geophysical investigations. J Ind Geophys Union 19:137–159

Kawagucci S, Okamura K, Kiyota K, Tsunogai SY, Tamaki K, Gamo T (2008) Methane, manganese, and helium-3 in newly discovered hydrothermal plumes over the Central Indian Ridge, 18°–20°S. Geochem Geophys Geosyst 9:Q10002. https://doi.org/10.1029/2008GC002082

Lupton JE (1976) The 3He distribution in deep water over the Mid-Atlantic ridge. Earth Planet Sci Lett 32:371–374

Lupton JE (1990) Water column hydrothermal plumes on the Juan de Fuca Ridge. J Geophys Res 95:12895–12921

Lupton JE (1998) Hydrothermal helium plumes in the Pacific Ocean. J Geophys Res 103:15853–15868

Marbler H, Koschinsky A, Pape T, Seifert R, Weber S, Baker ET, deCarvalho LM, Schmidt K (2010) Geochemical and physical structure of the hydrothermal plume at the ultramafic-hosted Logatchev hydrothermal field at 14°45′N on the Mid-Atlantic Ridge. Mar Geol 271:187–197

Mudholkar AV, Kodagali VN, KameshRaju KA, Valsangkar AB, Ranade GH, Ambre NV (2002) Geomorphological and petrological observation along a segment of slow-spreading Carlsberg Ridge. Curr Sci 82:982–989

Nakamura K, Takai K (2015) Indian Ocean hydrothermal systems: seafloor hydrothermal activities, physical and chemical characteristics of hydrothermal fluids, and vent-associated biological communities. In: Ishibashi J. et al. (eds.), subseafloor biosphere linked to hydrothermal systems: TAIGA concept. Pp. 147-161

Nakamura K, Watanabe H, Miyazaki J, Takai K, Kawagucci S, Noguchi T, Nemoto S, Watsuji TO, Matsuzaki T, Shibuya T, Okamura K, Mochizuki M, Orihashi Y, Ura T, Asada A, Marie D, Koonjul M, Singh M, Beedessee G, Bhikajee M, Tamaki K (2012) Discovery of new hydrothermal activity and chemosynthetic Fauna on the Central Indian Ridge at 18°–20°S. PLoS One 7(3):e32965. https://doi.org/10.1371/journal.pone.0032965

Pak SJ, Kim H, Kim J, Moon JW, Choi SK (2012) Ocean core complexes within non-transform discontinuities and hydrothermal mineralization on the Central Indian Ridge between 17°S and 5°S, abstract OS12A-03 presented at 2012 AGU Fall Meeting, San Francisco

Pak SJ, Moon JW, Kim J, Chandler MT, Kim HS, Son J, Son SK, Choi SK, Baker ET (2017) Widespread tectonic extension at the Central Indian Ridge between 8°S and 18°S. Gondwana Res 45:163–179

Ray D, Mirza IH, Surya Prakash L, Kaisary S et al (2008) Water column geochemical anomalies associated with the remnants of a mega plume: a case study after CR-2003 hydrothermal event in Carlsberg Ridge, NW Indian Ocean. Curr Sci 95:355–360

Ray D, KameshRaju KA, Baker ET, Srinivas Rao A et al (2012) Hydrothermal plumes over the Carlsberg Ridge, Indian Ocean. Geochem Geophys Geosyst 13:Q01009. https://doi.org/10.1029/2011GC003888

Son J, Pak SJ, Kim J, Baker ET, You OR, Son SK, Moon JW (2014) Tectonic and magmatic control of hydrothermal activity along the slow-spreading Central Indian Ridge, 8°-17°S. Geochem Geophys Geosyst 15:2011–2020

Srinivasan A, Top Z, Scholsser P, Hohmann R et al (2004) Mantle 3He distribution and deep circulation in the Indian Ocean. J Geophys Res 109:C06012. https://doi.org/10.1029/2003JC002028

Takahata N, Shirai K, Ohmori K, Obata H, Gamo T, Sano Y (2018) Distribution of helium-3 plumes and deep-sea circulation in the Central Indian Ocean. Terr Atmos Ocean Sci 29:331–340

Tao C, Lin J, Guo S, Chen YJ, Wu G, Han X, German CR, Yoerger DR, Zhou N, Li H, Su X, Zhu J, and the DY115-19 (Legs 1–2) and DY115-20 (Legs 4–7) Science Parties (2012) First active hydrothermal vents on an ultraslow-spreading center: Southwest Indian Ridge. Geology 40:47–50

Van Dover CL, Humphris SE, Fornari D, Cavanaugh CM et al (2001) Biogeography and ecological setting of Indian Ocean hydrothermal vents. Science 294:818–823

Wang H, Yang Q, Ji F, Lilley MD, Zhou H (2012) The geochemical characteristics and Fe(II) oxidation kinetics of hydrothermal plumes at the Southwest Indian Ridge. Mar Chem 134-135:29–35

Yi SB, Oh CW, Pak SJ, Kim J, Moon JW (2014) Geochemistry and petrogenesis of mafic-ultramafic rocks from the Central Indian Ridge, latitude 8°–17°S: denudation of mantle harzburgites and gabbroic rocks and compositional variation of basalts. In Geol Rev 56:1691–1719

You OR, Son S, Baker ET, Son J, Kim MJ, Barcelona MJ, Kim M (2014) Bathymetric influence on dissolved methane in hydrothermal plumes revealed by concentration and stable carbon isotope measurements at newly discovered venting sites on the Central Indian Ridge (11–13°S). Deep Sea Res–I 91:17–26

Young C, Lupton JE (1983) An ultra-tight fluid sampling system using cold-welded copper tubing. Eos Trans 64:735
Acknowledgements
The authors thank the Director, CSIR-NIO for allowing this manuscript to publish. The present study was funded by the Ministry of Earth Sciences, Govt. of India. Thanks to the captain and crew members of ORV Sagar Nidhi-48 cruise for their support. Authors are thankful to the ABYSS, GEOMAR team led by Dr. Nico Augustin for their support and to Dr. Colin Devey, GEOMAR for coordinating the AUV hiring process. Thanks to Dr. John E. Lupton, NOAA-PMEL, for the helium isotope analysis, and to Dr. Edward T. Baker, NOAA for providing MAPRs. Mr. A. S. Rao is grateful to the InterRidge for providing fellowship to work under guidance of Dr. Maren Walter, Bremen University. Thanks to the editor and anonymous reviewer for providing constructive comments on the manuscript. This is CSIRNIO contribution number 6535.
Additional information
Publisher's note
Springer Nature remains neutral with regard to jurisdictional claims in published maps and institutional affiliations.
About this article
Cite this article
Ray, D., KameshRaju, K.A., Srinivas Rao, A. et al. Elevated turbidity and dissolved manganese in deep water column near 10°47'S Central Indian Ridge: studies on hydrothermal activities. Geo-Mar Lett 40, 619–628 (2020). https://doi.org/10.1007/s00367-020-00657-5
Received:

Accepted:

Published:

Issue Date:
Keywords
Central Indian Ridge

Hydrothermal plume

Manganese

Helium

Backscatter anomaly