Abstract
The Santo Antônio Bank (SAB) is a large sand accumulation on the inner continental shelf of Salvador City, next to Todos os Santos Bay (TSB) entrance, eastern Brazilian coast. Since the sixteenth century, chroniclers report this feature as a navigational hazard. Previous studies have tried to determine the origin and volume of sands stored within this feature without success. In the present study, high-resolution shallow seismic surveys were used to investigate the architecture, origin, and evolution of the SAB. One hundred seventy kilometers of high resolution shallow seismic lines was acquired during December 2014 and February 2015 using a Meridata® sparker system operating on frequencies between 0.3 and 1.5 kHz, with a maximum 200 J of energy. Three major stratigraphic units were identified: the bedrock, a transgressive unit, and a highstand unit. The bedrock comprises sedimentary rocks of the Northern Camamu Sedimentary Basin and high-grade metamorphic rocks of the Precambrian basement. The transgressive unit is interpreted as the result of deposition in an estuarine environment infilling incised valleys. The highstand unit represents the SAB itself. A well-preserved proto-bank exists at the core of the SAB marking the early stages of bank development. This proto-bank drowned in place possibly during the 8.2-ka event. Present-day SAB and tidal prism volumes show that the bank reached a maturity phase of development. The volume of siliciclastic sands stored in the SAB is 5.98 × 108 m3. The SAB is potentially a major source of sands for beach nourishment for the urban beaches of the city of Salvador and metropolitan area, thus increasing the resilience of the city to future sea-level rises.
Access options
Buy single article
Instant access to the full article PDF.
USD 39.95
Price includes VAT (USA)
Tax calculation will be finalised during checkout.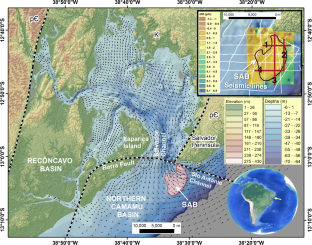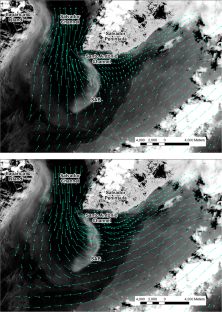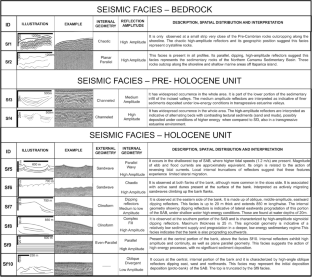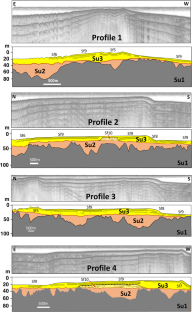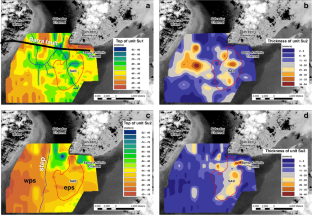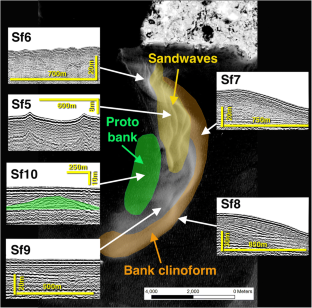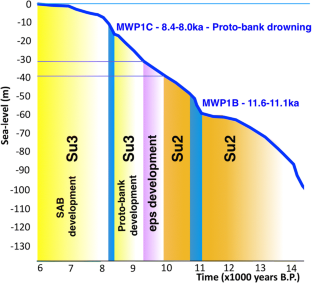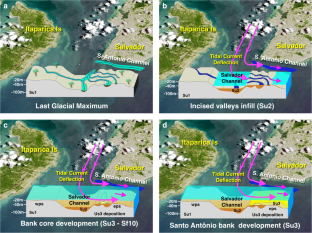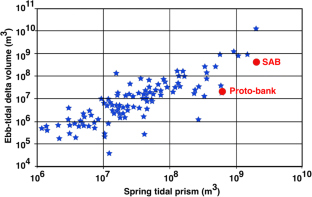 References
Abdul NA, Mortlock RA, Wright JD, Fairbanks RG (2016) Younger Dryas sea level and meltwater pulse 1B recorded in Barbados reef crest coral Acropora palmata. Paleocenography 31(2):330–344. https://doi.org/10.1002/2015PA002847

Ashley GM (1990) Classification of large-scale subaqueous bedforms a new look at an old problem. J Sediment Petrol 60-1:160–172. https://doi.org/10.2110/jsr.60.160

Baak JA (1936) Regional petrology of the southern North Sea. Veenman & Zonen, Wageningen. Netherlands. https://doi.org/10.1017/S0016756800093717

Barbosa JF, Gomes LCC, Dominguez JML, Cruz SAS, Souza JS (2005) Petrografia e Litogeoquimica das rochas da arte Oeste do Alto de Salvador, Bahia. Rev Bras Geocienc 35:9–22 ISSN 0375-7536

Bard E, Hamelin B, Delanghe-Sabatier D (2010) Deglacial meltwater pulse 1B and Younger Dryas sea levels revisited with boreholes at Tahiti. Science 327:1235–1237. https://doi.org/10.1126/science.1180557

Berné S, Trentesaux A, Stolk A, Missiaen T, de Batist M (1994) Architecture and long term evolution of a tidal sandbank: the Middelkerke Bank (southern North Sea). Mar Geol 121:57–72. https://doi.org/10.1016/0025-3227(94)90156-2

Berné S, Marsset T, Lericolais G, Bourillet JF, de Batist M, Reynaud JY, Tessier B (1996) Origin of some offshore sand bodies around France. Geo-Eco-Marina. Proc Intern Workshop on "Fluvial-Marine Interactions" 56-76. Romania.

Berné S, Vagner P, Guichard F, Lericolais G, Liu Z, Trentesaux A, Yin P, Yi H (2002) Pleistocene forced regressions and tidal sand ridges in the East China Sea. Mar Geol 188:293–315. https://doi.org/10.1016/S0025-3227(02)00446-2

Boski T, Bezerra FHR, de Fatima PL, Souza AM, Maia RP, Lima-Filho FP (2015) Sea-level rise since 8.2 ka recorded in the sediments of the Potengi-Jundiai Estuary, NE Brasil. Mar Geol 365:1–13. https://doi.org/10.1016/j.margeo.2015.04.003

Cirano M, Lessa GC (2007) Oceanographic characteristics of Baía De Todos os santos, Brazil. Rev Bras Geofis 25:363–387. https://doi.org/10.1590/S0102-261X2007000400002

Cooper JAG, Meireles RP, Green AN, Klein AHF, Toldo EE (2018) Late Quaternary stratigraphic evolution of the inner continental shelf in response to sea-level change, Santa Catarina, Brazil. Mar Geol 397:1–14

Degrendele K, Roche M, Schotte P, Van Lancker V, Bonne W (2010) Morphological evolution of the Kwinte Bank central depression before and after the cessation of aggregate extraction. J Coast Res SI 51:77–86p https://www.jstor.org/stable/40928820

Deschamps P, Durand N, Bard E, Hamelin B, Camoin G, Henderson TGM, Okuno J, Yokoyama Y (2012) Ice-Sheet Collapse and sea-level rise at the Bolling warming 14600 years ago. Nature 483:559–564. https://doi.org/10.1038/nature10902

DHI 2013. Porto Sul - Impacto costeiro e gerenciamento de sedimento. Estudos de Modelagem. 53p (Internal Report).

Dominguez JML, (2015) The Todos os Santos Bay an ephemeral high-stand feature incised into an aborted Cretaceous rift. In: Bianca Carvalho Vieira; André Augusto Rodrigues Salgado; Leonardo José Cordeiro Santos. (Org.) World Geomorphol Landsc. 1ed. Dordrecht, Springer Netherlands, pp 55-63

Dominguez JML, Bittencourt ACSP (2009) Geologia. In Hatje V, Andrade JB (ed) Baía de Todos os Santos - Aspectos Oceanográficos. Salvador. EdUFBA. pp 25-67 ISBN 978-85-232-0597-3.

Dominguez JML, Ramos JMF, Rebouças RC, Nunes AS, Melo LCF (2011) A Plataforma Continental do município de Salvador: Geologia, usos múltiplos e recursos minerais. Salvador: Co Baiana Pesqui Miner. Série Arquivos Abertos V. 37. ISBN - 978-85-85680-44-2.

Dyer KR, Huntley DA (1999) The origin, classification and modelling of sand banks and ridges. Cont Shelf Res 19:1285–1330. https://doi.org/10.1016/S0278-4343(99)00028-X

Eynde DV, Giardino A, Portilla J, Fettweis M, Francken F, Monbaliu J (2010) Modelling the effects of sand extraction, on sediment transport due to tides, on the Kwinte Bank. J Coast Res SI 51:101–116p https://www.jstor.org/stable/40928823

Fontolan G, Pillon S, Delli Quadri F, Bezzi A (2007) Sediment storage at tidal inlets in northern Adriatic lagoons: Ebb-tidal delta morphodynamics, conservation and sand use strategies. Estuar Coast Shelf Sci 75:261–277. https://doi.org/10.1016/j.ecss.2007.02.029

Green AN, Cooper JA, Salzmann L (2014) Geomorphic and stratigraphic signals of postglacial meltwater pulses on continental shelves. Geology 42(2):151–154. https://doi.org/10.1130/G35052.1

Harrison S, Smith DE, Glasser NF (2019) Late Quaternary meltwater pulse and sea level change. J Quat Sci 34:1–15. https://doi.org/10.1002/jqs.3070

Hicks DM, Hume TM (1996) Morphology and size of ebb-tidal deltas at natural inlets on open sea and pocket bay coasts, North Island, New Zealand. J Coast Res SI 12:47–63p

Houbolt JJHC (1968) Recent sediments in the Southern Bight of the North Sea. In: Geol en Mijnbouw. s.n. v 47: 245-273.

HYDROS CH2M HILL Consortium (2000) Modelamento e Avaliação Ambiental/ Technical Report – hydrodynamical modelling of BTS – Final Revision No RT–257-04-GR-003-RF.

Kendall RA, Mitrovica JX, Milne GA, Tornqvist T, Li Y (2008) The sealevel fingerprint of the 8.2 ka climate event. Geology 36:423–426. https://doi.org/10.1130/G24550A.1

Lessa GC, Bittencourt ACSP, Brichta A, Dominguez JML (2000) A reevaluation of the Late Quaternary Sedimentation in Todos os Santos Bay (BA), Brazil. An Acad Bras Cienc 72:1–18 https://doi.org/10.1590/S0001-37652000000400008

Lessa GC, Dominguez JML, Bittencourt ACSP, Brichta A (2001) The tides and tidal circulation of Todos os Santos Bay, northeast Brazil: a general characterization. An Acad Bras Cienc 73:244–261. https://doi.org/10.1590/S0001-37652001000200009

Lessa GC, Cirano M, Genz F, Tanajura CAS, Silva RR (2009) Oceanografia Física. In Hatje V, Andrade JB (ed) Baía de Todos os Santos - Aspectos Oceanográficos. Salvador. EdUFBA. pp 67-121 ISBN 978-85-232-0597-3.

Li CX, Zhang JQ, Fan D, Deng B (2001) Holocene regression and the tidal radial sand ridge system formation in the Jiangsu coastal zone, east China. Mar Geol 173: 97–120. https://doi.org/10.1016/S0025-3227(00)00169-9

Macedo MHF (1977) Estudo Sedimentológico da Baía de Todos os Santos. Salvador.75p. (Dissertação, Universidade Federal da Bahia).

Magnavita LP, Davison I, Kuznir NJ (1994) Rifting, erosion and uplift history of the Recôncavo-Tucano-Jatobá Rift, Northeast Brazil. Tecton Washington 13(2):367–388. https://doi.org/10.1029/93TC02941

Magnavita LP, Silva RR, Sanches CP (2005) Guia de Campo da Bacia do Recôncavo, NE do Brasil. Bol Geocienc Petrobras 13:301–334

Marsset T, Tessier B, Reynaud JY, De Batist M, Plagnol C (1999) The Celtic Sea banks: an example of sand body analysis from very high-resolution seismic data. Mar Geol 158:89–109. https://doi.org/10.1016/S0025-3227(98)00188-1

Mello ACC (2016) O Banco de Santo Antônio: Um estudo de sísmica de alta resolução em um delta de maré vazante localizado na entrada de uma grande baía tropical, costa leste do Brasil. Dissertação na Universidade Federal da Bahia.

Powell MA, Thieke RJ, Mehta AJ (2006) Morphodynamic relationships for ebb and flood delta volumes at Florida's tidal entrances. Oc Dynam 56:295–307. https://doi.org/10.1007/s10236-006-0064-3

Rebouças RC (2010) Sedimentação holocênica da plataforma continental de Salvador-BA. Tese na Universidade Federal da Bahia

Rodriguez AB, Simms AR, Anderson JB (2010) Bay-head deltas across the northern Gulf Mexico back step in response to the 8.2 ka cooling event. Quat Sci Rev 29:3983–3993. https://doi.org/10.1016/j.quascirev.2010.10.004

Soares ASQ, Dominguez JML, Campos RHS, Ribeiro RF, Santos IO (2018) Geometria do embasamento rochoso da BTS utilizando sísmica de alta resolução. VII Simpósio Brasileiro de Geofísica, Proceedings. Not sequentially numbered

Swift DJP (1975) Tidal sand ridges and Shoal-Retreat Massifs. Mar Geol 18:105–134. https://doi.org/10.1016/0025-3227(75)90007-9

Thomas E, Wilff EW, Mulvaney R, Steffersen JP, Johnsen SJ, Arrowsmith C, White JWC, Vaughn B, Popp T (2007) The 8.2 ka event from Greenland ice cores. QuatSci Rev 26:70–81. https://doi.org/10.1016/j.quascirev.2006.07.017

Trentesaux A, Stolk A, Berné S (1999) Sedimentology and stratigraphy of a tidal sand bank in the southern North Sea. Mar Geol 159:253–272 https://doi.org/10.1016/S0025-3227(99)00007-9

Walton TL, Adams WD (1976) Capacity of inlet outer bars to store sand. In:Proceedings of the 15th Coastal Eng Conf. Amer. Soc Civil Eng, New York, 1919-1937. https://doi.org/10.9753/icce.v15.111

Wang Y, Zhang Y, Zou X, Zhu D, Piper (2012) The sand ridge field of the South Yellow Sea: origin by river–sea interaction. Mar Geol:291–294. https://doi.org/10.1016/j.margeo.2011.01.001

Zecchin M, Caffau M, Catuneanu O, Lenaz D (2017) Discrimination between wave-ravinement surfaces and bedset boundaries in Pliocene shallow-marine deposits, Crotone Basin, southern Italy: an integrated sedimentological, micropaleontological and mineralogical approach. Sediment 64:1755–1791
Acknowledgments
Ana Clara Coni e Mello, José Maria Landim Dominguez, and Luis Antonio Pereira de Souza thank CNPq, respectively, for their Master's and Research Productivity fellowships. The authors also thank the Instituto de Pesquisas Tecnológicas de São Paulo (IPT) and the New Talents (NOVOS TALENTOS) program. The comments of two anonymous reviewers helped to improve quality of the manuscript.
Funding
This study is a contribution of inctAmbTropic—Brazilian National Institute of Science and Technology for Tropical Marine Environments, inctAmbTropic, CNPq/FAPESB Processes: 565054/2010-4, 8936/2011 and 465634/2014-1.
Additional information
Publisher's note
Springer Nature remains neutral with regard to jurisdictional claims in published maps and institutional affiliations.
About this article
Cite this article
Coni e Mello, A., Dominguez, J.M.L. & de Souza, L.A.P. The Santo Antônio Bank: a high-resolution seismic study of a deflected ebb-tidal delta located at the entrance of a large tropical bay, eastern Brazil. Geo-Mar Lett 40, 965–975 (2020). https://doi.org/10.1007/s00367-019-00624-9
Received:

Accepted:

Published:

Issue Date: