Abstract
This study examines the role of deep pockmarks in acting as natural sediment traps. Multibeam bathymetry, single-channel seismic and sediment samples data were used for describing the morphology of pockmarks as well as the nature of sediments inside and outside these depressed features, in an area of Santos Basin (SW Atlantic upper slope), dominated by the strong flow of Brazil Current. Results show that the grain size and chemical composition of sediments inside pockmarks are distinct from the outside. Also, radiocarbon dating shows that Holocene ages are found only in samples located inside the pockmarks. Combination of sedimentological, geochemical and geochronological data allowed to recognise that deep pockmarks might present distinct sediment deposition processes when compared with those of shallow pockmarks, in which turbulence impedes sediment deposition, as reported in the literature.
Access options
Buy single article
Instant access to the full article PDF.
US$ 39.95
Tax calculation will be finalised during checkout.
Subscribe to journal
Immediate online access to all issues from 2019. Subscription will auto renew annually.
US$ 79
Tax calculation will be finalised during checkout.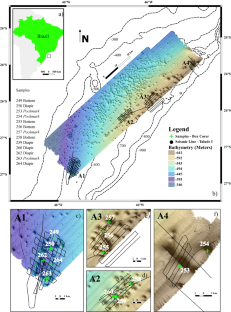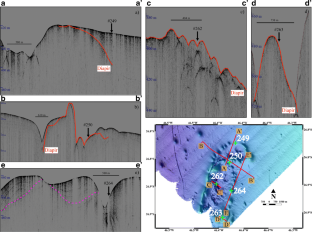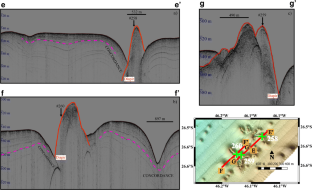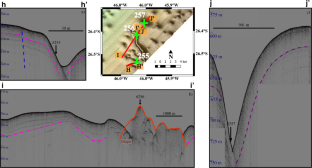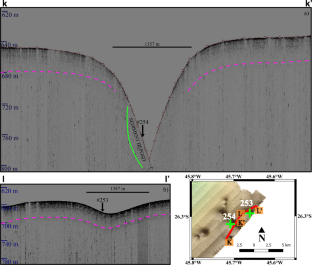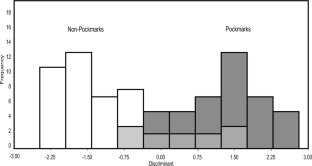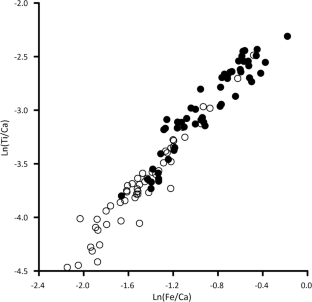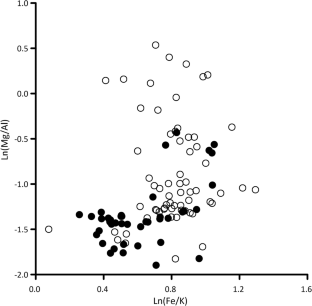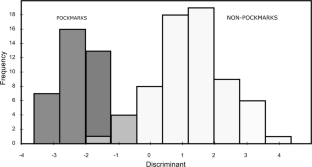 References
Akinnigbagbe AE, Han X, Fan W, Tang Y, Adeleye AO, Jimoh RO, Lou Z (2018) Variations in terrigenous input into the eastern equatorial Atlantic over 120 ka: implications on Atlantic ITCZ migration. J Afr Earth Sci 147:220–227. https://doi.org/10.1016/j.jafrearsci.2018.06.010

Alt-Epping U, Stuut J-BW, Hebbeln D, Schneider R (2009) Variations in sediment provenance during the past 3000 years off the Tagus River, Portugal. Mar Geol 261:82–91. https://doi.org/10.1016/j.margeo.2008.11.008

Arz HW, Pätzold J, Wefer G (1999) Climatic changes during the last deglaciation recorded in sediment cores from the northeastern Brazilian continental margin. Geo-Mar Lett 19:209–218. https://doi.org/10.1007/s003670050111

Astakhov AS, Markevich VS, Kolesnik AN, Wang R, Kononov VV, Obrezkova MS, Bosin AA (2014) Possible conditions and the formation time of the Chukchi Plateau pockmarks. Oceanology 54:624–636. https://doi.org/10.1134/s000143701404002x

Berton F, Vesely FF (2018) Origin of buried, bottom current-related comet marks and associated submarine bedforms from a Paleogene continental margin, southeastern Brazil. Mar Geol 395:347–362. https://doi.org/10.1016/j.margeo.2017.11.015

Biló TC, da Silveira ICA, Belo WC, de Castro BM, Piola AR (2014) Methods for estimating the velocities of the Brazil Current in the pre-salt reservoir area off southeast Brazil (23∘ S–26∘ S). Ocean Dyn 64:1431–1446. https://doi.org/10.1007/s10236-014-0761-2

Blott SJ, Pye K (2001) GRADISTAT: a grain size distribution and statistics package for the analysis of unconsolidated sediments. Earth Surf Process Landf 26:1237–1248. https://doi.org/10.1002/esp.261

Bussmann I, Schlömer S, Schlüter M, Wessels M (2011) Active pockmarks in a large lake (Lake Constance, Germany): effects on methane distribution and turnover in the sediment. Limnol Oceanogr 56:379–393. https://doi.org/10.4319/lo.2011.56.1.0379

Carlin JA, Dellapenna TM (2014) Event-driven deltaic sedimentation on a low-gradient, low-energy shelf: the Brazos River subaqueous delta, northwestern Gulf of Mexico. Mar Geol 353:21–30. https://doi.org/10.1016/j.margeo.2014.03.017

Chen H-F, Yeh P-Y, Song S-R, Hsu S-C, Yang T-N, Wang Y, Chi Z, Lee T-Q, Chen M-T, Cheng C-L, Zou J, Chang Y-P (2013) The Ti/Al molar ratio as a new proxy for tracing sediment transportation processes and its application in aeolian events and sea level change in East Asia. J Asian Earth Sci 73:31–38. https://doi.org/10.1016/j.jseaes.2013.04.017

Costa KB, Cabarcos E, Santarosa ACA, Battaglin BBF, Toledo FAL (2016) A multiproxy approach to the climate and marine productivity variations along MIS 5 in SE Brazil: a comparison between major components of calcareous nannofossil assemblages and geochemical records. Palaeogeogr Palaeoclimatol Palaeoecol 449:275–288. https://doi.org/10.1016/j.palaeo.2016.02.032

Damuth JE, Hayes DE (1977) Echo character of the East Brazilian continental margin and its relationship to sedimentary processes. Mar Geol 24:73–95. https://doi.org/10.1016/0025-3227(77)90002-0

de Mahiques MM, Schattner U, Lazar M, Sumida PYG, Souza LAP (2017) An extensive pockmark field on the upper Atlantic margin of Southeast Brazil: spatial analysis and its relationship with salt diapirism. Heliyon 3:e00257. https://doi.org/10.1016/j.heliyon.2017.e00257

de Mahiques MM, Sousa SHM, Burone L, Nagai RH, Silveira RCL, Soutelino RG, Ponsoni L, Klein DA (2011) Radiocarbon geochronology of the sediments of the São Paulo Bight (southern Brazilian upper margin). An Acad Bras Cienc 83:817–834. https://doi.org/10.1590/S0001-37652011005000028

de Mahiques MM, Tessler MG, Maria Ciotti A, da Silveira ICA, e Sousa SHM, Figueira RCL, Tassinari CCG, Furtado VV, Passos RF (2004) Hydrodynamically driven patterns of recent sedimentation in the shelf and upper slope off Southeast Brazil. Cont Shelf Res 24:1685–1697. https://doi.org/10.1016/j.csr.2004.05.013

de Mahiques MM, Tassinari CCG, Marcolini S, Violante RA, Figueira RCL, da Silveira ICA, Burone L, de Mello e Sousa SH (2008) Nd and Pbisotope signatures on the Southeastern South American upper margin: Implications for sediment transport and source rocks. Marine Geology 250:51–63. https://doi.org/10.1016/j.margeo.2007.11.007

de Vries MH, Svanø G, Tjelta TI, Emdal AJ (2007) Pockmarks: created by reduced sedimentation or a sudden blow-out? In: The Seventeenth International Offshore and Polar Engineering Conference. International Society of Offshore and Polar Engineers, Lisbon, Portugal, p 5

Depetris PJ, Probst J-L, Pasquini AI, Gaiero DM (2003) The geochemical characteristics of the Paraná River suspended sediment load: an initial assessment. Hydrol Process 17:1267–1277. https://doi.org/10.1002/hyp.1283

dos Santos RF, Nagaoka D, Ramos RB, Salaroli AB, Taniguchi S, Figueira RCL, Bícego MC, Lobo FJ, Schattner U, de Mahiques MM (2018) Metal/Ca ratios in pockmarks and adjacent sediments on the SW Atlantic slope: implications for redox potential and modern seepage. J Geochem Explor 192:163–173. https://doi.org/10.1016/j.gexplo.2018.06.014

Evans DL, Signorini SS (1985) Vertical structure of the Brazil Current. Nature 315:48–50. https://doi.org/10.1038/315048a0

Fandel CL, Lippmann TC, Foster DL, Brothers LL (2016a) Observations of pockmark flow structure in Belfast Bay, Maine, Part 3: implications for sediment transport. Geo-Mar Lett 37:23–34. https://doi.org/10.1007/s00367-016-0474-2

Fandel CL, Lippmann TC, Irish JD, Brothers LL (2016b) Observations of pockmark flow structure in Belfast Bay, Maine, Part 1: current-induced mixing. Geo-Mar Lett 37:1–14. https://doi.org/10.1007/s00367-016-0472-4

Folk RL, Ward WC (1957) Brazos River bar [Texas]; a study in the significance of grain size parameters. J Sediment Res 27:3–26. https://doi.org/10.1306/74d70646-2b21-11d7-8648000102c1865d

Garcia de Oliveira MT, Formoso MLL, Indio da Costa M Jr, Meunier A (2002) The titanomagnetite to titanomaghemite conversion in a weathered basalt profile from southern Paraná Basin, Brazil. Clay Clay Miner 50:478–493. https://doi.org/10.1346/000986002320514208

Garland F, Turner S, Hawkesworth C (1996) Shifts in the source of the Paraná basalts through time. Lithos 37:223–243. https://doi.org/10.1016/0024-4937(95)00038-0

Govin A, Holzwarth U, Heslop D, Ford Keeling L, Zabel M, Mulitza S, Collins JA, Chiessi CM (2012) Distribution of major elements in Atlantic surface sediments (36°N-49°S): imprint of terrigenous input and continental weathering. Geochem Geophys Geosyst 13. https://doi.org/10.1029/2011gc003785

Hammer Ø, Harper DAT, Ryan PD (2001) PAST: paleontological statistics software package for education and data analysis. Palaeontol Electron 4 http://palaeo-electronica.org/2001_2001/past/issue2001_2001.htm

Hammer O, Webb KE (2010) Piston coring of inner Oslofjord pockmarks, Norway: constraints on age and mechanism. Nor J Geol 90:79–91

Hammer Ø, Webb KE, Depreiter D (2009) Numerical simulation of upwelling currents in pockmarks, and data from the Inner Oslofjord, Norway. Geo-Mar Lett 29:269–275. https://doi.org/10.1007/s00367-009-0140-z

Hebbeln D, Knudsen K-L, Gyllencreutz R, Kristensen P, Klitgaard-Kristensen D, Backman J, Scheurle C, Jiang H, Gil I, Smelror M, Jones PD, Sejrup H-P (2006) Late Holocene coastal hydrographic and climate changes in the eastern North Sea. The Holocene 16:987–1001. https://doi.org/10.1177/0959683606hl989rp

Hovland M, Gardner JV, Judd AG (2002) The significance of pockmarks to understanding fluid flow processes and geohazards. Geofluids 2:127–136

Jackson CAL, Rodriguez CR, Rotevatn A, Bell RE (2014) Geological and geophysical expression of a primary salt weld: an example from the Santos Basin, Brazil. Interpretation 2:SM77–SM89. https://doi.org/10.1190/int-2014-0066.1

Judd AG, Hovland M, Dimitrov LI, Garcia Gil S, Jukes V (2002) The geological methane budget at continental margins and its influence on climate change. Geofluids 2:109–126. https://doi.org/10.1046/j.1468-8123.2002.00027.x

King LH, MacLean B (1970) Pockmarks on the Scotian shelf. Geol Soc Am Bull 81:3141. https://doi.org/10.1130/0016-7606(1970)81[3141:potss]2.0.co;2

Martin J-M, Meybeck M (1979) Elemental mass-balance of material carried by major world rivers. Mar Chem 7:173–206. https://doi.org/10.1016/0304-4203(79)90039-2

Mazzini A, Svensen HH, Forsberg CF, Linge H, Lauritzen S-E, Haflidason H, Hammer Ø, Planke S, Tjelta TI (2017) A climatic trigger for the giant troll pockmark field in the northern North Sea. Earth Planet Sci Lett 464:24–34. https://doi.org/10.1016/j.epsl.2017.02.014

Michel G, Dupré S, Baltzer A, Ehrhold A, Imbert P, Pitel M, Loubrieu B, Scalabrin C, Lazure P, Marié L, Geldof J-B, Deville É (2017) Pockmarks on the South Aquitaine Margin continental slope: The seabed expression of past fluid circulation and former bottom currents. Compt Rendus Geosci 349:391–401. https://doi.org/10.1016/j.crte.2017.10.003

Nagaoka D (2018) Caracterização geoquímica orgânica em sedimentos presentes nos pockmarks e diápiros do talude sul do Brasil. MSc. Oceanographic Institute, University of São Paulo, São Paulo. https://doi.org/10.11606/D.21.2019.tde-29012019-135931

Newman KR, Cormier M-H, Weissel JK, Driscoll NW, Kastner M, Solomon EA, Robertson G, Hill JC, Singh H, Camilli R, Eustice R (2008) Active methane venting observed at giant pockmarks along the U.S. mid-Atlantic shelf break. Earth Planet Sci Lett 267:341–352. https://doi.org/10.1016/j.epsl.2007.11.053

Pau M, Gisler G, Hammer Ø (2013) Experimental investigation of the hydrodynamics in pockmarks using particle tracking velocimetry. Geo-Mar Lett 34:11–19. https://doi.org/10.1007/s00367-013-0348-9

Pau M, Hammer Ø (2013) Sediment mapping and long-term monitoring of currents and sediment fluxes in pockmarks in the Oslofjord, Norway. Mar Geol 346:262–273. https://doi.org/10.1016/j.margeo.2013.09.012

Pau M, Hammer Ø, Chand S (2014) Constraints on the dynamics of pockmarks in the SW Barents Sea: evidence from gravity coring and high-resolution, shallow seismic profiles. Mar Geol 355:330–355. https://doi.org/10.1016/j.margeo.2014.06.009

Portilho-Ramos RC, Cruz APS, Barbosa CF, Rathburn AE, Mulitza S, Venancio IM, Schwenk T, Ruhlemann C, Vidal L, Chiessi CM, Silveira CS (2018) Methane release from the southern Brazilian margin during the last glacial. Sci Rep 8:5948. https://doi.org/10.1038/s41598-018-24420-0

Prins MA, Postma G, Weltje GJ (2000) Controls on terrigenous sediment supply to the Arabian Sea during the late Quaternary: the Makran continental slope. Mar Geol 169:351–371

Razik S, Govin A, Chiessi CM, von Dobeneck T (2015) Depositional provinces, dispersal, and origin of terrigenous sediments along the SE South American continental margin. Mar Geol 363:261–272. https://doi.org/10.1016/j.margeo.2015.03.001

Schattner U, Lazar M, Souza LAP, ten Brink U, Mahiques MM (2016) Pockmark asymmetry and seafloor currents in the Santos Basin offshore Brazil. Geo-Mar Lett 36:457–464. https://doi.org/10.1007/s00367-016-0468-0

Schattner U, Lobo FJ, García M, Kanari M, Ramos RB, de Mahiques MM (2018) A detailed look at diapir piercement onto the ocean floor: new evidence from Santos Basin, offshore Brazil. Mar Geol 406:98–108. https://doi.org/10.1016/j.margeo.2018.09.014

Silveira ICA, Calado L, Castro BM, Cirano M, Lima JAM, Mascarenhas AS (2004) On the baroclinic structure of the Brazil Current–Intermediate Western Boundary Current system at 22°–23°S. Geophys Res Lett 31. https://doi.org/10.1029/2004gl020036

Silveira ICA, Schmidt ACK, Campos EJD, Godoi SS, Ikeda Y (2000) A corrente do Brasil ao largo da costa leste brasileira. Rev Bras Oceanogr 48:171–183. https://doi.org/10.1590/s1413-77392000000200008

Stramma L (1989) The Brazil current transport south of 23°S. Deep Sea Research Part A. Oceanogr Res Pap 36:639–646. https://doi.org/10.1016/0198-0149(89)90012-5

Stramma L, Ikeda Y, Peterson RG (1990) Geostrophic transport in the Brazil current region north of 20°S. Deep Sea Research Part A. Oceanogr Res Pap 37:1875–1886. https://doi.org/10.1016/0198-0149(90)90083-8

Stuiver M, Braziunas TF (1993) Modeling atmospheric 14C influences and 14C ages of marine samples to 10,000 BC. Radiocarbon 35:137–189

Stuiver M, Reimer PJ, Reimer RW (2018) CALIB 7.1 [WWW program] at http://calib.org, accessed 2018-12-31. In

Sumida PYG, Yoshinaga MY, Madureira LAS-P, Hovland M (2004) Seabed pockmarks associated with deepwater corals off SE Brazilian continental slope, Santos Basin. Mar Geol 207:159–167. https://doi.org/10.1016/j.margeo.2004.03.006

Viana AR, Faugeres JC, Kowsmann RO, Lima JAM, Caddah LFG, Rizzo JG (1998) Hydrology, morphology and sedimentology of the Campos continental margin, offshore Brazil. Sediment Geol 115:133–157. https://doi.org/10.1016/s0037-0738(97)00090-0

Wang Y, Fang X, Zhang T, Li Y, Wu Y, He D, Wang Y (2010) Predominance of even carbon-numbered n-alkanes from lacustrine sediments in Linxia Basin, NE Tibetan Plateau: implications for climate change. Appl Geochem 25:1478–1486. https://doi.org/10.1016/j.apgeochem.2010.07.002

Webb KE, Hammer Ø, Lepland A, Gray JS (2008) Pockmarks in the inner Oslofjord, Norway. Geo-Mar Lett 29:111–124. https://doi.org/10.1007/s00367-008-0127-1
Acknowledgements
The authors acknowledge the crew and researchers of the two surveys held in 2016 and 2017, onboard R.V. Alpha Crucis. The São Paulo Science Foundation (FAPESP, grants 2014/08266-2, 2016/22194-7 and 2015/17763-2) funded this work. Partnerships between MM.de M., U.S. and F.L-S., are funded by FAPESP (grant 2017/50191-8) and the Brazilian National Research Council (CNPq, grant 401041/2014-0), respectively. M.M.de M. acknowledges CNPq for the research grants 303132/2014-0 and 300962/2018-5. This study was financed in part by the Coordenação de Aperfeiçoamento de Pessoal de Nível Superior – Brasil (CAPES) – Finance Code 001 (R.B.R. MSc. Scholarship).
Additional information
Publisher's note
Springer Nature remains neutral with regard to jurisdictional claims in published maps and institutional affiliations.
Electronic supplementary material
About this article
Cite this article
Ramos, R.B., dos Santos, R.F., Schattner, U. et al. Deep pockmarks as natural sediment traps: a case study from southern Santos Basin (SW Atlantic upper slope). Geo-Mar Lett 40, 989–999 (2020). https://doi.org/10.1007/s00367-019-00617-8
Received:

Accepted:

Published:

Issue Date: