Abstract
The highly dynamic East Frisian barrier island system (southern North Sea) is characterized by a complex morphology of tidal inlets, ebb-tidal deltas and foreshore beaches that reacts to storms and fair-weather conditions with characteristic patterns of sediment grain-size distributions. The morphological and sedimentological response to varying hydrodynamic conditions yet occurs in short time spans that are not covered by common monitoring strategies with measuring intervals typically of years. This study applies process-based numerical modelling with multiple sediment fractions to interpolate morphological states in time between bathymetrical surveys conducted in the summer months of 2004 and 2006. Morphodynamic simulations driven by real-time boundary conditions of tides, wind and waves are carried out for a representative period of 2 years. The spatiotemporal variability of the nearshore sedimentology and morphology is assessed by graded ranges of bed dynamics (i.e. bed elevation range) and the definition of sediment grain-size variability (i.e. mean diameter range). The effect of storm events and timescales of the sedimentological adaptation after storms to typical fair-weather conditions are exemplified at an ebb-tidal delta lobe where the morphological and sedimentological variability is found to be largest in the study area. The proposed method may serve to identify areas of high sedimentological and morphological activity for system understanding or in the framework of coastal monitoring strategies.
This is a preview of subscription content, log in to check access.
Access options
Buy single article
Instant access to the full article PDF.
US$ 39.95
Price includes VAT for USA
Subscribe to journal
Immediate online access to all issues from 2019. Subscription will auto renew annually.
US$ 99
This is the net price. Taxes to be calculated in checkout.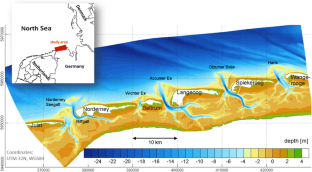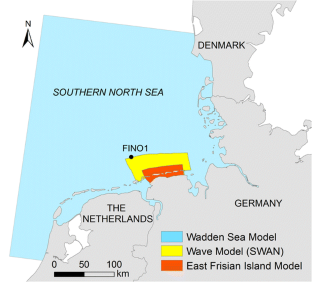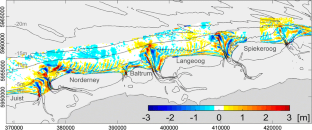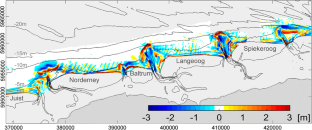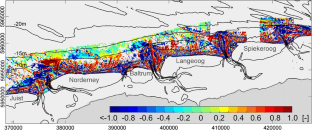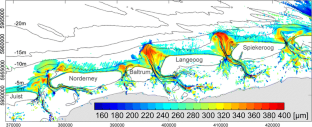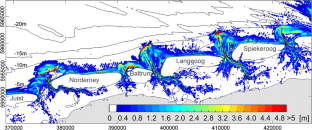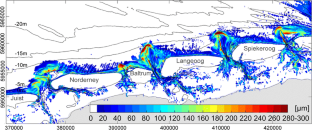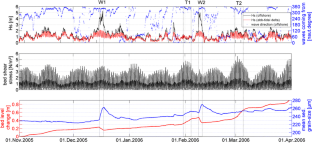 References
Antia E, Flemming B, Wefer G (1994) Transgressive facies sequence of a high energy, wave-tide-storm-influenced shoreface: a case study of the east Frisian Barrier Islands (Southern North Sea). Facies 30(1):15–23

Bartholomä A (2006) Acoustic bottom detection and seabed classification in the German Bight, southern North Sea. Geo-Mar Lett 26(3):177–184

Bartholomä A, Kubicki A, Badewien TH, Flemming BW (2009) Suspended sediment transport in the German Wadden Sea—seasonal variations and extreme events. Ocean Dyn 59(2):213–225. doi:10.1007/s10236-009-0193-6

Bartholomä A, Holler P, Schrottke K, Kubicki A (2011) Acoustic habitat mapping in the German Wadden Sea - Comparison of hydro-acoustic devices. J Coast Res SI 64:1–5

Booij N, Ris RC, Holthuijsen LH (1999) A third-generation wave model for coastal regions. 1. Model description and validation. J Geophys Res 104:7649–7666. doi:10.1029/98JC02622

Brown CJ, Smith SJ, Lawton P, Anderson JT (2011) Benthic habitat mapping: a review of progress towards improved understanding of the spatial ecology of the seafloor using acoustic techniques. Estuar Coast Shelf Sci 92(3):502–520

Chu K, Winter C, Hebbeln D, Schulz M (2013) Improvement of morphodynamic modeling of tidal channel migration by nudging. Coast Eng 77:1–13. doi:10.1016/jcoastaleng201302004

Daly CJ, Bryan KR, Gonzalez MR, Klein AHF, Winter C (2014) Effect of selection and sequencing of representative wave conditions on process-based predictions of equilibrium embayed beach morphology. Ocean Dyn 64(6):863–877

Deltares (2014) Delft3D-FLOW, User Manual, Simulation of multi-dimensional hydrodynamic flows and transport phenomena, including sediments. Delft, The Netherlands

De Swart HE, Zimmerman JTF (2009) Morphodynamics of tidal inlet systems. Annu Rev Fluid Mech 41(1):203–229. doi:10.1146/annurevfluid010908165159

Dissanayake DMPK, Roelvink JA, van der Wegen M (2009) Modelled channel patterns in a schematized tidal inlet. Coast Eng 56(11-12):1069–1083. doi:10.1016/jcoastaleng200908008

Elias EPL, Cleveringa J, Buijsman MC, Roelvink JA, Stive MJF (2006) Field and model data analysis of sand transport patterns in Texel Tidal inlet (the Netherlands). Coast Eng 53(5-6):505–529. doi:10.1016/jcoastaleng200511006

Figge K (1981) Karte der Sedimentverteilung in der Deutschen Bucht, Nordsee. Karte Nr 2900, Hamburg

Flemming BW, Nyandwi N (1994) Land reclamation as a cause of fine-grained sediment depletion in backbarrier tidal flats (Southern North Sea). Netherlands J Aquat Ecol 28:299–307

Hanisch J (1981) Sand transport in the tidal inlet between Wangerooge and Spiekeroog (W Germany). Holocene Mar Sediment North Sea Basin Spec Publ 5 IAS 35:175–185

Hayes MO (1975) Morphology of sand accumulation in estuaries: an introduction to the symposium. In: Cronin LE (ed) Estuarine Research, vol 2. Academic Press, New York, pp 3–22

Hayes MO (1979) Barrier island morphology as a function of tidal and wave regime. In: Leatherman S (ed) Barrier islands, from the Gulf of St Lawrence to the Gulf of Mexico. Academic Press, New York, pp 1–27

Herrling G, Winter C (2014) Morphological and sedimentological response of a mixed-energy barrier island tidal inlet to storm and fair-weather conditions. Earth Surf Dyn 2(1):363–382. doi:10.5194/esurf-2-363-2014

Herrling G, Winter C (2015) Tidally- and wind-driven residual circulation at the multiple-inlet system East Frisian Wadden Sea. Cont Shelf Res 106:45–59. doi:10.1016/jcsr201506001

Kösters F, Winter C (2014) Exploring German Bight coastal morphodynamics based on modelled bed shear stress. Geo-Mar Lett 34(1):21–36. doi:10.1007/s00367-013-0346-y

Kwoll E, Winter C (2011) Determination of the initial grain size distribution in a tidal inlet by means of numerical modelling. J Coast Res SI 64:1081–1085

Lesser GR, Roelvink JA, van Kester JATM, Stelling GS (2004) Development and validation of a three-dimensional morphological model. Coast Eng 51(8-9):883–915. doi:10.1016/jcoastaleng200407014

Markert E, Kröncke I, Kubicki A (2015) Small scale morphodynamics of shoreface-connected ridges and their impact on benthic macrofauna. J Sea Res 99:47–55. doi:10.1016/jseares201502001

Milbradt P, Valerius J, Zeiler M (2015) The functional seafloor model: preparation of a consistent database for morphology and sedimentology (in German). Die Küste 83:19–38

Murphy AH, Epstein ES (1989) Skill scores and correlation coefficients in model verification. Mon Weather Rev 117(3):572–582

Nehmer P, Kröncke I (2003) Macrofaunal communities in the Wichter Ee, a channel system in the East Frisian Wadden Sea. Senckenberg marit 32(1-2):1–10

Reiss H, Kröncke I (2001) Spatial and temporal distribution of macrofauna in the Otzumer Balje (East Frisian Wadden Sea, Germany). Senckenberg marit 31(2):283–298. doi:10.1007/BF03043037

Ris RC, Holthuijsen LH, Booij N (1999) A third-generation wave model for coastal regions. 2. Verification. J Geophys Res 104:7667–7681. doi:10.1029/1998JC900123

Roelvink JA (2006) Coastal morphodynamic evolution techniques. Coast Eng 53(2-3):277–287. doi:10.1016/jcoastaleng200510015

Son CS, Flemming BW, Bartholomä A (2010) Evidence for sediment recirculation on an ebb-tidal delta of the East Frisian barrier-island system, southern North Sea. Geo-Mar Lett 31(2):87–100. doi:10.1007/s00367-010-0217-8

Sutherland J, Walstra DJR, Chesher TJ, van Rijn LC, Southgate HN (2004a) Evaluation of coastal area modelling systems at an estuary mouth. Coast Eng 51(2):119–142

Sutherland J, Peet AH, Soulsby RL (2004b) Evaluating the performance of morphological models. Coast Eng 51(8-9):917–939

Valerius J, Kösters F, Zeiler M (2015) Identification of sediment distribution patterns as basis for the large-scale analysis of sediment dynamic processes on the shelf of the German Bight (in German). Die Küste 83:39–63

van der Wegen M, Roelvink JA (2012) Reproduction of estuarine bathymetry by means of a process-based model: Western Scheldt case study, the Netherlands. Geomorphology 179:152–167. doi:10.1016/jgeomorph201208007

van der Wegen M, Dastgheib A, Jaffe BE, Roelvink JA (2011) Bed composition generation for morphodynamic modeling: case study of San Pablo Bay in California, USA. Ocean Dyn 61(2-3):173–186. doi:10.1007/s10236-010-0314-2

Van Dijk T, Kleuskens MHP, Dorst LL, Van der Tak C, Doornenbal PJ, Van der Spek AJF, Hoogendoorn RM, Rodriguez Aguilera D, Menninga PJ, Noorlandt RP (2012) Quantified and applied sea-bed dynamics of the Netherlands continental shelf and the Wadden Sea. In: Jubilee conf proc NCK-days 2012: Crossing Borders in Coastal Research, Enschede, 13–16 March 2012, University of Twente, The Netherlands, pp 223–227

Van Rijn LC, Grasmeijer BT, Ruessink BG (2000) Measurement errors of instruments for velocity, wave heigt, sand concentration and bed levels in field conditions. Utrecht University, Deltares (WL)

Van Rijn LC, Walstra DJR, Grasmeijer B, Sutherland J, Pan S, Sierra JP (2003) The predictability of cross-shore bed evolution of sandy beaches at the time scale of storms and seasons using process-based profile models. Coast Eng 47(3):295–327

Wang ZB, Hoekstra P, Burchard H, Ridderinkhof H, De Swart HE, Stive MJF (2012) Morphodynamics of the Wadden Sea and its barrier island system. Ocean Coast Manag 68:39–57. doi:10.1016/jocecoaman201112022

Wang Y, Yu Q, Gao S (2014a) Modeling interrelationships between morphological evolution and grain-size trends in back-barrier tidal basins of the East Frisian Wadden Sea. Geo-Mar Lett 34:37–49. doi:10.1007/s00367-013-0349-8

Wang Y, Yu Q, Gao S, Flemming B (2014b) Modeling the effect of progressive grain-size sorting on the scale dependence of back-barrier tidal basin morphology. Cont Shelf Res 91:26–36

Winter C (2011) Macro scale morphodynamics of the German North Sea coast. J Coast Res SI 64:706–710

Winter C, Chiou M, Riethmüller R, Ernstsen VB, Hebbeln D, Flemming BW (2006) The concept of "representative tides" in morphodynamic numerical modelling. Geo-Mar Lett 26(3):125–132. doi:10.1007/s00367-006-0031-5

Winter C, Herrling G, Bartholomä A, Capperucci R, Callies U, Heipke C, Schmidt A, Hillebrand H, Reimers C, Bremer P, Weiler R (2014) Scientific concepts for monitoring the ecological state of German coastal seas (in German). Wasser und Abfall 07–08(2014):21–26. doi:10.1365/s35152-014-0685-7

Zeiler M, Schulz-Ohlberg J, Figge K (2000) Mobile sand deposits and shoreface sediment dynamics in the inner German Bight (North Sea). Mar Geol 170(3-4):363–380. doi:10.1016/S0025-3227(00)00089-X

Zeiler M, Milbradt P, Plüß A, Valerius J (2014) Modelling large scale sediment transport in the German Bight (North Sea). Die Küste 81:369–392

Zhou Z, Coco G, van der Wegen M, Gong Z, Zhang C, Townend I (2015) Modeling sorting dynamics of cohesive and non-cohesive sediments on intertidal flats under the effect of tides and wind waves. Cont Shelf Res 104:76–91. doi:10.1016/j.csr.2015.05.010
Acknowledgements
This study was funded by research projects WIMO (Wissenschaftliche Monitoringkonzepte für die Deutsche Bucht) being financed in equal parts by two ministries in Lower Saxony, Germany, the Ministry of Environment, Energy and Climate Protection and the Ministry of Science and Culture, MorphoWeser being financed by the German Federal Waterways Engineering and Research Institute (BAW), and through DFG-Research Center / Cluster of Excellence "The Ocean in the Earth System", MARUM. The authors thank three reviewers and the journal editors for their constructive assessments and valuable suggestions.
Ethics declarations
Conflict of interest
The authors declare that there is no conflict of interest with third parties.
Additional information
Responsible editor: B.W. Flemming
About this article
Cite this article
Herrling, G., Winter, C. Spatiotemporal variability of sedimentology and morphology in the East Frisian barrier island system. Geo-Mar Lett 37, 137–149 (2017). https://doi.org/10.1007/s00367-016-0462-6
Received:

Accepted:

Published:

Issue Date:
Keywords
German Bight

Tidal Channel

Tidal Inlet

Brier Skill Score

Delta Lobe