Abstract
Suspended particulate matter (SPM) concentration and particle size distribution (PSD) were assessed in a coastal turbidity maximum area (southern North Sea) during a composite period of 37 days in January–April 2008. PSDs were measured with a LISST 100X and classified using entropy analysis in terms of subtidal alongshore flow. The PSDs during tide-dominated conditions showed distinct multimodal behaviour due to flocculation, revealing that the building blocks of flocs consist of primary particles (<3 μm) and flocculi (15 μm). Flocculi comprise clusters of clay minerals, whereas primary particles have various compositions (calcite, clays). The PSDs during storms with a NE-directed alongshore subtidal current (NE storms) are typically unimodal and characterised by mainly granular material (silt, sand) resuspended from the seabed. During storms with a SW-directed alongshore subtidal current (SW storms), by contrast, mainly flocculated material can be identified in the PSDs. The findings emphasise the importance of wind-induced advection, alongshore subtidal flow and highly concentrated mud suspensions (HCMSs) as regulating mechanisms of SPM concentration, as well as other SPM characteristics (cohesiveness or composition of mixed sediment particles) and size distribution in a high-turbidity area. The direction of subtidal alongshore flow during SW storm events results in an increase in cohesive SPM concentration, HCMS formation, and the armouring of sand; by contrast, there is a decrease in cohesive SPM concentration, no HCMS formation, and an increase in sand and silt in suspension during NE storms.
Access options
Buy single article
Instant access to the full article PDF.
US$ 39.95
Tax calculation will be finalised during checkout.
Subscribe to journal
Immediate online access to all issues from 2019. Subscription will auto renew annually.
US$ 79
Tax calculation will be finalised during checkout.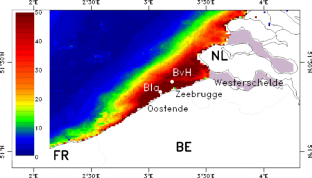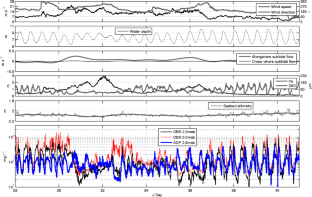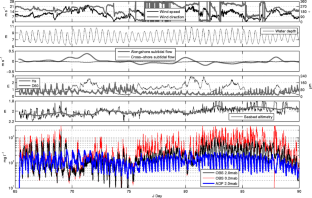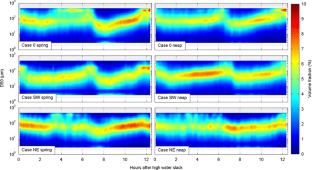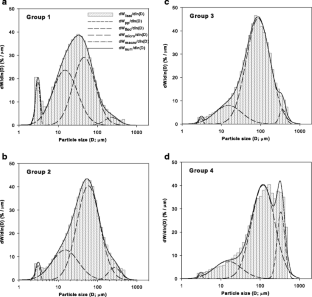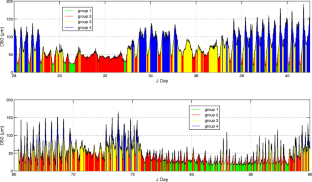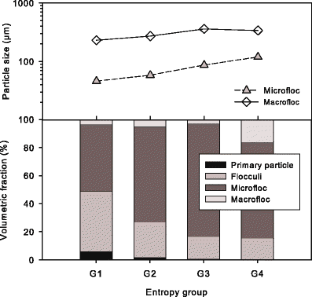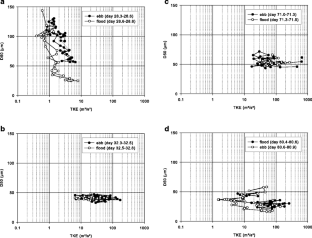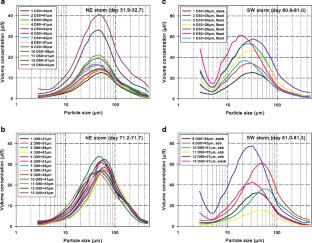 References
Agrawal YC, Pottsmith HC (2000) Instruments for particle size and settling velocity observations in sediment transport. Mar Geol 168:89–114

Agrawal YC, Traykovski P (2001) Particles in the bottom boundary layer: concentration and size dynamics through events. J Geophys Res 106(C5):9533–9542

Andrews S, Nover D, Schladow SG (2010) Using laser diffraction data to obtain accurate particle size distributions: the role of particle composition. Limnol Oceanogr Meth 8:5074–526. doi:10.4319/lom.2010.8.507

Andrews SW, Nover DM, Reuter JE, Schladow SG (2011) Limitations of laser diffraction for measuring fine particles in oligotrophic systems: pitfalls and potential solutions. Water Resour Res 47:W05523. doi:10.1029/2010WR009837

Baeye M, Fettweis M, Voulgaris G, Van Lancker V (2011) Sediment mobility in response to tidal and wind-driven flows along the Belgian inner shelf, southern North Sea. Ocean Dynam 61:611–622. doi:10.1007/s10236-010-0370-7

Benson T, French JR (2007) InSiPID: a new low-cost instrument for in situ particle size measurements in estuarine and coastal waters. J Sea Res 58:167–188. doi:10.1016/j.seares.2007.04.003

Berlamont J, Ockenden M, Toorman E, Winterwerp J (1993) The characterisation of cohesive sediment properties. Coast Eng 21:105–128

Bhaskar PV, Grossart H-P, Bhosle NB, Simon M (2005) Production of macroaggregates from dissolved exopolymeric substances (EPS) of bacterial and diatom origin. FEMS Microbiol Ecol 53:255–264. doi:10.1016/j.femsec.2004.12.013

Bowers DG, Braithwaite KM, Nimmo-Smith WAM, Graham GW (2009) Light scattering by particles suspended in the sea: the role of particle size and density. Cont Shelf Res 29:1748–1755. doi:10.1016/j.csr.2009.06.004

Bunt JAC, Larcombe P, Jago CF (1999) Quantifying the response of optical backscatter devices and transmissometers to variations in suspended particulate matter. Cont Shelf Res 19:1199–1220

CEM (2003) Coastal Engineering Manual, Chapter 4. Surf zone hydrodynamics. US Army Corps of Engineers, EM 1110-2-1100

Chang TS, Flemming B, Bartholomä A (2007) Distinction between sortable silts and aggregated particles in muddy intertidal sediments of the East Frisian Wadden Sea, southern North Sea. Sediment Geol 202:453–463. doi:10.1016/j.sedgeo.2007.03.009

Curran KJ, Hill PS, Milligan TG, Mikkelsen OA, Law BA, Durrieu de Madron X, Bourrin F (2007) Settling velocity, effective density, and mass composition of suspended sediment in a coastal bottom boundary layer, Gulf of Lions, France. Cont Shelf Res 27:1408–1421. doi:10.1016/j.csr.2007.01.014

Deane GB, Stokes MD (2002) Scale dependence of bubble creation mechanisms in breaking waves. Nature 418:839–844

Downing J (2006) Twenty-five years with OBS sensors: the good, the bad, and the ugly. Cont Shelf Res 26:2299–2318. doi:10.1016/j.csr.2006.07.018

Eisma D (1986) Flocculation and de-flocculation of suspended matter in estuaries. Neth J Sea Res 20:183–199

Fettweis M (2008) Uncertainty of excess density and settling velocity of mud derived from in situ measurements. Estuarine Coastal Shelf Sci 78:426–436. doi:10.1016/j.ecss.2008.01.007

Fettweis M, Francken F, Pison V, Van den Eynde D (2006) Suspended particulate matter dynamics and aggregate sizes in a high turbidity area. Mar Geol 235:63–74. doi:10.1016/j.margeo.2006.10.005

Fettweis M, Francken F, Van den Eynde D, Verwaest T, Janssens J, Van Lancker V (2010) Storm influence on SPM concentrations in a coastal turbidity maximum area with high anthropogenic impact (southern North Sea). Cont Shelf Res 30:1417–1427. doi:10.1016/j.csr.2010.05.001

Forrest J, Clark NR (1989) Characterizing grain size distributions: evaluation of a new approach using multivariate extension of entropy analysis. Sedimentology 36:711–722

Fugate DC, Friedrichs CT (2002) Determining concentration and fall velocity of estuarine particle populations using ADV, OBS and LISST. Cont Shelf Res 22:1867–1886

Graham GW, Nimmo-Smith WAM (2010) The application of holography to the analysis of size and settling velocity of suspended cohesive sediments. Limnol Oceanogr Meth 8:1–15. doi:10.4319/lom.2010.8.1

Hamilton LJ, Shi Z, Zhang SY (1998) Acoustic backscatter measurements of estuarine suspended cohesive sediment concentration profiles. J Coastal Res 14:1213–1224

Hamm CE (2002) Interactive aggregation and sedimentation of diatoms and clay-sized lithogenic material. Limnol Oceanogr 47:1790–1795

Hoitink AJF, Hoekstra P (2005) Observations of suspended sediment from ADCP and OBS measurements in a mud-dominated environment. Coast Eng 52:103–118. doi:10.1016/j.coastaleng.2004.09.005

Huang SL (1989) The influence of disaggregation methods on X-ray diffraction of clay minerals. J Sediment Res 59:997–1001

Hussein T, dal Maso M, Petäja T, Koponen IK, Paatero P, Aalto PP, Hämeri K, Kulmala M (2005) Evaluation of an automatic algorithm for fitting the particle number size distributions. Boreal Environ Res 10:337–355

Johnston RJ, Semple RK (1983) Classification using information statistics. Concepts and Techniques in Modern Geography, vol 37. GeoBooks, Norwich

Jonasz M, Fournier G (1996) Approximation of the size distribution of marine particles by a sum of log-normal functions. Limnol Oceanogr 41:744–754

Kim HY, Gutierrez B, Nelson T, Dumars A, Maza M, Perales H, Voulgaris G (2004) Using the acoustic Doppler current profiler (ADCP) to estimate suspended sediment concentration. University of South Carolina, Columbia, SC, Tech Rep CPSD 04–01

Kranenburg C (1994) On the fractal structure of cohesive sediment aggregates. Estuarine Coastal Shelf Sci 39:451–460

Krivtsov V, Mikkelsen OA, Jones SE (2011) Entropy analysis of SPM patterns: case study of Liverpool Bay. Geo-Mar Lett. doi:10.1007/s00367-011-0254-y

Lacroix G, Ruddick K, Ozer J, Lancelot C (2004) Modelling the impact of the Scheldt and Rhine/Meuse plumes on the salinity distribution in Belgian waters (southern North Sea). J Sea Res 52:149–163. doi:10.1016/j.seares.2004.01.003

Lee BJ, Toorman E, Molz FJ, Wang J (2011) A two-class population balance equation yielding bimodal flocculation of marine or estuarine sediments. Water Res 45:2131–2145. doi:10.1016/j.watres.2010.12.028

Lick W, Huang H, Jepsen R (1993) Flocculation of fine-grained sediments due to differential settling. J Geophys Res 98:10279–10288

Makela JM, Koponen IK, Aalto P, Kulmala M (2000) One-year data of submicron size modes of tropospheric background aerosol in southern Finland. J Aerosol Sci 31:595–611

Manning AJ, Bass SJ, Dyer KR (2006) Floc properties in the turbidity maximum of a mesotidal estuary. Mar Geol 235:193–211. doi:10.1016/j.margeo.2006.10.014

Manning AJ, Baugh JV, Spearman J, Whitehouse RJS (2010) Flocculation settling characteristics of mud: sand mixtures. Ocean Dynam 60:237–253. doi:10.1007/s10236-009-0251-0

Mari X, Burd A (1998) Seasonal size spectra of transparent exopolymeric particles (TEP) in a coastal sea and comparison with those predicted using coagulation theory. Mar Ecol Prog Ser 163:63–76

Mietta F (2010) Evolution of the floc size distribution of cohesive sediments. PhD Thesis, Delft University of Technology, The Netherlands

Mietta F, Chassagne C, Verney R, Winterwerp JC (2010) On the behavior of mud floc size distribution: model calibration and model behavior. Ocean Dynam 61:257–271. doi:10.1007/s10236-010-0330-2

Mikkelsen OA, Hill PS, Milligan TG (2006) Single-grain, microfloc and macrofloc volume variations observed with a LISST-100 and a digital floc camera. J Sea Res 55:87–102. doi:10.1016/j.seares.2005.09.003

Mikkelsen OA, Hill PS, Milligan TG (2007) Seasonal and spatial variation of floc size, settling velocity, and density on the inner Adriatic Shelf (Italy). Cont Shelf Res 27:417–430. doi:10.1016/j.csr.2006.11.004

Murphy S, Voulgaris G (2006) Identifying the role of tides, rainfall and seasonality in marsh sedimentation using long-term suspended sediment concentration data. Mar Geol 227:31–50. doi:10.1016/j.margeo.2005.10.006

Nechad B, Ruddick KG, Park Y (2010) Calibration and validation of a generic multisensor algorithm for mapping of total suspended matter in turbid waters. Rem Sens Environ 114:854–866. doi:10.1016/j.rse.2009.11.022

Orpin AR, Kostylev VE (2006) Towards a statistically valid method of textural sea floor characterization of benthic habitats. Mar Geol 225:209–222. doi:10.1016/j.margeo.2005.09.002

Panagiotopoulos I, Voulgaris G, Collins MB (1997) The influence of clay on the threshold of movement of fine sandy beds. Coast Eng 32:19–43

Pope ND, Widdows J, Brinsley MD (2006) Estimation of bed shear stress using the turbulent kinetic energy approach - A comparison of annular flume and field data. Cont Shelf Res 26:959–970. doi:10.1016/j.csr.2006.02.010

Stewart LK, Kostylev VE, Orpin AR (2009) Windows-based software for optimising entropy-based groupings of textural data. Comput Geosci 35:1552–1556. doi:10.1016/j.cageo.2008.12.002

Sun D, Bloemendal J, Rea DK, Vandenberghe J, Jiang F, An Z, Su R (2002) Grain-size distribution function of polymodal sediments in hydraulic and aeolian environments, and numerical partitioning of the sedimentary components. Sediment Geol 152:263–277. doi:10.1016/S0037-0738(02)00082-9

Thorne PD, Hanes DM (2002) A review of acoustic measurement of small-scale sediment processes. Cont Shelf Res 22:603–632. doi:10.1016/S0278-4343(01)00101-7

Thorne PD, Vincent CE, Hardcastle PJ, Rehman S, Pearson ND (1991) Measuring suspended sediment concentrations using acoustic backscatter devices. Mar Geol 98:7–16

Thorpe SA (1995) Dynamical processes of transfer at the sea surface. Prog Oceanogr 35(4):315–352

van Ledden M, van Kesteren WGM, Winterwerp J (2004) A conceptual framework for the erosion behaviour of sand-mud mixtures. Cont Shelf Res 24:1–11. doi:10.1016/j.csr.2003.09.002

van Leussen W (1994) Estuarine macroflocs and their role in fine-grained sediment transport. PhD Thesis, University Utrecht, The Netherlands

Verfaillie E, Van Meirvenne M, Van Lancker V (2006) Multivariate geostatistics for the predictive modelling of the surficial sand distribution in shelf seas. Cont Shelf Res 26:2454–2468. doi:10.1016/j.csr.2006.07.028

Verney R, Lafite R, Brun-Cottan JC, Le Hir P (2011) Behaviour of a floc population during a tidal cycle: laboratory experiments and numerical modelling. Cont Shelf Res 31:S64–S83. doi:10.1016/j.csr.2010.02.005

Voulgaris G, Meyers S (2004) Temporal variability of hydrodynamics, sediment concentration and sediment settling velocity in a tidal creek. Cont Shelf Res 24:1659–1683. doi:10.1016/j.csr.2004.05.006

Wallbridge S, Voulgaris G, Tomlinson BN, Collins MB (1999) Initial motion and pivoting characteristics of sand particles in uniform and heterogeneous beds: experiments and modeling. Sedimentology 46:17–32

Whitby K (1978) The physical characteristics of sulfur aerosols. Atmos Environ 41:S25–S49

Wiberg PL, Drake DE, Cacchione DA (1994) Sediment resuspension and bed armoring during high bottom stress events on the northern California inner continental shelf: measurements and predictions. Cont Shelf Res 14:1191–1219

Williamson H, Torfs H (1996) Erosion of mud/sand mixtures. Coast Eng 29:1–25

Winter C, Katoshevski D, Bartholomä A, Flemming BW (2007) Grouping dynamics of suspended matter in tidal channels. J Geophys Res 112:C08010. doi:10.1029/2005JC003423

Winterwerp JC (1998) A simple model for turbulence induced flocculation of cohesive sediment. J Hydraul Eng Res 36:309–326

Woolfe KJ, Michibayashi K (1995) "Basic" entropy grouping of laser-derived grain-size data: an example from the Great Barrier Reef. Comput Geosci 21:447–462

Woolfe KJ, Fielding CR, Howe JA, Lavelle M, Lally JH (1998) Laser-derived particle size characterisation of CRP-1, McMurdo Sound, Antarctica. Terra Antarct 5:383–391

Wu B, Molinas A, Shu A (2003) Fractional transport of sediment mixtures. Int J Sediment Res 18:232–247

Zeelmaekers E (2011) Computerized qualitative and quantitative clay mineralogy – Introduction and application to known geological cases. PhD Thesis, Katholieke Universiteit Leuven, Belgium
Acknowledgements
The study was partly funded by the Maritime Access Division of the Ministry of the Flemish Community (MOMO project) and by the Belgian Science Policy (Science for a Sustainable Development, QUEST4D, SD/NS/06A). M. Baeye acknowledges a specialisation grant from IWT (Agency for Innovation by Science and Technology, Flanders). B.J. Lee acknowledges financial support from the Flemish Science Foundation (FWO Vlaanderen) for funding the FWO project no. G.0263.08. G. Dumon (Ministry of the Flemish Community, Maritime Services, Coastal Division/Hydrography) made available wind and wave measurement data. We wish to acknowledge the crew of RV Belgica for their skilful mooring and recuperation of the tripod. Measurements would not have been possible without technical assistance of A. Pollentier and his team (Measuring Service of MUMM, Oostende). The manuscript benefited from the constructive assessments of two anonymous referees.
Additional information
Responsible guest editor: M. Chami
About this article
Cite this article
Fettweis, M., Baeye, M., Lee, B.J. et al. Hydro-meteorological influences and multimodal suspended particle size distributions in the Belgian nearshore area (southern North Sea). Geo-Mar Lett 32, 123–137 (2012). https://doi.org/10.1007/s00367-011-0266-7
Received:

Accepted:

Published:

Issue Date:
Keywords
Suspended Particulate Matter

Primary Particle

Significant Wave Height

Suspended Particulate Matter Concentration

Median Particle Size