Abstract
In the Russian sector of the Gdansk Basin (Baltic Sea), high organic matter influx fuels microbial processes resulting in the formation of reduced sediments with elevated methane concentrations. Investigated areas of geoacoustic anomalies (∼245 km2) were found to contain three distinct geomorphologic structures (pockmarks), with a total area of ∼1 km2. Methane anomalies recorded in the water above one of these pockmarks were traced as high as 10 m above the bottom. In pockmark sediments, sulfate reduction and anaerobic oxidation of methane (AOM) occurred at high rates of 33 and 50 µmol dm−3 day−1, respectively. Integrated over 0–180 cm sediment depths, AOM exceeded methanogenesis almost tenfold. High AOM rates resulted from methane influx from deeper sediment layers. The δ13C signature of methane carbon (−78.1 to −71.1‰) indicates the biogenic origin of pockmark methane. In pockmark sediments, up to 70% of reduced sulfur compounds was possibly produced via AOM.
Access options
Buy single article
Instant access to the full article PDF.
USD 39.95
Price includes VAT (USA)
Tax calculation will be finalised during checkout.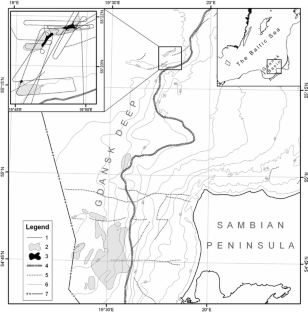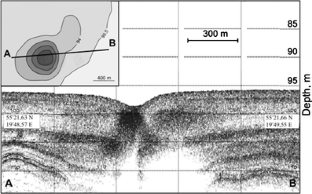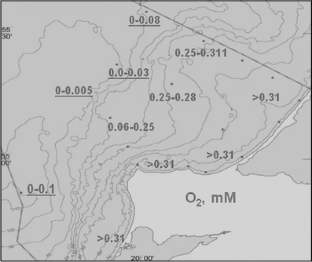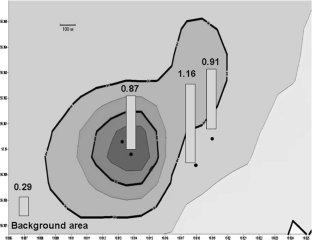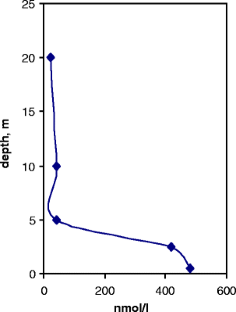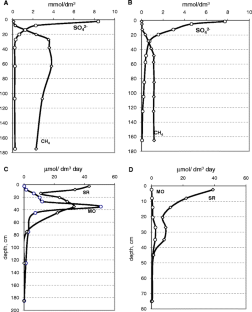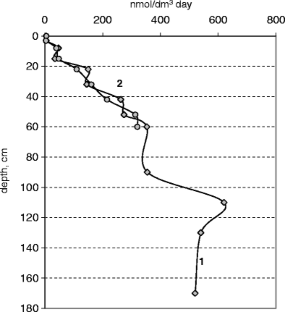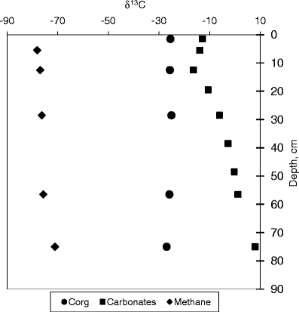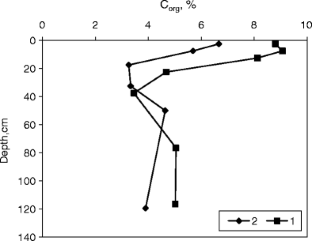 References
Alperin MJ, Blair NE, Albert DB, Hoehler TM, Martens CS (1992) Factors that control the stable carbon isotopic composition of methane produced in an anoxic marine sediments. Global Biogeochem Cycles 6(3):271–291

Blazhchishin A (1998) Paleogeography and evolution of late Quaternary sedimentation in the Baltic Sea. Yantarnyi skaz, Kaliningrad

Blazhchishin A, Lange D, Svinarenko V (1987) Gas-saturated sediments in the Baltic Sea. Lithol Miner 5:126–131

Bolshakov AM, Egorov AV (1987) Using the phase-equilibrium degassing method for gasometric studies. Oceanology 27:861–862

Dahlke S, Wolff C, Meyer-Reil L-A, Bange HW, Ramesh R, Rapsomanikis S, Andreae MO (2000) Bodden waters (southern Baltic Sea) as a source of methane and nitrous oxide. Proc Mar Sci 2:137–148

Dodonov AE, Namestnikov YuG, Yakushova AF (1976) Neotectonics of south-eastern part of the Baltic syncline (in Russian). Moscow State University, Moscow

Egorov AV, Ivanov MK (1998) Hydrocarbon gases in sediments and mud breccia from the central and eastern part of the Mediterranean Ridge. Geo-Mar Lett 18(2):127–138. doi:10.1007/s003670050060

Emelyanov EM (2002) Geology of the Gdansk Basin, Baltic Sea. Yantarnyi skaz, Kaliningrad

Esikov AD (1975) Methodic recommendations on precision mass spectral determination of the isotope composition of hydrogen and carbon (in Russian). VNIIYaGG, Moscow

Gast V, Glocke K (1988) Vertical distribution of number, biomass and size-class spectrum of bacteria in relation to oxic/anoxic conditions in the Central Baltic Sea. Mar Ecol Prog Ser 45:179–186

Geodekyan AA, Trotsuik VYa (1990) Pockmarks at the Baltic bottom—the indicators of hydrocarbon migration process from the deep layers (in Russian). In: Geodekyan AA, Trotsuik VYa, Blazhchishin A (eds) Combined geoacoustic-gasimetric and lithogeochemical investigations in the Baltic Sea. Institute of Oceanology, RAS, Moscow, pp 6–11

Geodekyan AA, VYa T, Avilov VI, Berlin YuM, Bol'shakov AM, Zhitinets RP (1979) Hydrocarbon gases in the waters of the Baltic Sea (in Russian). Okeanologiya 19:638–643

Geodekyan AA, Romankevitch EA, VYa T (eds) (1997) Geochemistry of waters and bottom sediments of the Baltic Sea in the regions of development of gas craters and geoacoustic anomalies (in Russian). IO RAN, Moscow

Heijs SK, Haese RR, van der Wielen PW, Forney LJ, van Elsas JD (2007) Use of 16S rRNA gene based clone libraries to assess microbial communities potentially involved in anaerobic methane oxidation in a Mediterranean cold seep. Microb Ecol 53:384–398

Hinrichs K-U, Hayes JM, Sylva SP, Brewer PG, DeLong EF (1999) Methane-consuming archaebacteria in marine sediments. Nature 398:802–805

Hoehler TM, Alperin MJ, Albert DB, Martens CS (1994) Field and laboratory studies of methane oxidation in anoxic marine sediments: evidence for a methanogen-sulfate reducer consortium. Global Biogeochem Cycles 8:451–463

Hovland M (2007) Discovery of prolific natural methane seeps at Gullfaks, northern North Sea. In: García-Gil S, Judd A (eds) Contr 8th Int Conf Gas in Marine Sediments, 5–10 September 2005, Vigo. Geo-Mar Lett 27(2/4):197–201. doi:10.1007/s00367-007-0070-6

Ivanov MV, Pimenov NV, Rusanov II, Lein AYu (2002) Microbial processes of the methane cycle at the north-western shelf of the Black Sea. Estuarine Coastal Shelf Sci 54:589–599

Iversen N, Jørgensen BB (1985) Anaerobic methane oxidation rates at the sulfate–methane transition in marine sediments from Kattegat and Skagerrak (Denmark). Limnol Oceanogr 30:944–955

Kepner RL Jr, Pratt JR (1994) Use of fluorochromes for direct enumeration of total bacteria in environmental samples: past and present. Microbiol Rev 58:603–615

Knittel K, Lösekann T, Boetius A, Kort R, Amann R (2005) Diversity and distribution of methanotrophic archaea at cold seeps. Appl Environ Microbiol 71(1):467–479

Kot-Wasik A, Zukowska B, Dabrowska D, Debska J, Pacyna J, Namieśnik J (2003) Physical, chemical, and biological changes in the Gulf of Gdańsk ecosystem (southern Baltic sea). Rev Environ Contam Toxicol 179:1–36

Laier T, Jensen JB (2007) Shallow gas-depth contour map of the Skagerrak-western Baltic Sea region. In: García-Gil S, Judd A (eds) Contr 8th Int Conf Gas in Marine Sediments, 5–10 September 2005, Vigo. Geo-Mar Lett 27(2/4):127–141. doi:10.1007/s00367-007-0066-2

Lein AYu (2004) Authigenic carbonate formation in the ocean. Lithol Miner Resour 39:1–30

Lein AYu, Ivanov MV, Pimenov NV, Gulin MB (2002a) Geochemical peculiarities of the carbonate constructions formed during microbial oxidation of methane under anaerobic conditions. Microbiology 71:78–90

Lein A, Pimenov N, Guillou C, Martin J-M, Lancelot C, Rusanov I, Yusupov S, Miller Y, Ivanov M (2002b) Seasonal dynamics of the sulphate reduction rate on the north-western Black Sea shelf. Estuarine Coastal Shelf Sci 54:385–401

Lösekann T, Knittel K, Nadalig T, Fuchs B, Niemann H, Boetius A, Amann R (2007) Diversity and abundance of aerobic and anaerobic methane oxidizers at the Haakon Mosby mud volcano, Barents Sea. Appl Environ Microbiol 73:3348–3362

Martens CS, Albert DB, Alperin MJ (1999) Stable isotope tracing of anaerobic methane oxidation in the gassy sediments of Eckernfoerde Bay, German Baltic Sea. Am J Sci 299:589–610

Mojski JE (ed) (1995) Geological atlas of the Southern Baltic, 1:500000. Polish Geological Institute, Sopot, Warsaw

Pernthaler A, Dekas AE, Brown CT, Goffredi SK, Embaye T, Orphan VJ (2008) Diverse syntrophic partnerships from deep-sea methane vents revealed by direct cell capture and metagenomics. Proc Natl Acad Sci USA 105:7052–7057

Pimenov NV, Savvichev AS, Rusanov II, Lein AYu, Ivanov MV (2000) Microbiological processes of the carbon and sulfur cycles at cold methane seeps of the North Atlantic. Microbiology 69:709–720

Pimenov NV, Ulyanova MO, Kanapatskii TA, Sivkov VV, Ivanov MV (2008) Microbiological and biogeochemical processes in a pockmark of the Gdansk Depression, Baltic Sea. Microbiology 77:579–586

Rosa B (1986) Surface sediments and bottom relief (in Polish). Baltyk poludniowy, Gdansk

Schmaljohann R (1996) Methane dynamics in the sediment and water column of Kiel Harbour (Baltic Sea). Mar Ecol Prog Ser 131:263–273

Thomsen T, Finster K, Ramsing NB (2000) Biogeochemical and molecular signatures of anaerobic methane oxidation in a marine sediment. Appl Environ Microbiol 67:1646–1656

Treude T, Krüger M, Boetius A, Jørgensen BB (2005) Environmental control on anaerobic oxidation of methane in the gassy sediments of Eckernförde Bay (German Baltic). Limnol Oceanogr 50:1771–1786

Valentine DL (2002) Biogeochemistry and microbial ecology of methane oxidation in anoxic environments: a review. Antonie van Leeuwenhoek 81:271–282

Werner F (1978) Depression in mud sediments (Eckernfoerde Bay, Baltic Sea) related to sub-bottom and currents. Meyniana 30:99–104
Acknowledgements
The authors are grateful to L.E. Dulov, T.S. Prusakova, E.E. Zakharova, and I.I. Rusanov (Institute of Microbiology, RAS) for help in analytical work, to D.V. Dorokhov (ABIORAS) for GIS project development and design of the location map, and to the crew and scientific staff of the 84th, 87th, and 90th cruises of the Professor Shtokman research vessel. The work was supported by the Russian Foundation for Basic Research (projects nos. 07-04-00160a and 08-04-92422-BONUS), and the Molecular and Cell Biology grant of the Presidium of the Russian Academy of Sciences.
About this article
Cite this article
Pimenov, N.V., Ulyanova, M.O., Kanapatsky, T.A. et al. Microbially mediated methane and sulfur cycling in pockmark sediments of the Gdansk Basin, Baltic Sea. Geo-Mar Lett 30, 439–448 (2010). https://doi.org/10.1007/s00367-010-0200-4
Received:

Accepted:

Published:

Issue Date:
Keywords
Methanogenesis

Methane Concentration

Anaerobic Methane Oxidation

Russian Sector

Total Bacterial Number