Abstract
Marine isotope stages (MISs) 1 to 5 were identified in the planktonic δ18O record in sediment core DP00-02 just south of the Antarctic Polar Front in the Drake Passage, Antarctica. The oxygen isotope record, based on Neogloboquadrina pachyderma sinistral, is correlated with the contemporaneous global δ18O stratigraphy. Marked deviations from the global climate curve suggest a local/regional overprint, particularly during MIS 3 which is considered a colder time period in the ocean record than MIS 1 and MIS 5 during the last interglacial. The comparison shows that negative δ18O shifts in core DP00-02 during MIS 3 are larger than mean global changes which show a shift equal to or smaller than 0.5‰. The isotope shift, exceeding the glacial-interglacial ice volume effect, probably resulted from changes in the isotope composition of seawater, which is linearly related to decreases in salinity rather than to increases in sea-surface temperature. Increased ice-rafted debris (IRD) content during this interval indicates a strong influx of IRD from melting ice shelves and icebergs, which may be related to upwelling of warmer circumpolar deep water.
This is a preview of subscription content, log in to check access.
Access options
Buy single article
Instant access to the full article PDF.
US$ 39.95
Price includes VAT for USA
Subscribe to journal
Immediate online access to all issues from 2019. Subscription will auto renew annually.
US$ 99
This is the net price. Taxes to be calculated in checkout.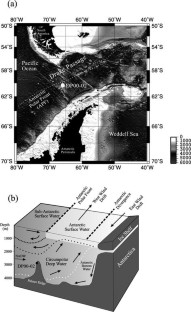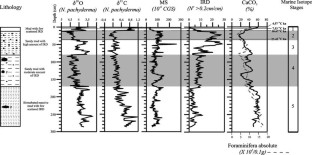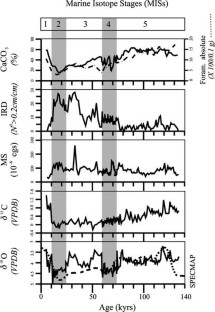 References
Anderson JB, Thomas MA (1991) Marine ice-sheet decoupling as a mechanism for rapid, episodic sea-level change: the record of such events and their influence on sedimentation. Sediment Geol 70:87–104

Belkin IM, Gordon AL (1996) Southern Ocean fronts from the Greenwich meridian to Tasmania. J Geophys Res 101:3675–3696

Bond G, Heinrich H, Broecker W, Labeyrie L, McManus J, Andrews J, Huon S, Jantschik R, Clasen S, Simet C, Tedesco K, Klas M, Bonami G, Ivy S (1992) Evidence for massive discharge of icebergs into the North Atlantic Ocean during the last glacial period. Nature 360:245–249

Camerlenghi A, Crise A, Pudsey CJ, Accerboni E, Laterza R, Rebesco M (1997) Ten-month observation of the bottom current regime across a sediment drift of the Pacific margin of the Antarctic Peninsula. Antarctic Sci 9:426–433

Charles CD, Fairbanks RG (1990) Glacial to interglacial changes in the isotopic gradients of Southern Ocean surface water. In: Bleil U, Thiede J (eds) Geological history of the polar oceans: Arctic versus Antarctic. Kluwer, Boston, pp 519–538

Charles CD, Froelich PN, Zibello MA, Mortlock RA, Morley JJ (1991) Biogenic opal in Southern Ocean sediments over the last 450,000 years: implication for surface water chemistry and circulation. Paleoceanography 6:489–498

CLIMAP Project Members (1984) The last interglacial ocean. Quat Res 21:123–224

Dokken T, Hald M (1996) Rapid climatic shifts during isotope stages 2–4 in the polar North Atlantic. Geology 7:599–602

Fairbanks RB, Charles CD, Wright JD (1992) Origin of global pulses. In: Taylor RE, Long A, Kra RS (eds) Radiocarbon after four decades. Springer, Berlin Heidelberg New York, pp 473–500

Forster TD, Middleton JH (1980) Bottom water formation in the eastern Weddell Sea. Deep-Sea Res 27A:367–381

Francois R, Altabet MA, Yu EF, Sigman DM, Bacon MP, Frank M, Bohrmann G, Bareille G, Labeyrie L (1997) Contribution of Southern Ocean surface-water stratification to low atmospheric CO2 concentrations during the last glacial period. Nature 389:929–935

Gersonde R, Burckle LH (1990) Neogene distom biostratigraphy of ODP Leg 113: Weddell Sea (Antarctic Ocean). Proc Ocean Drilling Program Sci Results 113:761–789

Grobe H (1987) A simple method for the determination of ice-rafted debris in sediment cores. Polarforschung 57:123–126

Grobe H, Mackensen A (1992) Late Quaternary climate cycles as recorded in sediments from the Antarctic continental margin. In: Kennett JP, Warnke DA (eds) The Antarctic paleoenvironment: a perspective on global change, part one. American Geophysical Union, Washington, DC, Antarctic Res Ser 56:349–376

Hasumi H, Suginohara N (1999) Atlantic deep circulation controlled by heating in the Southern Ocean. Geophys Res Lett 26:1873–1876

Howard WR, Prell WL (1992) Late Quaternary surface circulation of the Southern Indian Ocean and its relationship to orbital variations. Paleoceanography 7(1):79–117

Howard WR, Prell WL (1994) Late Quaternary CaCO3 production and preservation in the Southern Ocean: implications for oceanic and atmospheric carbon cycling. Paleoceanography 9(3):453–482

Hulbe CL (1997) An ice shelf mechanism for Heinrich layer production. Paleoceanography 12(5):711-717

Kanfoush SL, Hodell DA, Charles CD, Guilderson TP, Mortyn PG, Ninnemann US (2000) Millennial-scale instability of the Antarctic ice sheet during the last glaciation. Science 288:1815–1818

Lund DC, Mix AC (1998) Millennial-scale deep water oscillations: Reflections of the North Atlantic in the deep Pacific from 10–60 ka. Paleoceanography 13:10–19

Mackensen A, Grobe H, Hubberten HW, Spiess V, Fütterer DK (1989) Stable isotope stratigraphy from the Antarctic continental margin during the last one million years. Mar Geol 87:315–321

Martinson DG, Pisias NG, Hays JD, Imbrie J, Moore Jr TC, Shackleton NJ (1987) Age dating and the orbital theory of the Ice Ages: development of a high-resolution 0 to 300.000-year chronostratigraphy. Quat Res 27:1–29

Morley JJ (1989) Variations in high-latitude oceanographic fronts in the Southern Indian Ocean: an estimation based on faunal changes. Paleoceanography 4:547–554

Mortyn PG, Charles CD, Hodell DA (2002) Southern Ocean upper water column structure over the last 140 kyr with emphasis on the glacial terminations. Global Planet Change 34:241–252

Ninnemann US, Charles CD (2002) Changes in the mode of Southern Ocean circulation over the last glacial cycle revealed by foraminiferal stable isotopic variability. Earth Planet Sci Lett 6260:1–14

Oppo DW, Fairbanks RG (1987) Variability in the deep and intermediate water circulation of the Atlantic Ocean during the past 25,000 years: northern hemisphere modulation of the Southern Ocean. Earth Planet Sci Lett 86:1–15

Oppo DW, Fairbanks RG, Gordon AL, Shackleton NJ (1990) Late Pleistocene Southern Ocean δ13C variability. Paleoceanography 5:43–54

Orsi AH, Whitworth III T, Nowlin Jr WD (1995) On the meridional extent and fronts of the Antarctic Circumpolar Current. Deep-Sea Res I 42:641–673

Pudsey CJ, Howe JA (1998) Quaternary history of the Antarctic Circumpolar Current: evidence from the Scotia Sea. Mar Geol 83:83–112

Sarnthein M, Winn K, Jung SJA, Duplessy JC, Labeyrie LD, Erlenkeuser H, Ganssen G (1994) Changes in East Atlantic deep water circulation over the last 30,000 years: eight time slice reconstructions. Paleoceanography 9:209–267

Shemesh A, Burckle LH, Hays JD (1994) Meltwater input to the Southern Ocean during the last glacial maximum. Science 266:1542–1544

Tucholke BE, Houltz RE (1976) Sedimentary framework of the Bellingshausen Basin from seismic profiler data. In: Hollister CD et al. (eds) Initial Reports of the Deep Sea Drilling Project 35. US Government Printing Office, Washington, DC, pp 197–227

Vidal L, Labeyrie L, van Weering TCE (1998) Benthic δ18O records in the North Atlantic over the last glacial period (60–10 kyr): evidence for brine formation. Paleoceanography 13:245–251
Acknowledgements
The captain and crew of the R/V Yuzhmorgeologiya are gratefully acknowledged for cooperation during KARP (Korea Antarctic Research Program) cruise 2000/2001. We also thank Prof. Burg Flemming, Dr. Bernhard Diekmann and an anonymous reviewer for numerous constructive suggestions for the improvement of the manuscript. This research was carried out mainly under KORDI (Korea Ocean Research and Development Institute) grant PP03106, and funded substantially by the National Research Laboratory program PN47500 and the International Joint R & D Project (Korea-Russia) PN47800 of the Ministry of Science and Technology, Korea.
Additional information
This article has been retracted at the request of the Editors-in-Chief because it has been previously published by Bae, S.H., Yoon, H.I., Park, B. et al (2003). This article is therefore redundant. Yeadong Kim agrees to this retraction; Sung Ho Bae, Hi Il Yoon and Byong-Kwon Park have not responded to any correspondence from the editor/publisher about this retraction.
About this article
Cite this article
Bae, S.H., Yoon, H.I., Park, B. et al. RETRACTED ARTICLE: Late Quaternary stable isotope record and meltwater discharge anomaly events to the south of the Antarctic Polar Front, Drake Passage. Geo-Mar Lett 23, 110–116 (2003). https://doi.org/10.1007/s00367-003-0129-y
Received:

Accepted:

Published:

Issue Date:
Keywords
Accelerator Mass Spectrometry

Marine Isotope Stage

Planktonic Foraminifera

Drake Passage

Planktonic Foraminifer