Abstract
In this article we discuss penalized splines for fitting and forecasting univariate nonlinear time series models. While penalized splines have been excessively used in smooth regression, their use in nonlinear time series models is less far developed. This paper focuses on univariate autoregressive processes and discuss different nonlinear (functional) time series models including parsimonious estimation and model selection ideas. Furthermore, in simulations and an application we show how this approach compares to common parametric nonlinear models.
Access options
Buy single article
Instant access to the full article PDF.
USD 39.95
Price excludes VAT (USA)
Tax calculation will be finalised during checkout.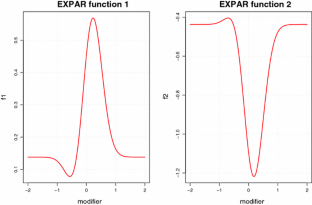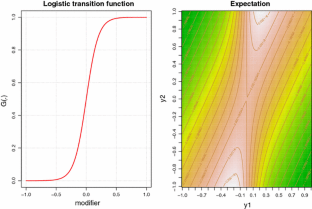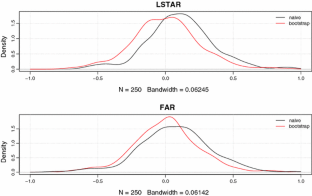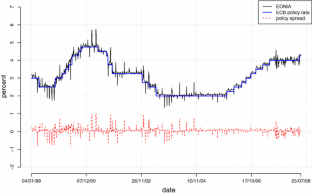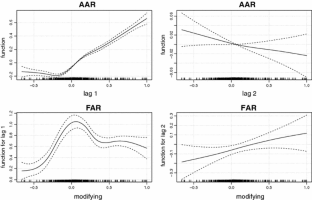 References
Akaike H (1973) Information theory and an extension of the maximum likelihood principle. In: Petrov BN, Csaki F (eds) Second international symposium on information theory. Akademiai Kiado, Budapest, pp 267–81

Balke N, Fomby T (1997) Thresholds cointegration. Int Econ Rev 38:627–645

Brown B, Mariano R (1989) Measures of deterministic prediction bias in nonlinear models. Int Econ Rev 30:667–684

Brumback B, Ruppert D, Wand M (1999) Comment on "variable selection and function estimation in additive nonparametric regression using a data-based prior," by Shively T., Kohn R. and Wood S. J Am Stat Assoc 94:794–797

Burnham K, Anderson DR (2002) Model selection and multimodel inference. Springer, Berlin

Cao Y, Lin H, Wuc T, Yu Y (2010) Penalized spline estimation for functional coefficient regression models. Comput Stat Data Anal 54:891–905

Carroll R, Fan J, Gijbels I, Wand M (1997) Generalized partially linear single-index models. J Am Stat Assoc 92:477–489

Cerrato M, Kim H, MacDonald R (2010) Three-regime asymmetric star modeling and exchange rate reversion. J Money Credit Bank 42(7):1447–1467

Chatfield C (2003) The analysis of time series: an introduction, 6th edn. Chapman and Hall, New York

de Boor C (2001) A practical guide to splines. Springer, Berlin

Di Narzo A, Aznarte J, Stigler M (2015) tsDyn: Nonlinear time series models with regime switching. R package version 0.9

Dufrénot G, Mignon V (2002) Recent developments in nonlinear cointegration with applications to macroeconomics and finance. Kluwer Academic Press, Dordrecht

Eilers PHC, Marx BD (1996) Flexible smoothing with B-splines and penalties. Stat Sci 11(2):89–121

Fahrmeir L, Tutz G (1994) Multivariate statistical modelling based on generalized linear models. Springer, New York

Fan J, Gijbels I (1996) Local polynomial modelling and its applications. Chapman and Hall, London

Fan J, Yao Q (2003) Nonlinear time series: nonparametric and parametric methods. Springer, New York

Gao J (2007) Nonlinear time series : semiparametric and nonparametric methods. Chapman and Hall/CRC, London

Gonzalo J, Pitarakis J (2006) Threshold effects in multivariate error correction models. In: Mills TC, Patterson K (eds) Palgrave handbook of econometrics, vol 1. Palgrave MacMillan, Basingstoke

Green DJ, Silverman BW (1994) Nonparametric regression and generalized linear models. Chapman and Hall, London

Greven S, Kneib T (2010) On the behaviour of marginal and conditional AIC in linear mixed models. Biometrika 97(4):773–789

Hamilton J (1989) A new approach to the economic analysis of nonstationary time series and the business cycle. Econometrica 57:357–384

Hamilton J (1990) Analysis of time series subject to changes in regime. J Econ 45:39–70

Härdle W, Hall P, Ichimura H (1993) Optimal smoothing in single-index models. Ann Stat 21:157–178

Härdle W, Lütkepohl H, Chen R (1997) A review of nonparametric time series analysis. Int Stat Rev 65:49–72

Hartmann P, Manna M, Manzanares A (2001) The microstructure of the Euro money market. J Int Money Financ 20:895–948

Hastie T, Tibshirani R (1990) Generalized additive models. Chapman and Hall, London

Hastie T, Tibshirani R (1993) Varying-coefficient models. J R Stat Soc Ser B 55:757–796

Huang J, Shen H (2004) Functional coefficient regression models for nonlinear time series: a polynomial spline approach. Scand J Stat 31:515–534

Josep A, Espigares S, Lopez-Moreno A (2012) MSwM: univariate autoregressive markov switching models for linear and generalized models by using the EM algorithm. R package version 1

Kapetanios GYS, Snell A (2006) Testing for cointegration in nonlinear smooth transition error correction models. Econ Theory 22:279–303

Kauermann G (2004) A note on smoothing parameter selection for penalised spline smoothing. J Stat Planing Inference 127:53–69

Kauermann G, Krivobokova T, Fahrmeir L (2009) Some asymptotic results on generalized penalized spline smoothing. J R Stat Soc Ser B 71:487–503

Kauermann G, Opsomer J (2011) Data-driven selection of the spline dimension in penalized spline regression. Biometrika 98(1):225–230

Koop G, Potter SM (2000) Nonlinearity, structural breaks, or outliers in economic time series. In: Barnett WA, Hendry DF, Hylleberg S, Tersvirta T, Tjøstheim D, Würtz A (eds) Nonlinear econometric modeling in time series analysis. University Press, Cambridge

Krivobokova T, Kauermann G (2007) A note on penalized spline smoothing with correlated errors. J Am Stat Assoc 102:1328–1337

Kuan CM (2002) Lecture on the Markov switching model. Institute of Economics Academia Sinica, Taipei

Li Y, Genton MG (2009) Single-index additive vector autoregressive time series models. Scand J Stat 36:369–388

Manna M, Pill H, Quirós G (2002) The Eurosystem's operational framework in the context of the ECB's monetary policy strategy. Int Financ 20:64–95

Marcellino M, Stock JH, Watson M (2006) A comparison of direct and iterated multistep ar methods for forecasting macroeconomic time series. J Econ 135:499–526

Nautz D, Offermanns CJ (2007) The dynamic relationship between the Euro overnight rate, the ECB's policy rate and the term spread. Int J Financ Econ 12:287–300

Ngo L, Wand M (2004) Smoothing with mixed model software. J Stat Softw 9:1–54

Nychka D, Cummins D (1996) Comment on: Eilers, p., marx, b., flexible smoothing with b-splines and penalties. Stat Sci 11:89–121

O'Sullivan F (1986) A statistical perspective on ill-posed inverse problems (c/r: P519–527). Stat Sci 1:502–518

Pinheiro JC, Bates DM (2000) Mixed-effect models in S and S-plus. Springer, New York

Ruppert D (2004) Statistics and finance. Springer, New York

Ruppert D, Wand M, Carroll R (2003) Semiparametric regression. Cambridge University Press, Cambridge

Ruppert D, Wand M, Carroll R (2009) Semiparametric regression during 2003–2007. Electron J Stati 3:1193–1256

Stock J, Watson M (1999) A comparison of linear and nonlinear univariate models for forecasting macroeconomic time series. In: Engle R, White H (eds) Cointegration, causality, and forecasting: a festschrift in honor of Clive W.J. Granger. Oxford, Oxford University Press

Stoker T (1986) Consistent estimation of scaled coefficients. Econometrica 54:1461–1481

Teräsvirta T, Tjøstheim D, Granger CWJ (2010) Modelling nonlinear economic time series. Oxford University Press, Oxford

Tong H (2011) Threshold models in time series analysis-30 years on. Stat Interface 4:107–118

Tschernig R (2004) Nonparametric time series modeling. In: Lütkepohl H, Krätzig M (eds) Applied time series econometrics. Cambridge University Press, Cambridge

van Dijk D, Terasvirta T, Franses P (2002) Smooth transition autoregressive models—a survey of recent developments. Econ Rev 21:1–47

Wager C, Vaida F, Kauermann G (2007) Model selection for p-spline smoothing using akaike information criteria. Aust N Z J Stat 49:173–190

Wand M (2003) Smoothing and mixed models. Comput Stat 18:223–249

Wand M, Ormerod J (2008) On semiparametric regression with O'Sullivan penalized splines. Aust N Z J Stat 50:179–198

Wang L, Yang L (2009) Spline estimation of single index model. Stat Sin 19(2):765–783

Wood SN (2006) Generalized additive models: an introduction with R. Chapman and Hall, London

Xia Y, Härdle W (2006) Semi-parametric estimation of partially linear single-index models. J Multivar Anal 97(5):1162–1184

Yu Y, Ruppert D (2002a) Penalized spline estimation for partially linear single index models. J Am Stat Assoc 97:1042–1054

Yu Y, Ruppert D (2002b) Penalized spline estimation for partially linear single index models. J Am Stat Assoc 97:1042–1054
About this article
Cite this article
Wegener, M., Kauermann, G. Forecasting in nonlinear univariate time series using penalized splines. Stat Papers 58, 557–576 (2017). https://doi.org/10.1007/s00362-015-0711-1
Received:

Revised:

Published:

Issue Date:

DOI: https://doi.org/10.1007/s00362-015-0711-1
Keywords
Mathematics Subject Classification