Abstract
The bay mussel, Mytilus trossulus, is an animal that can survive extracellular ice formation. Depending on air and ocean temperatures, freeze tolerant intertidal organisms, like M. trossulus, may freeze and thaw many times during the winter. Freezing can cause protein denaturation, leading to an induction of the heat shock response with expression of chaperone proteins like the 70 kDa heat shock protein (HSP70), and an increase in ubiquitin-conjugated proteins. There has been little work on the mechanisms of freeze tolerance in intertidal species, limiting our understanding of this survival strategy. Additionally, this limited research has focused solely on the effects of single freezing events, but the act of repeatedly crossing the freezing threshold may present novel physiological or biochemical stressors that have yet to be discovered. Mytilus are important ecosystem engineers and provide habitat for other intertidal species, thus understanding their physiology under thermal extremes is important for preserving shoreline health. We predicted that repeated freeze exposures would increase mortality, upregulate HSP70 expression, and increase ubiquitin conjugates in mussels, relative to single, prolonged freeze exposures. Mytilus trossulus from Vancouver, Canada were repeatedly frozen for a combination of 1 × 8 h, 2 × 4 h, or 4 × 2 h. We then compared mortality, HSP70 expression, and the quantity of ubiquitin-conjugated proteins across experimental groups. We found a single 8-h freeze caused significantly more mortality than repeated freeze–thaw cycles. We also found that HSP70 and ubiquitinated protein was upregulated exclusively after freeze–thaw cycles, suggesting that freeze–thaw cycles offer a period of damage repair between freezes. This indicates that freeze–thaw cycles, which happen naturally in the intertidal, are crucial for M. trossulus survival in sub-zero temperatures.
Access options
Buy single article
Instant access to the full article PDF.
USD 39.95
Price excludes VAT (USA)
Tax calculation will be finalised during checkout.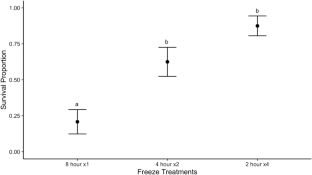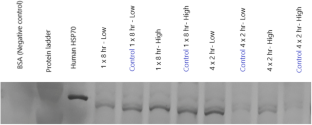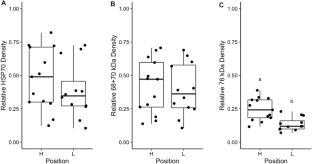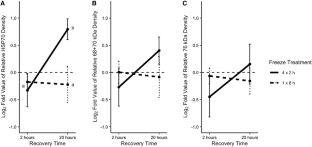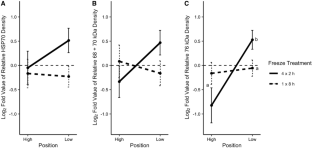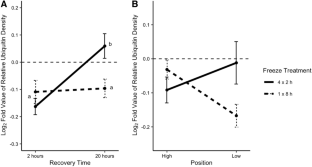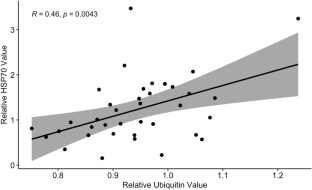 References
Aarset AV (1982) Freezing tolerance in intertidal invertebrates (a review). Comp Biochem Physiol Part A Physiol 73(4):571–580. https://doi.org/10.1016/0300-9629(82)90264-X

Al-Fageeh MB, Smales CM (2006) Control and regulation of the cellular responses to cold shock: the responses in yeast and mammalian systems. Biochem J 397(2):247–259. https://doi.org/10.1042/BJ20060166

Aleng NA, Sung YY, MacRae TH, Wahid MEA (2015) Non-lethal heat shock of the Asian Green Mussel, Perna viridis, promotes Hsp70 synthesis, induces thermotolerance and protects against vibrio infection. PLoS ONE 10(8):1–16. https://doi.org/10.1371/journal.pone.0135603

Baust JG (1973) Mechanisms of cryoprotection in freezing tolerant animal systems. Cryobiology 10(3):197–205. https://doi.org/10.1016/0011-2240(73)90031-X

Boroda AV, Kipryushina YO, Odintsova NA (2020) The effects of cold stress on Mytilus species in the natural environment. Cell Stress Chaperones. https://doi.org/10.1007/s12192-020-01109-w

Brown CL, Bale JS, Walters KFA (2004) Freezing induces a loss of freeze tolerance in an overwintering insect. Proc R Soc B Biol Sci 271(1547):1507–1511. https://doi.org/10.1098/rspb.2004.2760

Carrington E, Moeser GM, Dimond J, Mello JJ, Boller ML (2009) Seasonal disturbance to mussel beds: field test of a mechanistic model predicting wave dislodgment. Limnol Oceanogr 54(3):978–986. https://doi.org/10.4319/lo.2009.54.3.0978

Cellura C, Toubiana M, Parrinello N, Roch P (2006). HSP70 gene expression in Mytilus galloprovincialis hemocytes is triggered by moderate heat shock and Vibrio anguillarum, but not by V. splendidus or Micrococcus lysodeikticus. Developal and Comparative Immunology 30(11):984–997. https://doi.org/10.1016/j.dci.2005.12.009

Clark MS, Peck LS (2009) Triggers of the HSP70 stress response: Environmental responses and laboratory manipulation in an Antarctic marine invertebrate (Nacella concinna). Cell Stress Chaperones 14(6):649–660. https://doi.org/10.1007/s12192-009-0117-x

Davenport J, Davenport JL (2005) Effects of shore height, wave exposure and geographical distance on thermal niche width of intertidal fauna. Mar Ecol Prog Ser 292:41–50. https://doi.org/10.3354/meps292041

Doelling ARW, Griffis N, Williams JB (2014) Repeated freezing induces oxidative stress and reduces survival in the freeze-tolerant goldenrod gall fly, Eurosta solidaginis. J Insect Physiol 67:20–27. https://doi.org/10.1016/j.jinsphys.2014.05.024

Dong Y, Liao M, Han G, Somero GN (2021) An integrated, multi-level analysis of thermal effects on intertidal molluscs for understanding species distribution patterns. Biol Rev. https://doi.org/10.1111/brv.12811

Dong Y, Miller LP, Sanders JG, Somero GN (2008) Heat-shock protein 70 (Hsp70) expression in four limpets of the genus Lottia : Interspecific variation in constitutive and inducible synthesis correlates with in situ exposure to heat stress. Biol Bull 215(2):173–181. https://doi.org/10.2307/25470698

Duman JG (2001) Antifreeze and ice nucleator proteins in terrestrial arthropods. Annu Rev Physiol 63:327. https://doi.org/10.1146/annurev.physiol.63.1.327

Finke GR, Navarrete SA, Bozinovic F (2007) Tidal regimes of temperate coasts and their influences on aerial exposure for intertidal organisms. Mar Ecol Prog Ser 343:57–62. https://doi.org/10.3354/meps06918

Halpin PM, Sorte CJ, Hofmann GE, Menge BA (2002) Patterns of variation in levels of Hsp70 in natural rocky shore populations from microscales to mesoscales. Integr Comp Biol 42(4):815–824. https://doi.org/10.1093/icb/42.4.815

Helmuth B, Hofmann GE (2001) Microhabitats, thermal heterogeneity, and patterns of physiological stress in the rocky intertidal zone. Biol Bull 201(3):374–384. https://doi.org/10.2307/1543615

Hochstrasser M (1995) Ubiquitin, proteasomes, and the regulation of intracellular protein degradation. Curr Opin Cell Biol 7(2):215–223. https://doi.org/10.1016/0955-0674(95)80031-X

Hofmann S (1995) Evidence for protein damage at environmental temperatures: seasonal changes in levels of ubiquitin conjugates and hsp70 in the intertidal mussel Mytilus trossulus. J Exp Biol 198(Pt 7):1509–1518

Jensen MM, Denny MW (2016) Life in an extreme environment: characterizing wave-imposed forces in the rocky intertidal zone using high temporal resolution hydrodynamic measurements. Limnol Oceanogr 61(5):1750–1761. https://doi.org/10.1002/lno.10327

Kanwisher JW (1955) Freezing in intertidal animals. Biol Bull 109(1):56–63. https://doi.org/10.2307/1538658

Kelley AL, de Rivera CE, Buckley BA (2013) Cold tolerance of the invasive Carcinus maenas in the east Pacific: molecular mechanisms and implications for range expansion in a changing climate. Biol Invasions 15(10):2299–2309. https://doi.org/10.1007/s10530-013-0454-7

Kennedy J, Harley CDG, Marshall KE (2020) Drivers of plasticity in freeze tolerance in the intertidal mussel Mytilus trossulus. J Exp Biol. https://doi.org/10.1242/jeb.233478

Lee RE (2010) A primer on insect cold-tolerance. In: DL Denlinger, RE Lee (eds) Low temperature biology of insects. Cambridge University Press, Cambridge, pp 3–34. https://doi.org/10.1017/CBO9780511675997.002

Loomis SH, Carpenter JF, Crowe JH (1988) Identification of strombine and taurine as cryoprotectants in the intertidal bivalve Mytilus edulis. BBA Biomembranes 943(2):113–118. https://doi.org/10.1016/0005-2736(88)90542-1

Mahmood T, Yang P-C (2012) Western blot: technique, theory, and trouble shooting. N Am J Med Sci 4(9):429–434. https://doi.org/10.4103/1947-2714.100998

Mann HB, Whitney DR (1947) On a test of whether one of two random variables is stochastically larger than the other. Ann Math Stat 18:50–60

MacQuarrie CJK, Cooke BJ, Saint-Amant R (2019) The predicted effect of the polar vortex of 2019 on winter survival of emerald ash borer and mountain pine beetle. Can J for Res 49(9):1165–1172. https://doi.org/10.1139/cjfr-2019-0115

Marshall KE, Anderson KM, Brown NEM, Dytnerski JK, Flynn KL, Bernhardt JR, Konecny CA, Gurney-Smith H, Harley CDG (2021) Whole-organism responses to constant temperatures do not predict responses to variable temperatures in the ecosystem engineer Mytilus trossulus. Proc R Soc B. https://doi.org/10.1098/RSPB.2020.2968

Marshall KE, Sinclair BJ (2011) The sub-lethal effects of repeated freezing in the woolly bear caterpillar Pyrrharctia isabella. J Exp Biol 214(7):1205–1212. https://doi.org/10.1242/jeb.054569

Marshall KE, Sinclair BJ (2012) The impacts of repeated cold exposure on insects. J Exp Biol 215(10):1607–1613. https://doi.org/10.1242/jeb.059956

Marshall KE, Sinclair BJ (2018) Repeated freezing induces a trade-off between cryoprotection and egg production in the goldenrod gall fly, Eurosta solidaginis. J Exp Biol. https://doi.org/10.1242/jeb.177956

Mazur P (2010) A biologist's view of the relevance of thermodynamics and physical chemistry to cryobiology. Cryobiology 60(1):4–10. https://doi.org/10.1016/j.cryobiol.2009.12.001

Miller LP, Harley CDG, Denny MW (2009) The role of temperature and desiccation stress in limiting the local-scale distribution of the owl limpet, Lottia Gigantea. Funct Ecol 23(4):756–767

Overland JE, Wang M (2016) Recent extreme arctic temperatures are due to a split polar vortex. J Clim 29(15):5609–5616. https://doi.org/10.1175/JCLI-D-16-0320.1

Pasparakis C, Davis BE, Todgham AE (2016) Role of sequential low-tide-period conditions on the thermal physiology of summer and winter laboratory-acclimated fingered limpets. Lottia Digitalis Mar Biol 163:23. https://doi.org/10.1007/s00227-015-2779-5

Privalov PL (1990) Cold denaturation of protein. Crit Rev Biochem Mol Biol 25(4):281–306. https://doi.org/10.3109/10409239009090612

Pulgar J, Waldisperg M, Galbán-Malagón C, Maturana D, Pulgar VM, Aldana M (2017) UV radiation impacts body weight, oxygen consumption, and shelter selection in the intertidal vertebrate Girella laevifrons. Sci Total Environ 578:317–322. https://doi.org/10.1016/j.scitotenv.2016.10.157

R Development Core Team (2021) R: a language and environment for statistical computing. R Foundation for Statistical Computing, Vienna, Austria. https://www.R-project.org/

Ramløv H (2000) Aspects of natural cold tolerance in ectothermic animals. Hum Reprod 15(SUPPL. 5):26–46. https://doi.org/10.1093/humrep/15.suppl_5.26

Richardson C, Seed R, Naylor E (1990) Use of internal growth bands for measuring individual and population growth rates in Mytilus edulis from offshore production platforms. Mar Ecol Prog Ser 66:259–265. https://doi.org/10.3354/meps066259

Royston P (1982) An extension of Shapiro and Wilk's W test for normality to large samples. Appl Stat 31:115–124. https://doi.org/10.2307/2347973

Sagarin RD, Somero GN (2006) Complex patterns of expression of heat-shock protein 70 across the southern biogeographical ranges of the intertidal mussel Mytilus californianus and snail Nucella ostrina. J Biogeogr 33(4):622–630. https://doi.org/10.1111/j.1365-2699.2005.01403.x

Sinclair BJ, Renault D (2010) Intracellular ice formation in insects: unresolved after 50 years? Comp Biochem Physiol Part A Mol Integr Physiol 155(1):14–18. https://doi.org/10.1016/j.cbpa.2009.10.026

Štětina T, Koštál V, Korbelová J (2015) The role of inducible Hsp70, and other heat shock proteins, in adaptive complex of cold tolerance of the fruit fly (Drosophila melanogaster). PLoS ONE. https://doi.org/10.1371/journal.pone.0128976

Storey KB, Storey JM (1988) Freeze tolerance in animals. Physiol Rev 68(1):27–84

Storey KB, Storey JM (1996) Natural freezing survival in animals. Ann Rev Ecol Syst 27:365–386

Storey KB, Storey JM (2013) Molecular biology of freezing tolerance. Compr Physiol 3:1283–1308. https://doi.org/10.1002/cphy.c130007

Teets NM, Kawarasaki Y, Lee RE, Denlinger DL (2011) Erratum: survival and energetic costs of repeated cold exposure in the Antarctic midge, Belgica antarctica: a comparison between frozen and supercooled larvae. J Exp Biol 214:806–814. https://doi.org/10.1242/jeb.060624

Todgham AE, Hoaglund EA, Hofmann GE (2007) Is cold the new hot? Elevated ubiquitin-conjugated protein levels in tissues of Antarctic fish as evidence for cold-denaturation of proteins in vivo. J Comp Physiol [b] 177(8):857–866. https://doi.org/10.1007/s00360-007-0183-2

Tomanek L, Sanford E (2003) Heat-shock protein 70 (Hsp70) as a biochemical stress indicator: an experimental field test in two congeneric intertidal gastropods (genus: Tegula). Biol Bull 205(3):276–284. https://doi.org/10.2307/1543291

Toxopeus J, Koštál V, Sinclair BJ (2019) Evidence for non-colligative function of small cryoprotectants in a freeze-tolerant insect. Proc R Soc B 286(1899):20190050. https://doi.org/10.1098/rspb.2019.0050

Toxopeus J, Sinclair BJ (2018) Mechanisms underlying insect freeze tolerance. Biol Rev 93(4):1891–1914. https://doi.org/10.1111/brv.12425

Toyohara H, Hosoi M, Hayashi I, Kubota S, Hashimoto H, Yokoyama Y (2005) Expression of HSP70 in response to heat-shock and its cDNA cloning from Mediterranean blue mussel. Fish Sci 71:327–332

Tukey JW (1977) Exploratory data analysis, vol 2, pp 131–160

Venetianer A, Pirity M, Hever-Szabo A (1994) The function of heat-shock proteins in stress tolerance. Cell Biol Int 18(6):605–616. https://doi.org/10.1006/cbir.1994.1087

Wickham H (2016) ggplot2: elegant graphics for data analysis. Springer, New York. ISBN 978–3–319–24277–4. https://ggplot2.tidyverse.org

Wickham H (2011) The split-apply-combine strategy for data analysis. J Stat Softw 40(1):1–29. http://www.jstatsoft.org/v40/i01/

Wilke C (2020) cowplot: Streamlined plot theme and plot annotations for 'ggplot2'. R package version 1.1.1. https://CRAN.R-project.org/package=cowplot

Williams EE, Somero GN (1996) Seasonal-, tidal-cycle- and microhabitat-related variation in membrane order of phospholipid vesicles from gills of the intertidal mussel Mytilus californianus. J Exp Biol 199(7):1587–1596

Zhang G, Storey JM, Storey KB (2018) Elevated chaperone proteins are a feature of winter freeze avoidance by larvae of the goldenrod gall moth, Epiblema scudderiana. J Insect Physiol 106:106–113. https://doi.org/10.1016/j.jinsphys.2017.04.007
Acknowledgements
K.E.M. is supported by an NSERC Discovery grant, J.R.K. is supported by a NSERC CGS-M, and L.T.G. was supported by a NSERC USRA during this work. The authors thank Dr. Christopher Harley, Dr. Patricia Schulte, and three anonymous reviewers for their assistance and ideas which improved this manuscript greatly.
Funding
This study was funded by Natural Sciences and Engineering Research Council of Canada, RGPIN-2019-04239, Katie Elizabeth Marshall.
Additional information
Publisher's Note
Springer Nature remains neutral with regard to jurisdictional claims in published maps and institutional affiliations.
Supplementary Information
Below is the link to the electronic supplementary material.
Rights and permissions
Springer Nature or its licensor (e.g. a society or other partner) holds exclusive rights to this article under a publishing agreement with the author(s) or other rightsholder(s); author self-archiving of the accepted manuscript version of this article is solely governed by the terms of such publishing agreement and applicable law.
About this article
Cite this article
Gill, L.T., Kennedy, J.R. & Marshall, K.E. Proteostasis in ice: the role of heat shock proteins and ubiquitin in the freeze tolerance of the intertidal mussel, Mytilus trossulus. J Comp Physiol B 193, 155–169 (2023). https://doi.org/10.1007/s00360-022-01473-2
Received:

Revised:

Accepted:

Published:

Issue Date:

DOI: https://doi.org/10.1007/s00360-022-01473-2
Keywords
Freeze tolerance

Mussel

Intertidal

Protein damage