Abstract
Immune responses are intuitively beneficial, but they can incur a variety of costs, many of which are poorly understood. The nature and extent of trade-offs between immune activity and other components of the integrated phenotype can vary, and depend on the type of immune challenge, as well as the energetic costs of simultaneously expressing other traits. There may also be sex differences in both immune activity and immunity-induced trade-offs, particularly in the case of trade-offs involving functional traits such as whole-organism performance capacities that might be of different fitness value to males and females. We tested the response of three performance traits (sprinting, endurance, and biting) to two different immune challenges (LPS injection and wound healing) in both male and female Anolis carolinensis lizards. We found clear differences in how male and female performance capacities were affected by immune activation. LPS injection and wound healing had interactive effects on all three performance traits in males, but immune activation did not affect female performance. We also found that the degree of wound healing exhibited complex interactive effects involving sex and type of immune activation that varied depending on the performance trait in question. These results demonstrate that male and female green anoles experience different consequences of immune responses, and also that the type and extent of that activation can drive trait-specific performance trade-offs.
Access options
Buy single article
Instant access to the full article PDF.
USD 39.95
Price includes VAT (USA)
Tax calculation will be finalised during checkout.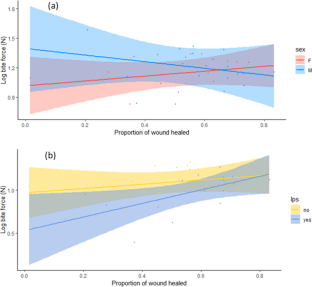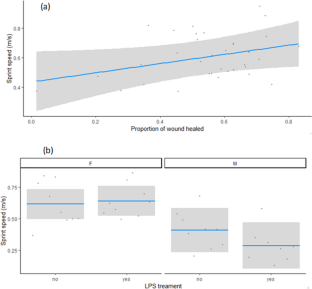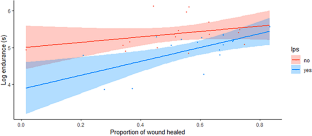 References
Alzaga V, Vicente J, Villanua D, Acevedo P, Casas F, Gortazer C (2008) Body condition and parasite intensity correlates with escape capacity in Iberian hares. Behav Ecol Sociobiol 62:769–775

Ardia DR, Parmentier HK, Vogel LA (2011) The role of constraints and limitation in driving individual variation in immune response. Funct Ecol 25:61–73

Bates D, Mächler M, Bolker B, Walker S (2015) Fitting linear mixed-effect models using lme4. J Stat Softw 67:1–48. https://doi.org/10.18637/jss.v067.i01

Bonduriansky R, Chenoweth SF (2009) Intralocus sexual conflict. Trends Ecol Evol 24:280–288. https://doi.org/10.1016/j.tree.2008.12.005

Bonneaud C, Mazuc J, Gonzalez G, Haussy C, Chastel O, Faivre B, Sorci G (2003) Assessing the cost of mounting an immune response. Am Nat 161:367–379

Brace AJ, Sheikali S, Martin LB (2015) Highway to the danger zone: exposure-dependent costs of immunity in a vertebrate ectotherm. Funct Ecol 29:924–930. https://doi.org/10.1111/1365-2435.12402

Breheny P, Burchett W (2017) Visualization of regression models using visreg. R Journal 9(2):56–71

Brock PM, Murdock CC, Martin LB (2014) The history of ecoimmunology and its integration with disease ecology. Integr Comp Biol 54:353–362

Chatfield MWH, Brannelly LA, Robak MJ, Freeborn L, Lailvaux SP, Richards-Zawacki CL (2013) Fitness consequences of infection by Batrachochytrium dendrobatidis in Northern Leopard Frogs (Lithobates pipiens). EcoHealth 10:90–98. https://doi.org/10.1007/s10393-013-0833-7

Christian KA, Baudinette RV, Pamula Y (1997) Energetic costs of activity by lizards in the field. Funct Ecol 11:392–397. https://doi.org/10.1046/j.1365-2435.1997.00099.x

Cox RM, Stenquist DS, Henningsen JP, Calsbeek R (2009) Manipulating testosterone to assess links between behavior, morphology, and performance in the Brown Anole Anolis sagrei. Physiol Biochem Zool 82:686–698. https://doi.org/10.1086/605391

Demas G, Grieves T, Chester E, French S (2012) The energetics of immunity: mechanisms mediating trade-offs in ecoimmunology. In: Demas GE, Nelson RJ (eds) ecoimmunology. Oxford University Press, Oxford, UK

East ML, Otto E, Helms J, Thierer D, Calbe J, Hofer H (2015) Does lactation lead to resource allocation trade-offs in spotted hyaena? Behav Ecol Sociobiol 69:805–814

Engqvist L (2005) The mistreatment of covariate interaction terms in linear model analyses of behavioural and evolutionary ecology studies. Anim Behav 70:967–971

Folstad I, Karter AJ (1992) Parasites, bright males, and the immunocompetence handicap. Am Nat 139:603–622

Foo YZ, Nakagaw S, Rhodes G, Simmons LW (2016) The effects of sex hormones on immune function: a meta-analysis. Bilogical Rev 92:551–571

French SS, Moore MC (2008) Immune function varies with reproductive stage and context in female and male tree lizards, Urosaurus ornatus. Gen Comp Endocrinol 155:148–156. https://doi.org/10.1016/j.ygcen.2007.04.007

French SS, Matt KS, Moore MC (2006) The effects of stress on wound healing in male tree lizards (Urosaurus ornatus). Gen Comp Endocrinol 145:128–132

French SS, Moore MC, Demas GE (2009) Ecological immunology: the organism in context. Integr Comp Biol 49:246–253

Herrel A, McBrayer LD, Larson PM (2007) Functional basis for sexual differences in bite force in the lizard Anolis carolinensis. Biol J Lin Soc 91:111–119

Husak JF (2016) Measuring selection on physiology in the wild and manipulating phenotypes (in terrestrial nonhuman vertebrates). Compr Physiol 6:63–85. https://doi.org/10.1002/cphy.c140061

Husak JF, Fox SF (2008) Sexual selection on locomotor performance. Evol Ecol Res 10:213–228

Husak JF, Lailvaux SP (2017) How do we measure the cost of whole-organism performance traits? Integr Comp Biol 57:333–343. https://doi.org/10.1093/icb/icx048

Husak JF, Lailvaux SP (2019) Experimentally enhanced performance decreases survival in nature. Biol Lett 15:20190160

Husak JF, Swallow JG (2011) Compensatory traits and the evolution of male ornaments. Behaviour 148:1–29. https://doi.org/10.1163/000579510x541265

Husak JF, Keith AR, Wittry BN (2015) Making Olympic lizards: the effects of specialised exercise training on performance. J Exp Biol 218:899–906. https://doi.org/10.1242/jeb.114975

Husak JF, Ferguson HA, Lovern MB (2016) Trade-offs among locomotor performance, reproduction and immunity in lizards. Funct Ecol 30:1665–1674. https://doi.org/10.1111/1365-2435.12653

Husak JF, Roy JC, Lovern MB (2017) Exercise training reveals trade-offs between endurance performance and immune function, but does not influence growth, in juvenile lizards. J Exp Biol 220:1497–1502. https://doi.org/10.1242/jeb.153767

Irschick DJ, Garland TJ (2001) Integrating function and ecology in studies of adaptation: investigations of locomotor capacity as a model system. Ann Rev Ecol Syst 32:367–396

Irschick DJ, Gentry G, Herrel A, Vanhooydonck B (2006) Effects of sarcophagid fly infestations on green anole lizards (Anolis carolinensis): an analysis across seasons and age/sex classes. J Herpetol 40:107–112

Irschick DJ, Meyers JJ, Husak JF, Le Galliard J (2008) How does selection operate on whole-organism functional performance capacities? A review and synthesis. Evol Ecol Res 10:177–196

Kelly CD, Stoehr AM, Nunn C, Smyth KN, Prokop ZM (2018) Sexual dimorphism in immunity across animals: a meta-analysis. Ecol Lett 21:1885–1894

Kennedy MW, Nager RG (2006) The perils and prospects of using phytohaemagglutinin in evolutionary ecology. Trends Ecol Evol 21:653–655

Lailvaux SP, Husak JF (2014) The life-history of whole-organism performance. Q Rev Biol 89(4):285–318

Lailvaux SP, Irschick DJ (2006) A functional perspective on sexual selection: insights and future prospects. Anim Behav 72:263–273

Lailvaux SP, Irschick DJ (2007) Effects of temperature and sex on jump performance and biomechanics in the lizard Anolis carolinensis. Funct Ecol 21:534–543

Lailvaux SP, Cespedes AM, Houslay TM (2019) Conflict, compensation, and plasticity: sex-specific, individual-level trade-offs in green anole (Anolis carolinenis) performance. J Exp Zoo A 2019:1–10

Lailvaux SP, Cespedes AM, Weber WD, Husak JF (2020) Sprint speed is unaffected by dietary manipulation in trained male Anolis carolinensis lizards. J Exp Zool Part A-Ecol Integr Physiol 333:164–170

Lee KA (2006) Linking immune defenses and life history at the levels of the individual and the species. Integr Comp Biol 46:1000–1015. https://doi.org/10.1093/icb/icl049

Lindström KM, Van Der Veen IT, Legault B, Lundström JO (2003) Activity and predator escape performance of common greenfinches Carduelis chloris infected with Sindbis virus. Ardea 9:103–111

Lochmiller RL, Deerenberg C (2000) Trade-offs in evolutionary immunology: just what is the cost of immunity? Oikos 88:87–98. https://doi.org/10.1034/j.1600-0706.2000.880110.x

López‐Pérez JE, Meylan PA, Goessling JM (2021) Sex-based trade-offs in the innate and acquired immune systems of Sternotherus minor. Journal of Experimental Zoology A in press

Love OP, Salvante KG, Dale J, Williams TD (2008) Sex-specific variability in immune system across life-histroy stages. Am Nat 172:E99–E112

Main AR, Bull CM (2000) The impact of tick parasites on the behaviour of the lizard Tiliqua rugosa. Oecologia 2000:574–581

Martin LBI, Scheuerlein A, Wikelski M (2003) Immune activity elevates energy expenditure of house sparrows: a link between direct and indirect costs? Proc R Soc London B Biol Sci 270:153–158

Martin LB, Han P, Lewittes J, Kuhlman JR, Klasing KC, Wikelski M (2006) Phytohemagglutinin-induced skin swelling in birds: histological support for a classic immunoecological technique. Funct Ecol 20:290–299. https://doi.org/10.1111/j.1365-2435.01094.x

Martin LB, Brace AJ, Urban A, Coon CAC, Liebl AL (2012) Does immune suppression during stress occur to promote physical performance? J Exp Biol 215:4097–4103. https://doi.org/10.1242/jeb.073049

Metcalf CJE, Graham AL (2018) Schedule and magnitude of reproductive investment under immune trade-offs explains sex differences in immunity. Nat Commun 9(1):4391

Metcalf CJE, Roth O, Graham AL (2020) Why leveraging sex differences in immune trade-offs may illuminate the evolution of senescence. Funct Ecol 34:129–140

Morrow EH, Innocenti P (2012) Female postmating immune responses, immune system evolution and immunogenic males. Biol Rev Cambridge Philosophic Soc 87:631–638

Neuman-Lee L, French SS (2014) Wound healing reduces stress-induced immunbe changes: evidence for immune prioritization in the side-blotched lizard. J Comp Physiol B-Biochem Syst Environ Physiol 184:623–629

Oppliger A, Célérier ML, Clobert J (1996) Physiological and behaviour changes in common lizards parasitized by haemogregarines. Parasitology 113:433–438

Owen-Ashley NT, Turner M, Hahn TP, Wingfield JC (2006) Hormonal, behavioral, and thermoregulatory responses to bacterial lipopolysaccharide in captive and free-living white-crowned sparrows (Zonotrichia leucophrys gambelii). Horm Behav 49:15–29

Parker GA (1979) Sexual selection and sexual conflict. In: Blum MS, Blum NA (eds) Sexual Selection and Reproductive Competition in Insects. Academic Press, pp 123–166

Perry G, Levering K, Girard I, Garland TJ (2004) Locomotor performance and social dominance in male Anolis cristatellus. Anim Behav 67:37–47

Reedy AM, Cox CL, Chung AK, Evans WJ, Cox RM (2016) Both sexes suffer increased parasitism and reduced energy storage as costs of reproduction in the brown anole, Anolis sagrei. Biol J Lin Soc 117:516–527

Rojas IG, Padgett DA, Sheridan JF, Marucha PT (2002) Stress-induced susceptibility to bacterial infection during cutaneous wound healing. Brain Behav Immun 16:74–84

Rolff J (2002) Bateman's principle and immunity. Proc R Soc B Biol Sci 269:867–872. https://doi.org/10.1098/rspb.2002.1959

Sapolsky RM, Romero LM, Munck AU (2000) How do glucocorticoids influence stress responses? Integrating permissive, suppressive, stimulatory, and preparative actions. Endocr Rev 21:55–89. https://doi.org/10.1210/er.21.1.55

Schall JJ, Bennett AF, Putnam RW (1982) Lizards infected with malaria—physiological and behavioral consequences. Science 217:1057–1059. https://doi.org/10.1126/science.7112113

Smith GD, French SS (2017) Physiological trade-offs in lizards: costs for individuals and populations. Integr Comp Biol 57:344–351. https://doi.org/10.1093/icb/icx062

Speakman JR, Selman C (2003) Physical activity and resting metabolic rate. Proc Nutr Soc 62:621–634. https://doi.org/10.1079/pns2003282

Team RC (2019) R: A language and environment for statistical computing. R Foundation for Statistical Computing, Vienna, Austria. https://www.R-project.org/

Uller T, Isaksson C, Olsson M (2006) Immune challenge reduces reproductive output and growth in a lizard. Funct Ecol 20:873–879

Vincent CM, Gwynne DT (2014) Sex-biased immunity is driven by relative differences in reproductive investment. Proc R Soc B Biol Sci 281:20140333

White TA, Perkins SE (2012) The ecoimmunology of invasive species. Funct Ecol 26:1313–1323

Zamora-Camacho FJ, Reguera S, Rubino-Hispan MV, Moreno-Rueda G (2015) Eliciting an immune response reduces sprint speed in a lizard. Behav Ecol 26:115–120. https://doi.org/10.1093/beheco/aru170

Zamora-Camacho FJ, Comas M, Moreno-Rueda G (2020) Immune challenge does not impair short-distance escape speed in a newt. Anim Behav 167:101–109

Zimmerman LM (2020) The reptilian perspective on vertebrate immunity: 10 years of progress. J Exp Biol. https://doi.org/10.1242/jeb.214171

Zimmerman LM, Vogel LA, Bowden RM (2010) Understanding the vertebrate immune system: insights from the reptilian perspective. J Exp Biol 213:661–671. https://doi.org/10.1242/jeb.038315
Acknowledgements
We would like to thank E. Magnuson, K. Reardon, G. Solis, and A. Wang for help with lizard husbandry. CMR was partially funded by the Undergraduate Research Opportunities Program office at the University of St. Thomas.
Additional information
Publisher's Note
Springer Nature remains neutral with regard to jurisdictional claims in published maps and institutional affiliations.
Communicated by H.V. Carey.
Supplementary Information
Below is the link to the electronic supplementary material.
About this article
Cite this article
Husak, J.F., Rohlf, C.M. & Lailvaux, S.P. Immune activation affects whole-organism performance in male but not female green anole lizards (Anolis carolinensis). J Comp Physiol B 191, 895–905 (2021). https://doi.org/10.1007/s00360-021-01370-0
Received:

Revised:

Accepted:

Published:

Issue Date:
Keywords
Bite force

Endurance

Immunity

Life history

Sprint speed

Trade-off