Abstract
The digestive system presents daily rhythms at both physiological and histological levels. Although cell morphology rhythms in mammals have been reported, they have scarcely been investigated in fish. The aim of the present research was to investigate the existence of daily rhythms in the morphology of cells in the liver and intestine of a teleost fish, the European sea bass (Dicentrarchus labrax), and how feeding time influences them. Regarding liver, we also focused on differences between the two metabolic zones: perivenous and periportal. For this purpose, fish were divided into two groups: fish fed once a day in the mid-light phase (ML) or the mid-dark phase (MD). After 1 month under each feeding regime, liver and intestine samples were collected every 4 h during a 24-h cycle, and different parameters were studied by light microscopy and image analysis. Daily rhythms occurred in most of the parameters evaluated in the liver. The effect of feeding time depended on the metabolic zone: the rhythms in the periportal zone were synchronized mainly by the light/dark cycle regardless of feeding time, whereas in the perivenous zone, rhythms were influenced more by feeding time. In the intestine, a daily rhythm in villi height was found with acrophases coinciding with feeding time in each group. These findings show for the first time the existence of cellular morphological rhythms in fish liver and intestine, and highlight the interactions between light and feeding cycles in the different metabolic zones of the liver.
Access options
Buy single article
Instant access to the full article PDF.
US$ 39.95
Tax calculation will be finalised during checkout.
Subscribe to journal
Immediate online access to all issues from 2019. Subscription will auto renew annually.
US$ 119
Tax calculation will be finalised during checkout.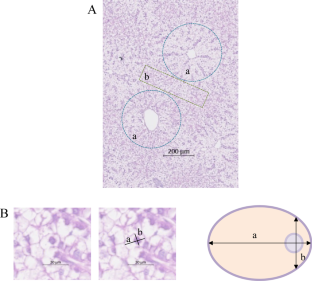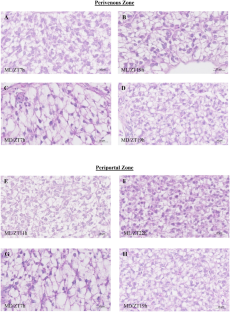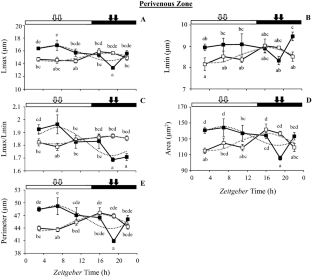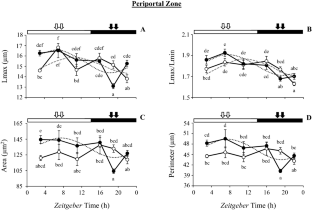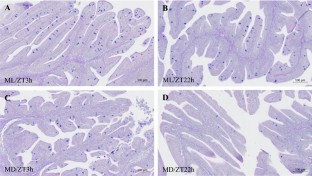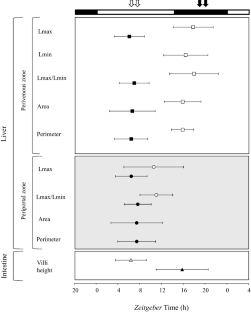 References
Abràmoff MD, Magalhaes PJ, Ram SJ (2004) Image processing with ImageJ. Biophoton Int 11:3

Adamovich Y, Rousso-Noori L, Zwighaft Z, Neufeld-Cohen A, Golik M, Kraut-Cohen J, Wang M, Han X, Asher G (2014) Circadian clocks and feeding time regulate the oscillations and levels of hepatic triglycerides. Cell Metab 19:319–330

Akiyoshi H, Inoue A (2004) Comparative histological study of teleost livers in relation to phylogeny. Zool Sci 21:841–850

Betancor MB, McStay E, Minghetti M, Migaud H, Tocher DR, Davie A (2014) Daily rhythms in expression of genes of hepatic lipid metabolism in Atlantic Salmon (Salmo salar L.). PLoS ONE 9:e106739

Betancor MB, Sprague M, Sayanova O, Usher S, Campbell PJ, Napier JA, Caballero MJ, Tocher DR (2015) Evaluation of a high-EPA oil from transgenic Camelina sativa in feeds for Atlantic salmon (Salmo salar L.): effects on tissue fatty acid composition, histology and gene expression. Aquaculture 444:1–12

Betancor MB, Li K, Sprague M, Bardal T, Sayanova O, Usher S, Han L, Màsøval K, Torrissen O, Napier JA, Tocher DR, Olsen RE (2017) An oil containing EPA and DHA from transgenic Camelina sativa to replace marine fish oil in feeds for Atlantic salmon (Salmo salar L.): effects on intestinal transcriptome, histology, tissue fatty acid profiles and plasma biochemistry. PLoS ONE 12:1–29

Betancor MB, Sprague M, Ortega A, de la Gándara F, Tocher DR, Ruth R, Perkins E, Mourente G (2020) Central and peripheral clocks in Atlantic bluefin tuna (Thunnus thynnus L.): daily rhythmicity of hepatic lipid metabolism and digestive genes. Aquaculture 523:735220

Bjarnason GA, Jordan R (2002) Rhythms in human gastrointestinal mucosa and skin. Chronobiol Int 19(129–140):5

Costa LS, Serrano I, Sánchez-Vázquez FJ, López-Olmeda JF (2016) Circadian rhythms of clock gene expression in Nile tilapia (Oreochromis niloticus) central and peripheral tissues: influence of different lighting and feeding conditions. J Comp Physiol B 186:775–785

Cowan M, Azpeleta C, López-Olmeda JF (2017) Rhythms in the endocrine system of fish: a review. J Comp Physiol B 187:1057–1089

Damiola F, Le Minh N, Preitner N, Kornmann B, Fleury-Olela F, Schibler U (2000) Restricted feeding uncouples circadian oscillators in peripheral tissues from the central pacemaker in the suprachiasmatic nucleus. Genes Dev 14:2950–2961

Davidson AJ, Castañón-Cervantes O, Stephan FK (2004) Daily oscillations in liver function: diurnal vs circadian rhythmicity. Liver Int 24:179–186

de Alba G, Mourad NMN, Paredes JF, Sánchez-Vázquez FJ, López-Olmeda JF (2019) Daily rhythms in the reproductive axis of Nile tilapia (Oreochromis niloticus): plasma steroids and gene expression in brain, pituitary, gonad and egg. Aquaculture 507:313–321

del Pozo A, Montoya A, Vera LM, Sánchez-Vázquez FJ (2012) Daily rhythms of clock gene expression, glycaemia and digestive physiology in diurnal/nocturnal European seabass. Physiol Behav 106:446–450

Diaz JP, Connes R (1988) Particularités de l'organisation ultrastructurale du foie du loup Dicentrarchus labrax L. (Poisson, Téléostéen). Ann Sci Nat Zool 9:123–141

Díaz-Muñoz M, Vázquez-Martínez O, Báez-Ruiz A, Martínez-Cabrera G, Soto-Abraham MV, Ávila-Casado MC, Larriva-Sahd J (2010) Daytime food restriction alters liver glycogen, triacylglycerols, and cell size. A histochemical, morphometric, and ultrastructural study. Comp Hepatol 9:5.

Enes P, Panserat S, Kaushik S, Oliva-Teles A (2011) Dietary carbohydrate utilization by European sea bass (Dicentrarchus labrax L.) and gilthead sea bream (Sparus aurata L.) juveniles. Rev Fish Sci 201–215.

Figueiredo-Fernandes AM, Fontaínhas-Fernandes AA, Monteiro RAF, Reis-Henriques MA, Rocha E (2007) Spatial relationships of the intrahepatic vascular-biliary tracts and associated pancreatic acini of Nile tilapia, Oreochromis niloticus (Teleostei, Cichlidae): a serial section study by light microscopy. Ann Anat 189:17–30

Garaulet M, Gómez-Abellán P (2014) Timing of food intake and obesity: a novel association. Physiol Behav 134:44–50

Gnocchi D, Pedrelli M, Hurt-Camejo E, Parini P (2015) Lipids around the clock: focus on circadian rhythms and lipid metabolism. Biology 4:104–132

Gómez-Boronat M, Sáiz N, Delgado MJ, de Pedro N, Isorna E (2018) Time-lag in feeding schedule acts as a stressor that alters circadian oscillators in Goldfish. Front Physiol 9:1749

Gooley JJ (2016) Circadian regulation of lipid metabolism. Proc Nutr Soc 75:440–450

Hardman RC, Volz DC, Kullman SW, Hinton DE (2007) An in vivo look at vertebrate liver architecture: three-dimensional reconstructions from Medaka (Oryzias latipes). Anat Rec 290:770–782

Hernández-Pérez J, Míguez JM, Librán-Pérez M, Otero-Rodiño C, Naderi F, Soengas JL, López-Patiño MA (2015) Daily rhythms in activity and mRNA abundance of enzymes involved in glucose and lipid metabolism in liver of rainbow trout, Oncorhynchus mykiss. Influence of light and food availability. Chronobiol Int 32:1391–1408

Hijmans BS, Grefhorst A, Oosterveer MH, Groen AK (2014) Zonation of glucose and fatty acid metabolism in the liver: mechanism and metabolic consequences. Biochimie 96:121–129

Hussain MM, Pan X (2015) Circadian regulation of macronutrient absorption. J Biol Rhythms 30:459–469

Jungerman K, Kietzmann T (1996) Zonation of parenchymal and nonparenchymal metabolism in liver. Annu Rev Nutr 16:179–203

Kietzmann T (2017) Metabolic zonation of the liver: The oxygen gradient revisited. Redox Biol 11:622–630

Konturek PC, Brzozowski T, Konturek SJ (2011) Gut clock: implication of circadian rhythms in the gastointestinal tract. J Physiol Pharmacol 62:139–150

López-Olmeda JF (2017) Nonphotic entrainment in fish. Comp Biochem Physiol Part A Mol Integr Physiol 203:133–143

López-Olmeda JF, Tartaglione EV, de la Iglesia HO, Sánchez-Vázquez FJ (2010) Feeding entrainment of food-anticipatory activity and per1 expression in the brain and liver of zebrafish under different lighting and feeding conditions. Chronobiol Int 27:1380–1400

López-Olmeda JF, Noble C, Sánchez-Vázquez FJ (2012) Does feeding time affect fish welfare? Fish Physiol Biochem 38:143–152

Mommsen TP, Danulat E, Gavioli ME, Foster GD, Moon TW (1991) Separation of enzymatically distinct populations of trout hepatocytes. Can J Zool 69:420–426

Montoya A, López-Olmeda JF, Garayzar ABS, Sánchez-Vázquez FJ (2010) Synchronization of daily rhythms of locomotor activity and plasma glucose, cortisol and thyroid hormones to feeding in Gilthead seabream (Sparus aurata) under a light–dark cycle. Physiol Behav 101:101–107

Pácha J, Sumová A (2013) Circadian regulation of epithelial functions in the intestine. Acta Physiol 208:11–24

Pan X, Hussain MM (2009) Clock is important for food and circadian regulation of macronutrient absorption in mice. J Lipid Res 50:1800–1813

Paredes JF, Vera LM, Martinez-Lopez FJ et al (2014) Circadian rhythms of gene expression of lipid metabolism in Gilthead Sea bream liver: synchronisation to light and feeding time. Chronobiol Int 31:613–626

Paredes JF, López-Olmeda JF, Martínez FJ, Sánchez-Vázquez FJ (2015) Daily rhythms of lipid metabolic gene expression in zebra fish liver: response to light/dark and feeding cycles. Chronobiol Int 32:1438–1448

Peyric E, Moore HA, Whitmore D (2013) Circadian clock regulation of the cell cycle in the zebrafish Intestine. PLoS ONE 8:e73209

Polakof S, Ceinos RM, Fernández-Durán B et al (2007) Daily changes in parameters of energy metabolism in brain of rainbow trout: dependence on feeding. Comp Biochem Physiol A Mol Integr Physiol 146:265–273

Portaluppi F, Touitou Y, Smolensky MH (2008) Ethical and methodological standards for laboratory and medical biological rhythm research. Chronobiol Int 25:999–1016

Refinetti R, Lissen GC, Halberg F (2007) Procedures for numerical analysis of circadian rhythms. Biol Rhythm Res 38:275–325

Reinke H, Asher G (2016) Circadian clock control of liver metabolic functions. Gastroenterology 150:574–580

Reinke H, Asher G (2018) Liver size: waning by day, waxing by night. Hepatology 67:441–443

Rodríguez-Lozano A, Borges P, Robaina L, Betancor M, Hernández-Cruz CM, Romero García JR, Caballero JM, Vergara JM, Izquierdo M (2016) Effect of different dietary vitamin E levels on growth, fish composition, fillet quality and liver histology of meagre (Argyrosomus regius). Aquaculture 468:175–183

Schär M, Maly IP, Sasse D (1985) Histochemical studies on metabolic zonation of the liver in the trout (Salmo gairdneri). Histochemistry 83:147–151

Schleicher J, Tokarski C, Marbach E, Matz-Soja M, Zellmer S, Gebhardt R, Schuster S (2015) Zonation of hepatic fatty acid metabolism—the diversity of its regulation and the benefit of modeling. Biochim Biophys Acta Mol Cell Biol Lipids 1851:641–656

Schultz M, Hildebrand R (1983) Karyometric investigation on circadian rhythmic changes in the periportal and perivenous zones of the acinus of the rat liver. Cell Tissue Res 231:643–654

Sinturel F, Gerber A, Mauvoisin D, Wang J, Gatfield D, Stubblefield JJ, Green CB, Gachon F, Schibler U (2017) Diurnal oscillations in liver mass and cell size accompany ribosome assembly cycles. Cell 169:651–663

Stokkan K-A, Yamazaki S, Tei H, Sakaki Y, Menaker M (2001) Entrainment of the circadian clock in the liver by feeding. Science 291:490–493

Uchiyama Y (1980) Chonobiological aspects of cells, chronological changes in the morphology of hepatocytes. Biomed Res 1:376–391

Uchiyama Y (1990) Rhythms in morphology and function of hepatocytes. J Gastroenterol Hepatol 5:321–333

Vandeputte M, Gagnaire PA, Allal F (2019) The European sea bass: a key marine fish model in the wild and in aquaculture. Anim Genet 50:195–206

Vaughn BV, Rotolo S, Roth HL (2014) Circadian rhythm and sleep influences on digestive physiology and disorders. Chronophysiol Therap 4:67–77

Vera LM, Negrini P, Zagatti C, Frigato E, Sánchez-Vázquez FJ, Bertolucci C (2013) Light and feeding entrainment of the molecular circadian clock in a marine teleost (Sparus aurata). Chronobiol Int 30:649–661
Acknowledgements
The present research was funded by project "CHRONOLIPOFISH" (RTI2018-100678-A-I00) and a "Ramón y Cajal" research fellowship (RYC-2016-20959) granted to JFLO; project BLUESOLE (AGL2017-82582-C3-3-R) granted to FJSV; and the "CRONOPECES" network (RED2018-102487-T); all granted by the Spanish Ministry of Science, Innovation and Universities and cofunded with FEDER Funds. This research was also partly funded by Fundación Séneca through grants 19883/GERM/15 and 19899/GERM/15 (Grupos de Excelencia). The authors wish to thank CULMAREX for kindly providing the fish used in the experiment, and the Spanish Ministry of Defense and the Spanish Army for providing their facilities at the Naval Base of Algameca (ENA). Finally, the authors thank José Antonio Oliver for his technical support with fish and laboratory maintenance, and Debbie Faichney for her support with histological analyses.
Funding
Ministerio de Ciencia, Innovación y Universidades, RTI2018-100678-A-I00, RYC-2016-20959, AGL2017-82582-C3-3-R, RED2018-102487-T. Fundación Séneca, 19883/GERM/15, 19899/GERM/15.
Ethics declarations
Conflict of interest
The authors declare no conflicts of interest.
Additional information
Publisher's Note
Springer Nature remains neutral with regard to jurisdictional claims in published maps and institutional affiliations.
Communicated by H.V. Carey.
Supplementary Information
Below is the link to the electronic supplementary material.
About this article
Cite this article
Rodríguez, I., Betancor, M.B., López-Jiménez, J.Á. et al. Daily rhythms in the morphometric parameters of hepatocytes and intestine of the European sea bass (Dicentrarchus labrax): influence of feeding time and hepatic zonation. J Comp Physiol B 191, 503–515 (2021). https://doi.org/10.1007/s00360-020-01334-w
Received:

Revised:

Accepted:

Published:

Issue Date:
Keywords
Peripheral oscillators

Liver histology

Intestine histology

Morphology rhythms