Abstract
Immune responses to nitrogen gas bubbles, particularly activation of inflammation via the complement cascade, have been linked to the development of symptoms and damage associated with decompression sickness (DCS) in humans. Marine mammals were long thought not to be susceptible to such dive-related injury, yet evidence of DCS-like injury and new models of tissue nitrogen super-saturation suggest that bubbles may routinely form. As such, it is possible that marine mammals have protective adaptations that allow them to deal with a certain level of bubble formation during normal dives, without acute adverse effects. This work evaluated the complement response, indicative of inflammation, to in vitro nitrogen bubble exposures in several marine mammal species to assess whether a less-responsive immune system serves a protective role against DCS-like injury in these animals. Serum samples from beluga (Delphinapterus leucas), and harbor seals (Phoca vitulina) (relatively shallow divers) and deep diving narwhal (Monodon monoceros), and Weddell seals (Leptonychotes weddellii) were exposed to nitrogen bubbles in vitro. Complement activity was evaluated by measuring changes in the terminal protein C5a in serum, and results suggest marine mammal complement is less sensitive to gas bubbles than human complement, but the response varies between species. Species-specific differences may be related to dive ability, and suggest moderate or shallow divers may be more susceptible to DCS-like injury. This information is an important consideration in assessing the impact of changing dive behaviors in response to anthropogenic stressors, startle responses, or changing environmental conditions that affect prey depth distributions.
Access options
Buy single article
Instant access to the full article PDF.
USD 39.95
Price excludes VAT (USA)
Tax calculation will be finalised during checkout.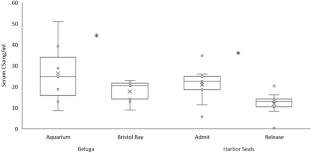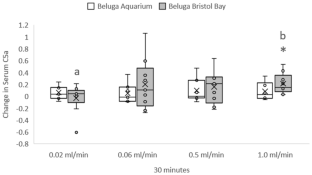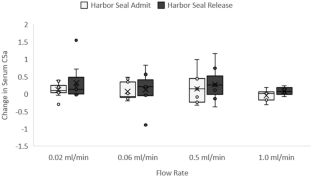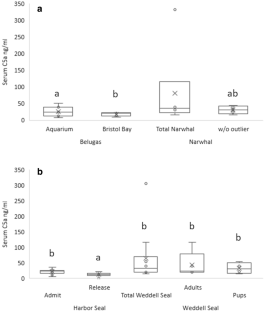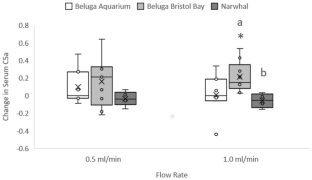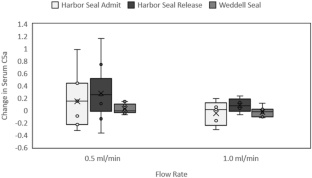 Availability of data and material
Raw data available upon request.
References:
Bagchi A, Batten AJ, Levin M, Allen KN, Fitzgerald ML, Huckstadt LA, Costa DP, Buys ES, Hindle AG (2018) Intrinsic anti-inflammatory properties in the serum of two species of deep-diving seal. J Exp Biol. https://doi.org/10.1242/jeb.178491

Barack M, Katz Y (2005) Microbubbles: pathophysiology and clinical implications. Chest 128:2918–2932

Bergh K, Hjelde A, Iversen O-J, Brubakk AO (1993) Variability over time of complement activation induced by air bubbles in human and rabbit sera. J Appl Physiol 74:1811–1815

Bernaldo de Quiros Y, Gonzalez-Diaz O, Arbelo M, Sierra E, Sacchini S, Fernandez A (2012) Decompression vs. decomposition: distribution, amount, and gas composition of bubbles in stranded marine mammals. Front. Physiol. 3:177. https://doi.org/10.3389/fphys.2012.00177

Bernaldo de Quiros Y, Fernandez A, Baird RW, Brownell RL, Aguilar de Soto N, Allen D, Arbelo M, Arregui M, Costidis A, Fahlman A, Frantzis A, Gulland FMD, Iniguez M, Johnson M, Komnenou A, Koopman H, Pabst DA, Roe WD, Sierra E, Tejedor M, Schorr G (2019) Advances in research on the impacts of anti-submarine sonar on beaked whales. Proc R Soc B 286:20182533

Bostrom BL, Fahlman A, Jones DR (2008) Tracheal compression delays alveolar collapse during deep diving in marine mammals. Resp Physiol Neurobiol 161(3):298–305

del Conde I, Cruz MA, Zhang H, Lopez JA, Afshar-Kharghan V (2005) Platelet activation leads to activation and propagation of the complement system. J Exp Med 201(6):871–879

Dennison S, Moore MJ, Fahlman A, Moore K, Sharp S, Harry CT, Hoppe J, Niemeyer M, Lentell B, Wells RS (2012) Bubbles in live-stranded dolphins. Proc R Soc B 279:1396–1404

Fahlman A, Olszowka A, Bostrom B, Jones DR (2006) Deep diving mammals: dive behavior and circulatory adjustments contribute to bends avoidance. Resp Physiol Neurobiol 153:66–77

Fahlman A, Tyack PL, Miller PJO, Kvadsheim PH (2014) How man-made interference might cause gas bubble emboli in deep diving whales. Front Physiol. https://doi.org/10.3389/fphys.2014.00013

Fahlman A, Moore MJ, Trites AW, Rosen DAS, Haulena M, Waller N, Neale T, Yang M, Thom SR (2016) Dive, food, and exercise effects on blood microparticles in Steller sea lions (Eumetopias jubatus): exploring a biomarker for decompression sickness. Am J Physiol Regul Integr Comp Physiol 310:R596–R601. https://doi.org/10.1152/ajpregu.00512.2015

Fahlman A, Moore MJ, Garcia-Parraga D (2017) Respiratory function and mechanics in pinnipeds and cetaceans. J Exp Biol 220:1761–1773. https://doi.org/10.1242/jeb.126870

Fernandez A, Sierra E, Diaz-Delgado J, Sacchini S, Sanchez-Paz Y, Suarez-Santana C, Arregui M, Arbelo M, Bernaldo de Quiros Y (2017) Deadly acute decompression sickness in Risso's Dolphins. Sci Rep 7:13621. https://doi.org/10.1038/s41598-017-14038-z

Garcia-Parraga D, Moore M, Fahlman A (2018) Pulmonary ventilation-perfusion mismatch: a novel hypothesis for how diving vertebrates may avoid the bends. Proc R Soc B 285:20180482

Heide-Jørgensen MP (2009) Narwhal Monodon monoceros. In: Perrin WF, Wursig B, Thewissen JGM (eds) Encyclopedia of marine mammals, 2nd edn. Elsevier/Academic Press, Boston, MA, pp 754–758

Heide-Jorgensen MP, Dietz R (2011) Some characteristics of narwhal, Monodon monoceros, dive behavior in Baffin Bay. Can J Zool 73:2120–2132

Heide-Jorgensen MP, Richard PR, Rosing-Asvid A (1998) Dive patterns of belugas (Delphinapterus leucas) in waters Near Eastern Devon Island. Arctic 51(1):17–26

Heide-Jorgensen MP, Dietz R, Laidre KL, Richard P (2002) Autumn movements, home ranges, and winter density of narwhals (Monodon monoceros) tagged in Tremblay Sound. Baffin Island Polar Biol 25:331–341

Hellier CA, Hufthammer AK, Lislevand T (2011) Osteological Pathology in a Humpback (Megaptera novaeangliae) and Fin (Balaenoptera physalus) whale skeleton. Int J Paleopathol 1:117–120

Hjelde A, Brubakk, AO, Bergh K, Iversen OJ (1990) Compliment activation by gas bubbles. Undersea Biomed Res 16(1)

Hooker SK, Fahlman A, Moore MJ, Aquilar de Soto N, Bernaldo de Quiros Y, Brubakk AO, Costa DP, Costidis AM, Dennison S, Falke KJ, Fernandez A, Ferrigno M, Fitz-Clarke JR, Garner MM, Houser DS, Jepson PD, Ketten DR, Kvadsheim PH, Madsen PT, Pollock NW, Rotstein DS, Rowles TK, Simmons SE, Van Bonn W, Weathersby PK, Weise MJ, Williams TM, Tyack PL (2012) Deadly diving? Physiological and behavioral management of decompression stress in diving mammals. Proc R Soc B 279:1041–1050

Houser DS, Howard R, Ridgway S (2001) can diving-induced tissue supersaturation increase the chance of acoustically driven bubble growth in marine mammals? J Theor Biol 213:183–195

Houser DS, Dankiewicz-Talmadge LA, Stockard TK, Ponganis PJ (2010) Investigation of the potential for vascular bubble formation in a repetitively diving dolphin. J Exp Biol 213:52–62

Jepson PD, Arbelo M, Deaville R, Patterson IAP, Castro P, Baker JR, Degollada E, Ross HM, Herraez D, Pocknell AM, Rodriguez F, Howie FE, Espinosa A, Reid RJ, Jaber JR, Martin V, Cunningham AA, Fernandez A (2003) Gas-bubble lesions in stranded cetaceans. Nature 425:575–576

Jepson PD, Deaville R, Patterson IAP, Pocknell AM, Ross HM, Baker JR, Howie FE, Reid RJ, Colloff A, Cunningham AA (2005) Acute and chronic gas bubble lesions in cetaceans stranded in the United Kingdom. Vet Pathol 42:291–305

Kayar SR, Aukhert EO, Axley MJ, Homer LD, Harabin AL (1996) Lower decompression sickness in rats by intravenous injection of foreign protein. Undersea Hyperb Med 24(4):329–235

Kooyman GL (1966) Maximum diving capacities of the weddell seal, Leptonychotes weddelli. Science 151(3717):1553–1554. https://doi.org/10.1126/science.151.3717.1553

Kvadsheim PH, Miller PJO, Tyack PL, Sivle LD, Lam FPA, Fahlman A (2012) Estimated tissue and blood N2 levels and risk of decompression sickness in deep-, intermediate-, and shallow-diving toothed whales during exposure to naval sonar. Front Physiol 3:1–14

Logue GL (1977) Effect of heparin on complement activation and lysis of paroxysmal nocturnal hemoglobinuria (PNH) red cells. Blood 50:239–247

McDonald BI, Ponganis PJ (2012) Lung Collapse in the Diving Sea Lion: hold the nitrogen and save the oxygen. Biol Lett 8:1047–1049

Montcalm-Smith E, Caviness J, Chen Y, McCarron RM (2007) Stress biomarkers in a rat model of decompression sickness. Aviat Space Environ Med 78(2):87–93

Moore MJ, Early GA (2004) Cumulative sperm whale bone damage and the bends. Science 306(5705):2215

Moore MJ, Bogomolni AL, Dennison SE, Early G, Garner MM, Hayward BA, Lentell BJ, Rotstein DS (2009) Gas bubbles in seals, dolphins, and porpoises entangled and drowned at depth in gillnets. Vet Pathol 46:536–547

Nishi RY, Brubakk AO, Eftedal O (2003) Bubble detection. In: Brubakk A, Neuman T (eds) Bennett and Elliott's physiology and medicine of diving, 5th edn. Saunders, London, pp 501–529

Norman SA, Goertz CEC, Burek KA, Quakenbush LT, Cornick LA, Romano TA, Spoon T, Miller W, Beckett LA, Hobbs RC (2012) Seasonal hematology and serum chemistry of wild beluga whales (Delphinapterus leucas) in Bristol Bay, Alaska, USA. J Wildl Dis 48(1):21–32

Peerschke EIB, Yin W, Ghabrehiwet B (2008) Platelet mediated complement activation. Adv Exp Med Biol 632:81–91

Shastri KA, Logue GL, Lundgren CE (1991) In vitro activation of human complement by nitrogen bubbles. Undersea Biomed Res 18(3):157–165

Stumpff E, Fenwick B, Schroeder JP (1992) Evaluation of Complement Activity in the Bottlenose Dolphin (Tursiops Truncatus). Abstract. In: Annual Meeting and Conference of the International Association of Aquatic Animal Medicine

Suydam RS, Lowry LF, Frost KJ, Corry-Crowe O, Pikok GMD Jr (2001) Satellite tracking of Eastern Chukchi Sea Beluga Whales into the Arctic Ocean. Arctic 54(3):237–243

Talpalar AE, Grossman Y (2005) Sonar versus whales: noise may disrupt neural activity in deep-diving cetaceans. Undersea Hyperb Med 32(2):135–139

Thom SR, Bennett M, Banham ND, Chin W, Blake DF, Rosen A, Pollock NW, Madden D, Barak O, Marroni A, Balestra C, Germonpre P, Pieri M, Cialoni D, Le Jeannie PN, Logue C, Lambert D, Hardy KR, Sward D, Yang M, Bhopale VB, Dujic Z (2015) Association of microparticles and neutrophil activation with decompression sickness. J Appl Physiol 119:427–434

Thompson LA, Romano TA (2015) Beluga (Delphinapterus leucas) granulocytes and monocytes display variable responses to in vitro pressure exposures. Front Physiol 6:128. https://doi.org/10.3389/fphys.2015.00128

Thompson LA, Romano TA (2016) Pressure induced changes in adaptive immune function in belugas (Delphinapterus leucas); implications for dive physiology and health. Front Physiol 7:442. https://doi.org/10.3389/fphys.2016.00442

Thompson LA, Romano TA (2019) Effects of health status on pressure-induced changes in phocid immune function and implications for dive ability. J Comp Physiol B 189:637–657

Van Bonn W, Montie E, Dennison S, Pussini N, Cook P, Greig D, Barakos J, Colegrove K, Gulland F (2011) Evidence of Injury cause by Gas Bubbles in a Live Marine Mammal: barotrauma in a California sea lion Zalophus californianus. Dis Aquat Organ 96(2):89–96. https://doi.org/10.3354/dao02376

Ward CA, Koheil A, McCullough D, Johnson WR, Fraser WD (1986) Activation of complement at plasma-air or serum-air interface of rabbits. J Appl Physiol 60(5):1651–1658

Ward CA, McCullough D, Fraser WD (1987) Relation between complement activation and susceptibility to decompression sickness. J Appl Physiol 62(3):1160–1166

Ward CA, McCullough D, Yee D, Stanga D, Fraser WD (1990) Complement activation involvement in decompression sickness of rabbits. Undersea Biomed Res 17:51–66

Zimmer WMX, Tyack PL (2007) Repetitive shallow dives pose decompression risk in deep-diving beaked whales. Mar Mam Sci 23:888–925
Acknowledgements
Funding for this work was provided by the Office of Naval Research Award Number N000141512203. The authors would like to thank the Animal Care department at Mystic Aquarium for sample collection, as well as the Beluga Husbandry and Marine Mammal Rescue and Rehabilitation staff. Thank you to the veterinary and animal care staff at Sea World San Antonio and Sea World Orlando for contributing beluga serum samples to this project. Fieldwork in Bristol Bay was made possible by Dr. Caroline Goertz and Dr. Roderick Hobbs, as well as the Bristol Bay Native Association, Bristol Bay Marine Mammal Council, the Alaska Beluga Committee and the Alaska Department of Fish and Game. Field efforts in Bristol Bay, AK were funded by the Georgia Aquarium. This research was conducted under Mystic Aquarium IACUC #15004. Wild beluga sampling efforts were conducted under NMFS permit 14245. Collection of Weddell seal samples was supported by NSF # 1443554/1921491 and authorized by NMFS #19439, #1,662 and ACA #2016-005. Narwhal and Weddell seal serum were received under NMFS Permit #17298. This constitutes scientific publication #305 from Sea Research Foundation, Inc.
Funding
This works was funded by the Office of Naval Research Award Number N000141512203.
Ethics declarations
Conflict of interest
There is no conflict of interest/competing interests.
Ethical approval
This research was conducted under Mystic Aquarium IACUC #15004. Wild beluga sampling efforts were conducted under NMFS permit 14245. Collection of Weddell seal samples was supported by NSF # 1443554/1921491 and authorized by NMFS #19439, #18662 and ACA #2016-005. Narwhal and Weddell seal serum were received under NMFS Permit #17298.
Additional information
Communicated by H.V. Carey.
Publisher's Note
Springer Nature remains neutral with regard to jurisdictional claims in published maps and institutional affiliations.
About this article
Cite this article
Thompson, L.A., Hindle, A.G., Black, S.R. et al. Variation in the hemostatic complement (C5a) responses to in vitro nitrogen bubbles in monodontids and phocids. J Comp Physiol B 190, 811–822 (2020). https://doi.org/10.1007/s00360-020-01297-y
Received:

Revised:

Accepted:

Published:

Issue Date:

DOI: https://doi.org/10.1007/s00360-020-01297-y
Keywords
Marine mammal

Dive physiology

Complement

Decompression sickness

Diving

Inflammation

Whale

Seal