Abstract
Nonapeptides and their receptors regulate a diverse range of physiological processes. We assessed the contractile responsiveness of uteri from the squamate viviparous-oviparous species pair, Pseudemoia entrecasteauxii and Lampropholis guichenoti, as well as the bimodally reproductive species, Saiphos equalis, to arginine vasopressin (AVP). We assessed the resulting uterine contractility as a function of pregnancy status, species and parity mode. We also measured mRNA abundance for the nonapeptide receptor, oxytocin receptor (oxtr), in uteri from P. entrecasteauxii and L. guichenoti and compared expression across pregnancy status and parity mode. We found that pregnant uteri exhibited a significantly greater contractile response to AVP than non-pregnant uteri in all three lizard species studied. Cross-species comparisons revealed that uteri from viviparous P. entrecasteauxii were significantly more responsive to AVP than uteri from oviparous L. guichenoti during both pregnant and non-pregnant states. Conversely, for non-pregnant S. equalis, uteri from viviparous individuals were significantly less responsive to AVP than uteri from oviparous individuals, while during pregnancy, there was no difference in AVP contractile responsiveness. There was no difference in expression of oxtr between L. guichenoti and P. entrecasteauxii, or between pregnant and non-pregnant individuals within each species. We found no significant correlation between oxtr expression and AVP contractile responsiveness. These findings indicate that there are differences in nonapeptide signalling across parity mode and suggest that in these lizards, labour may be triggered either by an increase in plasma nonapeptide concentration, or by an increase in expression of a different nonapeptide receptor from the vasopressin-like receptor family.
Access options
Buy single article
Instant access to the full article PDF.
US$ 39.95
Tax calculation will be finalised during checkout.
Subscribe to journal
Immediate online access to all issues from 2019. Subscription will auto renew annually.
US$ 119
Tax calculation will be finalised during checkout.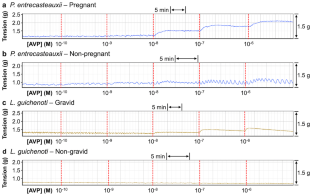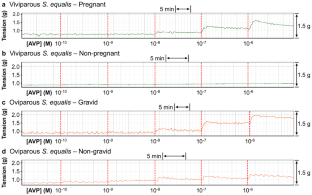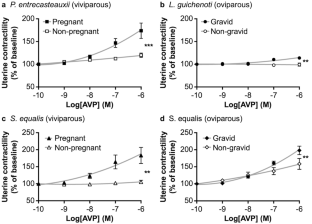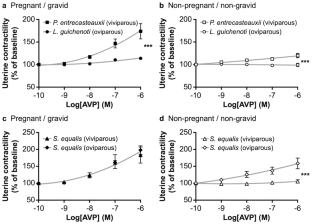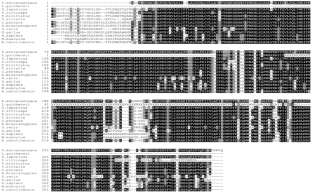 References
Alexandrova M, Soloff MS (1980a) Oxytocin receptors and parturition in the Guinea Pig. Biol Reprod 22(5):1106–1111. https://doi.org/10.1093/biolreprod/22.5.1106

Alexandrova M, Soloff MS (1980b) Oxytocin receptors and parturition. I Control of oxytocin receptor concentration in the rat myometrium at term. Endocrinology 106(3):730–735. https://doi.org/10.1210/endo-106-3-730

Banerjee P, Joy KP, Chaube R (2017) Structural and functional diversity of nonapeptide hormones from an evolutionary perspective: a review. Gen Comp Endocrinol 241:4–23. https://doi.org/10.1016/j.ygcen.2016.04.025

Biazik JM, Thompson MB, Murphy CR (2007) The tight junctional protein occludin is found in the uterine epithelium of squamate reptiles. J Comp Physiol [B] 177(8):935–943. https://doi.org/10.1007/s00360-007-0192-1

Blackburn DG (1995) Saltationist and punctuated equilibrium models for the evolution of viviparity and placentation. J Theor Biol 174(2):199–216. https://doi.org/10.1006/jtbi.1995.0092

Blackburn DG (2006) Squamate reptiles as model organisms for the evolution of viviparity. Herpetol Monogr 20(1):131–146

Blackburn DG (2015) Evolution of vertebrate viviparity and specializations for fetal nutrition: a quantitative and qualitative analysis. J Morphol 276(8):961–990. https://doi.org/10.1002/jmor.20272

Blanks AM, Thornton S (2003) The role of oxytocin in parturition. BJOG 110(s20):46–51. https://doi.org/10.1046/j.1471-0528.2003.00024.x

Brandley MC, Young RL, Warren DL, Thompson MB, Wagner GP (2012) Uterine gene expression in the live-bearing lizard, Chalcides ocellatus, reveals convergence of squamate reptile and mammalian pregnancy mechanisms. Genome Biol Evol 4(3):394–411. https://doi.org/10.1093/gbe/evs013

Callard IP, Lance V, Salhanick AR, Barad D (1978) The annual ovarian cycle of Chrysemys picta: correlated changes in plasma steroids and parameters of vitellogenesis. Gen Comp Endocrinol 35(3):245–257. https://doi.org/10.1016/0016-6480(78)90069-2

Callard IP, Fileti LA, Perez LE, Sorbera LA, Giannoukos G, Klosterman LL, Paul T, McCracken JA (1992) Role of the corpus luteum and progesterone in the evolution of vertebrate viviparity. Am Zool 32(2):264–275. https://doi.org/10.1093/icb/32.2.264

Di Tommaso P, Moretti S, Xenarios I, Orobitg M, Montanyola A, Chang JM, Taly JF, Notredame C (2011) T-Coffee a web server for the multiple sequence alignment of protein and RNA sequences using structural information and homology extension. Nucleic Acids Res 39((Web Server issue)):W13–W17. https://doi.org/10.1093/nar/gkr245

Dufaure JP, Hubert L (1961) Table de developpement du lezard vivipare - Lacerta (Zootoca) vivipara jacquin. Arch Anat Micr Morph Exp 50:309–328

Edwards A, Jones SM (2001) Changes in plasma progesterone, estrogen, and testosterone concentrations throughout the reproductive cycle in female viviparous blue-tongued skinks, Tiliqua nigrolutea (Scincidae) Tasmania. Gen Comp Endocrinol 122(3):260–269. https://doi.org/10.1006/gcen.2001.7634

Fergusson B, Bradshaw SD (1991) Plasma arginine vasotocin, progesterone, and luteal development during pregnancy in the viviparous lizard Tiliqua rugosa. Gen Comp Endocrinol 82(1):140–151

Fergusson B, Bradshaw SD (1992) In vitro uterine contractions in the viviparous lizard Tiliqua rugosa: Effects of gestation and steroid pretreatment in vivo. Gen Comp Endocrinol 86(2):203–210. https://doi.org/10.1016/0016-6480(92)90103-Q

Figler RA, MacKenzie DS, Owens DW, Licht P, Amoss MS (1989) Increased levels of arginine vasotocin and neurophysin during nesting in sea turtles. Gen Comp Endocrinol 73(2):223–232. https://doi.org/10.1016/0016-6480(89)90095-6

Freund-Mercier MJ, Richard P (1981) Excitatory effects of intraventricular injections of oxytocin on the milk ejection reflex in the rat. Neurosci Lett 23(2):193–198. https://doi.org/10.1016/0304-3940(81)90039-2

Fuchs A-R, Fuchs F, Husslein P, Soloff MS, Fernstrom MJ (1982) Oxytocin receptors and human parturition: a dual role for oxytocin in the initiation of labor. Science 215(4538):1396–1398. https://doi.org/10.1126/science.6278592

Fuchs A-R, Periyasamy S, Alexandrova M, Soloff MS (1983) Correlation between oxytocin receptor concentration and responsiveness to oxytocin in pregnant rat myometrium - effects of ovarian-steroids. Endocrinology 113(2):742–749

Gao W, Sun Y-B, Zhou W-W, Xiong Z-J, Chen L, Li H, Fu T-T, Xu K, Xu W, Ma L, Chen Y-J, Xiang X-Y, Zhou L, Zeng T, Zhang S, Jin J-Q, Chen H-M, Zhang G, Hillis DM, Ji X, Zhang Y-P, Che J (2019) Genomic and transcriptomic investigations of the evolutionary transition from oviparity to viviparity. Proc Natl Acad Sci USA 116(9):3646–3655. https://doi.org/10.1073/pnas.1816086116

Gimpl G, Fahrenholz F (2001) The oxytocin receptor system: structure, function, and regulation. Physiol Rev 81(2):629–683

Goodson JL (2008) Nonapeptides and the evolutionary patterning of sociality. Prog Brain Res 170:3–15. https://doi.org/10.1016/s0079-6123(08)00401-9

Graham SP, Earley RL, Guyer C, Mendonça MT (2011) Innate immune performance and steroid hormone profiles of pregnant versus nonpregnant cottonmouth snakes (Agkistrodon piscivorus). Gen Comp Endocrinol 174(3):348–353. https://doi.org/10.1016/j.ygcen.2011.09.015

Greer AE (1989) The biology and evolution of Australian lizards. Surrey Beatty and Sons, Chipping Norton, Australia

Griffith OW, Ujvari B, Belov K, Thompson MB (2013) Placental lipoprotein lipase (LPL) gene expression in a placentotrophic lizard, Pseudemoia entrecasteauxii. J Exp Zool B Mol Dev Evolut 320(7):465–470. https://doi.org/10.1002/jez.b.22526

Griffith OW, Brandley MC, Belov K, Thompson MB (2016) Reptile pregnancy is underpinned by complex changes in uterine gene expression: a comparative analysis of the uterine transcriptome in viviparous and oviparous lizards. Genome Biol Evolut 8(10):3226–3239. https://doi.org/10.1093/gbe/evw229

Guillette LJ (1993) The evolution of viviparity in lizards: ecological, anatomical, and physiological correlates lead to new hypotheses. Bioscience 43(11):742–750. https://doi.org/10.2307/1312318

Guillette LJ, Jones RE (1985) Ovarian, oviductal, and placental morphology of the reproductively bimodal lizard, Sceloporus aeneus. J Morphol 184(1):85–98. https://doi.org/10.1002/jmor.1051840109

Hall TA (1999) BioEdit: a user-friendly biological sequence alignment editor and analysis program for Windows 95/98/NT. Nucleic Acids Symp Ser 41:95–98

Heller H (1969) Class and species specific actions of neurohypophysial hormones. In: Paper presented at the Colloques Internationaux du Centre National de la Recherche Scientifique (C.N.R.S), Paris, France

Hendrawan K, Whittington CM, Brandley MC, Belov K, Thompson MB (2017) The regulation of uterine proinflammatory gene expression during pregnancy in the live-bearing lizard, Pseudemoia entrecasteauxii. J Exp Zool B Mol Dev Evolut 328(4):334–346. https://doi.org/10.1002/jez.b.22733

Heulin B, Stewart JR, Surget-Groba Y, Bellaud P, Jouan F, Lancien G, Deunff J (2005) Development of the uterine shell glands during the preovulatory and early gestation periods in oviparous and viviparous Lacerta vivipara. J Morphol 266(1):80–93. https://doi.org/10.1002/jmor.10368

Hofmann K, Baron MD (2019) BOXSHADE. v3.21 edn

Kota SK, Gayatri K, Jammula S, Kota SK, Krishna SV, Meher LK, Modi KD (2013) Endocrinology of parturition. Indian J Endocrinol Metab 17(1):50–59. https://doi.org/10.4103/2230-8210.107841

La Pointe J (1977) Comparative physiology of neurohypophysial hormone action on the vertebrate oviduct-uterus. Integr Comp Biol 17(4):763–773. https://doi.org/10.1093/icb/17.4.763

Laird MK, Thompson MB, Whittington CM (2019) Facultative oviparity in a viviparous skink (Saiphos equalis). Biol Let 15(4):20180827. https://doi.org/10.1098/rsbl.2018.0827

Lemus D, Zurich L, de La Vega-Lemus YP, Wacyk J (1970) Spontaneus activity and effect of oxytocin on the islated uterus of Liolaemus gravenhorti and Liolaemus tenuis t. Archivos De Biologia Y Medicina Experimentales 7:11–13

Mitchell BF, Schmid B (2001) Oxytocin and its receptor in the process of parturition. J Soc Gynecol Investig 8(3):122–133

Mitchell BF, Taggart MJ (2009) Are animal models relevant to key aspects of human parturition? Am J Physiol Regul Integr Comp Physiol 297(3):R525–545. https://doi.org/10.1152/ajpregu.00153.2009

Moore MC, Whittier JM, Crews D (1985) Sex steroid hormones during the ovarian cycle of an all-female, parthenogenetic lizard and their correlation with pseudosexual behavior. Gen Comp Endocrinol 60(2):144–153. https://doi.org/10.1016/0016-6480(85)90308-9

Munsick RA (1960) Effect of magnesium ion on the response of the rat uterus to neurohypophysial hormones and analogues. Endocrinology 6:451–457

Murphy BF, Thompson MB (2011) A review of the evolution of viviparity in squamate reptiles: the past, present and future role of molecular biology and genomics. J Comp Physiol B 181(5):575–594. https://doi.org/10.1007/s00360-011-0584-0

Notredame C, Higgins DG, Heringa J (2000) T-Coffee: a novel method for fast and accurate multiple sequence alignment. J Mol Biol 302(1):205–217. https://doi.org/10.1006/jmbi.2000.4042

Ocampo Daza D, Lewicka M, Larhammar D (2012) The oxytocin/vasopressin receptor family has at least five members in the gnathostome lineage, inclucing two distinct V2 subtypes. Gen Comp Endocrinol 175(1):135–143. https://doi.org/10.1016/j.ygcen.2011.10.011

Packard GC, Tracy CR, Roth JJ (1977) The physiological ecology of reptilian eggs and embryos, and the evolution of viviparity within the class reptilia. Biol Rev Camb Philos Soc 52(1):71–105

Paul J, Maiti K, Read M, Hure A, Smith J, Chan EC, Smith R (2011) Phasic phosphorylation of caldesmon and erk 1/2 during contractions in human myometrium. PLoS ONE 6(6):e21542. https://doi.org/10.1371/journal.pone.0021542

Paul JW, Hua S, Ilicic M, Tolosa JM, Butler T, Robertson S, Smith R (2017) Drug delivery to the human and mouse uterus using immunoliposomes targeted to the oxytocin receptor. Am J Obstet Gynecol 216(3):283 e281–284 e214. https://doi.org/10.1016/j.ajog.2016.08.027

Qualla CP, Shine R, Donnellan S, Hutchinsonm M (1995) The evolution of viviparity within the Australian scincid lizard Lerista bougainvillii. J Zool 237(1):13–26. https://doi.org/10.1111/j.1469-7998.1995.tb02742.x

Qualls FJ, Shine R (2000) Post-hatching environment contributes greatly to phenotypic variation between two populations of the Australian garden skink Lampropholis guichenoti. Biol J Linn Soc 71(2):315–341. https://doi.org/10.1111/j.1095-8312.2000.tb01260.x

Shine R (1983) Reptilian reproductive modes: the oviparity-viviparity continuum. Herpetologica 39(1):1–8

Smith R (2007) Parturition. N Engl J Med 356(3):271–283

Smith SA, Shine R (1997) Intraspecific variation in reproductive mode within the scincid lizard Saiphos equalis. Australian J Zool 45(5):435–445. https://doi.org/10.1071/ZO97023

Smith SA, Austin CC, Shine R (2001) A phylogenetic analysis of variation in reproductive mode within an Australian lizard (Saiphos equalis, Scincidae). Biol J Lin Soc 74(2):131–139. https://doi.org/10.1111/j.1095-8312.2001.tb01382.x

Stewart JR, Mathieson AN, Ecay TW, Herbert JF, Parker SL, Thompson MB (2010) Uterine and eggshell structure and histochemistry in a lizard with prolonged uterine egg retention (Lacertilia, Scincidae, Saiphos). J Morphol 271(11):1342–1351. https://doi.org/10.1002/jmor.10877

Stothard P (2000) The sequence manipulation suite: JavaScript programs for analyzing and formatting protein and DNA sequences. Biotechniques 28(6):1102–1104

Thompson MB, Speake BK (2006) A review of the evolution of viviparity in lizards: structure, function and physiology of the placenta. J Comp Physiol B 176(3):179–189. https://doi.org/10.1007/s00360-005-0048-5

Thompson MB, Stewart JR, Speake BK (2000) Comparison of nutrient transport across the placenta of lizards differing in placental complexity. Comp Biochem Physiol A Mol Integr Physiol 127(4):469–479

Van Dyke JU, Brandley MC, Thompson MB (2014) The evolution of viviparity: molecular and genomic data from squamate reptiles advance understanding of live birth in amniotes. Reproduction 147(1):R15–26. https://doi.org/10.1530/rep-13-0309

Vrachnis N, Malamas FM, Sifakis S, Deligeoroglou E, Iliodromiti Z (2011) The oxytocin-oxytocin receptor system and its antagonists as tocolytic agents. Intern J Endocrinol 2011:8. https://doi.org/10.1155/2011/350546

Whittington CM, Grau GE, Murphy CR, Thompson MB (2015a) Unusual angiogenic factor plays a role in lizard pregnancy but is not unique to viviparity. J Exp Zool B 324(2):152–158. https://doi.org/10.1002/jez.b.22615

Whittington CM, Griffith OW, Qi W, Thompson MB, Wilson AB (2015b) Seahorse brood pouch transcriptome reveals common genes associated with vertebrate pregnancy. Mol Biol Evol 32(12):3114–3131. https://doi.org/10.1093/molbev/msv177

Whittington CM, Danastas K, Grau GE, Murphy CR, Thompson MB (2017) Expression of VEGF 111 and other VEGF-A variants in the rat uterus is correlated with stage of pregnancy. J Comp Physiol B 187(2):353–360. https://doi.org/10.1007/s00360-016-1040-y

Whittington CM, O'Meally D, Laird MK, Belov K, Thompson MB, McAllan BM (2018) Transcriptomic changes in the pre-implantation uterus highlight histotrophic nutrition of the developing marsupial embryo. Sci Rep 8(1):2412. https://doi.org/10.1038/s41598-018-20744-z

Wircer E, Ben-Dor S, Levkowitz G (2016) Non-Mammalian Models for Neurohypophysial Peptides. In: Molecular Neuroendocrinology. Wiley, pp 301–328. https://doi.org/10.1002/9781118760369.ch14

Wu Q, Parker SL, Thompson MB (2009) Selected body temperature, metabolic rate and activity pattern of the Australian fossorial skink Saiphos equalis. Herpetological J 19(3):127–133

Ye J, Coulouris G, Zaretskaya I, Cutcutache I, Rozen S, Madden TL (2012) Primer-BLAST: a tool to design target-specific primers for polymerase chain reaction. BMC Bioinformatics 13:134. https://doi.org/10.1186/1471-2105-13-134
Acknowledgements
The authors are grateful to Jacquie Herbert, Liana Bonner, Henrique Braz and Karina Braz for fieldwork and technical assistance. Thank you also to Rick Shine, Catherine Grueber and Jayna DeVore for insightful comments on an earlier version of this manuscript.
Funding
This work was funded by a L'Oréal-UNESCO for Women in Science fellowship to CMW, an Australian Research Council Discovery Project Grant (DP180103370) to CMW and MBT, and an Australian Society of Herpetologists Grant (2017) to JOK.
Ethics declarations
Conflict of interest
The authors have no competing interests to declare.
Additional information
Publisher's Note
Springer Nature remains neutral with regard to jurisdictional claims in published maps and institutional affiliations.
Communicated by H. V. Carey.
About this article
Cite this article
Paul, J.W., Kemsley, J.O., Butler, T.A. et al. A comparison of uterine contractile responsiveness to arginine vasopressin in oviparous and viviparous lizards. J Comp Physiol B 190, 49–62 (2020). https://doi.org/10.1007/s00360-019-01254-4
Received:

Revised:

Accepted:

Published:

Issue Date:
Keywords
Pregnancy

Contraction

Nonapeptide

Receptors

Parity mode

Squamates