Abstract
In Sepia officinalis (Linnaeus, 1758), the digestive gland matures during the first month post-hatching, while a shift from intracellular acid to extracellular alkaline digestion occurs. The purpose of this study was to investigate the possibility of using enzymatic ratios for the description of digestive system maturation in early life stages of S. officinalis. Second, it is intended to apply these new tools as eco-physiological indicators for understanding the impact of cuttlefish eggs' life history from different spawning sites of the English Channel on digestive performance of juveniles. An experimental rearing was performed over 35 days after hatching (DAH) on juveniles from wild collected eggs in 2010 and 2011. Four digestive enzyme activities and their ratios [i.e., trypsin, cathepsin, acid (ACP), and alkaline (ALP) phosphatase, ALP/ACP, and trypsin/cathepsin] were studied along with histological features (e.g., internal yolk surface and digestive gland development). The two enzyme ratios were good indicators of digestive system maturation allowing the study of the digestive gland's development. They were highly correlated to juveniles' weight increase and histological features of the gland in early DAH. These ratios described more accurately the shift occurring between the intracellular acid and the extracellular alkaline modes of digestion in S. officinalis and were more specific than separated enzyme activities. Their application as eco-physiological tools revealed that enzyme ratios reflected yolk content and digestive gland development in new hatching juveniles. Finally, ALP/ACP ratio was shown to be a powerful tool to describe growth performance of S. officinalis which is useful for aquaculture optimization.
Access options
Buy single article
Instant access to the full article PDF.
US$ 39.95
Tax calculation will be finalised during checkout.
Subscribe to journal
Immediate online access to all issues from 2019. Subscription will auto renew annually.
US$ 119
Tax calculation will be finalised during checkout.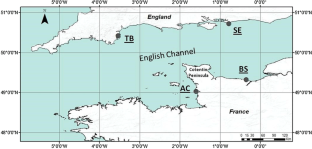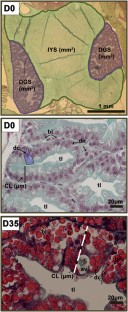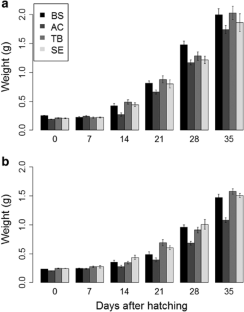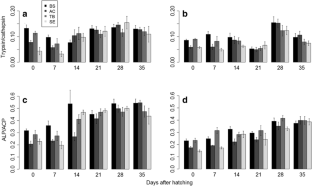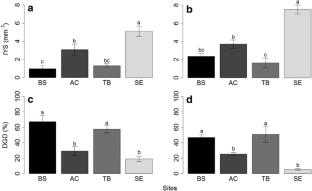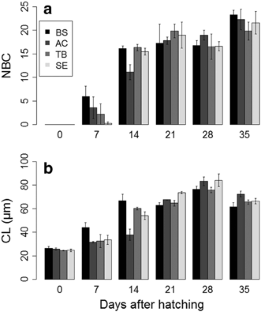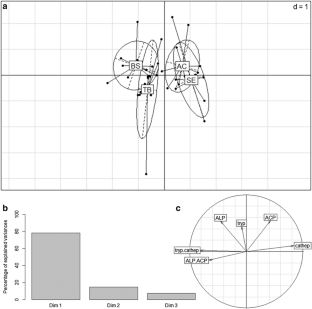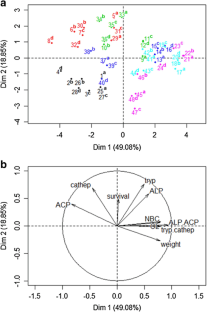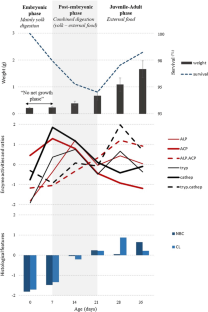 References
Aguila J, Cuzon G, Pascual C, Domingues PM, Gaxiola G, Sánchez A, Maldonado T, Rosas C (2007) The effects of fish hydrolysate (CPSP) level on Octopus maya (Voss and Solis) diet: digestive enzyme activity, blood metabolites, and energy balance. Aquaculture 273:641–655. doi:10.1016/j.aquaculture.2007.07.010

Balti R, Hmidet N, Jellouli K, Nedjar-Arroume N, Guillochon D, Nasri M (2010) Cathepsin D from the hepatopancreas of the cuttlefish (Sepia officinalis): purification and characterization. J Agric Food Chem 58:10623–10630. doi:10.1021/jf102233d

Bergeron JP, Koueta N, Massé J (2013) Interannual fluctuations in spring pelagic ecosystem productivity in the Bay of Biscay (northeast Atlantic) measured by mesozooplankton aspartate transcarbamylase activity and relationships with anchovy population dynamics. Fish Res 143:184–190. doi:10.1016/j.fishres.2013.02.006

Bloor ISM (2016) The current and changing role of physico-chemical factors and cues in the embryonic and early life stage development of the common cuttlefish (Sepia officinalis). Life Environ 66(1):81–95

Bloor ISM, Attrill MJ, Jackson EL (2013) A review of the factors influencing spawning, early life stage survival and recruitment variability in the common cuttlefish (Sepia officinalis). Adv Mar Biol 65:1–65. doi:10.1016/B978-0-12-410498-3.00001-X

Boletzky SV (1975) A contribution to the study of yolk absorption in the Cephalopoda. Z Morphol Tiere 80:229–246. doi:10.1007/BF00285654

Boletzky SV (1989) Elevage de céphalopodes en aquarium : acquis récents. Bull Soc Zool Fr 114(4):57–66

Bonete MJ, Manjon A, LIorca F, Iborra JL (1984) Acid proteinase activity in Fish—comparative study of extraction of cathepsins B and D from Mujil auratus. Comp Biochem Physiol B 78(1):203–206

Boucaud-Camou E (1973) Etude de l'appareil digestif de Sepia officinalis L. (Mollusque Céphalopode). Essai d'analyse expérimentale des phénomènes digestifs. Thesis, University of Caen

Boucaud-Camou E (1974) Localisation d'activités enzymatiques impliquées dans la digestion chez Sepia officinalis L. Arch Zool Exp Gen 115:5–27

Boucaud-Camou E (1982) Localisation of some hydrolytic enzymes in digestive organs of juvenile Sepia officinalis L. (Mollusca, Cephalopoda). Malacologia 22:685–690

Boucaud-Camou E, Boismery J (1991) The migrations of the cuttlefish (Sepia officinalis L.) in the English Channel. In "The Cuttelfish". Centre de publication de l'Université de Caen, France, pp 179–189

Boucaud-Camou E, Boucher-Rodoni R (1983) Feeding and digestion in cephalopods. In: Saleuddin ASM, Wilbur KM (eds) The mollusca, vol 5, physiology part 2. Academic Press, New York, pp 149–187

Boucaud-Camou E, Roper CFE (1995) Digestive enzymes in paralarval cephalopods. Bull Mar Sci 57:313–327

Boucaud-Camou E, Yim M (1980) Fine structure and function of the digestive cell of Sepia officinalis (Mollusca: Cephalopoda). J Zool 191:89–105. doi:10.1111/j.1469-7998.1980.tb01451.x

Boucaud-Camou E, Yim M, Tresgot A (1985) Feeding and digestion of young Sepia officinalis L. (Mollusca: Cephalopoda) during post-hatching development. In: Mangold K, Boletzky SV (eds) Biology and distribution of Early Juvenile Cephalopods, vol 35. Vie Milieu, pp 263–266

Bouchaud O (1991) Energy consumption of the cuttlefish Sepia officinalis L. (Mollusca: Cephalopoda) during embryonic development, preliminary results. Bull Mar Sci 49(1–2):333–340

Bouchaud O, Daguzan J (1989) Etude du développement de l'œuf de Sepia officinalis L. (Céphalopode, Sepiidae) en conditions expérimentales. Haliotis 19:189–200

Boucher-Rodoni R (1981) Etude de la glande digestive de deux céphalopodes, au cours du cycle de vie. Thesis, University of Paris-Sud

Boucher-Rodoni R, Boucaud-Camou E, Mangold K (1987) Feeding and digestion. In: Boyle PR (ed) Cephalopod Life Cycles, vol 2. Academic Press, London, pp 85–108

Bradford MM (1976) A rapid sensitive method for quantification of microgram quantities of protein utilizing the principle of protein-dye binding. Anal Biochem 72:248–254. doi:10.1016/0003-2697(76)90527-3

Budelmann B, Schipp R, Boletzky SV (1997) Cephalopoda. In: Harrison FW, Kohn AJ (eds) Microscopic anatomy of invertebrates, vol 6 A. Wiley-Liss, Inc, New York, pp 119–414

Cahu CL, Zambonino-Infante JL (1995) Maturation of the pancreatic and intestinal digestive functions in sea bass (Dicentrarchus labrax): effect of weaning with different protein sources. Fish Physiol Biochem 14:431–437. doi:10.1007/BF00004343

Chouvelon T, Spitz J, Cherel Y, Caurant F, Sirmel R, Mendez-Fernandez P, Bustamente P (2011) Inter-specific and ontogenic differences in δ13C and δ15N values and Hg and Cd concentrations in cephalopods. Mar Ecol Prog Ser 433:107–120. doi:10.3354/meps09159

Clarke A, Rodhouse PG, Holmes LJ, Pascoe PL (1989) Growth rate and nucleic acid ration in cultured cuttlefish Sepia officinalis (Mollusca Cephalopoda). J Exp Mar Biol Ecol 133:229–240. doi:10.1016/0022-0981(89)90047-6

Costa PM, Rodrigo AP, Costa MH (2014) Microstructural and histochemical advances on the digestive gland of the common cuttlefish, Sepia officinalis L. Zoomorphology 133:59–69. doi:10.1007/s00435-013-0201-8

De Fraipont M, Clobert J, John-Alder H, Meylan S (2000) Increased pre-natal maternal corticosterone promotes philopatry of offspring in common lizards Lacerta vivipara. J Anim Ecol 69:404–413. doi:10.1046/j.1365-2656.2000.00405.x

Domingues P, Márquez L (2010) Effects of culture density and bottom area on growth and survival of the cuttlefish Sepia officinalis (Linnaeus, 1758). Aquacult Int 18:361–369. doi:10.1007/s10499-009-9249-3

Dunn MR (1999) Aspects of the stock dynamics and exploitation of cuttlefish, Sepia officinalis (Linnaeus, 1758), in the English Channel. Fish Res 40:277–293. doi:10.1016/S0165-7836(98)00223-9

Eising CM, Eikenaar C, Schwabl H, Groothuis TG (2001) Maternal androgens in black-headed gull (Larus ridibundus) eggs: consequences for chick development. Proc R Soc B 268:839–846. doi:10.1098/rspb.2001.1594

Fabris C, Smirne C, Toniutto P, Colletta C, Rapetti R, Minisini R, Falleti E, Pirisi M (2006) Assessment of liver fibrosis progression in patients with chronic hepatitis C and normal alanine aminotransferase values: the role of AST to the platelet ratio index. Clin Biochem 39:339–343. doi:10.1016/j.clinbiochem.2006.01.011

Fagotto F (1990) Yolk degradation in tick eggs. Evidence that cathepsin L-Like proteinase is stored as a latent, acid-activable proenzyme. Arch Insect Biochem Physiol 14:237–252. doi:10.1002/arch.940140404

Fagotto F (1991) Yolk degradation in tick eggs. Developmentally regulated acidification of the yolk spheres. Dev Growth Differ 33:57–66. doi:10.1111/j.1440-169X.1991.00057.x

Fiorito G, Affuso A, Basil J et al (2015) Guidelines for the care and welfare of cephalopods in research—a consensus based on an initiative by CephRes, FELASA and the Boyd Group. Lab Anim 49:1–90. doi:10.1177/0023677215580006

Fox J, Weisberg S (2011) An R companion to applied regression, 2nd edn. Sage, Thousand Oaks http://socserv.socsci.mcmaster.ca/jfox/Books/Companion. Accessed 24 Feb 2017

Fukuda Y, Miura S, Tsuchiya Y et al (2011) Lower frequency of non-target lesion intervention in post-successful percutaneous coronary intervention patients with an LDL to HDL cholesterol ratio below 1.5. Int J Cardiol 149:120–122. doi:10.1016/j.ijcard.2011.01.088

Gabe M (1968) Techniques histologiques. Masson et Cie, Paris

Gárdenas-López JL, Haard NF (2009) Identification of a cysteine proteinase from Jumbo squid (Dosidicus gigas) hepatopancreas as cathepsin L. Food Chem 112(2):442–447. doi:10.1016/j.foodchem.2008.05.100

Georgopoulou U, Sire MF, Vernier JM (1985) Macromolecular absorption of proteins by epithelial cells of the posterior intestinal segment and their intracellular digestion in the rainbow trout. Ultrastructural and biochemical study. Biol Cell 53:269–282

Gildberg A (1988) Aspartic proteinases in fishes and aquatic invertebrates. Comp Biochem Phys B 91(3):425–435. doi:10.1016/0305-0491(88)90002-8

Govoni JJ, Boehlert GW, Watanabe Y (1986) The physiology of digestion in fish larvae. Environ Biol Fishes 16:59–77. doi:10.1007/BF00005160

Gras M, Safi G, Lebredonchel H, Quinquis J, Foucher E, Koueta N, Robin JP (2016) Stock structure of the English Channel common cuttlefish Sepia officinalis (Linnaeus, 1758) during the reproduction period. J Mar Biol Assoc UK. doi:10.1017/s0025315415001162

Hervé M (2012) RVAideMemoire: Diverse Basic Statistical and Graphical Functions. R package version 0.9–63. http://CRAN.R-project.org/package=RVAideMemoire. Accessed 24 Feb 2017

Jackson GD, Bustamante P, Cherel Y, Fulton EA, Grist EPM, Jackson CH, Nichols PD, Pethybridge H, Philips K, Ward RD, Xavier JC (2007) Applying new tools to cephalopod trophic dynamics and ecology: perspectives from the Southern Ocean Cephalopod Workshop, February 2–3, 2006. Rev Fish Biol Fish 17:79–99. doi:10.1007/s11160-007-9055-9

Jellouli K, Bougatef A, Daassi D, Balti R, Barkia A, Nasri M (2009) New alkaline trypsin from the intestine of Grey triggerfish (Balistes capriscus) with high activity at low temperature: purification and characterisation. Food Chem 116:644–650. doi:10.1016/j.foodchem.2009.02.087

Jereb P, Allcock AL, Lefkaditou E, Piatkowski U, Hastie LC, Pierce GJ (2015) Cephalopod biology and fisheries in Europe: II. Species Accounts. ICES Coop Res Rep No 325

Kolodziejska I, Sikorski ZE (1996) The digestive proteases of marine fish and invertebrates. Bull Sea Fish Inst Gdynia 137:51–56

Koueta N, Boucau-Camou E (1999) Food intake and growth in reared early juvenile cuttlefish Sepia officinalis L. (Mollusca Cephalopoda). J Exp Mar Biol Ecol 240:93–109. doi:10.1016/S0022-0981(99)00054-4

Koueta N, Castro BG, Boucaud-Camou E (2000) Biochemical indices for instantaneous growth estimation in young cephalopod Sepia officinalis L. ICES J Mar Sci 57:1–7. doi:10.1006/jmsc.1999.0503

Lacoue-Labarthe T, Le Bihan E, Borg D, Koueta N, Bustamante P (2010) Acid phosphatase and cathepsin activity in cuttlefish (Sepia officinalis) eggs: the effects of Ag, Cd, and Cu exposure. ICES J Mar Sci 67(7):1517–1523. doi:10.1093/icesjms/fsq044

Lazo JP, Mendoza R, Holt GJ, Aguilera C, Arnold CR (2007) Characterization of digestive enzymes during larval development of red drum (Sciaenops ocellatus). Aquaculture 265:194–205. doi:10.1016/j.aquaculture.2007.01.043

Le Bihan E, Perrin A, Koueta N (2006a) Influence of diet peptide content on survival, growth and digestive enzymes activities of juvenile cuttlefish Sepia officinalis. Life Environ 56:139–145

Le Bihan E, Zatylny C, Perrin A, Koueta N (2006b) Post-mortem changes in viscera of cuttlefish Sepia officinalis L. during storage at two different temperatures. Food Chem 98:39–51

Le Pabic C, Caplat C, Lehodey JP, Dallas L, Koueta N (2015) Physiological perturbations in juvenile cuttlefish Sepia officinalis induced by subchronic exposure to dissolved zinc. Mar Pollut Bull 95:678–687. doi:10.1016/j.marpolbul.2015.02.018

Lemieux H, Blier P, Dutil JD (1999) Do digestive enzymes set a physiological limit on growth rate and food conversion efficiency in the atlantic cod (Gadus morhua). Fish Physiol Biochem 20:293–303. doi:10.1023/A:1007791019523

Linnaeus C (1758) Systema Naturae per regna tria naturae, secundum classes, ordines, genera, species, cum characteribus, differentiis, synonymis, locis. Editio decima, reformata. Laurentius Salvius, Holmiae

Lopez-Peraza DJ, Hernandez-Rodriguez M, Baron-Sevilla B (2014) Ontogeny of the digestive system of the Octopus bimaculatus paralarvae (Verril, 1883). Springerplus 3:22. doi:10.1186/2193-1801-3-22

Lourenço S, Narciso L, Gonzalez AF, Pereira J, Auborg S, Xavier JC (2014) Does the trophic habitat influence the biochemical quality of the gonad of Octopus vulgaris? Stable isotopes and lipid class contents as bio-indicators of different life-cycle strategies. Hydrobiologia 725(1):33–46. doi:10.1007/s10750-013-1717-0

Martínez R, López-Ripoll E, Avila-Poveda O, Santos-Ricalde R, Mascaró M, Rosas C (2011) Cytological ontogeny of the digestive gland in post-hatching Octopus maya, and cytological background of digestion in juveniles. Aquat Biol 11:249–261. doi:10.3354/ab00305

Mazorra MT, Rubio JA, Blasco J (2002) Acid and alkaline phosphatase activities in the clam Scrobicularia plana: kinetic characteristics and effects of heavy metals. Comp Biochem Phys B 131:241–249. doi:10.1016/S1096-4959(01)00502-4

Moguel C, Mascaró M, Avila-Poveda O, Caamal-Monsreal C, Sanchez A, Pascual C, Rosas C (2010) Morphological, physiological and behavioral changes during post-hatching development of Octopus maya (Mollusca: Cephalopoda) with special focus on the digestive system. Aquat Biol 9:35–48. doi:10.3354/ab00234

Moltschaniwskyj NA, Jackson GD (2000) Growth and tissue composition as a function of feeding history in juvenile cephalopods. J Exp Mar Biol Ecol 253:229–241. doi:10.1016/s0022-0981(00)00257-4

Morishita T (1972) On the existence of cathepsins A, B and C in octopus liver. Bull Jpn Soc Sci Fish 38:1057–1060

Moyano FJ, Diaz M, Alarcon FJ, Sarasquete MC (1996) Characterization of digestive enzyme activity during larval development of gilthead seabream (Sparus aurata). Fish Physiol Biochem 2:121–130. doi:10.1007/BF01875591

O'Dor RK, Webber DM (1986) The constraints on cephalopods: why squid aren't fish. Can J Zool 64:1591–1605. doi:10.1139/z86-241

O'Dor RK, Wells MJ (1975) Control of yolk protein synthesis by Octopus gonadotropin in vivo and in vitro (effects of Octopus gonadotropin). Gen Comp Endocr 27:129–135. doi:10.1016/0016-6480(75)90226-9

Öztürk G, Akbulut KG, Güney Ş, Acuna-Castroviejo D (2012) Age-related changes in the rat brain mitochondrial antioxidative enzyme ratios: modulation by melatonin. Exp Gerontol 47:706–711. doi:10.1016/j.exger.2012.06.011

Pereda SV, Uriarte I, Cabrera JC (2009) Effect of diet and paralarval development on digestive enzyme activity in the cephalopod Robsonella fontaniana. Mar Biol 156:2121–2128. doi:10.1007/s00227-009-1242-x

Perrin A, Le Bihan E, Koueta N (2004) Experimental study of enriched frozen diet on digestive enzymes and growth of juvenile cuttlefish Sepia officinalis L. (Mollusca Cephalopoda). J Exp Mar Biol Ecol 311:267–285. doi:10.1016/j.jembe.2004.05.012

Pierce GJ, Key LN, Boyle PR, Siegert KJ, Gonc JM, Porteiro FM, Martins HR (1999) RNA concentration and the RNA to protein ratio in cephalopod tissues: sources of variation and relationship with growth rate. J Exp Mar Biol Ecol 237:185–201. doi:10.1016/S0022-0981(99)00008-8

Pierce GJ, Valavanis VD, Guerra A et al (2008) A review of cephalopod-environment interactions in European Seas. Hydrobiologia 612:49–70. doi:10.1007/s10750-008-9489-7

Principato GB, Cristina-Aisa M, Biagoni M, Giovannini E (1982) Partial purification and characterization of an alkaline phosphatase in Helix nemoralis and in Octopus vulgaris. Comp Biochem Phys B 72(2):325–328. doi:10.1016/0305-0491(82)90055-4

R Core Team (2012) R: a language and environment for statistical computing. R Foundation for Statistical Computing, Vienna. http://www.R-project.org/ (ISBN 3-900051-07-0)

Roark AM, Bjorndal KA, Bolten AB, Leeuwenburgh C (2009) Biochemical indices as correlates of recent growth in juvenile green turtles (Chelonia mydas). J Exp Mar Biol Ecol 376:59–67. doi:10.1016/j.jembe.2009.06.004

Rosas C, Sánchez A, Pascual C, Aguila J, Maldonado T, Domingues P (2011) Effects of two dietary protein levels on energy balance and digestive capacity of Octopus maya. Aquacult Int 19:165–180. doi:10.1007/s10499-010-9350-7

Segers FHID, Taborsky B (2010) Egg size and food abundance interactively affect juvenile growth and behaviour. Funct Ecol 25:166–176. doi:10.1111/j.1365-2435.2010.01790.x

Semmens JM (2002) Changes in the digestive gland of the loliginid squid Sepioteuthis lessoniana (Lesson 1830) associated with feeding. J Exp Mar Biol Ecol 274:19–39. doi:10.1016/S0022-0981(02)00165-X

Semmens JM, Pecl GT, Gillanders BM, Waluda CM, Shea EK, Jouffre D, Ichii T, Zumholz K, Katugin ON, Leporati SC, Shaw PW (2007) Approaches to resolving cephalopod movement and migration patterns. Rev Fish Biol Fish 17:401–423. doi:10.1007/s11160-007-9048-8

Shin WG, Park SH, Jang MK, Hahn TH, Kim JB, Lee MS, Kim DJ, Jun S-Y, Park CK (2008) Aspartate aminotransferase to platelet ratio index (APRI) can predict liver fibrosis in chronic hepatitis B. Dig Liver Dis 40:267–274. doi:10.1016/j.dld.2007.10.011

Solorzano Y, Viana MT, López LM, Correa JG, True CC, Rosas C (2009) Response of newly hatched Octopus bimaculoides fed enriched Artemia salina: growth performance, ontogeny of the digestive enzyme and tissue amino acid content. Aquaculture 289:84–90. doi:10.1016/j.aquaculture.2008.12.036

Soška V, Jarkovský J, Ravčuková B, Tichý L, Fajkusová L, Freiberger T (2012) The logarithm of the triglyceride/HDL-cholesterol ratio is related to the history of cardiovascular disease in patients with familial hypercholesterolemia. Clin Biochem 45:96–100. doi:10.1016/j.clinbiochem.2011.11.001

Swift K, Johnston D, Moltschaniwskyj N (2005) The digestive gland of the Southern Dumpling Squid (Euprymna tasmanica): structure and function. J Exp Mar Biol Ecol 315:177–186. doi:10.1016/j.jembe.2004.09.017

Sykes AV, Gonçalves RA, Andrade JP (2013) Early weaning of cuttlefish (Sepia officinalis L.) with frozen grass shrimp (Palaemonetes varians) from the first day after hatching. Aquacult Res 44:1815–1823. doi:10.1111/j.1365-2109.2012.03186.x

Tsunematsu H, Nishimura H, Mizusaki K, Makisumi S (1985) Kinetics of hydrolysis of amide and anilide substrates of p-guanidino-l-phenylalanine by bovine and porcine trypsins. J Biochem 97:617–623

Uller T, Astheimer L, Olsson M (2007) Consequences of maternal yolk testosterone for offspring development and survival: experimental test in a lizard. Funct Ecol 21:544–551. doi:10.1111/j.1365-2435.2007.01264.x

Umezawa H (1982) Low-molecular-weight enzyme inhibitors of microbial origin. Annu Rev Microbiol 36:75–99. doi:10.1146/annurev.mi.36.100182.000451

Vecchione M (1987) Juvenile ecology. In: Boyle PR (ed) Cephalopod life cycles. Academic Press, London, pp 61–84

Vecchione M, Hand VA (1989) Digestive-gland histology in paralarval squids (Cephalopoda: Loliginidae). Fish Bull 87:995–1000

Vidal EAG, Dimarco FP, Wormuth JH, Lee PG (2002) Influence of temperature and food availability on survival, growth and yolk utilization in hatchling squid. Bull Mar Sci 71:915–931

Villanueva R, Koueta N, Riba J, Boucaud-Camou E (2002) Growth and proteolytic activity of Octopus vulgaris paralarvae with different food rations during first feeding, using Artemia nauplii and compound diets. Aquaculture 205:269–286. doi:10.1016/S0044-8486(01)00678-0

Vonk HJ, Western JRH (1984) Comparative biochemistry and physiology of enzymatic digestion. Academic Press, London, pp 109–119

Yim M, Boucaud-Camou E (1980) Etude cytologique du développement post-embryonnaire de la glande digestive de Sepia officinalis L. Mollusque Céphalopode. Arch Anat Microsc Morphol Exp 69:59–79
Acknowledgements
This work was supported by European funding as part of the CRESH (Cephalopods Recruitment from English Channel Spawning Habitats) INTERREG IV-A project and by the regional funding of Basse-Normandie. This work was achieved in the CREC marine research station (for the rearing) and in BOREA laboratory (for biochemical and histological analysis). We would like to thank Mrs. Béatrice Adeline for her precious help in achieving the histological sections and Mrs. Laura Varin for her great job, during her internship, in processing histological slides for digestive vesicles counting, which is a very long and time-consuming work. We are grateful to Mrs. Céline Quint from the international language service of the University of Caen "Le Carré international" for professional English editing of the manuscript. Finally, we are thankful to reviewers for their comments and suggestions which highly improved the manuscript.
Ethics declarations
Conflict of interest
The authors declare that they have no conflict of interest.
Ethical approval
All procedures performed in this study involving animals were in accordance with the ethical standards of the institution or practice at which the study was conducted. The present study does not contain any experiments carried out by its authors on human participants.
Additional information
Communicated by G. Heldmaier.
Electronic supplementary material
Below is the link to the electronic supplementary material.
About this article
Cite this article
Safi, G., Martinez, A.S., Le Pabic, C. et al. Digestive enzyme ratios are good indicators of hatchling yolk reserve and digestive gland maturation in early life stages of cuttlefish Sepia officinalis L.: application of these new tools in ecology and aquaculture. J Comp Physiol B 188, 57–76 (2018). https://doi.org/10.1007/s00360-017-1115-4
Received:

Revised:

Accepted:

Published:

Issue Date:
Keywords
Sepia officinalis

Early life stages

Enzyme ratio

Indicator

Digestive gland

Cathepsin

Phosphatase

Trypsin