Abstract
This study was designed to determine the manner in which metabolism is suppressed during dormancy in black and white tegu lizards (Tupinambis merianae). To this end, heart rate (f H), respiration rate (f R), and deep body temperature (T b) were continuously monitored in outdoor enclosures by radio-telemetry for nine months. There was a continuous decline in nighttime breathing and heart rate, at constant T b, throughout the late summer and fall suggestive of an active metabolic suppression that developed progressively at night preceding the entrance into dormancy. During the day, however, the tegus still emerged to bask. In May, when the tegus made a behavioural commitment to dormancy, T b (day and night) fell to match burrow temperature, accompanied by a further reduction in f H and f R. Tegus, under the conditions of this study, did arouse periodically during dormancy. There was a complex interplay between changes in f H and T b associated with the direct effects of temperature and the indirect effects of thermoregulation, activity, and changes in metabolism. This interplay gave rise to a daily hysteresis in the f H/T b relationship reflective of the physiological changes associated with warming and cooling as preferred T b alternated between daytime and nighttime levels. The shape of the hysteresis curve varied with season along with changes in metabolic state and daytime and nighttime body temperature preferences.
Access options
Buy single article
Instant access to the full article PDF.
USD 39.95
Price excludes VAT (USA)
Tax calculation will be finalised during checkout.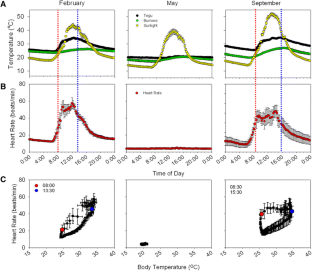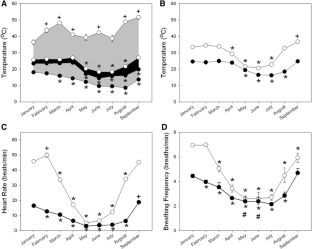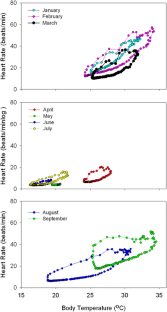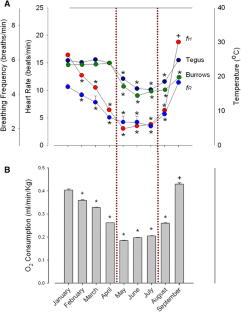 References
Abe AS (1983) Observations on dormancy in tegu lizards—Tupinambis teguixim (Reptilia, Teiidae). Naturalia 8:235–239

Abe AS (1993) Effect of the environment on ventilation in reptiles. In: Bicudo JEPW (ed) The vertebrate gas transport cascade: adaptations to environment and mode of life. CRC Press Inc., Boca Raton, pp 87–93

Abe AS (1995) Estivation in South American amphibians and reptiles. Braz J Med Biol Res 28:1241–1247

Andrade DV, Abe AS (1999) Gas exchange and ventilation during dormancy in the tegu lizard Tupinambis merianae. J Exp Biol 202:3677–3685

Andrade DV, Brito SP, Toledo LF, Abe AS (2004) Seasonal changes in blood oxygen transport and acid-base status in the tegu lizard, Tupinambis merianae. Respir Physiol Neurobiol 140:197–208

Ávila-Pires TCS (1995) Lizards of Brazilian Amazonia (Reptilia: Squamata). Zoologische Verhandelingen 1995:3–706

Barnes BM, Omtzigt C, Daan S (1993) Hibernators periodically arouse in order to sleep. In: Carey C, Florant GL, Wunder BA, Horwitz B (eds) Life in the cold: ecological, physiological, and molecular mechanisms. Westview Press, Boulder, pp 555–558

Bartholomew GA, Tucker VA (1963) Control of changes in body temperature, metabolism, and circulation by the agamid lizard, Amphibolurus barbatus. Physiol Zool 36:199–218

Beuchat CA (1986) Reproductive influences on the thermoregulatory behavior of a live-bearing lizard. Copeia 1986:971–979

Butler PJ, Woakes AJ, Bevan RM, Stephenson R (2000) Heart rate and rate of oxygen consumption during flight of the barnacle goose, Branta leucopsis. Comp Biochem Physiol A 126:379–385

Butler PJ, Frappell PB, Wang T, Wikelski M (2002) The relationship between heart rate and rate of oxygen consumption in Galapagos marine iguanas (Amblyrhynchus cristatus) at two different temperatures. J Exp Biol 205:1917–1924

Carey HV, Andrews MT, Martin SL (2003) Mammalian hibernation: cellular and molecular responses to depressed metabolism and low temperature. Physiol Rev 83:1153–1181

Clark TD, Butler PJ, Frappell PB (2004) Digestive state influences the heart rate hysteresis and rates of heat exchange in the varanid lizard Varanus rosenbergi. J Exp Biol 208:2269–2276

Clark TD, Butler PJ, Frappell PB (2006) Factors influencing the prediction of metabolic rate in a reptile. Funct Ecol 20:105–113

Crossley DA, Wearing OH, Platzack B, Hartzler LK, Hicks JW (2015) Acute and chronic temperature effects on cardiovascular regulation in the red-eared slider (Trachemys scripta). J Comp Physiol B 185:401–411

de Souza SCR, de Carvalho JE, Abe AS, Bicudo JEPW, Bianconcini MSC (2004) Seasonal metabolic depression, substrate utilisation and changes in scaling patterns during the first year cycle of tegu lizards (Tupinambis merianae). J Exp Biol 207:307–318

Donohoe PH, West TG, Boutilier RG (1998) Respiratory, metabolic, and acid-base correlates of aerobic metabolic rate reduction in overwintering frogs. Am J Physiol 274:R704–R710

Ellis DJ, Firth BT, Belan I (2008) Interseasonal variation in the circadian rhythms of locomotor activity and temperature selection in sleepy lizards, Tiliqua rugosa. J Comp Physiol [A] 194:701–712

Firth BT, Belan I (1998) Daily and seasonal rhythms in selected body temperatures in the Australian lizard Tiliqua rugosa (Scincidae): field and laboratory observations. Physiol Zool 71:303–311

Galli G, Taylor EW, Wang T (2004) The cardiovascular responses of the freshwater turtle Trachemys scripta to warming and cooling. J Exp Biol 207:1471–1478

Garrick LD (1974) Reproductive influences on behavioral thermoregulation in the lizard, Sceloporus cyanogenys. Physiol Behaviour 12:85–91

Glanville EJ, Seebacher F (2006) Compensation for environmental change by complementary shifts of thermal sensitivity and thermoregulatory behaviour in an ectotherm. J Exp Biol 209:4869–4877

Green JA, Frappell PB, Clark TD, Butler PJ (2008) Predicting rate of oxygen consumption from heart rate while little penguins work rest and play. Comp Biochem Physiol 150A:222–230

Guppy M, Withers P (1999) Metabolic depression in animals: physiological perspectives and biochemical generalizations. Biol Rev 74:1–40

Heldmaier G, Ruf T (1992) Body temperature and metabolic rate during natural hypothermia in endotherms. J Comp Physiol B 162(8):696–706

Heller HC, Colliver GW, Beard J (1977) Thermoregulation during entrance into hibernation. Pflug Arch Eur J Phy 369:55–59

Hicks JW, Wang T (2004) Hypometabolism in reptiles: behavioural and physiological mechanisms that reduce aerobic demands. Resp Physiol Neurobiol 141:261–271

Huey RB, Bennett AF (1987) Phylogenetic studies of coadaptation: preferred temperatures versus optimal performance temperatures of lizards. Evolution 41:1098–1115

Huey RB, Pianka ER (1977) Seasonal variation in thermoregulatory behavior and body temperature of diurnal Kalahari lizards. Ecology 58:1066–1075

Köhler G, Langerwerf B (2000) Tejus: Lebensweise, Plege, Zucht. Herpeton, Offenbach

Langille BL, Crisp B (1980) Temperature dependence of blood viscosity in frogs and turtles: effect on heat exchange with environment. Am J Physiol 239:R248–R253

Luiselli L, Akani GC (2002) Is thermoregulation really unimportant for tropical reptiles? Comparative study of four sympatric snake species from Africa. Acta Oecol 23:59–68

Lyman CP (1982) Entering Hibernation. In: Lyman CP, Willis JS, Malan A, Wang LCH (eds) Hibernation and torpor in mammals and birds. Academic Press, New York, pp 37–53

Mayhew WW (1965) Hibernation in the Horned Lizard, Phrynosoma m'calli. Comp Biochem Physiol 16:103–119

Milsom WK, Andrade DV, Brito SP, Toledo LF, Wang T, Abe AS (2008) Seasonal changes in daily metabolic patterns of tegu lizards (Tupinambis merianae) placed in the cold (17°C) and dark. Physiol Biochem Zool 81:165–175

Milstead WW (1961) Notes on the Teiid lizards in southern Brazil. Copeia 1961:493–495

Morgareidge K, White FN (1969) Cutaneous vascular changes during heating and cooling in the Galápagos marine iguana. Nature 223:587–591

Nedergaard J, Cannon B, Jaenicke R (1990) Mammalian hibernation. Phil Trans R Soc Lond B 326:669–686

Patterson JW, Davies PMC (1978) Energy expenditure and metabolic adaptation during winter dormancy in the lizard Lacerta vivipara Jacquin. J Therm Biol 3:183–186

Piercy J, Rogers K, Andrade D, Abe AS, Tattersall G, Milsom WK (2015). The relationship between body temperature, heart rate, breathing rate, and the rate of oxygen consumption in the tegu lizard (Tupinambis merianae) at various levels of activity. J Comp Physiol B (Submitted)

Revel FG, Herwig A, Garidou ML, Dardente H, Menet JS, Masson-Pevet M, Simonneux V, Saboureau M, Pevet P (2007) The circadian clock stops ticking during deep hibernation in the European hamster. Proc Natl Acad Sci 104:13816–13820

Rismiller PD, Heldmaier G (1982) The effect of photoperiod on temperature selection in the European green lizard, Lactera viridis. Occologia 53:222–226

Rismiller PD, Heldmaier G (1991) Seasonal changes in daily metabolic patterns of Lacerta viridis. J Comp Physiol B 161:482–488

Rismiller PD, McKelvey MW (2000) Spontaneous arousal in reptiles? Body temperature ecology of Rosenberg's Goanna, Varanus rosenbergi. In: Heldmaier G, Klingenspor M (eds) Life in the Cold. Springer-Verlag, New York, pp 57–64

Rollinson N, Tattersall GJ, Brooks RJ (2008) Overwintering habitats of a northern population of Painted Turtles (Chrysemys picta): winter temperature selection and dissolved oxygen concentrations. J Herpetol 42:312–321

Seebacher F (2000) Heat transfer in a microvascular network: the effect of heart rate on heating and cooling in reptiles (Pogona barbata and Varanus varius). J Theor Biol 203:97–109

Seebacher F, Franklin CE (2001) Control of heart rate during thermoregulation in the heliothermic lizard Pogona barbata: importance of cholinergic and adrenergic mechanisms. J Exp Biol 204:4361–4366

Seebacher F, Franklin CE (2005) Physiological mechanisms of thermoregulation in reptiles: a review. J Comp Physiol B 175:533–541

Stewart GR (1965) Thermal ecology of the garter snake Thamnophis sirtalis concinnus (Hallowell) and Thamnophis orfinoides (Baird and Girard). Herpetologica 21:81–102

Stewart JR (1984) Thermal biology of the live bearing lizard Gerrhonotus coeruleus. Herpetologica 40:349–355

Storey KB, Storey JM (1990) Metabolic rate depression and biochemical adaptation in anaerobiosis, hibernation and estivation. Q Rev Biol 65:145–174

Tattersall GJ, Boutilier RG (1997) Balancing hypoxia and hypothermia in cold-submerged frogs. J Exp Biol 200:1031–1038

Tattersall GJ, Boutilier RG (1999) Behavioural oxy-regulation by cold-submerged frogs in heterogeneous oxygen environments. Can J Zool 77:843–850

Tøien Ø, Blake J, Barnes BM (2015) Thermoregulation and energetics in hibernating black bears: metabolic rate and the mystery of multi-day body temperature cycles. J Comp Physiol B 185:447–461

Toledo LF, Brito SP, Milsom WK, Abe AS, Andrade DV (2008) Effects of season, temperature and body mass on the standard metabolic rate of tegu lizards (Tupinambis merianae). Physiol Biochem Zool 81:158–164

Twente JW, Twente JA (1967) Seasonal variation in the hibernating behaviour of Citellus lateralis. In: Fisher KC, Dawe AR, Lyman CP, Schöbaum E, South FE Jr (eds) Mammalian Hibernation III. Elsevier Inc., New York, pp 47–63

Van Breukelen F, Martin SL (2002) Reversible depression of transcription during hibernation. J Comp Physiol B 172:355–361

Wang LCH (1993) Neurochemical regulation of arousal from hibernation. In: Carey C, Florant GL, Wunder BA Horwitz B (eds) Life in the cold: ecological, physiological, and molecular mechanisms. Westview Press, Boulder, pp 559–561

Werner YL, Whitaker AH (1978) Observations and comments on the body temperatures of some New Zealand reptiles. N Z J Zool 5:375–393

Willis JS (1982) The mystery of the periodic arousal. In: Lyman CP, Willis JS, Malan A, Wang LCH (eds) Hibernation and torpor in mammals and birds. Academic Press, New York, pp 92–103

Winck GR, Cechin SZ (2008) Hibernation and emergence pattern of Tupinambis merianae (Squamata: Teiidae) in the Taim Ecological Station, southern Brazil. J Nat Hist 42:239–247

Zaar M, Larsen E, Wang T (2004) Hysteresis of heart rate and heat exchange of fasting and postprandial savannah monitor lizards (Varanus exanthematicus). Comp Biochem Phys A 137:675–682
Acknowledgements
This research was supported by grants from the Conselho Nacional de Desenvolvimento Científico e Tecnológico (CNPq) to ASA, from the Fundação de Amparo a Pesquisa do Estado de São Paulo (FAPESP) and Fundação para o Desenvolvimento da Unesp (FUNDUNESP) to DVA, and the Natural Sciences and Engineering Research Council of Canada to WKM and GJT.
Additional information
Communicated by G. Heldmaier.
Electronic supplementary material
Below is the link to the electronic supplementary material.
About this article
Cite this article
Sanders, C.E., Tattersall, G.J., Reichert, M. et al. Daily and annual cycles in thermoregulatory behaviour and cardio-respiratory physiology of black and white tegu lizards. J Comp Physiol B 185, 905–915 (2015). https://doi.org/10.1007/s00360-015-0928-2
Received:

Revised:

Accepted:

Published:

Issue Date:

DOI: https://doi.org/10.1007/s00360-015-0928-2
Keywords