Abstract
Despite the great deal of ecological research interest in modulators of offspring quality and consequences of reproduction on female status, we still know little about the relationships among diet quality, antioxidant capacity of egg components (yolk and albumen) and oxidative status of female birds. In this study, I compared the egg quality (egg size, albumen and yolk antioxidant capacity) and serum oxidative status (oxidative damage, total serum antioxidant capacity, and serum thiols) of female pigeons (Columba livia) fed with foods of different quality (standard quality and decreased quality). I also analysed the patterns of covariation among egg and female traits. The study focussed on the first clutch laid by the female in the breeding season and on the short-term effects of a decrease in diet quality. The treatment did not affect the egg volume, the lipophilic and hydrophilic components of antioxidant capacity (lipOXY and hydrOXY, respectively) or the antioxidant capacity of the albumen (albumOXY). However, females fed a higher quality diet were fatter and had marginally higher values of serum hydroperoxides (oxidative damage) than females fed a lower quality diet. Moreover, females that showed an increase in yolk hydrOXY and serum hydroperoxides also showed a decrease in yolk lipOXY, albumOXY and serum antioxidant capacity. These results show that the female's oxidative status can be correlated with the antioxidant content of her eggs, but the nature of these correlations is complex, depending on the molecular component measured. The results also suggest that in the pigeon the deposition of hydrophilic and lipophilic antioxidants in the egg may trade off against each other.
Access options
Buy single article
Instant access to the full article PDF.
US$ 39.95
Tax calculation will be finalised during checkout.
Subscribe to journal
Immediate online access to all issues from 2019. Subscription will auto renew annually.
US$ 119
Tax calculation will be finalised during checkout.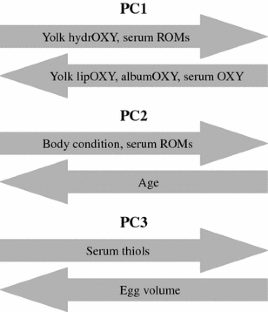 References
Bindoli A, Fukuto JM, Forman HJ (2008) Thiol chemistry in peroxidase catalysis and redox signaling. Antioxid Redox Signal 10:1549–1564

Birrenkott GP, Shoop MA, Cooper K, Wiggins M (1988) Ovarian follicular growth and maturation in the domestic pigeon and guinea fowl (Numidia meleagris). Poult Sci 67:1783–1786

Blount JD, Surai PF, Houston DC, Møller AP (2002a) Patterns of yolk enrichment with dietary carotenoids in gulls: the roles of pigment acquisition and utilization. Funct Ecol 16:445–453

Blount JD, Surai PF, Nager RG, Houston DC, Møller AP, Trewby ML, Kennedy MW (2002b) Carotenoids and egg quality in the lesser black-backed gull Larus fuscus: a supplemental feeding study of maternal effects. Proc R Soc Lond B 269:29–36

Bortolotti GR, Negro JJ, Surai PF, Prieto P (2003) Carotenoids in eggs and plasma of red-legged partridges: effects of diet and reproductive output. Physiol Biochem Zool 76:367–374

Carere C, Balthazart J (2007) Sexual versus individual differentiation: the controversial role of avian maternal hormones. Trends Endocrinol Metab 18:73–80

Carratelli M, Porcaro R, Rustica M, De Simone E, Bertelli AAE, Corsi MM (2001) Reactive oxygen metabolites (ROMs) and prooxidant status in children with Down Syndrome. Int J Clin Pharmacol Res 21:79–84

Christians JK (2002) Avian egg size: variation within species and inflexibility within individuals. Biol Rev 77:1–26

Cohen AA, McGraw KJ (2009) No simple measures for antioxidant status in birds: complexity in inter- and intraspecific correlations among circulating antioxidant types. Funct Ecol 23:310–320

Costantini D (2008) Oxidative stress in ecology and evolution: lessons from avian studies. Ecol Lett 11:1238–1251

Costantini D, Bonadonna F (2009) Patterns of variation of serum oxidative stress markers in two seabird species. Polar Res (in press)

Costantini D, Dell'Omo G (2006) Effects of T-cell-mediated immune response on avian oxidative stress. Comp Biochem Physiol Part A 145:137–142

Costantini D, Lipp H-P (2010) Short restraint time does not influence markers of serum oxidative stress in homing pigeons (Columba livia). J Anim Physiol Anim Nutr 94:24–28

Costantini D, Møller AP (2008) Carotenoids are minor antioxidants for birds. Funct Ecol 22:367–370

Costantini D, Verhulst S (2009) Does high antioxidant capacity indicate low oxidative stress? Funct Ecol 23:506–509

Costantini D, Casagrande S, De Filippis S, Brambilla G, Fanfani A, Tagliavini J, Dell'Omo G (2006) Correlates of oxidative stress in wild kestrel nestlings (Falco tinnunculus). J Comp Physiol B 176:329–337

Costantini D, Dell'Ariccia G, Lipp H-P (2008) Long flights and age affect oxidative status of homing pigeons (Columba livia). J Exp Biol 211:377–381

Dickinson DA, Forman HJ (2002) Cellular glutathione and thiols metabolism. Biochem Pharmacol 64:1019–1026

Dotan Y, Lichtenberg D, Pinchuk I (2004) Lipid peroxidation cannot be used as a universal criterion of oxidative stress. Progr Lipid Res 43:200–227

Dowling DK, Simmons LW (2009) Reactive oxygen species as universal constraints in life-history evolution. Proc R Soc Lond B 276:1737–1745

Elman JL (1959) Tissue sulfhydryls groups. Arch Biochem Biophys 82:70–77

Galván I, Alonso-Alvarez C (2008) An intracellular antioxidant determines the expression of a melanin-based signal in a bird. PLoS One 3:e3335

Gil D, Graves J, Hazon N, Wells A (1999) Male attractiveness and differential testosterone investment in zebra finch eggs. Science 286:126–128

Groothuis TGG, Schwabl H (2008) Hormone-mediated maternal effects in birds: mechanisms matter but what do we know of them? Phil Trans R Soc B 363:1647–1661

Halliwell BH, Gutteridge JMC (2007) Free radicals in biology and medicine, 4th edn. Oxford University Press, Oxford

Hammer Ø et al (2001) PAST: Paleontological statistics software package for education and data analysis. Palaeontol Electron 4:9. http://palaeo-electronica.org/2001_1/past/issue1_01.htm

Hargitai R, Arnold KE, Herényi M, Prechl J, Török J (2009) Egg composition in relation to social environment and maternal physiological condition in the collared flycatcher. Behav Ecol Sociobiol 63:869–882

Houston DC (1997) Nutritional constraints on egg production in birds. Proc Nutr Soc 56:1057–1065

Hoyt DF (1979) Practical measures of estimating volume and fresh weight of bird eggs. Auk 96:73–77

Jolliffe IT (2002) Principal component analysis, 2nd edn. Springer, New York

Lindström J (2001) Early development and fitness in birds and mammals. Trends Ecol Evol 14:343–348

McGraw KJ, Adkins-Regan E, Parker RS (2005) Maternally derived carotenoid pigments affect offspring survival, sex ratio, and sexual attractiveness in a colorful songbird. Naturwissenschaften 92:375–380

Metcalfe N, Monaghan P (2001) Compensation for a bad start: grow now, pay later? Trends Ecol Evol 16:254–260

Monaghan P (2008) Early growth conditions, phenotypic development and environmental change. Phil Trans R Soc B 363:1635–1645

Monaghan P, Nager RG, Houston DC (1998) The price of eggs: increased investment in egg production reduces the offspring rearing capacity of parents. Proc R Soc Lond B 265:1731–1735

Monaghan P, Metcalfe NB, Torres R (2009) Oxidative stress as a mediator of life history trade-offs: mechanisms, measurement and interpretation. Ecol Lett 12:75–92

Mousseau TA, Fox CW (1998) Maternal effects as adaptations. Oxford University Press, New York

Nager RG, Monaghan P, Houston DC (2000) Within-clutch trade-offs between the number and quality of eggs: experimental manipulations in gulls. Ecology 81:1339–1350

Navara KJ, Badyaev AV, Mendonça MT, Hill GE (2006) Yolk antioxidants vary with male attractiveness and female condition in the house finch (Carpodacus mexicanus). Physiol Biochem Zool 79:1098–1105

Oppliger A, Christie P, Richner H (1996) Clutch size and malaria resistance. Nature 381:565

Royle NJ, Surai PF, McCartney RJ, Speake BK (1999) Parental investment and egg yolk lipid composition in gulls. Funct Ecol 13:298–306

Royle NJ, Surai PF, Hartley IR (2003) The effect of variation in dietary intake on maternal deposition of antioxidants in zebra finch eggs. Funct Ecol 17:472–481

Rubolini D, Romano M, Bonisoli Alquati A, Saino N (2006) Early maternal, genetic and environmental components of antioxidant protection, morphology and immunity of yellow-legged gull (Larus michahellis) chicks. J Evol Biol 19:1571–1584

Saino N, Bertacche V, Ferrari RP, Martinelli R, Møller AP, Stradi R (2002) Carotenoid concentration in barn swallow eggs is influenced by laying order, maternal infection and paternal ornamentation. Proc R Soc Lond B 269:1729–1733

Schwabl H (1993) Yolk is a source of maternal testosterone for developing birds. Proc Natl Acad Sci USA 90:11446–11450

Surai PF (2002) Natural antioxidants in avian nutrition and reproduction. Nottingham University Press, Nottingham

Wiersma P, Selman C, Speakman JR, Verhulst S (2004) Birds sacrifice oxidative protection for reproduction. Proc R Soc Lond B (Biol Lett) 271:360–363

Williams TD (1994) Intraspecific variation in egg size and egg composition in birds: effects on offspring fitness. Biol Rev 68:35–59
Acknowledgments
I thank two anonymous reviewers for their comments, which helped me to improve the manuscript; Neil Metcalfe for kindly improving the English and for providing valuable comments that improved the manuscript; Claudio Carere and Pat Monaghan for valuable discussions on hormone deposition in the egg. I am also grateful to the International Observatory for Oxidative Stress (Salerno, Italy) and to Giacomo Dell'Omo for advice and support; to Gianfranco Brambilla and Edoardo Vignolo for technical and logistical support at the ISS, Rome.
Additional information
Communicated by G. Heldmaier.
About this article
Cite this article
Costantini, D. Complex trade-offs in the pigeon (Columba livia): egg antioxidant capacity and female serum oxidative status in relation to diet quality. J Comp Physiol B 180, 731–739 (2010). https://doi.org/10.1007/s00360-010-0456-z
Received:

Revised:

Accepted:

Published:

Issue Date:
Keywords
Antioxidants

Oxidative damage

Egg

Albumen

Diet