Abstract
Bottlenose dolphins (Tursiops truncatus) are marine mammals with body water needs challenged by little access to fresh water and constant exposure to salt water. Osmoregulation has been studied in marine mammals for a century. Research assessing the effects of ingested fresh water or seawater in dolphins, however, has been limited to few animals and sampling times. Nine 16- to 25-h studies were conducted on eight adult dolphins to assess the hourly impact of fresh water, seawater, and seawater with protein ingestion on plasma and urine osmolality, urine flow rate (ufr), urinary and plasma solute concentrations, and solute clearance rates. Fresh water ingestion increased ufr. Fresh water ingestion also decreased plasma and urine osmolality, sodium and chloride urine concentrations, and solute excretion rates. Seawater ingestion resulted in increased ufr, sodium, chloride, and potassium urine concentrations, sodium excretion rates, and urine osmolality. Seawater with protein ingestion was associated with increased ufr, plasma osmolality, sodium excretion, and sodium, chloride, potassium, and urea urine concentrations. In conclusion, bottlenose dolphins appear to maintain water and plasma solute balance after ingesting fresh water or seawater by altering urine osmolality and solute clearance. Ingestion of protein with seawater appears to further push osmoregulation limits and urine solute concentrations in dolphins.
Access options
Buy single article
Instant access to the full article PDF.
US$ 39.95
Tax calculation will be finalised during checkout.
Subscribe to journal
Immediate online access to all issues from 2019. Subscription will auto renew annually.
US$ 119
Tax calculation will be finalised during checkout.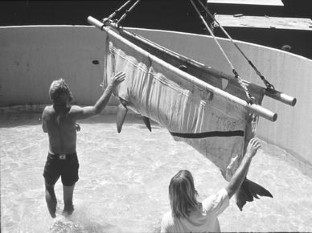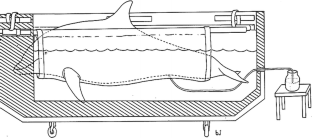 Abbreviations
HPTR:

High protein test ration

MMP:

Navy Marine Mammal Program
References
Albrecht CB (1950) Toxicity of sea water in mammals. Am J Physiol 163:370–385

Bengoumi M, Riad F, Giry J, de la Farge F, Safwate A, Davicco MJ, Barlet JP (1993) Hormonal control of water and sodium in plasma and urine of camels during dehydration and rehydration. Gen Comp Endocrinol 89:378–386

Bie P (1977) Sustained water diuresis in anesthetized dogs: antidiuresis in response to intravenous and bilateral introcarotid infusion of hyper-osmolar solutions of sodium chloride. Act Physiol Scand 101:446–457

Birukawa N, Ando H, Goto M, Kanda N, Pastene LA, Nakatsuji H, Hata H, Urano A (2005) Plasma and urine levels of electrolytes, urea, and steroid hormones involved in osmoregulation of cetaceans. Zool Sci 22:1245–1257

Blantz RC, Tucker BJ, Gushwa L, Peterson OW (1983) Mechanism of diuresis following acute modest hyperglycemia in the rat. Am J Physiol Renal Physiol 244:F185–F194

Bouby N, Trinh-Trang-Tan MM, Coutaud C, Bankir L (1991) Vasopressin is involved in renal effects of high-protein diet: study in homozygous Brattleboro rats. Am J Physiol Renal Physiol 260:96–100

Bradley SE, Mudge GH, Blake WD (1954) The renal excretion of sodium, potassium and water by the harbor seal (Phoce vitulina L.): effect of apnea; sodium, potassium and; pitressin; and mercurial diuresis. J Cell Comp Physiol 43:1–22

Caldwell DK, Caldwell MC (1972) World of the bottlenose dolphin. J. B. Lippincott, Co., Philadelphia

Costa DP (1982) Energy, nitrogen, electrolyte flux and sea water drinking in the sea otter Enhydra lutris. Physiol Zool 55:35–44

Daniels BS, Hostetter TH (1990) Effects of dietary protein intake on vasoactive hormones. Am J Phys Regul Integr Comp Physiol 258:R1095–R1100

Denke M (2001) Metabolic effects of high-protein low-carbohydrate diets. Am J Cardiol 88:59–61

Eichelberger L, Leiter L, Geiling EMK (1940) Water and electrolyte content of dolphin kidney and extraction of pressor substance (renin). Proc Soc Exp Biol Med 44:356–359

Fetcher ES Jr (1939) The water balance in marine mammals. Q Rev Biol 14:451–459

Fetcher ES Jr, Fetcher GW (1942) Experiments on the osmotic regulation of dolphins. J Cell Comp Physiol 19:123–130

Gales R, Renouf D (1993) Detecting and measuring food and water intake in captive seals using temperature telemetry. J Wildl Manage 57:514–519

Geraci JR (1972) Hyponatremia and the need for dietary salt supplementation in captive pinnipeds. J Am Vet Med Assoc 161:618–623

Guyton AC, Hall JE (eds) (1996) Textbook of medical physiology, 9th edn. W. B. Saunders Company, Philadelphia

Hendrikx A, Epstein FH (1958) Effect of feeding protein and urea on renal concentrating ability in the rat. Am J Physiol 195:539–542

Hiatt EP, Hiatt RB (1942) The effect of food on the glomerular filtration rate and renal blood flow in the harbor seal (Phoca vitulina L.). J Cell Comp Physiol 19:221–227

Hong SK, Elsner R, Claybaugh JR, Ronald K (1982) Renal functions of the Baikal seal Pusa sibirica and ringed seal Pusa hispida. Physiol Zool 55:289–299

How OJ, Nordøy ES (2007) Seawater drinking restores water balance in dehydrated harp seals. J Comp Physiol B Biochem Syst Environ Physiol 177:535–542

Hui CA (1981) Seawater consumption and water flux in the common dolphin Delphinus delphi. Physiol Zool 54:430–440

Irving RA, Noakes TD, Buck R, van Zyl Smit R, Raine E, Godlonton J, Norman RJ (1991) Evaluation of renal function and fluid homeostasis during recovery from exercise-induced hyponatremia. J Appl Physiol 70:342–348

Kitabchi AE, Umpierrez GE, Murphy MB, Barrett EJ, Kreisberg RA, Malone JI, Wall BM (2001) Management of hyperglycemic crises in patients with diabetes. Diabetes Care 24:131–153

Kjeld M (2001) Concentrations of electrolytes, hormones, and other constituents in fresh postmortem blood and urine of fin whales (Balaenoptera physalus). Can J Zool 79:438–446

Malvin RL, Rayner M (1968) Renal function and blood chemistry in cetacea. Am J Physiology 214:187–191

Malvin RL, Vander AJ (1967) Plasma renin activity in marine teleosts and Cetacea. Am J Physiol 213:1582–1584

Malvin RL, Ridgway S, Cornell L (1978) Renin and aldosterone levels in dolphins and sea lions. Proc Soc Exp Biol Med 157:665–668

Ortiz RM (2001) Osmoregulation in marine mammals. J Exp Biol 204:1831–1844

Ortiz RM, Worthy GAJ (2000) Effects of capture on adrenal steroid and vasopressin concentrations in free-ranging bottlenose dolphins (Tursiops truncatus). Comp Biochem Physiol Part A Mol Integr Physiol 125:317–324

Ortiz RM, Adams SH, Costa DP, Ortiz CL (1996) Plasma vasopressin levels and water conservation in fasting, postweaned northern elephant seal pups (Mirounga angustirostris). Mar Mamm Sci 12:99–106

Ortiz RM, Wade CE, Costa DP, Ortiz CL (2002) Renal responses to plasma volume expansion and hyperosmolality in fasting seal pups. Am J Phys Regul Integr Comp Physiol 282:R805–R817

Ortiz RM, Wade CE, Ortiz CL (2003) Body water handling in response to hypertonic-saline induced dieresis in fasting northern elephant seal pups (Mirounga angustriostris). Comp Biochem Physiol A Mol Integr Physiol 134:423–428

Ortiz RM, Long B, Casper D, Ortiz L, Williams TM (2009) Biochemical and hormonal changes during acute fasting and re-feeding in bottlenose dolphins (Tursiops truncatus). Mar Mamm Sci. doi:10.111/j.1748-7692.2009.0009.x

Pfeiffer CJ (1997) Renal cellular and tissue specializations in the bottlenose dolphin (Tursiops truncatus) and beluga whale (Dephinapterus leucas). Aquat Mammal 23:75–84

Renouf D, Noseworthy E, Scott MC (1990) Daily fresh water consumption by captive harp seals (Phoca groenlandica). Mar Mamm Sci 6:253–257

Ridgway SH (1972) Homeostasis in the aquatic environment. In: Ridgway S (ed) Mammals of the sea: biology and medicine. Charles C. Thomas, Springfield, pp 590–747

Ridgway SH, Simpson JG, Patton GS, Gilmartin WG (1970) Hematologic findings in certain small cetaceans. J Am Vet Med Assoc 157:566–575

Rosenberg ME, Swanson JE, Thomas BL, Hostetter TH (1987) Glomerular and hormal responses to dietary protein intake in human renal disease. Am J Physiol Renal Physiol 253:F1083–F1090

Schmidt-Nielsen K (1990) Animal physiology: adaptation and environment, 4th edn. Cambridge University Press, New York

Schmidt-Nielsen B, Murdaugh HV, O'Dell R, Bacsanyi J (1959) Urea excretion and diving in the seal (Phoca vitulina L.). J Cell Comp Physiol 53:393–411

Shimamura MH, Yasue H, Ohshima K et al (1997) Molecular evidence from retroposons that whales form a clade within even-toed ungulates. Nature 388:666–670

Skog EB, Folkow LP (1994) Nasal heat and wter exchange is not an effector mechanism for water balance regulation in grey seals. Acta Physiol Scand 151:233–240

Storeheier PV, Nordøy ES (2001) Physiological effects of seawater intake in adult harp seals during phase I of fasting. Comp Biochem Physiol Part A Mol Integr Physiol 128:307–315

Tarasoff F, Toews D (1972) The osmotic and ionic regulatory capacities of the kidney of the harbor seal, Phoca vitulina. J Comp Physiol 81:121–132

Tedman R, Green B (2009) Water and sodium fluxes and lactational energetic in suckling pups of Weddell seals (Leptonychotes weddellii). J Zool 212:29–42

Telfer N, Cornell LH, Prescott JH (1970) Do dolphins drink water? J Am Vet Med Assoc 157:555–558

Thewissen JGM, Madar SI (1999) Ankle morphology of the earliest cetaceans and its implications for the phylogenetic relations among ungulates. Syst Biol 48:21–30

Van Dyke D (1972) Contingency ration for California sea lions (Zalophus californianus). Naval Undersea Center, Technical Report No 317. San Diego

Vander AJ (1995) Renal physiology, 5th edn. McGraw-Hill, Inc., New York

Venn-Watson S, Jensen ED, Ridgway SH (2007) Effects of age and sex on clinicopathologic reference ranges in a healthy managed Atlantic bottlenose dolphin population. J Am Vet Med Assoc 231:596–601

Venn-Watson S, Smith CR, Dold C, Ridgway SH (2008) Use of a serum-based glomerular filtration rate prediction equation to assess renal function by age, sex, fasting, and health status in bottlenose dolphins (Tursiops truncatus). Mar Mamm Sci 24:71–80
Acknowledgments
The authors wish to thank Mr. Christopher Hammell for his assistance with data entry and the reviewers of this manuscript, including Dr. Rudy Ortiz, for their valuable contributions and discussion topics. SHR conceived the study hypotheses and implemented experimental design. SVW analyzed the data. Both authors wrote and edited the manuscript. The experiments in this study complied with the current laws of the country in which the experiments were performed.
Conflict of interest statement
None.
Additional information
Communicated by I. D. Hume.
About this article
Cite this article
Ridgway, S., Venn-Watson, S. Effects of fresh and seawater ingestion on osmoregulation in Atlantic bottlenose dolphins (Tursiops truncatus). J Comp Physiol B 180, 563–576 (2010). https://doi.org/10.1007/s00360-009-0439-0
Received:

Revised:

Accepted:

Published:

Issue Date:
Keywords
Dolphin

Marine mammal

Osmoregulation

Fresh water

Seawater