Abstract
A highly persistent trace environmental contaminant and one of the most potent toxicants known is dioxin (2,3,7,8-tetrachlorodibenzo-para-dioxin or TCDD). TCDD induces a broad spectrum of biological responses, including induction of cytochrome P-450 1A1 (CYP1A1), disruption of normal hormone signaling pathways, reproductive and developmental defects, immunotoxicity, liver damage, wasting syndrome, and cancer. Its classification was upgraded from "possible human carcinogen" (group 2B) to "human carcinogen" (group 1) by the International Agency for Research on Cancer (IARC) in 1997. Exposure to TCDD may also cause changes in sex ratio, and tumor promotion in other animals. Because of the growing public and scientific concern, toxicological studies have been initiated to analyze the short- and long-term effects of dioxin. TCDD brings about a wide variety of toxic and biochemical effects via aryl hydrocarbon receptor (AhR)-mediated signaling pathways. Essential steps in this adaptive mechanism include AhR binding of ligand in the cytoplasm of cells associated with two molecules of chaperone heatshock protein (Hsp90) and AhR interactive protein, translocation of the receptor to the nucleus, dimerization with the Ah receptor nuclear translocator, and binding of this heterodimeric transcription factor (present in CYP1A) to dioxin-responsive elements upstream of promoters that regulate the expression of genes involved in xenobiotic metabolism.
Access options
Buy single article
Instant access to the full article PDF.
US$ 39.95
Tax calculation will be finalised during checkout.
Subscribe to journal
Immediate online access to all issues from 2019. Subscription will auto renew annually.
US$ 119
Tax calculation will be finalised during checkout.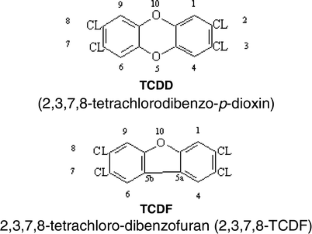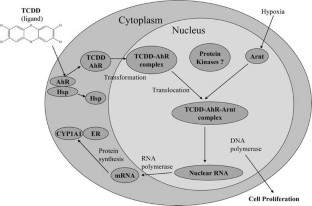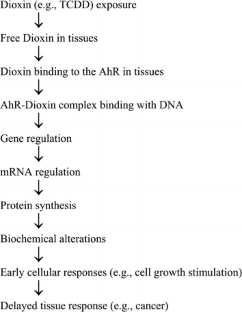 References
Abbott BD, Schmid JE, Pitt JA, Buckalew AR, Wood CR, Held GA, Diliberto JJ (1999) Adverse reproductive outcomes in the transgenic Ah receptor-deficient mouse. Toxicol Appl Pharmacol 155:62–70

Ackermann MF, Gasiewicz TA, Lamm KR, Germolec DR, Luster MI (1989) Selective inhibition of polymorphonuclear neutrophil activity by 2,3,7,8-tetrachlorodibenzo-p-dioxin. Toxicol Appl Pharmacol 101:470–480

Andreasen EA, Spitsbergen JM, Tanguay RL, Stegeman JJ, Heideman W, Peterson RE (2002) Tissue-specific expression of AHR2, ARNT2, and CYP1A in zebrafish embryo and larvae: effects of developmental stage and 2,3,7,8-tetrachlorodibenzo-p-dioxin exposure. Toxicol Sci 68:403–419

Baba T, Mimura J, Gradin K, Kuroiwa A, Watanabe T, Matsuda Y, Inazawa J, Sogawa K, Fujii-Kuriyama Y (2001) Structure and expression of the Ah receptor repressor gene. J Biol Chem 276:33101–33110

Baccarelli A, Pesatori AC, Masten SA, Patterson DG Jr, Needham LL, Mocarelli P, Caporaso NE, Consonni D, Grassman JA, Bertazzi PA, Landi MT (2004) Aryl-hydrocarbon receptor-dependent pathway and toxic effects of TCDD in humans: a population-based study in Seveso, Italy. Toxicol Lett 149:287–293

Birnbaum LS, Farland WH (2003) Health risk characterization of dioxins and related compounds. In: Schecter A, Gasiewicz TA (eds) Dioxins and health. Wiley-Interscience, New York, pp 159–189

Birnbaum LS, Fenton SE (2003) Cancer and developmental exposure to endocrine disruptors. Environ Health Perspect 111:389–394

Bosveld ATC, van den Berg M (2002) Reproductive failure and endocrine disruption by organohalogens in fish-eating birds. Toxicology 181–182:155–159

Bradfield CA, Glover E, Poland A (1991) Purification and N-terminal amino acid sequence of the Ah receptor from the C57BL/6J mouse. Mol Pharmacol 39:13–19

Butler MA, Lang NP, Young JF, Caporaso NE, Vineis P, Hayes RB, Teitel CH, Massengill JP, Lawsen MF, Kadlubar FF (1992) Determination of CYP1A2 and NAT2 phenotypes in human populations by analysis of caffeine urinary metabolites. Pharmacogenetics 2:116–127

Cole P, Trichopoulus D, Pastides H, Starr T, Mandel J (2003) Dioxin and cancer: a critical review. Regul Toxicol Pharmacol 38:378–388

Dalton TP, Puga A, Shertzer HG (2002) Induction of cellular oxidative stress by aryl hydrocarbon receptor activation. Chem Biol Interact 141:77–95

Dasmahapatra AK, Trewin AL, Hutz RJ (2002) Estrous cycle-regulated expression of CYP1B1 mRNA in the rat ovary. Comp Biochem Physiol B 133:127–134

Denison MS, Fisher JM, Whitlock JP (1988) The DNA recognition site for the dioxin-Ah receptor complex:nucleotide sequence and functional analysis. J Biol Chem 263:17221–17224

Dragan YP, Chrenk D (2000) Animal studies addressing the carcinogenicity of TCDD (or related compounds) with an emphasis on tumour promotion. Food Addit Contam 17:289–302

Dunlap DY, Ikeda I, Nagashima H, Vogel CF, Matsumura F (2002) Effects of src-deficiency on the expression of in vivo toxicity of TCDD in a strain of c-Src knockout mice procured through six generations of backcrossings to C57BL/6 mice. Toxicology 172:125–141

Ema M, Ohe N, Suzuki M, Mimura J, Sogawa K, Ikawa Y, Fujii-Kuriyama Y (1994) Dioxin binding activities of polymorphic forms of mouse and human arylhydrocarbon receptors. J Biol Chem 269:27337–27343

Fernandez-Salguero PM, Hilbert DM, Rudikoff S, Ward JM, Gonzalez FJ (1996) Aryl-hydrocarbon receptor-deficient mice are resistant to 2,3,7,8-tetrachlorodibenzo-p-dioxin-induced toxicity. Toxicol Appl Pharmacol 140:173–179

Fujita H, Kosaki R, Yoshihashi H, Ogata T, Tomita M, Hasegawa T, Takahashi T, Matsuo N, Kosaki K (2002) Characterization of the aryl hydrocarbon receptor repressor gene and association of its Pro185A1a polymorphism with micropenis. Teratology 65:10–18

Geusau A, Tschachler E, Meixner M (1999) Olestra increases faecal excretion of 2,3,7,8-tetrachlorodibenzo-p-dioxin. Lancet 354:1266–1267

Goodman DG, Sauer RM (1992) Hepatotoxicity and carcinogenicity in female Sprague-Dawley rats treated with 2,3,7,8-tetrachlorodibenzo-p-dioxin (TCDD): a pathology working group reevaluation. Regul Toxicol Pharmacol 15:245–252

Grassman JA, Masten SA, Walker NJ, Lucier GW (1998) Animal models of human response to dioxins. Environ Health Perspect 106:761–775

Gray LE Jr, Kelce WR (1996) Latent effects of pesticides and toxic substances on sexual differentiation of rodents. Toxicol Ind Health 12:515–531

Gray LE Jr, Wolf C, Mann P, Ostby JS (1997) In utero exposure to low doses of 2,3,7,8-tetrachlorodibenzo-p-dioxin alters reproductive development of female Long Evans hooded rat offspring. Toxicol Appl Pharmacol 146:237–244

Gray LE Jr (1998) Xenoendocrine disrupters: laboratory studies on male reproductive effects. Toxicol Lett 102–103:331–335

Hahn ME, Karchner SI, Shapiro MA, Perera SA (1997) Molecular evolution of two vertebrate aryl hydrocarbon (dioxin) receptors (AHR1 and AHR2) and the PAS family. Proc Natl Acad Sci USA 94:13743–13748

Halperin W, Kalow W, Sweeney MH, Tang BK, Fingerhut M, Timpkins B, Wille K (1995) Induction of P-450 in workers exposed to dioxin. Occup Environ Med 52:86–91

Hankinson O (1994) The role of the aryl hydrocarbon receptor nuclear translocator protein in aryl hydrocarbon receptor action. Trends Endocrinol Metab 5:240–244

Hankinson O (1995) The aryl hydrocarbon receptor complex. Annu Rev Pharmacol Toxicol 35:307–340

Hanneman WH, Legare ME, Barhoumi R, Burghardt RC, Safe S, Tiffany-Castiglioni E (1996) Stimulation of calcium uptake in cultured rat hippocampal neurons by 2,3,7,8-tetrachlorodibenzo-p-dioxin. Toxicology 112:19–2

Harper PA, Wong JY, Lam MS, Okey AB (2002) Polymorphisms in the human AH receptor. Chem Biol Interact 141:161–187

Huang P, Rannug A, Ahlbom E, Hakansson H, Ceccatelli S (2000) Effect of 2,3,7,8-tetrachlorodibenzo-p-dioxin on the expression of cytochrome P4501A1, the aryl hydrocarbon receptor, and the aryl hydrocarbon receptor nuclear translocator, in rat brain and pituitary. Toxicol Appl Pharmacol 169:159–167

Hushka LJ, Williams JS, Greenlee WF (1998) Characterization of 2,3,7,8-tetrachlorodibenzofuran-dependent suppression and AH receptor pathway gene expression in the developing mouse mammary gland. Toxicol Appl Pharmacol 152:200–210

IARC Monographs on the Evaluation of Carcinogenic Risks to Humans (1997) Polychlorinated dibenzo-para-dioxins and polychlorinated dibenzofurans. IARC Scientific Publ. No. 69, Lyon, France

Ikeya K, Jaiswal AK, Owens RA, Jones JE, Nebert DW, Kimura S (1989) Human CYP1A2: sequence, gene structure, comparison with the mouse and rat orthologous gene, and differences in liver 1A2 mRNA expression. Mol Endocrinol 3:1399–1408

James WH (1996) Evidence that mammalian sex ratio at birth are partially controlled by parental hormone levels at the time of conception. J Theor Biol 180:271–286

Kakeyama M, Tohyama C (2003) Developmental neurotoxicity of dioxin and its related compounds. Ind Health 41:215–230

Karchner SI, Franks DG, Powell WH, Hahn ME (2002) Regulatory interactions among three members of the vertebrate aryl hydrocarbon receptor family: AHR repressor, AHR1, and AHR2. J Biol Chem 277:6949–6959

Kerkvliet NI (1995) Immunological effects of chlorinated dibenzo-p-dioxins. Environ Health Perspect 103:47–53

Landi MT, Bertazzi PA, Baccarelli A, Consonni D, Masten S, Lucier G, Mocarelli P, Needham L, Caporaso N, Grassman J (2003) TCDD-mediated alterations in the AhR-dependent pathway in Seveso, Italy, 20 years after the accident. Carcinogenesis 24:673–680

Lamartiniere CA (2002) Timing of exposure and mammary cancer risk. J Mammary Gland Biol Neoplasia 7:67–76

Le Provost F, Riedlinger G, Yim SH, Benedict J, Gonzalez FJ, Flaws J, Henninghausen L (2002) The aryl hydrocarbon receptor (AhR) and its nuclear translocator (Arnt) are dispensable for normal mammary gland development but are required for fertility. Genesis 32:231–239

Mandal PK, McDaniel LR, Prough RA, Clark BJ (2001) 7,12-Dimethylbenz[a]anthracene inhibition of steroid production in MA-10 mouse Leydig tumor cells is not directly linked to induction of CYP1B1. Toxicol Appl Pharmacol 175:200–208

Matsumura F (2003) On the significance of the role of cellular stress response reactions in the toxic actions of dioxin. Biochem Pharmacol 66:527–540

Mimura J, Ema M, Sogawa K, Fujii-Kuriyama Y (1999) Identification of a novel mechanism of regulation of Ah (dioxin) receptor function. Genes Dev 13:20–25

Mimura J, Fujii-Kuriyama Y (2003) Functional role of AhR in the expression of toxic effects by TCDD. Biochim Biophys Acta 1619:263–268

Mocarelli P, Gerthoux PM, Ferrari E, Patterson DG Jr, Kieszak SM, Brambilla P, Vincoli N, Signorini S, Tramacere P, Carreri V, Sampson EJ, Turner WE, Needham,L.L. (2000) Paternal concentrations of dioxin and sex ratio of offspring. Lancet 355:1858–1863

Nebert DW, Puga A, Vasiliou V (1993) Role of the Ah receptor and the dioxin-inducible [Ah] gene battery in toxicity, cancer, and signal transduction. Ann N Y Acad Sci 685:624–640

Nebert DW, Roe AL, Dieter MZ, Solis WA, Yang Y, Dalton TP (2000) Role of the aromatic hydrocarbon receptor and [Ah] gene battery in the oxidative stress response, cell cycle control, and apoptosis. Biochem Pharmacol 59:65–85

Niittynen M, Tuomisto JT, Auriola S, Pohjanvirta R, Syrjala P, Simanainen U, Viluksela M, Tuomisto J (2003) 2,3,7,8-Tetrachlorodibenzo-p-dioxin (TCDD)-induced accumulation of biliverdin and hepatic peliosis in rats. Toxicol Sci 71:112–123

Paustenbach DJ (2002) The U.S. EPA Science Advisory Board Evaluation (2001) of the EPA dioxin reassessment. Regul Toxicol Pharmacol 36:211–219

Perdew GH (1988) Association of the Ah receptor with 90-kDa heat shock protein. J Biol Chem 263:13802–13805

Petroff BK, Roby KF, Gao X, Son D, Williams S, Johnson D, Rozman KK, Terranova PF (2001) A review of mechanisms controlling ovulation with implications for the anovulatory effects of polychlorinated dibenzo-p-dioxins. Toxicology 158:91–107

Petrulis JR, Hord NG, Perdew GH (2000) Subcellular localization of the aryl hydrocarbon receptor ismodulated by the immunophilin homolog hepatitis B virus X-associated protein 2. J Biol Chem 275:37448–37453

Poellinger L (2000) Mechanistic aspects—the dioxin (aryl hydrocarbon) receptor. Food Addit Contam 17:261–266

Pohjanvirta R, Wong JM, Li W, Harper PA, Tuomisto J, Okey AB (1998) Point mutation in intron sequence causes altered carboxyl-terminal structure in the aryl hydrocarbon receptor of the most 2,3,7,8-tetrachlorodibenzo-p-dioxin-resistant rat strain. Mol Pharmacol 54:86–93

Pohjanvirta R, Viluksela M, Tuomisto JT, Unkila M, Karasinska J, Franc MA, Holowenko M, Giannone JV, Harper PA, Tuomisto J, Okey AB (1999) Physicochemical differences in the AH receptors of the most TCDD-susceptible and the most TCDD-resistant rat strains. Toxicol Appl Pharmacol 155:82–95

Poland A, Glover E, Kende AS (1976) Stereospecific, high affinity binding of 2,3,7,8-tetrachlorodibenzo-p-dioxin by hepatic cytosol: evidence that the binding species is receptor for induction of aryl hydrocarbon hydroxylase. J Biol Chem 251:4936–4946

Poland A, Knutson JC (1982) 2,3,7,8-Tetrachlorodibenzo-p-dioxin and related halogenated aromatic hydrocarbons. Examinations of the mechanism of toxicity. Annu Rev Pharmacol Toxicol 22:517–554

Poland A, Palen D, Glover E (1994) Analysis of the four alleles of the murine aryl hydrocarbon receptor. Mol Pharmacol 46:915–921

Pop VJ, Kuijpens JL, van Baar AL, Verkerk G, van Son MM, de Vijlder JJ, Vulsma T, Wiersinga WM, Drexhage HA, Vader HL (1999) Low maternal free thyroxine concentrations during early pregnancy are associated with impaired psychomotor development in infancy. Clin Endocrinol 50:149–155

Puga A, Raychaudhuri B, Salata K, Zhang YH, Nebert DW (1990) Stable expression of mouse CYP1A1 and human CYP1A2 cDNAs transfected into mouse hepatoma cells lacking detectable P450 enzyme activity. DNA Cell Biol 9:425–436

Puga A, Maier A, Medvedovic M (2000) The transcriptional signature of dioxin in human hepatoma HepG2 cells. Biochem Pharmacol 60:1129–1142

Quattrochi LC, Vu T, Tukey RH (1994) The human CYP1A2 gene supports Ah-receptor binding and promoter-specific induction. FASEB J 8:A1250

Rier S, Foster WG (2003) Environmental dioxins and endometriosis. Semin Reprod Med 21:145–154

Rivera SP, Saarikoshi O, Hankinson O (2002) Identification of a novel dioxin-inducible cytochrome P450. Mol Pharmacol 61:255–259

Ryan JJ, Zarema A, Carrier G (2002) Sex ratios of children of Russian pesticide producers exposed to dioxin. Environ Health Perspect 110:699–701

Safe SH (1986) Comparative toxicology and mechanism of action of polychlorinated dibenzo-p-dioxins and dibenzofurans. Annu Rev Pharmacol Toxicol 26:371–399

Safe SH (1995) Modulation of gene expression and endocrine response pathways by 2,3,7,8-tetrachlorodibenzo-p-dioxin and related compounds. Pharmacol Ther 67:247–281

Safe S (2001) Molecular biology of the Ah receptor and its role in carcinogenesis. Toxicol Lett 120:1–7

Schwarz M, Buchmann A, Stinchcombe S, Kalkuhl A, Bock K (2000) Ah receptor ligands and tumor promotions: survival of neoplastic cells. Toxicol Lett 112–113:5–14

Smialowicz RJ, Burgin DE, Williams WC, Diliberto JJ, Setzer RW, Birnbaum LS (2004) CYP1A2 is not required for 2,3,7,8-tetrachlorodibenzo-p-dioxin-induced immunosuppression. Toxicol 197:15–22

Sotnichenko AI, Severin SE, Posypanova GA, Feldman NB, Grigor'ev MI, Severin ES, Petrov RV (1999) Water-soluble 2,3,7,8-tetrachlorodibenzo-p-dioxin complex with human α–fetoprotein: properties, toxicity in vivo and antitumor activity in vitro. FEBS Lett 450:49–51

Spencer DL, Masten SA, Lanier KM, Yang X, Grassman JA, Miller CR, Sutter TR, Lucier GW, Walker NJ (1999) Quantitative analysis of constitutive and 2,3,7,8-tetrachlorodibenzo-p-dioxin-induced cytochrome P450 1B1 expression in human lymphocytes. Cancer Epidemiol Biomarkers Prev 8:139–146

Steenland K, Deddens J (2003) Dioxin: exposure-response analyses and risk assessment. Indust Hlth 41:175–180

Steenland K, Bertazzi P, Baccarelli A, Kogevinas M (2004) Dioxin revisited: developments since the 1997 IARC classification of dioxin as a human carcinogen. Environ Health Perspect 112:1265–1268

Swanson HI, Bradfield CA (1993) The Ah-receptor: genetics, structure and function. Pharmacogenetics 3:213–223

Tan Z, Chang X, Puga A, Xia Y (2002) Activation of mitogen-activated protein kinases (MAPKs) by aromatic hydrocarbons: role in the regulation of aryl hydrocarbon receptor (AHR) function. Biochem Pharmacol 64:771–780

Tang BK, Zhou Y, Kadar D, Kalow W (1994) Caffeine as a probe for CYP1A2 activity: potential influence of renal factors on urinary phenotypic trait measurements. Pharmacogenetics 4:117–124

Tanguay RL, Andreasen E, Heideman W, Peterson RE (2000) Identification and expression of alternatively spliced aryl hydrocarbon nuclear translocator 2 (ARNT) cDNA from zebrafish with distinct functions. Biochem Biophys Acta 1494:117–128

Tuomisto JT, Viluksela M, Pohjanvirta R, Tuomisto J (1999) The AH receptor and a novel gene determine acute toxic responses to TCDD: segregation of the resistant alleles to different rat lines. Toxicol Appl Pharmacol 155:71–81

U.S. Department of Health and Human Services, Public Health Service, National Toxicology Program (2000) 9th report on Carcinogens

U.S. Environmental Protection Agency (2002) Exposure and human health reassessment of 2,3,7,8-tetrachlorodibenzo-p-dioxin (TCDD) and related compounds. National Center for Environmental Assessment, Office of Research and Development, Washington, DC

Van den Berg M, Birnbaum L, Bosveld AT, Brunstrom B, Cook P, Feeley M, Giesy JP, Hanberg A, Hasegawa R, Kennedy SW, Kubiak T, Larsen JC, van Leeuwen FX, Liem AK, Nolt C, Peterson RE, Poellinger L, Safe S, Schrenk D, Tillitt D, Tysklind M, Younes M, Waern F, Zacharewski T (1998) Toxic equivalency factors (TEFs) for PCBs, PCDDs for humans and wildlife. Environ Health Perspect 103:775–792

Vorderstrasse BA, Fenton SE, Bohn AA, Cundiff JA, Lawrence BP (2004) A novel effect of dioxin: exposure during pregnancy severely impairs mammary gland differentiation. Toxicol Sci 78:248–257

Vulsma T (2000) Impact of exposure to maternal PCBs and dioxins on the neonate's thyroid hormone status. Epidemiology 11:239–241

Walker MK, Spitsbergen JM, Olson JR, Peterson RE (1991) 2,3,7,8-Tetrachlorodibenzo-p-dioxin (TCDD) toxicity during early life stage development of lake trout (Salvelinus namaycush). Can J Fish Aquat Sci 48:875–883

Walker MK, Pollenz RS, Smith SM (1997) Expression of the aryl hydrocarbon receptor (AhR) and AhR nuclear translocator during chick cardiogenesis is consistent with 2,3,7,8-tetrachlorodibenzo-p-dioxin-induced heart defects. Toxicol Appl Pharmacol 143:407–419

Warner M, Eskenazi B, Mocarelli P, Gerthoux PM, Samuels S, Needham L, Patterson D, Brambilla P (2002) Serum dioxin concentrations and breast cancer risk in the Seveso Women's Health Study. Environ Health Perspect 110:625–628

Watanabe T, Imoto I, Kosugi Y, Fukuda Y, Mimura J, Fujii Y, Isaka K, Takayama M, Sato A, Inazawa J (2001) Human arylhydrocarbon receptor repressor (AHRR) gene: genomic structure and analysis of polymorphism in endometriosis. J Hum Genet 46:342–346

Whilock JPJ (1990) Genetic and molecular aspects of 2,3,7,8-tetrachlorodibenzo-p-dioxin action. Annu Rev Pharmacol Toxicol 30:251–277

Whitlock JP (1999) Induction of cytochrome P4501A1. Annu Rev Pharmacol Toxicol 39:103–125

Whysner J, Williams GM (1996) 2,3,7,8-Tetrachlorodibenzo-p-dioxin mechanistic data and risk assessment: gene regulation, cytotoxicity, enhanced cell proliferation, and tumor promotion. Pharmacol Ther 71:193–223

Wilson CL, Safe S (1998) Mechanisms of ligand-induced aryl hydrocarbon receptor-mediated biochemical and toxic responses. Toxicol Pathol 26:657–671

Williams SR, Son D-S, Terranova PF (2004) Protein kinase C δ is activated in mouse ovarian surface epithelial cancer cells by 2,3,7,8-tetrachlorodibenzo-p-dioxin (TCDD). Toxicol 195:1–17

Wong GY, Bradlow L, Sepkovic D, Mehl S, Mailman J, Osborne MP (1997) Dose-ranging study of indole-3-carbinol for breast cancer prevention. J Cell Biochem Suppl 28–29:111–116
Additional information
Communicated by I.D. Hume
About this article
Cite this article
Mandal, P.K. Dioxin: a review of its environmental effects and its aryl hydrocarbon receptor biology. J Comp Physiol B 175, 221–230 (2005). https://doi.org/10.1007/s00360-005-0483-3
Received:

Revised:

Accepted:

Published:

Issue Date:
Keywords
Dioxin

TCDD

Aryl hydrocarbon receptor (AhR)

CYP1A1