Abstract
The Mygalomorphae includes tarantulas, trapdoor, funnel-web, purse-web and sheet-web spiders, species known for poor dispersal abilities. Here, we attempted to compile all the information available on their long-distance dispersal mechanisms from observations that are often spread throughout the taxonomic literature. Mygalomorphs can disperse terrestrially, and in some tarantulas, for example, spiderlings walk together in single files away from their maternal burrow, a mechanism limited in distance covered. Conversely, at least eight species disperse aerially, via dropping on drag lines from elevated positions and being passively blown off ('suspended ballooning'). The first record of this behaviour is 135 years old, but we still know very little about it. Phylogeographic studies suggest several occurrences of transcontinental dispersal in the evolutionary history of mygalomorphs, but these might result from contingent rafting events, rather than regular dispersal mechanisms. We use occurrence data to show that suspended ballooning increases the species ranges in Australian mygalomorph families where this behaviour has been recorded. We also identified Anamidae, Idiopidae, and especially Atracidae, as families that might employ suspended ballooning or another efficient but undiscovered dispersal mechanism. Finally, we suggest that molecular studies with mitochondrial genes will help disentangle behavioural limitations of dispersal from ecological or physical ones.
Access options
Buy single article
Instant access to the full article PDF.
USD 39.95
Price includes VAT (USA)
Tax calculation will be finalised during checkout.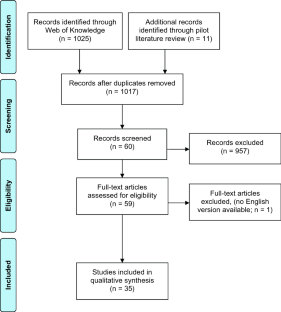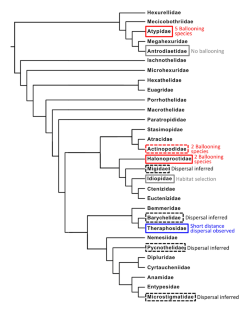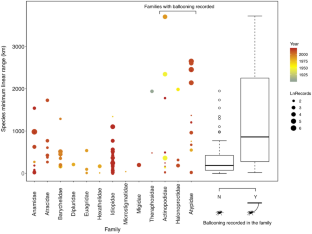 References
Atlas of Living Australia. https://doi.org/10.26197/5d7f2348165a0. Accessed 3 Aug 2020

Baerg WJ (1928) Some studies of a trapdoor spider (Araneae: Aviculariidae). Entomol News 39:1–4

Bates D, Maechler M, Bolker B, Walker S (2015) Fitting linear mixed-effects models using lme4. J Stat Softw 67(1):1–48. http://CRAN.R-project.org/package=lme4

Beavis AS, Sunnucks P, Rowell DM (2011) Microhabitat preferences drive phylogeographic disparities in two Australian funnel web spiders. Biol J Linn Soc 104:805–819

Bell JR, Bohan DA, Shaw EM, Weyman GS (2005) Ballooning dispersal using silk: world fauna, phylogenies, genetics and models. Bull Entomol Res 95:69–114. https://doi.org/10.1079/BER2004350

Bond JE, Coyle FA (1995) Observations on the natural history of an Ummidia trapdoor spider from Costa Rica (Araneae, Ctenizidae). J Arachnol 23(3):157–164

Bradley RA (1993) Seasonal activity patterns in Sydney funnel-web spiders, Atrax spp. (Araneae: Hexathelidae). Bull Br Arachnol Soc 9(6):189–192

Bristowe WS (1939) The comity of spiders, vol. I. Ray Society, London

Castalanelli MA, Teale R, Rix MG, Kennington WJ, Harvey MS (2014) Barcoding of mygalomorph spiders (Araneae: Mygalomorphae) in the Pilbara bioregion of Western Australia reveals a highly diverse biota. Invertebr Syst 28:375–385. doi:https://doi.org/10.1071/IS13058

Coyle FA (1983) Aerial dispersal by mygalomorph spiderlings (Araneae, Mygalomorphae). J Arachnol 11(2):283–286

Coyle FA (1985) Ballooning behavior of Ummidia spiderlings (Araneae, Ctenizidae). J Arachnol 13(1):137–138

Coyle FA, Icenogle WR (1994) Natural history of the Californian trapdoor spider genus Aliatypus (Araneae, Antrodiaetidae). J Arachnol 22(3):225–255

Coyle FA, Greenstone MH, Hultsch AL, Morgan CE (1985) Ballooning mygalomorphs: estimates of the masses of Sphodros and Ummidia ballooners (Araneae: Atypidae, Ctenizidae). J Arachnol 13(3):291–296

Cutler B, Guarisco H (1995) Dispersal aggregation of Sphodros fitchi (Araneae, Atypidae). J Arachnol 23:205–206

Decae AE (1987) Dispersal: ballooning and other mechanisms. In: Nentwig W (ed) Ecophysiology of spiders. Springer Verlag, Berlin, pp 348–356

Dor A, Hénaut Y (2012) Silk use and spiderling behavior in the tarantula Brachypelma vagans (Araneae: Theraphosidae). Acta Zool Mex 28(1):1–12

Eberhard WG (2006) Dispersal by Ummidia spiderlings (Araneae, Ctenizidae): ancient roots of aerial webs and orientation? J Arachnol 34(1):254–257

Enock E (1885) The life-history of Atypus piceus. Sulz Trans Entomol Soc Lond 1885:389–420

Ferretti N, Pompozzi G, Copperi S, Schwerdt L (2013) Aerial dispersal by Actinopus spiderlings (Araneae: Actinopodidae). J Arachnol 41:407–408. https://doi.org/10.1636/J13-27.1

Ferretti N, Copperi S, Schwerdt L, Pompozzi G (2014) Another migid in the wall: natural history of the endemic and rare spider Calathotarsus simoni (Mygalomorphae: Migidae) from a hill slope in central Argentina. J Nat Hist 48(31–32):1907–1921. https://doi.org/10.1080/00222933.2014.886344

Fisher JR, Fisher DM, Skvarla MJ, Dowling APG (2014) Pre-ballooning in Ummidia Thorell 1875 (Araneae: Ctenizidae) from the Interior Highlands, USA: second account from the region and review of mygalomorph ballooning. J Arachnol 42(3):318–321. https://doi.org/10.1636/B14-43.1

Global Biodiversity Information Facility (2020) https://www.gbif.org. Accessed 19 Oct 2020

Godwin RL, Opatova V, Garrison NL, Hamilton CA, Bond JE (2018) Phylogeny of a cosmopolitan family of morphologically conserved trapdoor spiders (Mygalomorphae, Ctenizidae) using Anchored Hybrid Enrichment, with a description of the family, Halonoproctidae Pocock 1901. Mol Phylogenetics Evol 126:303–313. https://doi.org/10.1016/j.ympev.2018.04.008

Harrison SE, Rix MG, Harvey MS, Austin AD (2016) An African mygalomorph lineage in temperate Australia: the trapdoor spider genus Moggridgea (Araneae: Migidae) on Kangaroo Island, South Australia. Austral Entomol 55:208–216. https://doi.org/10.1111/aen.12172

Harrison SE, Harvey MS, Cooper SJB, Austin AD, Rix MG (2017) Across the Indian Ocean: a remarkable example of trans-oceanic dispersal in an austral mygalomorph spider. PLoS One 12(8):e0180139. https://doi.org/10.1371/journal.pone.0180139

Harvey MS (2002) Short-range endemism among the Australian fauna: some examples from non-marine environments. Invertebr Syst 16:555–570

Harvey MS, Hillyer MJ, Main BY, Moulds TA, Raven RJ, Rix MG, Vink CJ, Huey JA (2018) Phylogenetic relationships of the Australasian open-holed trapdoor spiders (Araneae: Mygalomorphae: Nemesiidae: Anaminae): multi-locus molecular analyses resolve the generic classification of a highly diverse fauna. Zool J Linn Soc 184:407–452

Hedin M, Derkarabetian S, Ramirez MJ, Vink C, Bond JE (2018) Phylogenomic reclassification of the world's most venomous spiders (Mygalomorphae, Atracinae), with implications for venom evolution. Sci Rep 8(1):1636. doi:https://doi.org/10.1038/s41598-018-19946-2

Hogg HR (1902) On some additions to the Australian spiders of the suborder Mygalomorphae. Proc Zool Soc Lond 72(II):1):121–142

Huey JA, Hillyer MJ, Harvey MS (2019) Phylogenetic relationships and biogeographic history of the Australian trapdoor spider genus Conothele (Araneae: Mygalomorphae: Halonoproctidae): diversification into arid habitats in an otherwise tropical radiation. Invertebr Syst 33:628–643. https://doi.org/10.1071/IS18078

Janowski-Bell M, Horner NV (1999) Movement of the male brown tarantula, Aphonopelma hentzi (Araneae, Theraphosidae), using radio telemetry. J Arachnol 27(2):503–512

Kuwada-Kusunose T, Sakai T, Suzuki K (2016) Observations of the early postembryonic development and dispersal of the purse-web spider Calommata signata (Araneae: Atypidae). Acta Arachnol 65(1):43–47

Main BY (1957) Occurrence of the trap-door spider Conothele malayana (Doleschall) in Australia (Mygalomorphae: Ctenizidae). West Aust Nat 5(7):209–216

Main BY (1981) Australian spiders: diversity, distribution and ecology. In: Keast A (ed) Ecological biogeography of Australia. Junk, The Hague, pp 808–852

Main BY (1985a) Further studies on the systematics of ctenizid trapdoor spiders: a review of the Australian genera (Araneae: Mygalomorphae : Ctenizidae). Aust J Zool Suppl Ser 108:1–84

Main BY (1985b) Mygalomorphae. Zool Cat Aust 3:1–48

Mason LD, Bateman PW, Wardell-Johnson GW (2018) The pitfalls of short-range endemism: high vulnerability to ecological and landscape traps. PeerJ 6:e4715. https://doi.org/10.7717/peerj.4715

Miglio LT, Harms D, Framenau VW, Harvey MS (2014) Four new Mouse Spider species (Araneae, Mygalomorphae, Actinopodidae, Missulena) from Western Australia. ZooKeys 410:121–148. https://doi.org/10.3897/zookeys.410.7156

Moher D, Liberati A, Tetzlaff J, Altman DG, Group TP (2009) Preferred reporting items for systematic reviews and metaanalyses: the PRISMA statement. PloS Med 6(7):e1000097. https://doi.org/10.1371/journal.pmed1000097

Morley EL, Robert D (2018) Electric fields elicit ballooning in spiders. Curr Biol 28(14):2324-2330 e2322. https://doi.org/10.1016/j.cub.2018.05.057

Muma MH, Muma KE (1945) Biological notes on Atypus bicolor Lucas. Entomol News 56:122–126

Opatova V, Bond JE, Arnedo MA (2016) Uncovering the role of the Western Mediterranean tectonics in shaping the diversity and distribution of the trap-door spider genus Ummidia (Araneae, Ctenizidae). J Biogeogr 43:1955–1966. https://doi.org/10.1111/jbi.12838

Opatova V, Hamilton CA, Hedin M, Montes de Oca L, Král J, Bond JE (2020) Phylogenetic systematics and evolution of the spider infraorder Mygalomorphae using genomic scale data. Syst Biol 69(4):671–707. https://doi.org/10.1093/sysbio/syz064

Pedersen AA, Loeschcke V (2001) Conservation genetics of peripheral populations of the mygalomorph spider Atypus affinis (Atypidae) in northern Europe. Mol Ecol 10:1133–1142

Pérez-Miles F, Perafán C (2017) Behavior and biology of Mygalomorphae. In: Viera C, Gonzaga MO (eds) Behaviour and ecology of spiders, contributions from the Neotropical region. Springer, Cham, pp 29–54. https://doi.org/10.1007/978-3-319-65717-2_2

Pétillon J, Deruytter D, Decae A, Renault D, Bonte D (2012) Habitat use, but not dispersal limitation, as the mechanism behind the aggregated population structure of the mygalomorph species Atypus affinis. Anim Biol 62:181–192. https://doi.org/10.1163/157075611X617094

Platnick NI (2020) Spiders of the world: a natural history. Ivy Press, London

R Core Team (2019) R: a language and environment for statistical computing. R Foundation for Statistical Computing, Vienna

Raven RJ (1988) A revision of the mygalomorph spider genus Idioctis (Araneae, Barychelidae). Am Mus Novit 2929:1–14

Reichling SB (2000) Group dispersal in juvenile Brachypelma vagans (Araneae, Theraphosidae). J Arachnol 28(2):248–250. https://doi.org/10.1636/0161-8202(2000)028[0248:GDIJBV]2.0.CO;2

Rezác M, Rezácová V, Pekár S (2007) The distribution of purse-web Atypus spiders (Araneae: Mygalomorphae) in central Europe is constrained by microclimatic continentality and soil compactness. J Biogeogr 34:1016–1027. https://doi.org/10.1111/j.1365-2699.2006.01670.x

Rix MG, Raven RJ, Main BY, Harrison SE, Austin AD, Cooper SJB, Harvey MS (2017) The Australasian spiny trapdoor spiders of the family Idiopidae (Mygalomorphae: Arbanitinae): a relimitation and revision at the generic level. Invertebr Syst 31:566–634. https://doi.org/10.1071/IS16065

Rix MG, Wilson JD, Rix AG, Wojcieszek AM, Huey JA, Harvey MS (2019) Population demography and biology of a new species of giant spiny trapdoor spider (Araneae: Idiopidae: Euoplos) from inland Queensland: developing a 'slow science' study system to address a conservation crisis. Austral Entomol 58:282–297. https://doi.org/10.1111/aen.12367

Shaw EM, Bennett SP, Wheater CP (2011) Distribution of Brachypelma vagans (Theraphosidae) burrows and their characteristics in Belize over two years. J Arachnol 39(3):515–518. https://doi.org/10.1636/P10-39.1

Shillington C, McEwen B (2006) Activity of juvenile tarantulas in and around the maternal burrow. J Arachnol 34(1):261–265. https://doi.org/10.1636/S05-18.1

Stork NE (2018) How many species of insects and other terrestrial arthropods are there on Earth? Annu Rev Entomol 63:31–45. https://doi.org/10.1146/annurev-ento-020117-043348

Weinmann D (2003) Population investigations on a colony of the tarantula Megaphobema robustum (Ausserer, 1873) in Colombia (Araneae, Theraphosidae, Theraphosinae). Arthropoda 11(3):23–30

World Spider Catalog (2020) Vol version 21.5. https://doi.org/10.24436/2

Yáñez M, Floater G (2000) Spatial distribution and habitat preference of the endangered tarantula, Brachypelma klaasi (Araneae: Theraphosidae) in Mexico. Biodivers Conserv 9:795–810
Acknowledgements
We thank Emily Hoffmann for help with producing Fig. 3, Robert Raven and Michael Rix for assistance with the taxonomic literature, and Jonas Wolff for the opportunity to contribute with this special issue. Two anonymous reviewers also provided invaluable comments during the review process. We are in debt with Atlas of Living Australia, Global Biodiversity Information Facility and the World Spider Catalog for invaluable occurrence and taxonomic data.
Funding
This study was supported by National Geographic (NGS-62237R-19), Australian Geographic (103961107) and Macquarie University.
Ethics declarations
Conflict of interest
The authors have no conflict of interest or conflict of interests to declare.
Consent for publication
All the authors approve the publication of the current version.
Additional information
Publisher's Note
Springer Nature remains neutral with regard to jurisdictional claims in published maps and institutional affiliations.
Supplementary Information
Below is the link to the electronic supplementary material.
About this article
Cite this article
Buzatto, B.A., Haeusler, L. & Tamang, N. Trapped indoors? Long-distance dispersal in mygalomorph spiders and its effect on species ranges. J Comp Physiol A 207, 279–292 (2021). https://doi.org/10.1007/s00359-020-01459-x
Received:

Revised:

Accepted:

Published:

Issue Date:
Keywords
Ballooning

Locomotion

Mygalomorphae

Short-range endemism

Species distribution