Abstract
The tympanal ear is an evolutionary acquisition which helps moths survive predation from bats. The greater diversity of bats and echolocation strategies in the Neotropics compared with temperate zones would be expected to impose different sensory requirements on the neotropical moths. However, even given some variability among moth assemblages, the frequencies of best hearing of moths from different climate zones studied to date have been roughly the same: between 20 and 60 kHz. We have analyzed the auditory characteristics of tympanate moths from Cuba, a neotropical island with high levels of bat diversity and a high incidence of echolocation frequencies above those commonly at the upper limit of moths' hearing sensitivity. Moths of the superfamilies Noctuoidea, Geometroidea and Pyraloidea were examined. Audiograms were determined by non-invasively measuring distortion-product otoacoustic emissions. We also quantified the frequency spectrum of the echolocation sounds to which this moth community is exposed. The hearing ranges of moths in our study showed best frequencies between 36 and 94 kHz. High sensitivity to frequencies above 50 kHz suggests that the auditory sensitivity of moths is suited to the sounds used by sympatric echolocating bat fauna. Biodiversity characterizes predators and prey in the Neotropics, but the bat–moth acoustic interaction keeps spectrally matched.
Access options
Buy single article
Instant access to the full article PDF.
US$ 39.95
Tax calculation will be finalised during checkout.
Subscribe to journal
Immediate online access to all issues from 2019. Subscription will auto renew annually.
US$ 119
Tax calculation will be finalised during checkout.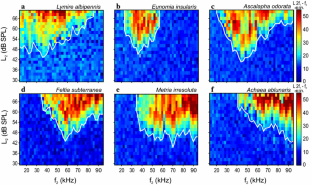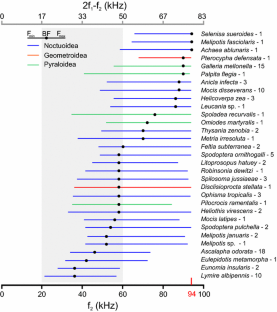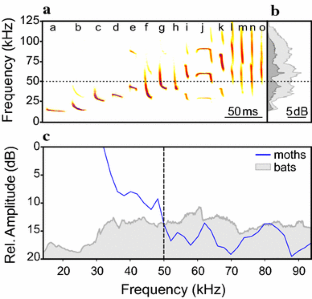 References
Adams WB (1972) Mechanical tuning of the acoustic receptor of Prodenia eridania (Cramer)(Noctuidae). J Exp Biol 57(2):297–304

Agee H (1967) Response of acoustic sense cell of the bollworm and tobacco budworm to ultrasound. J Econ Entomol 60(2):366–369

Barber JR, Conner WE (2007) Acoustic mimicry in a predator–prey interaction. Proc Natl Acad Sci USA 104(22):9331–9334

Barro A (2001) Historia natural y bioacústica de Urania boisduvalii (Guenée) (Lepidoptera: Uraniidae). Master Thesis, Universidad de La Habana, La Habana, Cuba

Conner WE (1999) 'Un chant d'appel amoureux': acoustic communication in moths. J Exp Biol 202(13):1711–1723

Corcoran AJ, Barber JR, Conner WE (2009) Tiger moth jams bat sonar. Science 325(5938):325–327

Coro F, Kössl M (1998) Distortion-product otoacoustic emissions from the tympanic organ in two noctuoid moths. J Comp Physiol A 183(4):525–531. doi:10.1007/s003590050278

Dawson JW, Kutsch W, Robertson RM (2004) Auditory-evoked evasive manoeuvres in free-flying locusts and moths. J Comp Physiol A 190(1):69–84. doi:10.1007/s00359-003-0474-3

Fenton MB, Fullard JH (1979) Influence of moth hearing on bat echolocation strategies. J Comp Physiol A 132(1):77–86

Fenton MB, Faure PA, Ratcliffe JM (2012) Evolution of high duty cycle echolocation in bats. J Exp Biol 215(17):2935–2944

Fullard JH (1982) Echolocation assemblages and their effects on moth auditory systems. Can J Zool 60(11):2572–2576

Fullard JH (1984) Acoustic relationships between tympanate moths and the Hawaiian hoary bat (Lasiurus cinereus semotus). J Comp Physiol A 155(6):795–801

Fullard JH (1988) The tuning of moth ears. Experientia 44(5):423–428

Fullard JH (1994) Auditory changes in noctuid moths endemic to a bat-free habitat. J Evol Biol 7(4):435–445

Fullard JH (1998) The sensory coevolution of moths and bats. In: Hoy R, Popper A, Fay R (eds) Comparative hearing: insects. Springer, New York, pp 279–326

Fullard JH, Belwood JJ (1988) The echolocation assemblage: acoustic ensembles in a neotropical habitat. In: Nachtigall P, Moore PB (eds) Animal Sonar. NATO ASI Science, vol 156. Springer, New York, pp 639–643. doi:10.1007/978-1-4684-7493-0_68

Fullard JH, Thomas DW (1981) Detection of certain African, insectivorous bats by sympatric, tympanate moths. J Comp Physiol 143(3):363–368

Fullard JH, Yack JE (1993) The evolutionary biology of insect hearing. Trends Ecol Evol 8(7):248–252. doi:10.1016/0169-5347(93)90200-9

Fullard JH, Dawson JW, Otero L, Surlykke A (1997) Bat-deafness in day-flying moths (Lepidoptera, Notodontidae, Dioptinae). J Comp Physiol A 181(5):477–483

Fullard JH, Dawson JW, Jacobs DS (2003) Auditory encoding during the last moment of a moth's life. J Exp Biol 206(Pt 2):281–294

Heller KG, Krahe R (1994) Sound production and hearing in the pyralid moth Symmoracma minoralis. J Exp Biol 187(1):101–111

Kalko EK, Handley CO, Handley D (1996) Organization, diversity, and long-term dynamics of a Neotropical bat community. In: Long-term studies of vertebrate communities, pp 503–553

Keating A, Henson O, Henson M, Lancaster W, Xie D (1994) Doppler-shift compensation by the mustached bat: quantitative data. J Exp Biol 188(1):115–129

Kössl M (1992) High frequency distortion products from the ears of two bat species, Megaderma lyra and Carollia perspicillata. Hear Res 60(2):156–164. doi:10.1016/0378-5955(92)90018-I

Kössl M, Boyan GS (1998) Acoustic distortion products from the ear of a grasshopper. J Acoust Soc Am 104(1):326–335

Kössl M, Coro F (2006) L1, L2 maps of distortion-product otoacoustic emissions from a moth ear with only two auditory receptor neurons. J Acoust Soc Am 120(6):3822–3831

Kössl M, Coro F, Seyfarth EA, Nassig WA (2007) Otoacoustic emissions from insect ears having just one auditory neuron. J Comp Physiol A 193(8):909–915. doi:10.1007/s00359-007-0244-8

Kössl M, Möckel D, Weber M, Seyfarth EA (2008) Otoacoustic emissions from insect ears: evidence of active hearing? J Comp Physiol A 194(7):597–609. doi:10.1007/s00359-008-0344-0

Macías S, Mora EC (2003) Variation of echolocation calls of Pteronotus quadridens (Chiroptera: Mormoopidae) in Cuba. J Mammal 84(4):1428–1436

Macías S, Mora EC, García A (2006) Acoustic identification of mormoopid bats: a survey during the evening exodus. J Mammal 87(2):324–330

Mancina CA, Echenique-Díaz LM, Tejedor A, García L, Daniel-Álvarez Á, Ortega-Huerta MA (2007) Endemics under threat: an assessment of the conservation status of Cuban bats. Hystrix It J Mamm 18(1):3–15

Manley GA, Köppl C, Johnstone BM (1993) Distortion-product otoacoustic emissions in the Bobtail Lizard. 1. General-Characteristics. J Acoust Soc Am 93(5):2820–2833. doi:10.1121/1.405803

Meenderink SWF, van Dijk P, Narins PM (2005) Comparison between distortion product otoacoustic emissions and nerve fiber responses from the basilar papilla of the frog. J Acoust Soc Am 117(5):3165–3173. doi:10.1121/1.1871752

Minet J, Surlykke A (2003) Auditory and sound producing organs. In: Kristensen NP (ed) Handbook of Zoology. Lepidoptera, Moths and Butterflies. Morphology, Physiology and Development, vol 2. Walter de Gruyter, Berlin, pp 289–323

Mora EC, Macías S (2011) Short Cf-Fm and Fm-short CF calls in the echolocation behavior of Pteronotus macleayii (Chiroptera: Mormoopidae). Acta Chiropterol 13(2):457–463

Mora EC, Torres L (2008) Echolocation in the large molossid bats Eumops glaucinus and Nyctinomops macrotis. Zool Sci 25(1):6–13

Mora EC, Rodriguez A, Macías S, Quiñonez I, Mellado MM (2005) The echolocation behaviour of Nycticeius cubanus (Chiroptera: Vespertilionidae): Inter-and intra-individual plasticity in vocal signatures. Bioacoustics 15(2):175–193

Mora EC, Cobo-Cuan A, Macias-Escriva FD, Pérez M, Nowotny M, Kössl M (2013) Mechanical tuning of the moth ear: distortion-product otoacoustic emissions and tympanal vibrations. J Exp Biol 216(Pt 20):3863–3872. doi:10.1242/jeb.085902

Mora EC, Cobo-Cuan A, Macías-Escrivá F, Kössl M (2015) Unexpected dynamic up-tuning of auditory organs in day-flying moths. J Comp Physiol A 201:1–10

Nakano R, Takanashi T, Fujii T, Skals N, Surlykke A, Ishikawa Y (2009) Moths are not silent, but whisper ultrasonic courtship songs. J Exp Biol 212(pt 24):4072–4078. doi:10.1242/jeb.032466

Nakano R, Takanashi T, Surlykke A (2015) Moth hearing and sound communication. J Comp Physiol A 201(1):111–121

Pérez M, Coro F (1985) Physiological characteristics of the tympanic organ in noctuoid moths II. Responses to 45 ms and 5 s acoustic stimuli. J Comp Physiol A 156(5):689–696

Pérez M, Zhantiev RD (1976) Functional organization of the tympanal organ of the flour moth, Ephestia kuehniella. J Insect Physiol 22(9):1267–1273. doi:10.1016/0022-1910(76)90105-0

Ratcliffe JM, Fullard JH, Arthur BJ, Hoy RR (2009) Tiger moths and the threat of bats: decision-making based on the activity of a single sensory neuron. Biol Lett 5(3):368–371. doi:10.1098/rsbl.2009.0079

Rodríguez RL, Schul J, Cocroft RB, Greenfield MD (2005) The contribution of tympanic transmission to fine temporal signal evaluation in an ultrasonic moth. J Exp Biol 208(21):4159–4165. doi:10.1242/Jeb.01893

Roeder KD (1967) Nerve cells and insect behavior. Harvard University Press, Cambridge

Roeder KD, Treat AE (1957) Ultrasonic reception by the tympanic organ of noctuid moths. J Exp Zool 134(1):127–157

Rydell J, Skals N, Surlykke A, Svensson MG (1997) Hearing and bat defence in geometrid winter moths. Proc R Soc Lond B 264(1378):83–88. doi:10.1098/rspb.1997.0012

Silva G (1979) Los murciélagos de Cuba. Editorial Academia, La Habana

Skals N, Surlykke A (2000) Hearing and evasive behaviour in the greater wax moth, Galleria mellonella (Pyralidae). Physiol Entomol 25(4):354–362. doi:10.1046/j.1365-3032.2000.00204.x

Spangler HG (1987) Ultrasonic communication in Corcyra cephalonica (Stainton) (Lepidoptera: Pyralidae). J Stored Prod Res 23(4):203–211

Spangler HG (1988) Sound and the moths that infest beehives. Fla Entomol:467-477

Surlykke A, Filskov M (1997) Hearing in geometrid moths. Naturwissenschaften 84(8):356–359

Surlykke A, Treat AE (1995) Hearing in Wintermoths. Naturwissenschaften 82(8):382–384. doi:10.1007/s001140050204

Takanashi T, Nakano R, Surlykke A, Tatsuta H, Tabata J, Ishikawa Y, Skals N (2010) Variation in courtship ultrasounds of three Ostrinia moths with different sex pheromones. PLoS One 5(10):e13144. doi:10.1371/journal.pone.0013144

ter Hofstede HM, Goerlitz HR, Montealegre ZF, Robert D, Holderied MW (2011) Tympanal mechanics and neural responses in the ears of a noctuid moth. Naturwissenschaften 98(12):1057–1061. doi:10.1007/s00114-011-0851-7

ter Hofstede HM, Goerlitz HR, Ratcliffe JM, Holderied MW, Surlykke A (2013) The simple ears of noctuoid moths are tuned to the calls of their sympatric bat community. J Exp Biol 216(21):3954–3962. doi:10.1242/Jeb.093294

Windmill JFC, Jackson JC, Tuck EJ, Robert D (2006) Keeping up with bats: dynamic auditory tuning in a moth. Curr Biol 16(24):2418–2423. doi:10.1016/j.cub.2006.09.066

Yack JE (2004) The structure and function of auditory chordotonal organs in insects. Microsc Res Techniq 63(6):315–337. doi:10.1002/Jemt.20051
Acknowledgements
We thank the students at the Faculty of Biology for their assistance collecting moths. Identification of the moths would not have been possible without the expert help of Rayner Nuñez and Alejandro Barro. Frank Macias-Escriva provided software for data processing and a valuable logistical support. Special thanks to A. Grinnell for his help with the revision of the manuscript. We thank the two anonymous reviewers for their valuable comments. This work was supported by the Alexander von Humboldt Foundation.
Ethics declarations
Conflict of interest
The authors declare that they have no conflict of interest.
About this article
Cite this article
Cobo-Cuan, A., Kössl, M. & Mora, E.C. Hearing diversity in moths confronting a neotropical bat assemblage. J Comp Physiol A 203, 707–715 (2017). https://doi.org/10.1007/s00359-017-1170-z
Received:

Revised:

Accepted:

Published:

Issue Date:
Keywords
Moth

Hearing

DPOAEs

Echolocation assemblage

Bat