Abstract
Crayfish have two classes of photoreceptors in the retinas of their reflecting superposition eyes. Long-wavelength-sensitive photoreceptors, comprised of microvilli from R1–7 cells, make up the main rhabdoms. Eighth retinular cells, located distal to the main rhabdoms, house short-wavelength-sensitive photoreceptors. While the opsin involved in long-wavelength sensitivity has long been known, we present the first description of the short-wavelength-sensitive opsin in the retina of the red swamp crayfish, Procambarus clarkii. The expression patterns of these SWS and LWS opsin proteins in the retina are consistent with the previously described locations of SWS and LWS receptors. Crayfish also have a well-characterized extraocular photoreceptor, called the caudal photoreceptor, located in the sixth abdominal ganglion. To search for retinal opsins in the caudal photoreceptor (and elsewhere in the CNS), we used RT-PCR and immunohistochemical labeling. We found both SWS and LWS opsin transcripts not only in the sixth abdominal ganglion, but also in all ganglia of the nerve cord. Immunolabeling shows that both opsins are expressed in nerve fibers that extend from the brain through the entire length of the CNS. Thus, the same two photopigments are used both for vision in the retina and for extraocular functions throughout the CNS of crayfish.
Access options
Buy single article
Instant access to the full article PDF.
USD 39.95
Price excludes VAT (USA)
Tax calculation will be finalised during checkout.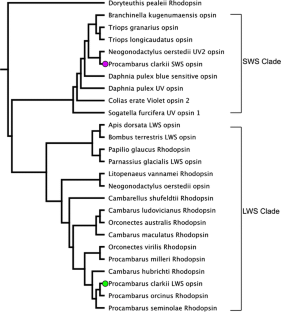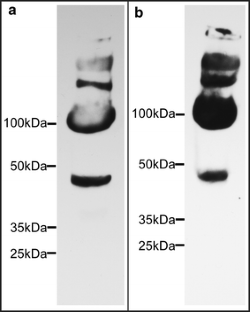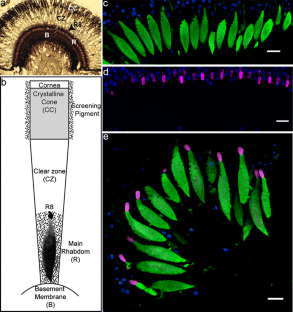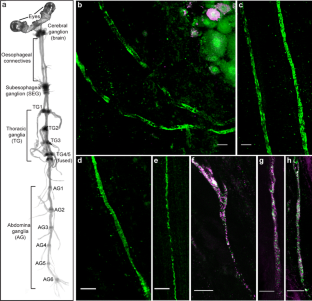 Abbreviations
AG:

Abdominal ganglion

CG:

Cerebral ganglion (brain)

CNS:

Central nervous system

CPR:

Caudal photoreceptor

LWS:

Long-wavelength-sensitive opsin

SEG:

Subesophageal ganglion

SWS:

Short-wavelength-sensitive opsin

TG:

Thoracic ganglion
References
Bruno MS, Kennedy D (1962) Spectral sensitivity of photoreceptor neurons in the sixth ganglion of the crayfish. Comp Biochem Phys A 6:41–46

Cronin TW, Goldsmith TH (1982) Photosensitivity spectrum of crayfish rhodopsin measured using fluorescence of metarhodopsin. J Gen Physiol 79:313–332

Cummins D, Goldsmith TH (1981) Cellular identification of the violet receptor in the crayfish eye. J Comp Physiol 142:199–202

de Couet HG, Sigmund C (1985) Monoclonal antibodies to crayfish rhodopsin. I Biochemical characterization and cross-reactivity. Eur J Cell Biol 38:106–112

Hariyama T, Tsukahara Y (1988) Seasonal variation of spectral sensitivity in crayfish retinula cells. Comp Biochem Phys A 91A:529–533

Hariyama T, Ozaki K, Tokunaga F, Tsukahara Y (1993) Primary structure of crayfish visual pigment deduced from cDNA. FEBS J 315:287–292

Larimer JL (1966) A functional caudal photoreceptor in blind cavernicolous crayfish. Nature 210:204–205

Larimer JL, Trevino DL, Ashby EA (1966) A comparison of spectral sensitivities of caudal photoreceptors of epigeal and cavernicolous crayfish. Comp Biochem Phys A 19:409–415

Prosser CL (1934) Action potentials in the nervous system of the crayfish. J Cell Comp Physiol 4:363–377

Sandeman D, Sandeman R, Derby C, Schmidt M (1992) Morphology of the brain of crayfish, crabs, and spiny lobsters: A common nomenclature for homologous structures. Biol Bull 183:304–326

Simon TW, Edwards DH (1990) Light-evoked walking in crayfish: behavioral and neuronal responses triggered by the caudal photoreceptor. J Comp Physiol A 166:745–755

Welsh JH (1934) The caudal photoreceptor and responses of the crayfish to light. J Cell Comp Physiol 4:379–388

Wilkens LA (1988) The crayfish caudal photoreceptor—advances and questions after the first half century. Comp Biochem Physiol C 91:61–68

Wilkens LA, Larimer JL (1972) The CNS photoreceptor of crayfish: morphology and synaptic activity. J Comp Physiol 80:389–407

Wilkens LA, Larimer JL (1976) Photosensitivity in the sixth abdominal ganglion of decapod crustaceans: a comparative study. J Comp Physiol 106:69–75

Zeiger J, Goldsmith TH (1989) Spectral properties of porphyropsin from an invertebrate. Vis Res 29:519–527
Acknowledgments
We thank Hiroko Awata for contributing to sequencing the short-wavelength-sensitive opsin.
Funding
This research was supported by the Office of Naval Research Basic Research Challenge (Grant No. N00014-10-0989 to T.W.C. and the Air Force Office of Scientific Research (Grant No. FA9550-12-1-0321) to T.W.C.
Ethics declarations
Conflict of interest
The authors declare that they have no conflict of interest.
Electronic supplementary material
Below is the link to the electronic supplementary material.
About this article
Cite this article
Kingston, A.C.N., Cronin, T.W. Short- and long-wavelength-sensitive opsins are involved in photoreception both in the retina and throughout the central nervous system of crayfish. J Comp Physiol A 201, 1137–1145 (2015). https://doi.org/10.1007/s00359-015-1043-2
Received:

Revised:

Accepted:

Published:

Issue Date:

DOI: https://doi.org/10.1007/s00359-015-1043-2
Keywords
Crayfish

Opsins

Caudal photoreceptor

SWS opsin

LWS opsin