Abstract
Studies in pinniped whisker use have shown that their whiskers are extremely sensitive to tactile and hydrodynamic signals. While pinnipeds position their whiskers on to objects and have some control over their whisker protractions, it has always been thought that head movements are more responsible for whisker positioning than the movement of the whiskers themselves. This study uses ball balancing, a dynamic sensorimotor skill that is often used in human and robotic coordination studies, to promote sea lion whisker movements during the task. For the first time, using tracked video footage, we show that sea lion whisker movements respond quickly (26.70 ms) and mirror the movement of the ball, much more so than the head. We show that whisker asymmetry and spread are both altered to help sense and control the ball during balancing. We believe that by designing more dynamic sensorimotor tasks we can start to characterise the active nature of this specialised sensory system in pinnipeds.
Access options
Buy single article
Instant access to the full article PDF.
US$ 39.95
Tax calculation will be finalised during checkout.
Subscribe to journal
Immediate online access to all issues from 2019. Subscription will auto renew annually.
US$ 119
Tax calculation will be finalised during checkout.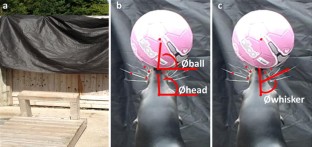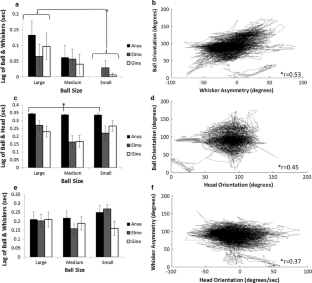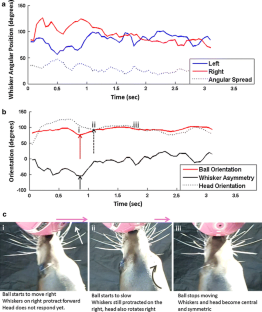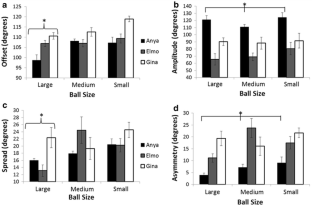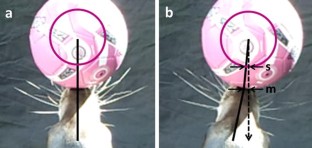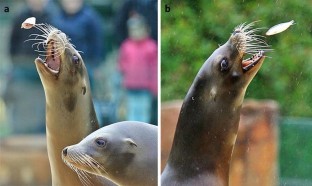 References
Awter S, Bernard C, Boklund N, Master A, Ueda D, Craig K (2002) Mechatronic design of a ball-on-plate balancing system. Mechatronics 12(2):217–228

Berta A, Sumich JL, Kovacs KM (2005) Marine mammals: evolutionary biology. Academic Press, San Diego

Brown D, Wolfgang C (2013) Tracker 4.8 xs. Cabrillo College. http://www.cabrillo.edu/~dbrown/tracker/. Accessed 1 June 2013

Cabrera JL, Milton JG (2004) Human stick balancing: tuning Lèvy flights to improve balance control. Chaos 14:691

Dehnhardt G (1990) Preliminary results from psychophysical studies on the tactile sensitivity in marine mammals. In: Thomas JA, Kastelein RA (eds) Sensory abilities of cetaceans. Plenum, New York, pp 435–446

Dehnhardt G (1994) Tactile size discrimination by a California sea lion (Zalophus californianus), using mystacial vibrissae. J Comp Physiol A 175:791–800

Dehnhardt G, Dücker G (1996) Tactual discrimination of size and shape by a California sea lion (Zalophus californianus). Anim Learn Behav 24(4):366–374

Dehnhardt G, Mauck B, Hyvärinen H (1998) Ambient temperature does not affect the tactile sensitivity of mystacial vibrissae in harbor seals. J Exp Biol 201:3023–3029

Dehnhardt G, Mauck B, Hanke W, Bleckmann H (2001) Hydrodynamic trial following in harbor seals (Phoca vitulina). Science 293:102–104

Dykes RW (1975) Afferent fibres from mystacial vibrissae of cats and seals. J Neurophysiol 38:650–662

Fleishman EA, Thomas P, Munroe P (1961) The dimensions of physical fitness—a factor analysis of speed, flexibility, balance, and coordination tests. Handbook, Yale University, DTIC Document, New Haven

Gellermann LW (1933) Chance orders of alternating stimuli in visual discrimination experiments. J Genet Psychol 42:206–208

Gibson JJ (1962) Observation on active touch. Psychol Rev 69(6):472–477

Gläser N, Wieskotten S, Otter C, Dehnhardt G, Hanke W (2011) Hydrodynamic trial following in a California sea lion (Zalophus californianus). J Comp Physiol A 197:141–151

Grant R, Mitchinson B, Fox C, Prescott TJ (2009) Active touch sensing in the rat, anticipatory and regulatory control of whisker movements during surface exploration. J Neurophysiol 101:862–874

Grant RA, Mitchinson B, Prescott TJ (2012) The development of whisker control in rats in relation to locomotion. Dev Psychobiol 54(2):151–168

Grant R, Wieskotten S, Wengst N, Prescott T, Dehnhardt G (2013) Vibrissal touch sensing in the harbor seal (Phoca vitulina): how do seals judge size? J Comp Physiol A 199(6):521–533

Grant RA, Itskov PM, Towal B, Prescott TJ (2014) Active touch sensing: finger tips, whiskers and antennae. Front Behav Neurosci 8:50

Hanke W, Wieskotten S, Marshall C, Dehnhardt G (2011) Hydrodynamic perception in true seals (Phocidae) and eared seals (Otariidae). J Comp Physiol A 199(6):421–440

Hyvärinen H (1989) Diving in darkness: whiskers as sense organs of the ringed seal (Phoca hispida). J Zool 238:663–678

Iqbal J, Khan MA, Tarar S, Khan M, Sabahat Z (2005) Implementing ball balancing beam using digital image processing and fuzzy logic. In: Canadian conference on electrical and computer engineering, pp 2241–2244

Jongmans MJ, Smits-Engelsman BCM, Schoemaker MM (2003) Consequences of comorbidity of developmental coordination disorders and learning disabilities for severity and pattern of perceptual-motor dysfunction. J Learn Disabil 36(6):528–537

Lee K, Achhammer S, Drexler S, Wollherr D (2008) Basketball robot: ball-on-plate system without visual information. In: Proceedings of the 17th world congress the international federation of automatic control p 1606. doi:10.3182/20080706-5-KR-1001.1606

Mauck B, Eysel U, Dehnhardt G (2000) Selective heating of vibrissal follicles in seals (Phoca vitulina) and dolphins (Sotalia fluviatilis guianensis). J Exp Biol 203:2125–2131

Mitchinson B, Martin CJ, Grant RA and Prescott TJ (2007). Feedback control in active sensing: Rat Exploratory Whisking is Modulated by Environmental Contact. Royal Society Proc (B) Biol Sci 274(1613):1035–1041

Mitchinson B, Grant RA, Arkley KP, Perkon I, Prescott TJ (2011) Active vibrissal sensing in rodents and marsupials. Philos Trans B 366(1581):3037–3048

Prescott TJ, Diamond ME, Wing AM (2011) Active touch sensing. Philos Trans B 366(1581):2989–2995

Rice FL, Mance A, Munger BL (1986) A comparative light microscopical analysis of the sensory innervation of the mystacial pad. 1. Innervation of vibrissal follicle-sinus complexes. J Comp Neurol 252:154–174

Stepan G (2009) Delay effects in the human sensory system during balancing. Phil Trans R Soc A 367:1195–1212

Towal RB, Hartmann MJ (2006) Right–left asymmetries in the whisking behavior of rats anticipate head movements. J Neurosci 26(34):8838–8846

Van Warelvelde H, De Weerdt Q, De Cock P, Smits-Engelsman BCM (2004) Aspects of the validity of the movement assessment battery for children. Hum Mov Sci 23(1):49–60

Wieskotten S, Dehnhardt G, Mauck B, Miersch L, Hanke W (2010a) Hydrodynamic determination of the moving direction of an artificial fin by a harbor seal (Phoca vitulina). J Exp Biol 213:2194–2200

Wieskotten S, Dehnhardt G, Mauck B, Miersch L, Hanke W (2010b) The impact of glide phases on the trackability of hydrodynamic trials in harbor seals (Phoca vitulina). J Exp Biol 213:3734–3740
Acknowledgments
The authors would like to thank all the staff at Blackpool Zoo for their full co-operation and assistance, especially Alex Kidd (sea lion Trainer), who was the secondary trainer throughout the project. We are also grateful for the support from the Division of Biology and Conservation Ecology at Manchester Metropolitan University throughout the study.
Ethical standard
All experiments comply with UK regulations and were approved by ethics committees at both Manchester Metropolitan University and Blackpool Zoo.
Electronic supplementary material
About this article
Cite this article
Milne, A.O., Grant, R.A. Characterisation of whisker control in the California sea lion (Zalophus californianus) during a complex, dynamic sensorimotor task. J Comp Physiol A 200, 871–879 (2014). https://doi.org/10.1007/s00359-014-0931-1
Received:

Revised:

Accepted:

Published:

Issue Date:
Keywords
Active touch

Vibrissal

Pinniped

Sensing

Haptics