Abstract
The mating calls of male túngara frogs, Physalaemus pustulosus, attract intended (conspecific females) and unintended (eavesdropping predators and parasites) receivers. The calls are complex, having two components: a frequency-modulated "whine" followed by 0–7 harmonic bursts or "chucks". The whine is necessary and sufficient to elicit phonotaxis from females and the chuck enhances call attractiveness when it follows a whine. Although chucks are never made alone, females perceptually bind the whine and chuck when they are spatially separated. We tested whether an unintended receiver with independent evolution of phonotaxis, the frog-eating bat, Trachops cirrhosus, has converged with frogs in its auditory grouping of the call components. In contrast to frogs, bats approached chucks broadcast alone; when the chuck was spatially separated from the whine the bats preferentially approached the whine, and bats were sensitive to whine–chuck temporal sequence. This contrast suggests that although disparate taxa may be selected to respond to the same signals, different evolutionary histories, selective regimes, and neural and cognitive architectures may result in different weighting and grouping of signal components between generalist predators and conspecific mates.
Access options
Buy single article
Instant access to the full article PDF.
US$ 39.95
Tax calculation will be finalised during checkout.
Subscribe to journal
Immediate online access to all issues from 2019. Subscription will auto renew annually.
US$ 119
Tax calculation will be finalised during checkout.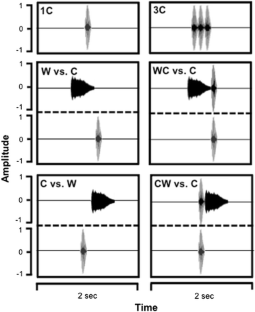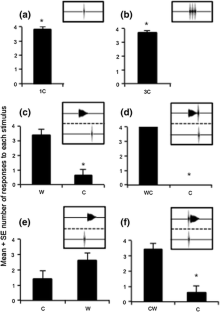 References
Akre KL, Farris HE, Lea AM, Page RA, Ryan MJ (2011) Signal perception in frogs and bats and the evolution of mating signals. Science 333:751–752

Andersson MB (1994) Sexual selection. Princeton University Press, Princeton

Bernal XE, Rand AS, Ryan MJ (2006) Acoustic preferences and localization performance of blood-sucking flies (Corethrella Coquillett) to túngara frog calls. Behav Ecol 17:709–715

Bruns V, Burda H, Ryan MJ (1989) Ear morphology of the frog-eating bat (Trachops cirrhosus, family: Phyllostomidae): apparent specializations for low-frequency hearing. J Morphol 199:103–119

Campbell RA (1963) Detection of a noise signal of varying duration. J Acoust Soc Am 35:1732–1737

Cherry EC (1953) Some experiments on the recognition of speech, with one and two ears. J Acoust Soc Am 25:975–979

Darwin C (1871) The descent of man and selection in relation to sex. J. Murray, London

Farris HE, Ryan MJ (2011) Relative comparisons of call parameters enable auditory grouping in frogs. Nat Commun 2:410

Farris HE, Rand AS, Ryan MJ (2002) The effects of spatially separated call components on phonotaxis in túngara frogs: evidence for auditory grouping. Brain Behav Evol 60:181–188

Farris HE, Rand AS, Ryan MJ (2005) The effects of time, space and spectrum on auditory grouping in túngara frogs. J Comp Physiol A 191:1173–1183

Farris HE, Oshinsky ML, Forrest TG, Hoy RR (2008) Auditory sensitivity of an acoustic parasitoid (Emblemasoma sp., Sarcophagidae, Diptera) and the calling behavior of potential hosts. Brain Behav Evol 72:16–26

Fowler HG (1987) Field behavior of Euphasiopteryxdepleta (Diptera: Tachinidae): phonotactically orienting parasitoids of mole crickets (Orthoptera: Gryllotalpidae: Scapteriscus). J NY Entomol Soc 95:474–480

Gray DA, Banuelos C, Walker SE, Cade WH, Zuk M (2007) Behavioural specialization among populations of the acoustically orienting parasitoid fly Ormia ochracea utilizing different cricket species as hosts. Anim Behav 73:99–104

Haynes KF, Yeargan KV (1999) Exploitation of intraspecific communication systems: illicit signalers and receivers. Ann Entomol Soc Am 92:960–970

Hoke KL, Burmeister SS, Fernald RD, Rand AS, Ryan MJ, Wilczynski W (2004) Functional mapping of the auditory midbrain during mate call reception. J Neurosci 24:11264–11272

Jones PL, Page RP, Hartbauer M, Siemers BM (2011) Behavioral evidence for eavesdropping on prey song in two Palearctic sibling bat species. Behav Ecol Sociobiol 65:333–340

Lakes-Harlan R, Stölting H, Stumpner A (1999) Convergent evolution of insect hearing organs from a preadaptive structure. Proc R Soc Lond B Biol Sci 266:1161–1167

Page RA, Ryan MJ (2005) Flexibility in assessment of prey cues: frog-eating bats and frog calls. Proc R Soc Lond B Biol Sci 272:841–847

Page RA, Ryan MJ (2006) Social transmission of novel foraging behavior in bats: anuran calls and their referents. Curr Biol 16:1201–1205

Page RA, Ryan MJ, Bernal XE (2013) Be loved, be prey, be eaten. In: Yasukawa K (ed) Animal behavior. Case studies: integration and application of animal behavior, vol 3. Praeger, New York (in press)

Peake TM (2005) Eavesdropping in communication networks. In: McGregor PK (ed) Animal communication networks. Cambridge University Press, Cambridge, pp 13–37

R Development Core Team (2012) R: A language and environment for statistical computing. R Foundation for Statistical Computing, Vienna, Austria. ISBN 3-900051-07-0. http://www.R-project.org/

Rand AS, Ryan MJ (1981) The adaptive significance of a complex vocal repertoire in a neotropical frog. Z Tierpsychol 57:209–214

Robert D, Amoroso J, Hoy RR (1992) The evolutionary convergence of hearing in a parasitoid fly and its cricket host. Science 258:1135–1137

Ryan MJ (1980) Female mate choice in a neotropical frog. Science 209:523–525

Ryan MJ (1985) The túngara frog, a study in sexual selection and communication. University of Chicago Press, Chicago

Ryan MJ, Rand AS (2003) Sexual selection in female perceptual space: how female túngara frogs perceive and respond to complex population variation in acoustic mating signals. Evolution 57:2608–2618

Ryan MJ, Tuttle MD, Rand AS (1982) Bat predation and sexual advertisement in a neotropical anuran. Am Nat 119:136–139

Sakaguchi KM, Gray DA (2011) Host song selection by an acoustically orienting parasitoid fly exploiting a multispecies assemblage of cricket hosts. Anim Behav 81:851–858

Stumpner A, Allen GR, Lakes-Harlan R (2007) Hearing and frequency dependence of auditory interneurons in the parasitoid fly Homotrixa alleni (Tachinidae: Ormiini). J Comp Physiol A 193:113–125

Tuttle MD, Ryan MJ (1981) Bat predation and the evolution of frog vocalizations in the Neotropics. Science 214:677–678

Tuttle MD, Taft LK, Ryan MJ (1982) Evasive behaviour of a frog in response to bat predation. Anim Behav 30:393–397

Wagner WE Jr (1996) Convergent song preferences between female field crickets and acoustically orienting parasitoid flies. Behav Ecol 7:279–280

Wagner WE Jr (2011) Direct benefits and the evolution of female mating preferences: conceptual problems, potential solutions, and a field cricket. Adv Stud Behav 43:273–319

Walker TJ (1993) Phonotaxis in female Ormia ochracea (Diptera: Tachinidae), a parasitoid of field crickets. J Insect Behav 6:389–410

Wilczynski W, Rand AS, Ryan MJ (2001) Evolution of calls and auditory tuning in the Physalaemus pustulosus species group. Brain Behav Evol 58:137–151

Zuk M, Kolluru GR (1998) Exploitation of sexual signals by predators and parasitoids. Q Rev Biol 73:415–438
Acknowledgments
We thank the staff of the Smithsonian Tropical Research Institute for assistance with permits and logistics. This research was approved by the Panamanian Authorities (Autoridad Nacional del Ambiente, ANAM permit # SE/A-91-09; SE/A-95-10; SE/A-6-11; SE/A-46-11; SE/A-94-11) and the Smithsonian Institutional Animal Care and Use Committee (IACUC protocol 20100816-1012-16). Thanks to Victoria Flores, Teia Schwiezer, Jay Falk, Kristina Ottens, May Dixon and Jessica Jacobitz for help capturing and caring for bats. Thanks to Teague O'Mara for statistical advice. PLJ was funded by a National Science Foundation Graduate Research Fellowship and fellowship support from the Smithsonian Tropical Research Institute. HEF was funded by National Institute of Health grant # P20RR016816.
About this article
Cite this article
Jones, P.L., Farris, H.E., Ryan, M.J. et al. Do frog-eating bats perceptually bind the complex components of frog calls?. J Comp Physiol A 199, 279–283 (2013). https://doi.org/10.1007/s00359-012-0791-5
Received:

Revised:

Accepted:

Published:

Issue Date:
Keywords
Phonotaxis

Physalaemus pustulosus

Sexual advertisement signal

Túngara

Trachops cirrhosus