Abstract
Using a food-rewarded two-choice instrumental conditioning paradigm we assessed the ability of South African fur seals, Arctocephalus pusillus, to discriminate between 12 enantiomeric odor pairs. The results demonstrate that the fur seals as a group were able to discriminate between the optical isomers of carvone, dihydrocarvone, dihydrocarveol, menthol, limonene oxide, α-pinene, fenchone (all p < 0.01), and β-citronellol (p < 0.05), whereas they failed to distinguish between the (+)- and (−)-forms of limonene, isopulegol, rose oxide, and camphor (all p > 0.05). An analysis of odor structure–activity relationships suggests that a combination of molecular structural properties rather than a single molecular feature may be responsible for the discriminability of enantiomeric odor pairs. A comparison between the discrimination performance of the fur seals and that of other species tested previously on the same set of enantiomers (or subsets thereof) suggests that the olfactory discrimination capabilities of this marine mammal are surprisingly well developed and not generally inferior to that of terrestrial mammals such as human subjects and non-human primates. Further, comparisons suggest that neither the relative nor the absolute size of the olfactory bulbs appear to be reliable predictors of between-species differences in olfactory discrimination capabilities. Taken together, the results of the present study support the notion that the sense of smell may play an important and hitherto underestimated role in regulating the behavior of fur seals.
Access options
Buy single article
Instant access to the full article PDF.
USD 39.95
Price excludes VAT (USA)
Tax calculation will be finalised during checkout.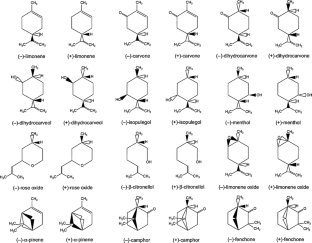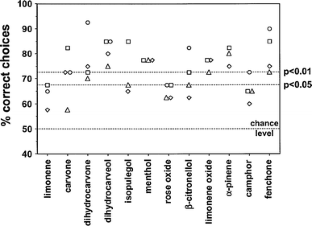 References
Alasalvar C, Quantick PC, Grigor JM (1997) Aroma compounds of fresh and stored mackerel (Scomber scombrus). In: Shahidi F, Cadwallader KR (eds) Flavor and lipid chemistry of seafoods. ACS Symposium Series, vol 674, Washington DC, pp 39–54

Bartholomew GA (1959) Mother-young relations and the maturation of pup behaviour in the Alaska fur seal. Anim Behav 7:163–171

Brown RE (1985) The marine mammals: orders Cetacea, Pinnipedia, and Sirenia. In: Brown RE, MacDonald DW (eds) Social odours in mammals, vol 2. Clarendon Press, Oxford, pp 723–731

Buchbauer G, Shafii-Tabatabai A (2003) Enones of (+)- and (−)-3-pinanones: influence of chirality on flavour. Flavour Fragr J 18:441–445

Cadwallader KR, Shahidi F (2001) Identification of potent odorants in seal blubber oil by direct thermal desorption gas chromatography olfactometry. In: Shahidi F, Finley JW (ed) Omega-3 fatty acids: chemistry, nutrition and health effects. ACS Symposium Series, vol 788. ACS, Washington, DC, pp 221–234

Carr WES (1988) The molecular nature of chemical stimuli in the aquatic environment. In: Atema J, Fay RR, Popper AN, Tavolga WN (eds) Sensory biology of aquatic animals. Springer, New York, pp 3–27

Clarin T, Sandhu S, Apfelbach R (2010) Odor detection and odor discrimination in subadult and adult rats for two enantiomeric odorants supported by c-fos data. Behav Brain Res 206:229–235

Cunningham GB, Strauss V, Ryan PG (2008) African penguins (Spheniscus demersus) can detect dimethyl sulphide, a prey-related odour. J Exp Biol 211:3123–3127

Dobson FS, Jouventin P (2003) How mothers find their pups in a colony of Antarctic fur seals. Behav Process 61:77–85

Gilad Y, Wiebe V, Przeworski M, Lancet D, Pääbo S (2004) Loss of olfactory receptor genes coincides with the acquisition of full trichromatic vision in primates. PLoS Biol 2:120–125

Hahn I, Scherer PW, Mozell MM (1994) A mass transport model of olfaction. J Theor Biol 167:115–128

Hamilton JE (1956) Scent of otariids. Nature 177:900

Hardy MH, Roff E, Smith TG, Ryg M (1991) Facial skin glands of ringed and gray seals, and their possible function as odoriferous organs. Can J Zool 69:189–200

Hinds JW, McNelly NA (1977) Aging of the rat olfactory bulb: growth and atrophy of constituent layers and changes in size and number of mitral cells. J Comp Neurol 171:345–368

Hoelzel AR (2002) Marine mammal biology: an evolutionary approach. Blackwell, Durham

Issel-Tarver L, Rine J (1997) The evolution of mammalian olfactory receptor genes. Genetics 145:185–195

Josephson DB (1991) Seafood. In: Maarse H (ed) Volatile compounds in foods and beverages. Marcel Dekker, New York, pp 179–202

Kishida T, Kubota S, Shirayama Y, Fukami H (2007) The olfactory receptor gene repertoires in secondary-adapted marine vertebrates: evidence for reduction of the functional proportions in cetaceans. Biol Lett 3:428–430

Koep KSC, Hoffman LC, Dicks LMT, Slinde E (2007) Chemical composition of meat and blubber of the Cape fur seal (Arctocephalus p. pusillus). Food Chem 100:1560–1565

Kovacs KM (1995) Mother-pup reunions in harp seals, Phoca groenlandica—cues for the relocation of pups. Can J Zool 73:843–849

Kowalewsky S, Dambach M, Mauck B, Dehnhardt G (2006) High olfactory sensitivity for dimethyl sulphide in harbour seals. Biol Lett 2:106–109

Laska M (2004) Olfactory discrimination ability of human subjects for enantiomers with an isopropenyl group at the chiral center. Chem Senses 29:143–152

Laska M, Galizia CG (2001) Enantioselectivity of odor perception in honeybees (Apis mellifera carnica). Behav Neurosci 115:632–639

Laska M, Shepherd GM (2007) Olfactory discrimination ability of CD-1 mice for a large array of enantiomers. Neuroscience 144:295–301

Laska M, Teubner P (1999) Olfactory discrimination ability of human subjects for ten pairs of enantiomers. Chem Senses 24:161–170

Laska M, Liesen A, Teubner P (1999) Enantioselectivity of odor perception in squirrel monkeys and humans. Am J Physiol 277:R1098–R1103

Laska M, Genzel D, Wieser A (2005) The number of functional olfactory receptor genes and the relative size of olfactory brain structures are poor predictors of olfactory discrimination with enantiomers. Chem Senses 30:171–175

Laska M, Rivas Bautista RM, Höfelmann D, Sterlemann V, Hernandez Salazar LT (2007) Olfactory sensitivity for putrefaction-associated thiols and indoles in three species of non-human primate. J Exp Biol 210:4169–4178

Laska M, Svelander M, Amundin M (2008) Successful acquisition of an olfactory discrimination paradigm by South African fur seals, Arctocephalus pusillus. Physiol Behav 93:1033–1038

Laska M, Lord E, Selin S, Amundin M (2010) Olfactory discrimination of aliphatic odorants in South African fur seals (Arctocephalus pusillus). J Comp Psychol 124:187–193

Ling JK (1965) Functional significance of sweat glands and sebaceous glands in seals. Nature 208:560–562

Mecenero S, Roux JP, Underhill LG, Bester MN (2006) Diet of Cape fur seals Arctocephalus pusillus pusillus at three mainland breeding colonies in Namibia. 1. Spatial variation. Afr J Marine Sci 28:57–71

Miller EH (1974) Social behaviour between adult male and female New Zealand fur seals, Arctocephalus forsteri, during the breeding season. Aust J Zool 22:155–173

Nei M, Niimura Y, Nozawa M (2008) The evolution of animal chemosensory receptor gene repertoires: roles of chance and necessity. Nat Rev Genet 9:951–963

Nevitt GA, Bonadonna F (2005) Seeing the world through the nose of a bird: new developments in the sensory ecology of procellariiform seabirds. Marine Ecol Progr Ser 287:292–295

Niimura Y, Nei M (2006) Evolutionary dynamics of olfactory and other chemosensory receptor genes in vertebrates. J Hum Genet 51:505–517

Ohloff G, Pickenhagen W, Kraft P (2011) Scent and chemistry. The molecular world of odors. Wiley, Zurich

Phillips AV (2003) Behavioral cues used in reunions between mother and pup South American fur seals (Arctocephalus australis). J Mamm 84:524–535

Pitcher BJ, Harcourt RG, Schaal B, Charrier I (2011) Social olfaction in marine mammals: wild female Australian sea lions can identify their pup's scent. Biol Lett 7:60–62

Reep RL, Finlay BL, Darlington RB (2007) The limbic system in mammalian brain evolution. Brain Behav Evol 70:57–70

Rizvanovic A (2012) Olfactory discrimination performance and long-term odor memory in Asian elephants (Elephas maximus). M.Sc. thesis, Linköping University, Sweden

Robertson HM, Wanner KW (2006) The chemoreceptor superfamily in the honey bee Apis mellifera: expansion of the odorant, but not gustatory, receptor family. Genome Res 16:1395–1403

Ross GJB (1972) Nuzzling behaviour in captive cape fur seals. Int Zoo Yearb 12:183–184

Rossiter KJ (1996) Structure-odor relationships. Chem Rev 96:3201–3240

Rouquier S, Blancher A, Giorgi D (2000) The olfactory receptor gene repertoire in primates and mouse: evidence for reduction of the functional fraction in primates. Proc Natl Acad Sci USA 97:2870–2874

Rubin BD, Katz LC (2001) Spatial coding of enantiomers in the rat olfactory bulb. Nat Neurosci 4:355–356

Ryg M, Solberg Y, Lydersen C, Smith TG (1992) The scent of rutting male ringed seals (Phoca hispida). J Zool 226:681–689

Smith TD, Bhatnagar KP (2004) Microsmatic primates: reconsidering how and when size matters. Anat Rec 279B:24–31

Smith TD, Bhatnagar KP, Tuladhar P, Burrows AM (2004) Distribution of olfactory epithelium in the primate nasal cavity: are microsmia and macrosmia valid morphological concepts? Anat Rec 281A:1173–1181

Stephan H, Baron G, Frahm HD (1988) Comparative size of brains and brain components. In: Steklis HD, Erwin J (eds) Comparative primate biology, vol. 4 (Neurosciences). Alan R. Liss, New York, pp 1–38

Supin AY, Popov VV, Mass AM (2001) The sensory physiology of aquatic mammals. Springer, New York

Thewissen JGM, Nummela S (2008) Sensory evolution on the threshold Adaptations in secondarily aquatic vertebrates. University of California Press, Berkeley

Thomas JA, Kastelein RA, Supin AY (1992) Marine mammal sensory systems. Plenum Press, New York

Trimble M, Insley SJ (2010) Mother-offspring reunion in the South American sea lion Otaria flavescens at Isla de Lobos (Uruguay): use of spatial, acoustic and olfactory cues. Ethol Ecol Evol 22:233–246

Williams RW, Airey DC, Kulkarni A, Zhou G, Lu L (2001) Genetic dissection of the olfactory bulbs of mice: QTLs on four chromosomes modulate bulb size. Behav Genet 31:61–77

Wyatt TD (2003) Pheromones and animal behaviour: communication by smell and taste. Cambridge University Press, Cambridge

Zelenitsky DK, Therrien F, Ridgely RC, McGee AR, Witme LM (2011) Evolution of olfaction in non-avian theropod dinosaurs and birds. Proc Roy Soc B 278:3625–3634
Acknowledgments
Sunna Edberg, Therese Höglin, Tova Hansson and Christina Bauer are gratefully acknowledged for invaluable help in handling and training of the animals.
Ethical standards
The experiments reported here comply with the Guide for the Care and Use of Laboratory Animals (National Institutes of Health Publication no. 86-23, revised 1985) and also with current Swedish laws.
About this article
Cite this article
Kim, S., Amundin, M. & Laska, M. Olfactory discrimination ability of South African fur seals (Arctocephalus pusillus) for enantiomers. J Comp Physiol A 199, 535–544 (2013). https://doi.org/10.1007/s00359-012-0759-5
Received:

Revised:

Accepted:

Published:

Issue Date:

DOI: https://doi.org/10.1007/s00359-012-0759-5
Keywords