Abstract
As social insect workers mature, outside-nest tasks associated with foraging and defense are typically performed at higher frequencies. Foraging in ants is often a pheromonally mediated collective action performed by mature workers; age-dependent differences in olfactory response thresholds may therefore proximately regulate task repertoire development. In the ant Pheidole dentata, foraging activity increases with chronological age in minor workers, and is chemically controlled. The onset of foraging in minor workers is accompanied by marked neuroanatomical and neurochemical changes, including synaptic remodeling in olfactory regions of the brain, proliferation of serotonergic neurons, and increased brain titers of monoamines, notably serotonin. We examined the linkage of serotonin and olfactory responsiveness by assaying trail-following performance in mature P. dentata minor workers with normal serotonin levels, or serotonin levels experimentally lowered by oral administration of the serotonin synthesis inhibitor α-methyltryptophan (AMTP). By assessing responsiveness to standardized pheromone trails, we demonstrate that trail-following behaviors are significantly reduced in serotonin-depleted workers. AMTP-treated individuals were less likely to initiate trail following, and oriented along pheromone trails for significantly shorter distances than untreated, similar-age workers. These results demonstrate for the first time that serotonin modulates olfactory processes and/or motor functions associated with cooperative foraging in ants.
Access options
Buy single article
Instant access to the full article PDF.
USD 39.95
Price includes VAT (USA)
Tax calculation will be finalised during checkout.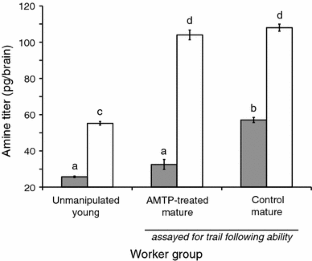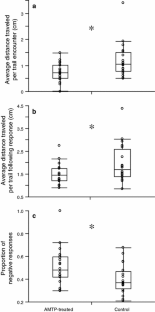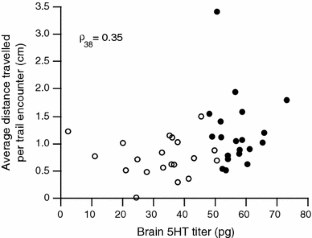 Abbreviations
5HT:

5-Hydroxytryptamine (serotonin)

AC:

Age class

AMTP:

α-Methyltryptophan

ANOVA:

Analysis of variance

DA:

Dopamine

HPLC-ED:

High-performance liquid chromatography with electrochemical detection

OA:

Octopamine
References
Anstey ML, Rogers SM, Ott SR, Burrows M, Simpson SJ (2009) Serotonin mediates behavioral gregarization underlying swarm formation in desert locusts. Science 323:627–630

Barron AB, Maleszka R, Vander Meer RK, Robinson GE (2007) Octopamine modulates honey bee dance behavior. Proc Natl Acad Sci USA 104:1703–1707

Boulay R, Soroker V, Godzinska EJ, Hefetz A, Lenoir A (2000) Octopamine reverses the isolation-induced increase in trophallaxis in the carpenter ant Camponotus fellah. J Exp Biol 203:513–520

Bozic J, Woodring J (1998) Variations of brain biogenic amines in mature honeybees and induction of recruitment behavior. Comp Biochem Physiol A 120:737–744

Cuvillier-Hot V, Lenoir A (2006) Biogenic amine levels, reproduction and social dominance in the queenless ant Streblognathus peetersi. Naturwissenschaften 93:149–153

Dacks AM, Christensen TA, Hildebrand JG (2006) Phylogeny of a serotonin-immunoreactive neuron in the primary olfactory center of the insect brain. J Comp Neurol 498:727–746

Dacks AM, Christensen TA, Hildebrand JG (2008) Modulation of olfactory information processing in the antennal lobe of Manduca sexta by serotonin. J Neurophysiol 99:2077–2085

Dierick HA, Greenspan RJ (2007) Serotonin and neuropeptide F have opposite modulatory effects on fly aggression. Nature Genet 39:678–682

Droual R (1984) Anti-predator behaviour in the ant Pheidole desertorum: the importance of multiple nests. Anim Behav 32:1054–1058

Farooqui T (2007) Octopamine-mediated neuromodulation of insect senses. Neurochem Res 32:1511–1529

Galizia CG, Rössler W (2010) Parallel olfactory systems in insects: anatomy and function. Annu Rev Entomol 55:399–420

Gatellier L, Nagao T, Kanzaki R (2004) Serotonin modifies the sensitivity of the male silkmoth to pheromone. J Exp Biol 207:2487–2496

Giray T, Galindo-Cardona A, Oskay D (2007) Octopamine influences honey bee foraging preference. J Insect Physiol 53:691–698

Hardie SL, Hirsh J (2006) An improved method for the separation and detection of biogenic amines in adult Drosophila brain extracts by high performance liquid chromatography. J Neurosci Methods 153:243–249

Hölldobler B, Wilson EO (1990) The ants. Harvard University Press, Cambridge

Hoyer SC, Liebig J, Rössler W (2005) Biogenic amines in the ponerine ant Harpegnathos saltator: serotonin and dopamine immunoreactivity in the brain. Arthropod Struct Dev 34:429–440

Huber R (2005) Amines and motivated behaviors: a simpler systems approach to complex behavioral phenomena. J Comp Physiol A 191:231–239

Kirchhof BS, Homberg U, Mercer AR (1999) Development of dopamine-immunoreactive neurons associated with the antennal lobes of the honey bee, Apis mellifera. J Comp Neurol 411:643–653

Kloppenburg P, Mercer AR (2008) Serotonin modulation of moth central olfactory neurons. Annu Rev Entomol 53:179–190

Kostowski W, Tarchalska-Krynska B, Markowska L (1975) Aggressive behaviour and brain serotonin and catecholamines in ants (Formica rufa). Pharmacol Biochem Behav 3:717–719

Libersat F, Pflueger HJ (2004) Monoamines and the orchestration of behavior. Bioscience 54:17–25

Muscedere ML, Willey TA, Traniello JFA (2009) Age and task efficiency in the ant Pheidole dentata: young minor workers are not specialist nurses. Anim Behav 77:911–918

Muscedere ML, Traniello JFA, Gronenberg W (2011) Coming of age in an ant colony: cephalic muscle maturation accompanies behavioral development in Pheidole dentata. Naturwissenschaften 98:783–793

Neckameyer WS, Leal SM (2009) Biogenic amines as circulating hormones in insects. In: Donald WP, Arthur PA, Susan EF, Anne ME, Robert TR (eds) Hormones, Brain and Behavior, vol 2, 2nd edn. Academic Press, San Diego, pp 967–1002

Rillich J, Schildberger K, Stevenson PA (2011) Octopamine and occupancy: an aminergic mechanism for intruder-resident aggression in crickets. Proc R Soc Lond B 278:1873–1880

Schulz DJ, Robinson GE (1999) Biogenic amines and division of labor in honey bee colonies: behaviorally related changes in the antennal lobes and age-related changes in the mushroom bodies. J Comp Physiol A 184:481–488

Schulz DJ, Barron AB, Robinson GE (2002a) A role for octopamine in honey bee division of labor. Brain Behav Evol 60:350–359

Schulz DJ, Sullivan JP, Robinson GE (2002b) Juvenile hormone and octopamine in the regulation of division of labor in honey bee colonies. Horm Behav 42:222–231

Schulz DJ, Elekonich MM, Robinson GE (2003) Biogenic amines in the antennal lobes and the initiation and maintenance of foraging behavior in honey bees. J Neurobiol 54:406–416

Schwaerzel M, Monastirioti M, Scholz H, Friggi-Grelin F, Birman S, Heisenberg M (2003) Dopamine and octopamine differentiate between aversive and appetitive olfactory memories in Drosophila. J Neurosci 23:10495–10502

Seid MA, Traniello JFA (2005) Age-related changes in biogenic amines in individual brains of the ant Pheidole dentata. Naturwissenschaften 92:198–201

Seid MA, Traniello JFA (2006) Age-related repertoire expansion and division of labor in Pheidole dentata (Hymenoptera:Formicidae): a new perspective on temporal polyethism and behavioral plasticity in ants. Behav Ecol Sociobiol 60:631–644

Seid MA, Goode K, Li C, Traniello JFA (2008) Age- and subcaste-related patterns of serotonergic immunoreactivity in the optic lobes of the ant Pheidole dentata. Dev Neurobiol 68:1325–1333

Sloley BD, Orikasa S (1988) Selective depletion of dopamine, octopamine, and 5-hydroxytryptamine in the nervous tissue of the cockroach (Periplaneta americana). J Neurochem 51:535–541

Spivak M, Masterman R, Ross R, Mesce KA (2003) Hygienic behavior in the honey bee (Apis mellifera L.) and the modulatory role of octopamine. J Neurobiol 55:341–354

Stevenson PA, Dyakonova V, Rillich J, Schildberger K (2005) Octopamine and experience-dependent modulation of aggression in crickets. J Neurosci 25:1431–1441

Taylor DJ, Robinson GE, Logan BJ, Laverty R, Mercer AR (1992) Changes in brain amine levels associated with the morphological and behavioral development of the worker honeybee. J Comp Physiol A 170:715–721

Tsuji E, Aonuma H, Yokohari F, Nishikawa M (2007) Serotonin-immunoreactive neurons in the antennal sensory system of the brain in the carpenter ant, Camponotus japonicus. Zool Sci 24:836–849

Vander Meer RK, Preston CA, Hefetz A (2008) Queen regulates biogenic amine level and nestmate recognition in workers of the fire ant, Solenopsis invicta. Naturwissenschaften 95:1155–1158

Wada-Katsumata A, Yamaoka R, Aonuma H (2011) Social interactions influence dopamine and octopamine homeostasis in the brain of the ant Formica japonica. J Exp Biol 214:1707–1713

Wagener-Hulme C, Kuehn JC, Schulz DJ, Robinson GE (1999) Biogenic amines and division of labor in honey bee colonies. J Comp Physiol A 184:471–479

Wilson EO (1976) Behavioral discretization and number of castes in an ant species. Behav Ecol Sociobiol 1:141–154

Wnuk A, Wiater M, Godzinska EJ (2011) Effect of past and present behavioural specialization on brain levels of biogenic amines in workers of the red wood ant Formica polyctena. Physiol Entomol 36:54–61

Yuan Q, Lin FJ, Zheng XZ, Sehgal A (2005) Serotonin modulates circadian entrainment in Drosophila. Neuron 47:115–127

Zube C, Rössler W (2008) Caste- and sex-specific adaptations within the olfactory pathway in the brain of the ant Camponotus floridanus. Arthropod Struct Dev 37:469–479
Acknowledgments
We are grateful to Lloyd Davis for collecting ant colonies used in this study and to Jay Hirsch for advice on HPLC mobile phase preparation. We thank two anonymous reviewers for their helpful comments. This work was supported by a Boston University Undergraduate Research Opportunities Grant to NJ, a National Science Foundation (NSF) Graduate Research Fellowship to MLM, and NSF Collaborative Research Grants IOB 0725013 and 0724591 to JFAT and W. Gronenberg, respectively.
About this article
Cite this article
Muscedere, M.L., Johnson, N., Gillis, B.C. et al. Serotonin modulates worker responsiveness to trail pheromone in the ant Pheidole dentata . J Comp Physiol A 198, 219–227 (2012). https://doi.org/10.1007/s00359-011-0701-2
Received:

Revised:

Accepted:

Published:

Issue Date:
Keywords
Neuromodulation

Behavioral development

Serotonin

Foraging

Pheromonal communication